BIG DEAL!
Starwood Property Trust and Starwood Capital Group have confirmed their previously reported agreement to acquire LNR Property from Aozora Bank, Cerberus Capital Management, iStar Financial, Oaktree Capital Management, and Vornado. Starwood Property gets the special servicing, investment securities, Archetype Mortgage Capital (conduit originations), Archetype Financial Institution Services (small balance loans and asset acquisitions and management), LNR Europe, and half of LNR's interest in Auction.com for $856M, and Starwood Capital will take the US property group and the other half of LNR's interest in Auction.com for $197M. The deal is expected to close next quarter.
SALES
Madison Marquette and Perella Weinberg Partners funds acquired the 88% occupied (71% by the City of New York) 450k SF Center Building at 33-00 Northern Blvd in LIC from The Hampshire Cos (repped by HFF's Andrew Scandalios, Jose Cruz, Jeffrey Julien, and K evin OHearn) for $84.5M.

***
American Realty Capital New York Recovery REIT acquired the fee-simple interest in Chelsea's 166k SF
218 W 18th St office
building from Atlas Capital Group and GreenOak Real Estate for
$112M
. The sellers acquired the loan and took ownership
via bankruptcy
last year and have since leased seven floors to Red Bull, SAE Institute of Technology, and Yammer. It's ARC's
first Silicon Alley buy
.
***
Cornerstone Properties bought the 150k SF
551 Madison Ave
office building at 55th Street from LaSalle Investment Management, which was repped by CBRE's
Darcy Stacom
,
Bill Shanahan
, and
Paul Gillen
. It's 91% occupied.
***
Faros Properties and Caspi Development, repped by Austin Corporate Properties'
Carl Austin
, acquired the 1950s Art Deco former
Nestle HQ
at 120 Bloomingdale Rd in
White Plains
. The 145k SF proeprty sold at a
deep discount for $10.5M
, and renovations will deliver in fall 2013. The seller, CMBS special servicer C-III Realty Services, was repped by JLL's
Joseph Garibaldi
. Meridian Capital Group's
Jeff Weinberg
and
Jack Adler
arranged financing through New York Community Bank.
***
Tavros Capital Partners USA has borrowed $18.5M in a five-year, fixed-rate loan arranged by HFF's
Steven Klein
to buy the 28-unit
Chelsea Muse apartments
(plus 18k SF of retail) at 537 W 27th St next to the
High Line
.
***
Dalan Management, RWN Real Estate Partners, and Standard Property Co purchased the TriStar Portfolio of
five walk-up apartment buildings
(100 units and 14 stores) at 386 Broome St, 9 Christopher St, and 55-59 and 61-63 Delancey St. HKS Capital Partners'
Ayush Kapahi
arranged the $20.2M loan and $13M Fannie Mae assumption.
***
Pembrook Capital Management closed a $15.5M bridge loan for the acquisition, renovation, and repositioning of Tribeca's 16k SF
148 Duane St
. Conversion into condos is under way, but the buyers will
take it rental
. Pembrook also provided $3.5M in mezz financing, on top of its original $9M, for the redevelopment of
62-74 Ave B
into an 81-unit luxury rental building and an $8M mezz loan for the acquisition of five
rent-stabilized elevator buildings
(555 residential units and 18 retail blocks) in the Bronx's
Pelham Parkway
on Barnes and Wallace avenues between the Bronx River and Hutchison River parkways.
***
Highcap Groups
Michael Ferrara
brokered the sale of McSam Hotel Groups $6.4M purchase of
710 Third Ave
(with Highcaps
Charles Chang
) and the former Bruces Bakery & Restaurant--a 5,000 SF building on 34 Middle Neck Rd in Great Neck, Long Island--for $1.1M (buyer rep: Highcaps
Josh Goldflam
).
***
Besen & Associates
Greg Corbin
brokered the sale of Flushing's 33-39 and 33-45 Murray St , a four-story, 25k SF
corner residential
building with 32 units, for $4.9M.
***
W & R Associates/Wal-Rich Plumbing Supply Co purchased a
51k SF industrial
building (with 15% office) at 14 Harbor Park Dr in Port Washington, Long Island, from Port Harbor Realty/Autobarn for $4.7M cash. Colliers
Jeff Schwartzberg
repped the seller, and Colliers
Chris Costa
repped the buyer.
***
Clear Davinci LLC purchased the 5,000 SF, five-unit, five-story walk-up apartment building at
407 E 6th St
from
Julie Beckman
for $3.6M. The deal was financed by M&T Bank. Corcorans
Daren Herzberg
and
Benjamin Gernandt
repped the seller, and ARM Real Estate Groups
Anand Melwani
repped the buyer.
***
MAMZI Holding purchased a 5,800 SF
commercial condo at 25 W 31st St
from PCI Properties for $2.8M. Winoker Realtys
Jonata Dayan
,
Jonathan Ben-Dayan
, and
Adam Ben-Dayan
repped the seller, and Rudder Property Group repped the buyer.
***
Island Associates
Roger Delisle
brokered the sale of the former
Tower Diner
at the entrance to Long Island-MacArthur Airport on Veterans Highway and Johnson Avenue in Bohemia, Long Island, for $2.3M. The site includes a 5,500 SF building and 0.79 acres of land with 55 parking spots.
LEASES
SL Green Realty Corp, repped in-house by Howard Tenenbaum and Gary Rosen, leased the 27k SF 16th floor of 1185 Ave of the Americas (between 46th and 47th) to insurance firm Alterra USA Holdings, which was repped by JLL's Scott Cahaly.

***
Guy Conti Art & Design inked a 10-year, 7,300 SF renewal at
15 W 37th St
. CBC Alliances
Richard Gottlieb
and
Wayne Siegel
repped the tenant, and
Steven Levy
repped owner Kamber Management Co in-house.
***
B&F Electric Motors inked a 10-year, 5,800 SF lease at
323 W 39th St
. Winoker Realtys
Jonata Dayan
,
Jonathan Ben-Dayan
, and
Adam Ben-Dayan
brokered the lease.
***
Hale & Hearty Soups
signed a 5,000 SF lease at 177 Madison Ave. KEM Cos
Kimberly McCullough
repped the tenant, while Winick Realtys
Joseph Isa
and
Brian Tregerman
repped owner First 117 Madison.
***
Euro Pacific Capital signed an eight-year, 4,800 SF lease at
80 Broad St
. Interactive Properties Corps
Michael Elkin
repped the tenant, and Newmark Grubb Knight Franks
Hal Stein
,
Adam Leshowitz
, and
Todd Stracci
repped owner Savanna.
***
Adams & Co brokered three deals: WTL Americas three-year, 2,000 SF lease (tenant rep: Adams
Michael Hymowitz
; landlord rep: The Kaufman Orgs
Yvonne Chong
and
Jessica Kosaric
for 1407 Broadway Real Estate); Bon-Binis three-year, 1,300 SF lease at 10 West 33rd St (broker: Adams
David Levy
; landlord: Ten West Thirty Third Associates); and Regal Wears three-year, 1,300 SF lease at 463 Seventh Ave (broker: Levy; landlord: The Arsenal Co).
***
Wogies
inked a 4,000 SF lease for a new bar and grill at 44 Trinity Pl/71 Greenwich St. Massey Knakals
Will Suarez
and
James Nelson
brokered the deal.
***
BoxTop Media
signed a five-year, 3,000 SF renewal at 317 Madison. The Kaufman Orgs
Loren Biller
and
Ian Norris
repped the tenant, while
Elaine Anazagasty
repped owner SL Green in-house.
***
A Spanish-America restaurant,
Venneio Infantes
newest venture, inked a 10-year, 1,300 SF lease at
234 Union Ave
in Williamsburg. ABS Partners Dean Valentino and Mark Tergesen brokered the deal.
***
B Wellness Center inked a 1,200 SF lease at
443 E 78th St
. NYCRS
James Famularo
and
Ravi Idnani
brokered the deal; the landlord is Icon Realty Management.
CONSTRUCTION & DEVELOPMENT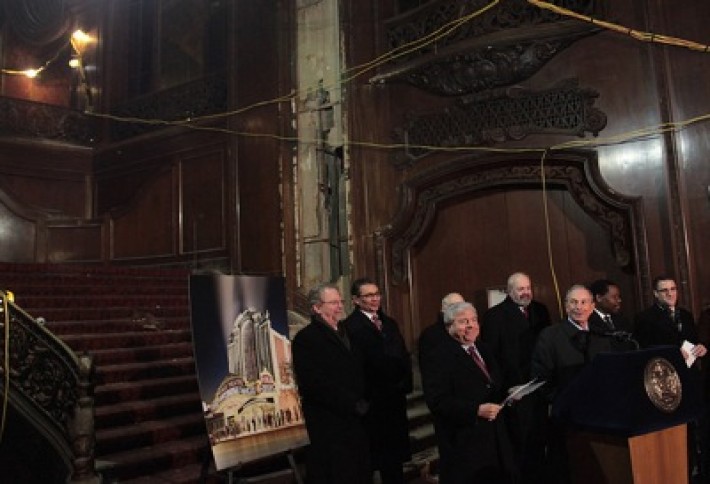 Photo credit: Edward Reed
Mayor Mike
and NYC Ed Dev Corp prez
Seth Pinsky
traveled to Flatbush, Brooklyn,
yesterday
to join borough prez
Marty Markowitz
to break ground on the
$93.9M restoration
of the historical
Loew's Kings Theatre
. Built in 1929, the property at 1027 Flatbush Ave has been
vacant since '77
and will be expanded from 68k SF to 93k. The City of New York has leased the facility to Kings Theatre Redevelopment Corp (ACE Theatrical, Goldman Sachs, and National Development Council) for 55 years. Gilbane is construction manager.
***
The Fort Monmouth Economic Revitalization Authority--via Cushman & Wakefield's
Gil Medina
,
Les Smith
,
Christopher Kinum
,
Kevin Carton
,
David Bernhaut
, and
Grace Braverman
--has issued a Request for Offers to Purchase (deadline Monday) for a
64-acre redevelopment
parcel in Eatontown. Known as
Howard Commons
, it's planned for 275 residential units and 15k SF of retail. Fort Monmouth was
decommissioned
in the Base Realignment and closure Act, which moved those military operations to Aberdeen Proving Ground outside Baltimore.
FINANCING
Eastern Consolidated's Gabriel Saffioto and Alan Miller secured a $21.8M first mortgage loan from Richmond Hill Investment Co for the redevelopment of a full city block in North Williamsburg. Columbia River Capital Advisors' Gabriel Boyar and Robert Gordon's Rushmore Capital Partners advised the lender. Seyfarth Shaw's Nicholas Kaiser was the lawyer for Richmond Hill, and Foley and Lardner's Brian Cohen and Wayne Osoba were the lawyers for the lenders.
The temperature outside is even lower than the Giants' per-game points toward the end of the season. Email amanda.metcalf@bisnow.com.