News
The Deal Sheet: Part II
CONSTRUCTION & DEVELOPMENT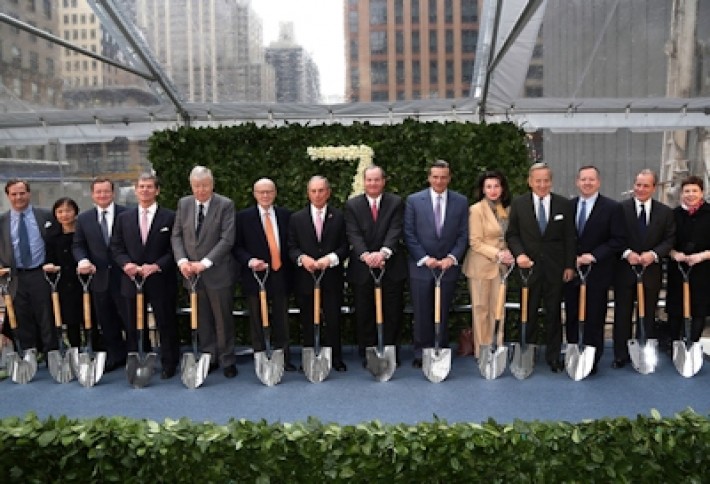 Hines, Pacolet Milliken Enterprises, and J.P. Morgan-advised investors broke ground on 7 Bryant Park. Pei Cobb Freed's Henry Cobb and Yvonne Szeto designed the 470k SF building and Turner Construction will deliver it in Q1 '15.

***
The Feil Org finished the Goldstein Hill & West Architects-designed
lobby and entryway
renovation at
7 Penn Plaza
and the lobby redo at
488 Madison Ave
.
***
Dow Hotel Co and Prudential's
$16M renovation
of the 303-key
Hilton Long Island/Huntington
at 598 Broad Hollow Rd in Melville is complete. A
steakhouse
will open in Q2.
FINANCING
The Singer & Bassuk Org arranged a $90M first mortgage for Rockrose Development's Creative Arts Building at 300 Park Ave S. The owner rebranded the building and leased it up last year.

***
Berkadia Commercial Mortgage's
Robert Lipson
arranged a $41.5M Freddie Mac refi for the 220-unit, 99% leased
Barclay Square at Princeton Forrestal
apartments.
***
GCP Capital Group's
Paul Greenbaum
arranged $35M for an 87-unit elevator apartment building with on-site parking and storage on
Gold Street in Brooklyn
. Colleague
Matthew Classi
negotiated a $7M acquisition and construction loan for the
redevelopment of a church
into commercial building, plus a new bank building.
***
Meridian Capital Group's
Jeff Weinberg
,
Moshe Majeski
, and
Simon Rosenfeld
negotiated a $20M loan for a 46-unit apartment building on Broadway.
Isaac Filler
and
Sam Shifer
placed $14M on a 110-unit property on Brooklyn's Ocean Avenue. Isaac also placed $17.6M for 166 apartments on Eighth Avenue and 85th Street and on Brooklyn's East 25th Street.
Morris Diamant
and
Jacob Rochlitz
arranged $11M on four buildings totaling 30 apartments and 8,000 SF of retail on First Avenue.
Elliott Birnbaum
negotiated $8.3M for three buildings totaling 24 apartments on Avenue A.
Avi Weinstock
arranged $6.1M for 34 apartments on First Avenue and Saint Mark's Place in Manhattan. And
Elliott Treitel
arranged $5.5M for a 15-unit mixed-use apartment building on St. Mark's Avenue, Brooklyn.
***
Eastern Union Funding's
Shaya Ackerman
arranged $20M to refi a mixed-use property and $18M for a
medical sale-leaseback
in Secaucus. Colleagues
David Metzger
and
Jonathan Singer
arranged $19M to refi four Brooklyn multifamily buildings. And
Nate Hyman
negotiated $6.3M to refi a 24-unit multifamily building on Brooklyn's Goodwin Street.
***
Feinstein Raiss Kelin & Booker's
Richard Kelin
, Meridian Capital Group's
Morris Diamant
, and Madison Title Agency's
Michael Donini
negotiated $18.7M in refis for 10 multifamily properties in Hudson County, NJ, and one in Brooklyn, all managed by Lafayette Realty's
Joseph Rosenberg
. Signature Bank's
Nicholas La Morte
arranged the capital.
***
HKS Capital's
Ayush Kapahi
arranged a $15.3M loan for a five-story, renovated office building in Tribeca and an $11M loan for a 36-unit apartment building in Brooklyn.
BUSINESS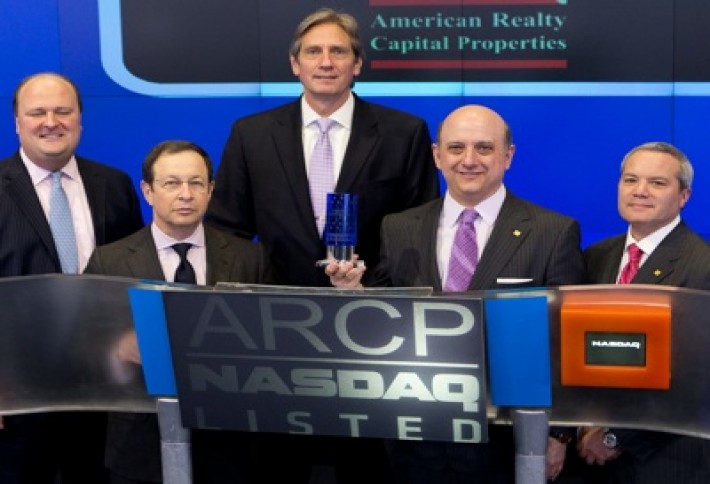 American Realty Capital Properties' acquisition of American Realty Capital Trust III was approved by shareholders on Feb. 26 and closed Feb. 28. NASDAQ's David Wicks accompanied American Realty Capital co-founder William Kahane and ARCP chief investment officer Peter Budko, CEO Nick Schorsch, and prez Edward Weil Jr. as they rang the NASDAQ closing bell on Friday. The $3.1B company is one of the largest public US REITs. Its portfolio is 692 properties totaling 16.4M SF in 44 states and Puerto Rico. That includes $212M worth of properties added this year, and $140M of acquisitions are in the 60-day pipeline.

***
Vornado's
Mike Fascitelli
resigned as president & CEO, effective April 15, after 16 years with the company. Former CEO and current chairman
Steven Roth
will retake his CEO seat.
***
ID Real Estate Partners'
Ira Fishman
and
Dana Moskowitz
and Citi-Urban Management's
Nathan Halegua
and
Josh Halegua
bought Winoker Realty Co, where Ira worked from '98 to '08. The new owners plan to diversify into acquisitions.
Trans fats, large drinks, now loud music. We wouldn't mind a ban on talking on the subway during morning rush hour (90% of us know the rule is to look down, appear gruff, and remain silent). What would you like Mayor Mike to ban next? Email amanda.metcalf@bisnow.com.