News
NAI Closes 102k SF; The Deal Sheet
NAI Houstons John Ferruzzo and Michael Keeganjust closed three deals totaling 102k SF, showing that industrial transactions in the 30k to 50k SF range are active. They celebrated by skydiving in suits, if the photo below is to be believed.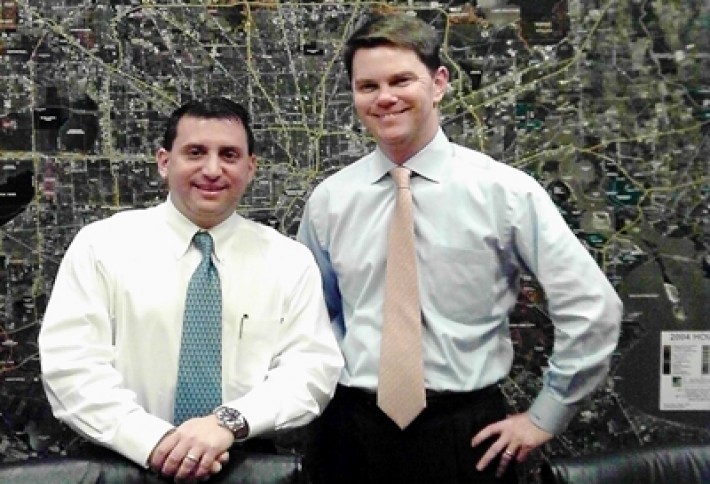 The deals: The Brandt Cos leased a 33k SF office/warehouse at 13810 Hollister, Seatex leased 38k SF at 1406 Southgate Dr, and Axon Pressure Products purchased a 30k SF spec warehouse building at 12616 North Houston Rosslyn. John (left, with colleague Chris Kugle) and Michael repped the tenant in the leases and the seller in the final deal. John says he's busier now than in the peak of '07, and Michael had even more exciting news: He was just named NAIOPs 2012 industrial rising star.
EXECUTIVE MOVES
Robert Bedrich joined Cadence McShane as VP and division manager. He succeeds Chuck White, who recently retired. He has been in the industry 24 years, most recently as project exec at Skanska.

***
PropertyInfo Corp (a Stewart company) promoted
Beth Young
to VP. She will be responsible for overall operations and leadership for the firms realty segment. She has
22 years
of industry experience and has been with Stewart since 08.
***
Ronald Brunner
joined JE Dunn as quality manager for the South Central region. He has been in the construction industry for
25 years
and just moved to Houston from Little Rock, Arkansas.
***
Theresa Quartaro Smith
joined Investment Property Exchange Services (IPX1031) as the Houston account exec.
***
NAI Houstons
Clay Pritchett
and
Chris Kugle
were promoted to VPs. Both are members of the firms industrial division. And
Adrian Ramirez
joined the firm as associate.
***
Tyler Garrett
joined Skanska as leasing manager. He will be responsible for leasing/marketing all Skanskas Houston developments, including
811 Rusk
, 15375 Memorial, and 3009 Post Oak. He was previously director of leasing at Hines.
***
Robert Wheless
joined BanDier as SVP of development. He will handle underwriting, entitling, and development of office and industrial properties near The Woodlands and Exxons campus. He has been in the industry
30 years
.
SALES
CapRock Oil Tools purchased a 14k SF facility at 3446 S Main in Pearland. The move is a big expansion from the 4,000 SF space its occupied since 04.

***
An undisclosed buyer purchased a
12k SF
building at
5311 Avenue N
in Rosenberg. The Finial Groups
Taylor Schmidt
and
Keith Bilski
repped the seller, Occusoft.
***
Medhanealem Ethiopian Orthodox Church
purchased
four acres
at 11615 Canemont. Coldwell Bankers
Daniel Bekele
repped the buyer, and Caldwell Cos
Keith Grothaus
repped the sellers, William and Patricia Houd.
***
Riverside Development
purchased
one acre
next to Dollar General at Clearwood and Edgebrook to build an
O'Reilly Autoparts
. Wulfe & Cos
Kristen Barker
repped the buyer.
***
1702 Cullen LLC (on behalf of
Showcase Custom Vinyl Windows and Doors
) purchased a
63k SF
office/warehouse building at 1702 Cullen Blvd. Evans Properties
Joe Evans
and
Janae Evans
repped the buyer, and CBREs
Steve King
repped the seller, AEG Investors Group.
***
An undisclosed buyer purchased
Huntington Village Shopping Center
, a 112k SF retail property at 12605 Bissonnet. Marcus & Millichaps
Jerry Goldsten
repped the seller, Brixmor Properties. The asset was listed at
$6.7M
.
***
11510 S. Petropark, LLC
purchased a
12k SF
building at (where else?) 11510 S Petropark.NAI Houstons
John Ferruzzo
and
Nick Peterson
repped the seller, Avinash Ayachit.
***
Dover Energy
purchased
14 acres
in the Lower Kirby Urban District in Pearland and plans a
150k SF
consolidated manufacturing and operations center on the property. JLLs
Jarret Venghaus
and
Bob Berry
repped the buyer, and Betz
Ron Dagley
repped the seller, SHT/Kirby LTD.
LEASING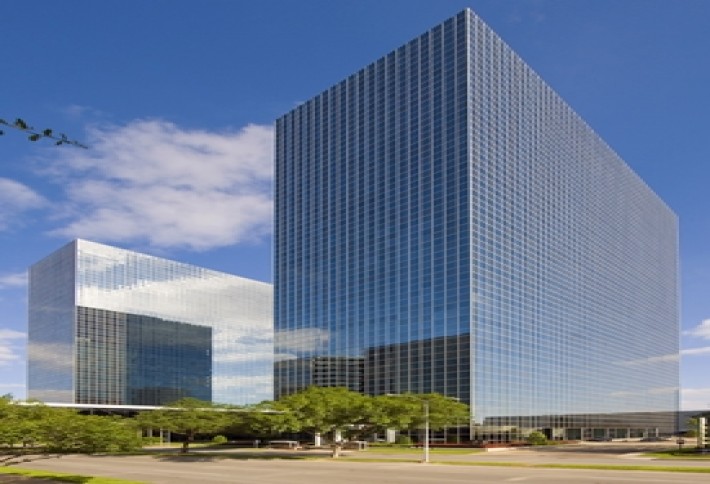 Camden Property Trust leased 87k SF at 11 Greenway Plaza for its HQ, an expansion and relocation from 3 Greenway Plaza. Crescents Bob Boykin, Warren Savery, and Bubba Harkins repped landlord Crescent Crown Greenway Plaza SPV. Streams Anthony Squillante, Chris Johnson, Jeremy Hunt, and Mike Anzilotti repped the tenant.

***
HomeGoods
opened a
29k SF
store in the Silverlake Shopping Center at SH 288 and FM 518 in Pearland. EDGE Realtys
Culver Stedman
repped the tenant, and Fidelis
Lynn Davis
repped the landlord.
***
Parker School Uniforms
leased
67k SF
at 6300 West by Northwest.The Finial Groups
Keith Bilski
repped the tenant, and Carson Cos
Dan Zoch
repped the landlord.
***
Bass Computers
renewed and expanded to
56k SF
(up from 16k SF) at 10558 Bissonnet. Streams
Graham Horton
and
David Buescher
repped the tenant, and InSites
Rives Nolen
repped landlord EastGroup Properties.
***
UR Center Furniture
leased
22k SF
at 16445 North Freeway. Hunington Properties
Jason Gaines
repped landlord Theme Family Ltd.
***
Memco
leased
11k SF
at 4280 Lockfield. Moody Rambins
Jeff Barbles
repped landlord
IVEST LP,
and his colleague
Jim Autenreith
repped the tenant.
***
Fidelity Investments
leased
16k SF
at High Street (4410 Westheimer). SRS Real Estate Partners
Chris Pitts
repped the landlord, Coventry II DIN CAL High Street. Colliers
Marshall Clinkscales
and
Ted Chryssicas
repped the tenant.
THIS AND THAT
CDS Market Research merged with Spillette Consulting. Steve Spillette will be president and CEO, Brenda Persons was promoted to VP, and founder Kent Dussair continues with the firm as managing director.

***
Panattoni Construction
is opening a Houston office, which will be run by
Radie Stroud
.
What's your favorite current TV show? We love "Elementary" and are excited to see "Psych" back. Email Catie Dixon, catie@bisnow.com.