Illustrating Austins continued growth (and secret goal of world domination through CRE) in Q4 alone, Austin accounted for 10% of the nations net absorption (80k SF of the cumulative 800k SF), we learned at our Austin State of the Market event Tuesday at the Sheraton Austin.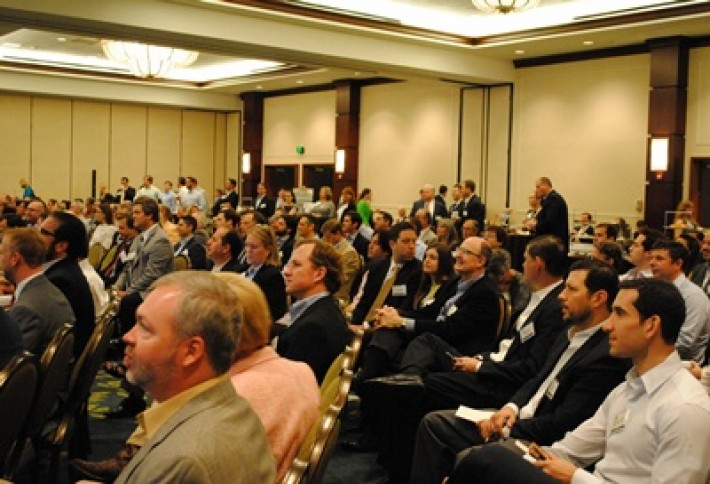 A crowd of more than 350 heard CBRE SVP Jerry Frey share the news of a 65k SF expansion in the works for Ebay. (Unless someone comes in right before they are done and outbids. We've been burned before.)He says blocks of significant size are diminishing and concessions are waning as we see the switch to a landlord market. One large block of ready-to-go space is 172k SF at MetCenter,ready for a finish-out for the right tenant.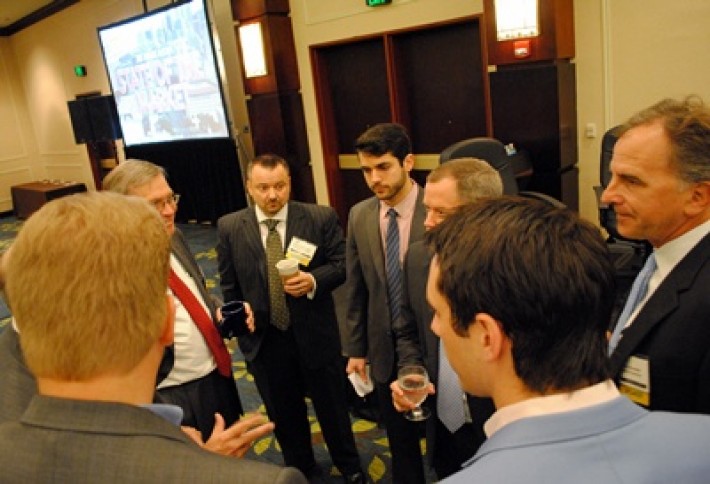 We thought they were going to assemble as the Avengers, but we had to settle for the pep talk from our Bisnow emcees with our first panel. In a lightning round, we learned: Winstead shareholder Stephen Drenners favorite restaurant is Range 616; Oxford Commercial partner/founder Ford Alexander jumped off a mountain in Vail to go parasailing; and Jerry was an amateur magician in high school.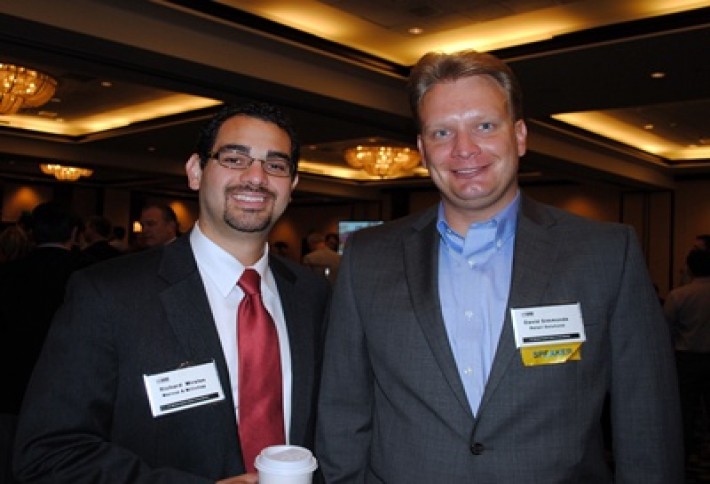 With retail operating at about 90% occupancy, Retail Solutions founder David Simmonds (right, with Marcus & Millichaps Richard Mireles) says fewer deals are happening as landlords have upped their pricing. Short of four Walmarts coming online, theres no major big box construction going on and what's there is happening in the burbs driven by grocers like HEB, Costco, and Randalls. Theres also plans for three Trader Joe's, as well as Aldi looking to enter the market.
Ford says there are fewer than 10 spaces with 100k SF or more and only 16 for the 50k SF users. The investment market has been active with $520M in sales last year and already surpassed in Q1 with $590M. Factor in about 100M SF of new construction slated or started and Ford predicts overbuilding in the future. (Already, he says, 500k SF of suburban office will be delivered in the next year.)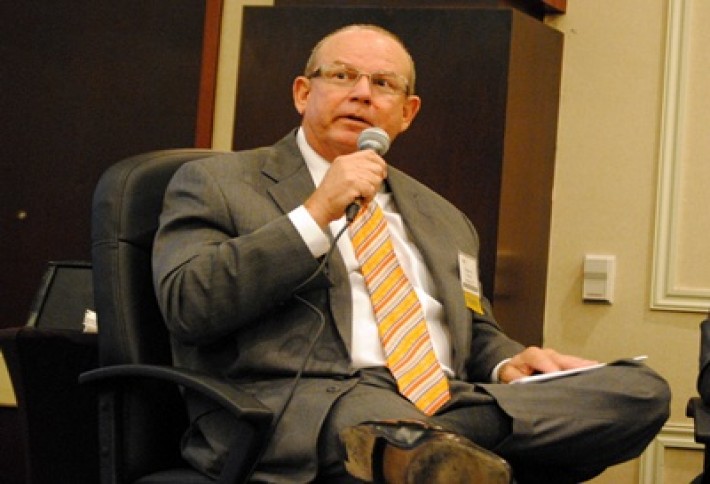 Stephen, our first panel moderator, says the firm is pursuing zoning for a mixed-use project planned for the high-profile intersection of Riverside and Lamar. The project would bring residential and retail opportunities to the site at the foot of the Pfluger pedestrian bridge and on the Town Lake hike and bike trail.The project includes a potential partnership with the Austin Museum of Art to showcase and rotate outdoor sculptures in a public plaza, as well as offering one of the citys first bike kiosks, he says. (Just don't chain your bike to a bronze statue of Achilles.)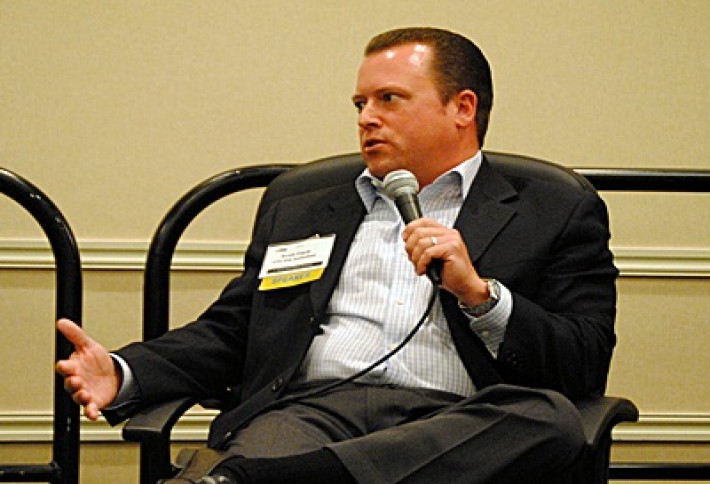 Live Oak Gottesman industrial transactions director Scott Flack (who likes to dine at Uchi and has swam to Alcatraz-- not from Austin, though) says the industrial sector is almost out of concession business with vacancies hovering around 11%. But, hes seen dirt moving in the far north submarket and lots of landowners ready to put their land to work. Where to look for product? The periphery with cities like Pflugerville and Cedar Park getting in on the action.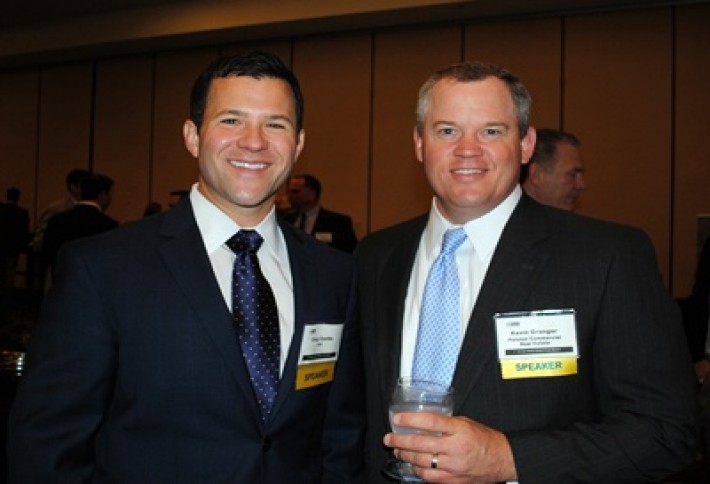 Peloton Commercial Real Estate partner Kevin Granger (right, with HFF senior managing director Doug Opalka, who spoke on our second panel) says his firm will mark its 60-day anniversary next week. (Whats the traditional gift for two months?). He says Endeavor is the first to develop in Northwest Austin with 200k SF. That project may scare off other developers because they dont want to be the second one in. There are also two big blocks coming available: 7700 Palmer has 350k SF coming back on to market (which may stop developers and lenders from pulling the trigger in the northwest); and in the southwest, AMD is giving back 500k SF, with a big deal working now, but 350k SF should still be available. Those spaces should be absorbed quickly enough, but their availability may be enough to cause developers to pull back the reins.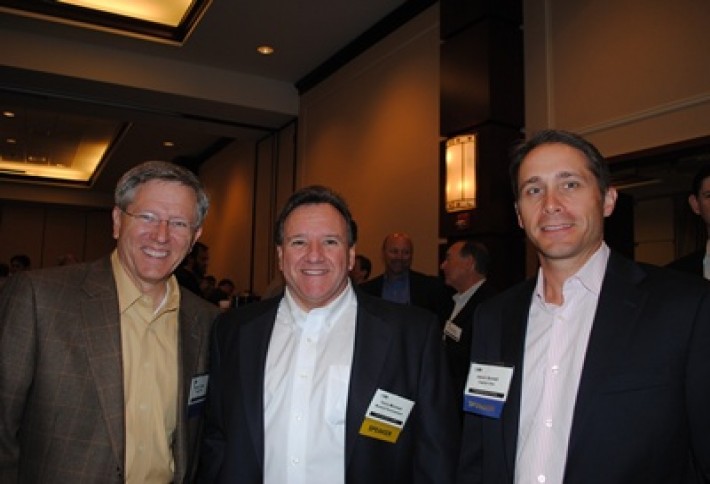 We snapped event sponsor, Capital One Bank SVP Jason Qunell (right, with Gracy Titles David Tandy and Momark Development prez Terry Mitchell). Jason tells us hes continuing to see many requests for multifamily construction loans and has financed several projects, including Endeavor and Lynds 311 Bowie high-rise project near Whole Foods. He's also seeing more term debt opportunities for office acquisition and refinance. He thinks the fundamentals are there to support such requests, too.
Stay tuned for a special second day of event coverage on Thursday. And always tell us about your efforts to Keep Austin Weird. tonie@bisnow.com and catie@bisnow.com