News
Retrofit Removes 1,000 Vehicles; The Deal Sheet
Gangi Development completed an energy retrofit at its Media Village apartment project in Burbank--arooftop photovoltaic system system will generate enough clean, renewable energyto offset more than 1,000 vehicles over its lifetime.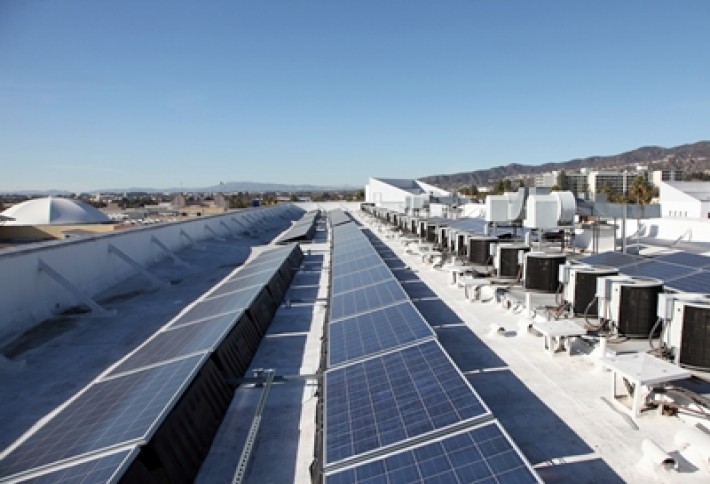 That means the $125k system will counter 69,000 pounds of carbon dioxide emissions, 7,900 pounds of smog emissions, andnearly 11,000 pounds of acid rain annually, according to the EPA carbon footprint calculator. The affordable seniors community opened in 2000 and has 146 units on top of 60k SF of street-level retail/office spaceand subterranean parking.The measures are part of the company's "designs for people and planet" initiative.
SALES
This newly completed, 48-unit multifamily complex (11925 Kling Stin Valley Village)--originally planned as condos--has traded hands for just under $15.3M, or $318k/unit. The buyer and seller are local apartment owner/operators. Marcus& Millichap's Matt Ziegler repped both sides.

***
CIM Group
sold the Market Lofts Retail--a 55k SF property on Ninth Street between Hope and Flower streets--to
MDC Realty Advisors USA
for just under $19M. The fully leased retail space is anchored by a 50k SF
Ralphs
Fresh Fare
that opened in June 2007, bringing the first full-service supermarket to Downtown in
more than 50 years
. HI Urban Retail Advisors'
Carlos Lopez
and Hanley Investment Group's
Ed Hanley
repped both sides.
***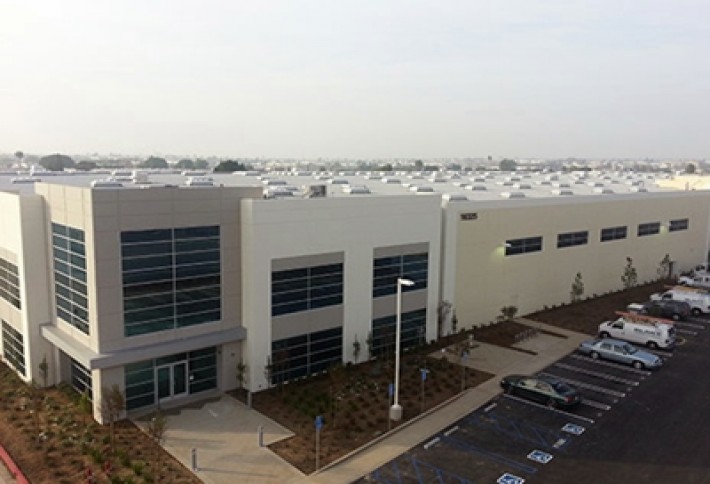 TIAA-CREF bought a 211k SF warehouse/distribution/manufacturing building in Carson (163225 S Avalon Blvd) from Trammell Crow. DTZ's Jeffrey Morgan and Patrick Morgan and co-brokers David Stromath and Dean Haney of CBRE repped both sides. The stand-alone building, part of the South Bay Industrial Center,is aiming for LEED Silver NC.

***
Vallarta Supermarkets
bought The Grove--a 101k SF neighborhoodretail centerin Bakersfield--for $14M. The transaction reflects a growing trend for regional grocery chains to own the centers they anchor, according to Colliers International's
Tom Lagos
. He and
El Warner
were retained by a court-appointed bankruptcy receiver to sell the property; their efforts resulted in
14 offers
from qualified investors, driving value10% above projections. Vallarta, which plans to open a 42k SF supermarket, exercised its
right of first refusal
to make the acquisition.
***
A private investor bought two retail buildings in Old Pasadena, 39 and 43 Colorado Blvd, for $3.7M. HI Urban Retail Advisors' Carlos Lopez repped the seller. McVaugh & Co's Hoss McVaugh represented the buyer.
***
Marcus & Millichap's
Jonathan Nikfarjam
repped the buyer and seller, both private investors, in the $1.4M sale of a 14-unit apartment building in Hawthorne (4047 W 136th St).
***
Hendricks-Berkadia's
Mike McKinney
and
Steffan Braunlich
negotiated the sale of The Crest Brook, a 31-unit apartment property in Hawthorne (4037 W 137th St). The building soldfor just under $3M,or $95k/unit. The pair also sold Yukon Towers, a 16-unit apartment property in Torrance (17005 Yukon Ave), for just over $2.7M, or $170k/unit.
***
Los Altos-based
Coronado Manor
sold the 60-unit Riverview Terrace (1933 Erin Dr) in Needles for $2.1M, or $35k/unit. Hendricks-Berkadia's
Al Inouye
and
Steven Nelson
negotiated the sale.
***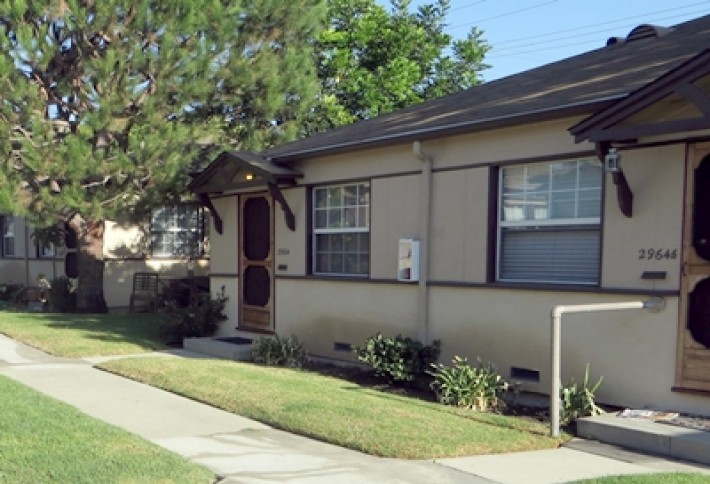 Marcus & Millichap's Ron Harris and Michael DiSimone repped both sides in the $4.6M sale of Robertson Apartments, a 40-unit complex in Palms. This was the first time the property had been on the market in 40 years, attracting a double-digit number of offers in the first week.
***
The nine-unit Iowa Apartments (11955 Iowa Ave) in West LA, was sold for just over $1.6M. Investment Real Estate Associates'
Clark Everitt
and
William Everitt
repped the LLC buyer, as well as the seller, a private family trust.
LEASES
Frame Store, a London-based visual imaging firm, leased more than 12k SF at 3500 Helms in Culver City. Industry Partners' Jim Jacobsen and Scott Rigsby repped landlord Industry LTD. The tenant, which servesentertainment and advertising firms, is relocating from Santa Monica under a long-term lease valued at $7M.The 16k SF former warehouse building is now 100% leased to creative users.

***
Tishman Speyer
completed two leases totaling nearly 75k SF at the Wilshire Courtyard office complex in LA:
Katz Communications
signed a 10-year lease for 45k SF at 5700 Wilshire, while
E! Entertainment
inked a 28k SF expansion at 5750 Wilshire.
CONSTRUCTION & DEVELOPMENT

Target bought 10 acres from Selleck Development to anchor The Shoppes at Westlake Village, a 243k SF retail center slated to open in March 2014. Lee & Associates' Mike Tingus and Grant Fulkerson represented the developer, while CBRE's Gregory Whitney represented Target. In addition, Total Woman Gym + Spa leased 13k SF at the project. Lee's Stephanie Skrbin and Paul Capra reppedthe center,while Wilson Commercial's Ken Shishido represented the tenant.
***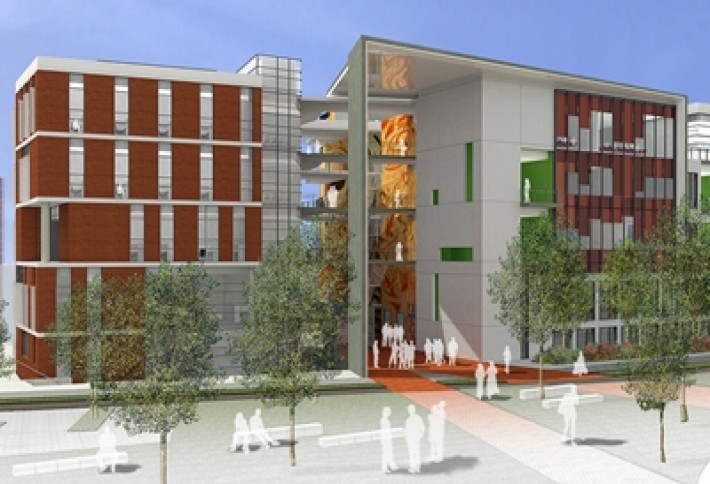 Construction began on the $55M Student Success and Retention Center at East LA College in Monterey Park, part of the campus' ongoing initiative to build state-of-the-art, sustainable structures. Designed by HGA Architects and built by Pinner Construction,the 136k SF design-build projectwill consolidate various departments to create learning environments for the diverse student body.(We know they're good students because they spend all their time indoorsstudying, making them pale as ghosts.) Slated for completion in late 2014, thefacility is designed to achieve LEED Gold and has a future net zero energy plan.
FINANCING
Mesa West Capital's
Brandon Bachner
originated $43.7M in first mortgage debt for
Pacific Urban Residential
's acquisition of apartmentcommunities in Seattle and LA. The loansinclude $21M for thepurchase of Waterstone at Cheviot Hills, a 120-unit complex in West LA. Marcus & Millichap's
Jake Roberts
and
Anita Paryani Rice
arranged both deals.
***
Johnson Capital's
Greg Richardson
and
Scott Watson
arranged a $21M loan for The Summit at Calabasas, a nearly 72k SF retail property in Calabasas. Built in 2011, the center is 95% leased and anchored by specialty grocer Maddy's Market.
SUSTAINABILITY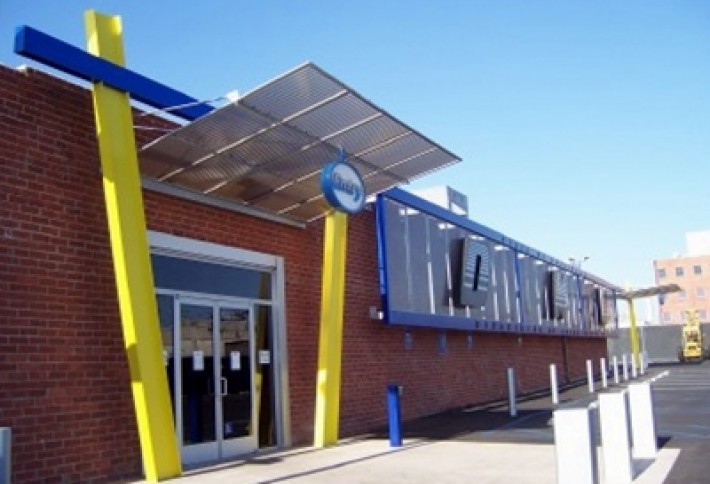 Sure, this building has a lot of counters, but don't try to order a burger and fries.The DMV West Hollywood--designed by WEDO Architecture--wasawarded LEED Silver. The project, which remodeled a 1946 Hollywood studio auto service building, combines SoCal car culture and mid-century "Googie architecture" (think brilliant colors and wild geometry) with green building techniques like a cool roof to prevent the heat island effect.

AWARDS
JLL recognized its top 10 leasing brokers for 2012 from among its five LA offices. Kudos to Gary Horwitz (55), Tom Turley (101), Peter McWilliams (38), Jordan Quinn (39), Mike McCrary (38), Jim Lindvall (15), Tony Morales (34), Dan Sanchez (26), Anthony Gatti (38), and Michael Condon Sr (20). The numbers aren't their golf handicaps, but rather the number of deals they did last year. (Additional recognition goes outto Condon for being the only broker not to wear a dark suit.)
EXECUTIVE MOVES
Veteran office broker Nico Vilgiate joined Colliers International as an EVP in the Downtown LA office, where he'll continue to specialize in tenant representation and commercial property leasing and sales. He's been involved in more than 15M SF of transactions over the past 19 years,most recently as an SVP with CBRE.

***
Curtis Palmer and his seven-member multifamily team joined CBRE's Beverly Hills office to handle institutional apartment sales in the Western US. The group, which also includes Peter Sherman, Herb Chase, and Ted Fentin, comes from Multi Housing Capital Advisors. MHCA completed $2B in apartment sales andfinancingsince Palmer and other team members founded the multifamily investment advisory firm in 2009.
***
Land use and environmental lawyer
Damon Mamalakis
joined
Armbruster Goldsmith & Delvac
. He comes to the boutique land use law firm from Latham & Watkins.
***
Mixed-use expert
Gabe Kadosh
joined
Stream Realty
's LA office as VP of retail. He comes to the firm from May Realty Advisors and also worked at The Piken Co.
***
Capital Real Estate Advisors
added
Darren Hill
as a managing director in the West LA office. He's responsible forfindingand underwriting investment opportunities and sourcing debt and equity capitalfor the firm and key clients.
***
Danny Givertz
, who oversees the LA office of
Hunter Hotel Advisors
, was promoted to SVP. He joined the firm in January 2010, responsible for building Hunter's West Coast presence.
***
Carlos Vigon joined CBRE's Multi-Housing Groupas an SVP. The 24-year veteran was previously with Grubb & Ellis and Wilshire Holdings, aprivate equity firm he founded in 2000, and has closed more than 500 transactions.
***
Robert Cooper, Daniel Guggenheim, and Michael Soejoto were promoted to partners in the LA office of Pircher, Nichols & Meeks.
We lied about our age because Facebook wouldn't accept a triple-digit number. Email your news tojulie@bisnow.com.