News
Multifamily Monday; The Deal Sheet
The multifamily lending markets can be likened to Seth MacFarlane's hosting last night: aggressive and lowbrow (aka, low rates) with loosening standards. Case in point: 693 N Peoria Ave, a recently completed, nine-unit River West apartment building.
693 N Peoria Avelocked in a rate and closed a $2.3M Fannie Mae loan with only one month of operating history.Aries Capital VP Eric Jones closed the 10-year, non-recourse loan (4.13% interest rate and 30-year amortization) for active multifamily investors Douglas Crocker II and Matt McHugh. Eric says Fannie's bypass of its traditional 90-day waiting period is thanks to the borrowers' reputations, but also a sign of increasingly competitive underwriting standards on "good deals."
SALES
JLL's capital markets team closed the $99.5M sale of a five-building, 2.7M SF portfolio on behalf of KTR Capital Partners. Purchased by Welsh Property Trust, the buildings are 94% leased to six tenants and located in Illinois (150k SF at 535 Shingle Oak Dr in West Chicago), Indiana, and Ohio. International director John Huguenard and EVP Peter Harwood led the JLL team.

***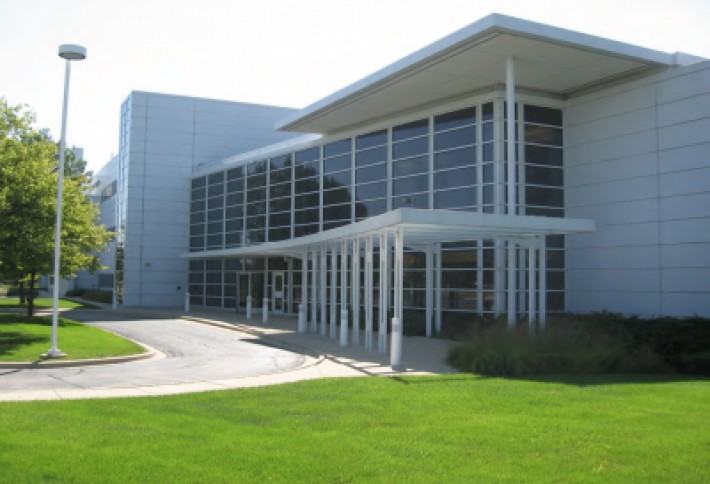 Sensient Flavors paid $5.7M for a 66k SF R&D lab in Hoffman Estates (5115 Sedge Blvd). Sperry Van Ness senior advisor Olivia Czyzynski (downtown Chicago office), Anthony Lopes and Gene White (Memphis office) facilitated the sale.

***
A single-tenant net-leased
Burger
King
, located at 2828-42 W North Ave sold for
$3.7M
. Jameson Commercial SVP of investments
Mark Jones
repped the seller, local investors, and the buyer was a
California-based
private investor.
***
@properties Commercial brokered the $2.6M sale of a four-unit apartment building at 323 W Webster in Lincoln Park (5.9% cap rate). All four units were leased at the time of sale. @properties senior commercial brokers Michael Weber and Ian Feinerman repped the seller, a private investor.

***
The Boulder Group brokered the $1.4M sale of a net-leased KinderCare property at 790 N Lake St in Grayslake. The for-profit childcare provider has been a tenant in the property since it was built in 1999. Boulder Group's Randy Blankstein and Jimmy Goodman repped the seller, a Chicago-based private individual. The buyer was an Illinois-based high-net-worth investor.

***
Martinez Trucking purchased an
11k SF industrial building
at 830 E 114th St for expansion and relocation of the company. Paine/Wetzel/TCN Worldwide's
Terry Lynch
and
Jeffrey Girling
repped the buyer. NAI Hiffman's
Dan Leahy
and
Adam Roth
repped the seller, Envirotest.
LEASING
Enterprise Rent-A-Car signed a 15-year lease for a 38k SF building at 660 S Central Ave in Bedford Park, consolidating its area facilities. Paine/Wetzel/TCN Worldwide's Terry Lynch and Jeffrey Girling repped the tenant. Collier's Vern Schultz and John Basile repped the building owner, IKO Chicago.

***
The Rebuilding Exchange, a non-profit that salvages building materials to sell to the public, inked a long-term lease for 24k SF (within a 36k SF building) at 1740 W Webster, relocating its operations from Ashland and Elston. NelsonHill's Mark and Michael Nelson repped Rebuilding and Chody Real Estate's Mitch Goltz repped the landlord, Elston Webster Delaware.

***
Freight broker Command Transportation Services leased 19k SF of office space at 5500 W Howard St, a 60k SF building in Skokie. Alter Group VP Bryan Farquhar and SVP Matthew Ward repped Alter, the building owner. The transaction brings the property to 100% occupancy.

***
MB Real Estate Services completed three leases at
230 W Monroe
, totaling
18k SF
. MB SVP
David Burkards
repped executive recruiting and placement agency
Lucas Group
in a
9k SF
renewal and expansion. MB EVP
Danny Nikitas,
VP
Konstantine Sepsis,
and associate
Doug Noble
repped online research solutions provider
Knowledge Networks
in a
5k SF
renewal. David also repped trial consulting firm
DecisionQuest
in a
3.5k SF
renewal. Lincoln Property Co.'s
Kim Robare
repped ownership in each transaction.
***
@properties Commercial senior broker
Larry Cohn
repped three
technology consulting firms
in office leases totaling more than
16k SF:


Emnos USA, an American Express subsidiary, signed a two-year lease for 8,330 SF at 300 N LaSalle (JF McKinney Associates VP Wendy Katz repped ownership, KBS Realty Advisors).


Siteworx inked a five-year lease for 5,100 SF at 200 S Wacker Dr (JF McKinney SVP Andrea Saewitz and senior associate Carey King repped ownership, Behringer Harvard).


Taylor Software signed a three-year lease for 2,749 SF at 120 W Madison (GNP Realty president Phil Hoffer repped the landlord, 120 W Madison LLC).


***
Kiser Group was retained for three apartment listings in suburban Chicago: 18-24 E Northwest Hwy in Arlington Heights (14 units); 6703 Alpine Dr, 6703 Maple Dr, 6719 Park Dr, and 6721-6723 Vail Dr in Westmont (30 units); and 120 and 124 Division St in Wood Dale (13 units).

***
Make-A-Wish Illinois renewed and expanded its lease at 640 N LaSalle St, increasing its space about 80% to 10,787 SF (effective March 2013). The non-profit has been a tenant in the building since the local chapter's founding in 1988. JLL's Melissa Rubenstein and Brian Atkinson repped the building owner, MAC Management Co, and CBRE's Connor Kerr and Lisa Konieczka repped Make-A-Wish.

***
La Colmenita Mexican Products leased
5k SF
within a
30k SF industrial building
at 4401 W Cermak. Paine/Wetzel/TCN Worldwide's
Terry Lynch
and
Jeffrey Girling
repped the landlord, 4401 W Cermak LLC, and the tenant was not represented.
***
Kiser Group
was retained for
two
multifamily listings in
Calumet
City
: 371-375 Yates Ave (
12 units
) and 634 Sibley and 1633 Harbor (
two buildings
,
17 units
). The Yates building has two vacant apartments, but leases are expected to be signed for both in the coming weeks. The Sibley and Harbor buildings are vacant and require renovation.
CONSTRUCTION & DEVELOPMENT
HSA PrimeCare will develop a 15k SF multi-specialty surgery center at 240 Center Dr in Vernon Hills. The $10M facility is fully leased to Hawthorn Surgical Associates, which is relocating from Libertyville. HSA plans to break ground March 1.

***
Morgan/Harbour Construction completed
10k SF
of tenant improvements within
International
Tower
, a
303k SF
office building at 8550 W Bryn Mawr Ave, on behalf of property manager
CBRE
. Interworks Architects provided architectural services.
EXECUTIVE MOVES
Mid-America Asset Management promoted Marget Graham to principal from VP. Marget has been with the leasing group since January 2000 and specializes in landlord representation. She received her undergraduate degree from Purdue University.

***
Sperry Van Ness tapped
Jerry Goldner
as
senior advisor
in the firm's
downtown Chicago office
, specializing in retail, office, multifamily, and development sales. Prior to joining the firm, Jerry worked at Jameson Commercial and Arthur Goldner & Associates.
***
Barry Stokes
joined ML Realty Partners as a
financial
analyst
. Previously employed with Anderson Commercial Group in Milwaukee, Barry received his undergraduate degree in business administration from
Marquette
University.
***
Lee & Associates tapped
Jay Farnam
as
senior
associate
. Jay previously was a senior industrial broker at GC Realty & Development and a senior associate at Brown Commercial Group.
***
Jamie Moorhead
has formed
Moorhead Law Group
, a Chicago-based firm with a
national practice
in CRE, conservation, and sports law. He was previously a partner at Thompson Coburn.
***
Al Lindeman
joined Sperry Van Ness as
SVP
in the firm's downtown office. A
38-year
industry vet, Al has completed transactions with an aggregate value exceeding $200M.
***
Meridian Design Build hired
David Lukas
as
associate project manager
in the company's national projects group. David received his undergraduate degree from Illinois State University and his Master's degree in business administration from Roosevelt University.
***
Patrick Ennes
joined the Missner Group's construction team as
project
engineer
. He previously worked at McLarney Construction in San Jose and graduated from Colorado State University.