News
15 Things You Need to Know This Morning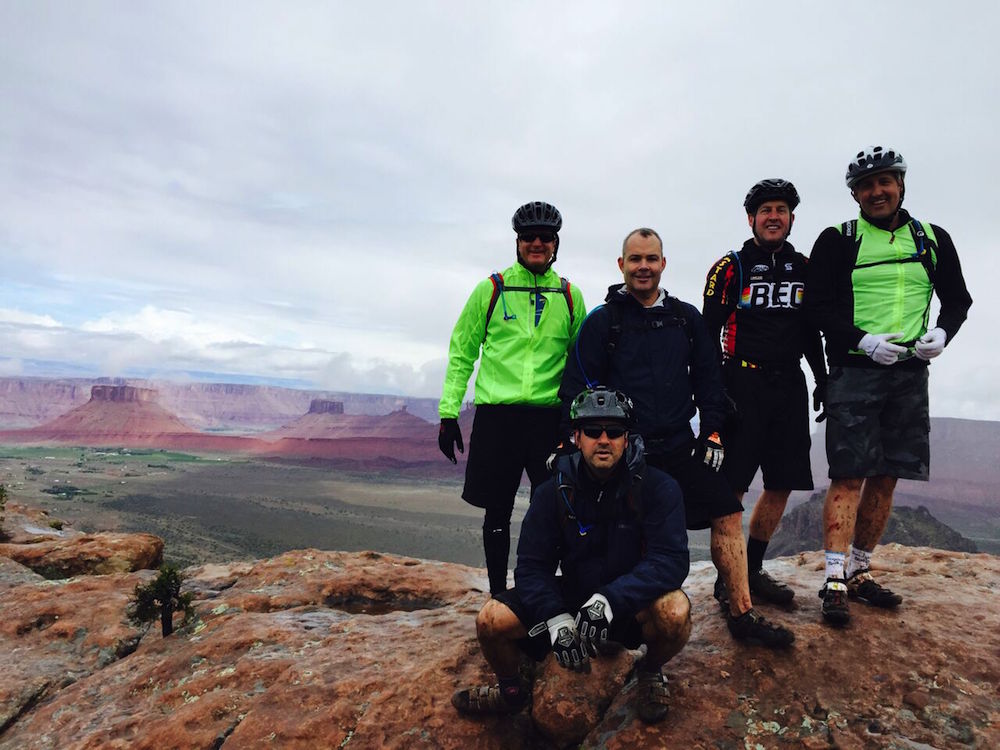 What You Didn't Know About Steve Carboni
Photo: Back row, second from right with Henry Fonvielle, Steve Pugh, Miles Spencer and Steve Strazzella in front row at Porcupine Rim mountain bike ride in Moab, Utah last May.
Title: Portfolio Leasing VP, Rappaport.
Job: In charge of team leasing Rappaport's portfolio of over 50 shopping centers in DC area.
Years on the job: 2.
Memorable project: 340k SF Walmart-anchored Skyland Town Center in DC's Ward 7. Mixed-use project includes 480 apartment units over 215k SF of street retail and next to 125k SF Walmart. Broke ground after 14 years of pre-development work.
Current project: Recently acquired 110k SF Giant-anchored Wellington Station in Manassas.
CRE career: Studied aerospace engineering in college and got CRE bug during second half of junior year. Shifted gears to finance and worked for San Diego-based medical office building developer after graduation.
Grew up: Fair Oaks, CA.
Current home: Bethesda.
Why DC: Opportunity to work in acquisitions group at Federal Realty.
School: San Diego State.
First job: Chevron service station, pumping gas, cleaning up after eight mechanics and helping rebuild motors and repair cars.
Jobs in another life: Master woodworker and mountain bike tour guide.
Daily habit: Early breakfast with two older sons and drive them to school.
Favorite apps: Waze and Gamechanger.
Favorite movie: It's a Mad, Mad, Mad, Mad World.
Favorite restaurants: Taco Bamba and Cava.
Favorite music: 80s, reggae and country.
Favorite vacation spot: Santorini (proposed to wife there 20 years ago).
Guilty pleasure: Ballast Point Grapefruit Sculpin IPA.
Bucket list: Three-month, cross-country road trip with family in diesel Sprinter camper, towing trailer with camping gear, mountain and road bikes.
Family: Married 20 years to Melissa; three sons (9 and 14 year-old twins)
Hobbies: Family adventures, mountain biking, road biking, skiing, watching and coaching son's sports (travel baseball and bike racing), traveling and mentoring young professionals.
Startling fact: Unique ability to draw out near-death experiences for anybody willing to join along on mountain bike, raft or ski adventures.
15 OTHER THINGS YOU NEED TO KNOW THIS MORNING
Introducing Bisnow Jobs
Local

Commercial Real Estate Jobs
WASHINGTON DC JOB LISTINGS
Regional Commercial Services Sales Director - 0072I
Stewart Title
Assistant Development Manager
Vornado/Charles E. Smith
Assistant Project Manager
Moseley Construction Group
Tenant Coordinator
EDENS
Property Manager
Lowe Enterprises
Vice President, Architecture
Neighborhood Development Company
Project/Program Manager
Verity Commercial
Project Manager
MILLER
Branch Relationship Manager
EagleBank
Portfolio Manager
EagleBank
Relationship Manager
EagleBank
Compliance Manager
EagleBank
Credit Analyst
EagleBank
Software Applications Engineer
United Bank
Senior Network Engineer
United Bank
Sr. Electrical Engineer
GPI
Project Manager
POUNDS
Designer
Pedini DC