News
15 Things You Need to Know This Morning
If you don't
see the cool
pictures, please click here!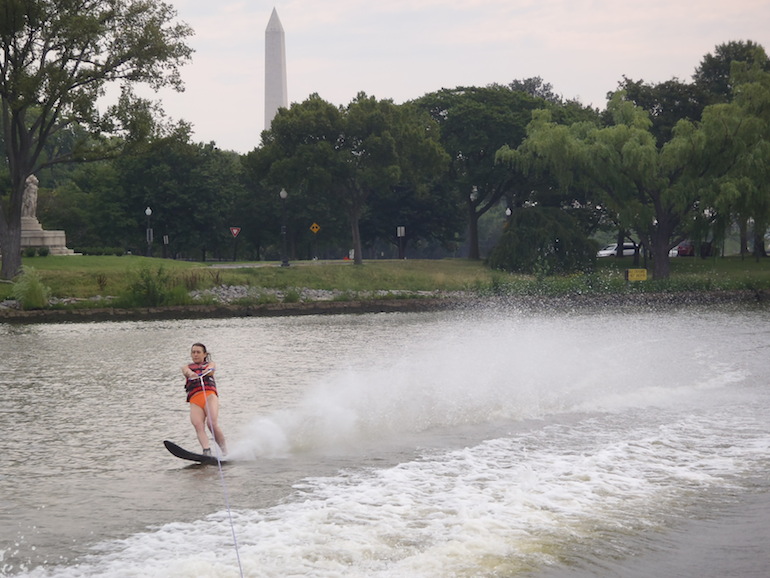 What You Don't Know About Angie Fox
Photo: Water skiing on Potomac.
Title: President/CEO, Crystal City BID.
Organization: Created in 2006, team of five works on changing perception of Crystal City post BRAC. 
Crystal City's size: 11M SF of office; 30k office workers; 16k residents; 5k hotel rooms.
Biggest changes so far: Created multiple events like wine tastings, yoga classes, competitive sporting events, and screen on the green that draw thousands. Also, creating tech hub that includes maker space, HQ for Crystal Tech Fund, and WeWork's future residential project for entrepreneurs. 
Memorable project: Turning former Marriott hotel conference venue into temp home for Arena Stage and now permanent home for Synthetic Theatre. Elegant solution to complex problem in under 100 days. 
Grew up: All over south – born in Raleigh, NC, elementary school in Oak Ridge, Tenn., high school in Aiken, SC, and college in Atlanta. 
Current home: Ballston.
Why DC: Hired by Verizon for executive development program.
School: Georgia Tech – graduated with highest honors in electrical engineering.
First job: Video store clerk in high school. 
Daily habit: Head stand. 
Favorite apps: Weather Channel, Park Mobile, Uber, Pandora, Shazam, Facebook, and Twitter.
Favorite movie: Dr. Zhivago.
Favorite restaurant: Grand Cru (Ballston) – best deviled eggs. 
Favorite books: A Prayer For Owen Meany by John Irving and The Stand by Stephen King. 
Travel history: 45 countries and all continents but Antarctica. 
Guilty pleasure: Annual solo yoga trip – this year went to Turks/Caicos and Mexico. 
Family: Lives with "honey" (Vornado's Mitch Bonanno); her 11-year-old son and his 11-year-old twins (boy and girl); and Maltese.
Hobbies: Yoga, hiking, biking, crossword puzzles.
Startling facts: Huge waterski lover and do it often on Potomac by Lincoln Memorial. Also love targeting shooting and owned first shot gun at age 8. "Probably explains why I'm a 28-year vegetarian."
15 OTHER THINGS YOU NEED TO KNOW THIS MORNING
© 2014, Bisnow LLC, 1817 M St., NW, Washington, DC 20036. All rights reserved.
To UNSUBSCRIBE from future emails or to modify your email subscription preferences click here.