Continuing this week's litany of $1B deals in NYC, Brookfield Office Properties has locked in a refi for two of its Brookfield Place buildings Downtown.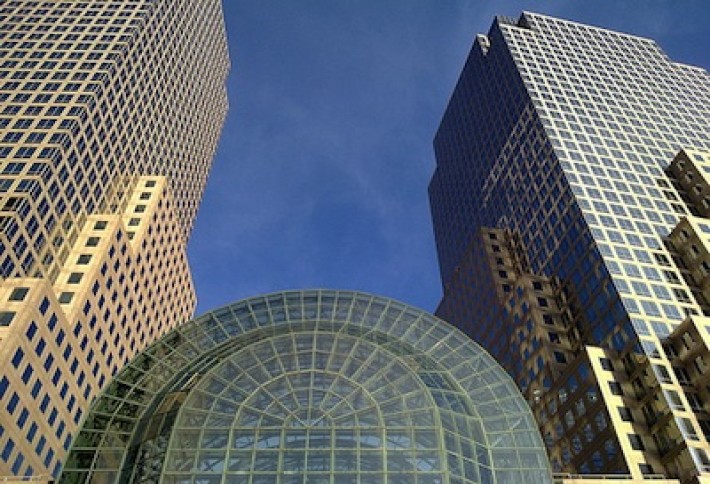 Deutsche Bank, Royal Bank of Canada, Citibank, Bank of America, and Wells Fargo are kicking in $800M for the 2.5M SF 225 Liberty S t and the 1.8M 250 Vesey St, and Brookfield could draw down another $200M. It's a three-year floating-rate loan (starting at 3.44%) that comes with two one-year extension options.
SALES
Rivercrest Realty Investors sold the 19k SF 138 Spring St in SoHo to 138 Spring Owners LLC for $48.5M. Eyewear retailer Ilori occupies 4,600 SF of ground-floor and lower-level retail, and the rest is commercial loft space. RKF's Jeff Fishman, Brian Segall, Andrew Jacobs, and Jonathan Butwin repped both sides.

***
The
Community Development Trust
and
Proto Property Services
are purchasing and rehabbing Coney Island's 360-unit
Ocean Towers
affordable housing on West 24th Street between Mermaid and Surf avenues for
$52M
. The buyers are putting in $10M. Another $35M will come from the Enterprise Community Loan Fund's New York City Acquisition Fund, managed by Forsyth Street Advisors. Another $4.5M is expected from the NYC Department of Housing Preservation and Development's
Article 8A Loan Program
. And Enterprises Bank of America Energy Efficiency Loan Program will kick in $1M. The
Community Preservation Corp
has issued a commitment for a $35M, 30-year mortgage insured by the State of New York Mortgage Agency and funded by the New York City Employees Retirement System.
***
Massey Knakal's
John Ciraulo
,
Bob Knakal
,
Michael DeCheser
, and
Craig Waggner
sold 195, 199, 201, and 203 E 4th St (between avenues A and B), all five-story walk-ups, for $29M. John, Craig, and
James Nelson
arranged the $20M, all-cash sale of 118 and 120-122 East 4th St (between 1st and 2nd streets), totaling 69 units. Bob and
Nick Petkoff
put together the $23M sale of the 27k SF 360-362 Broadway (eight apartments on one-year leases and two sublet stores) in
Tribeca
. They also sold 106 Greenwich St (16 apartments and two stores) between Rector and Carlisle streets in
FiDi
for $5.7M to a buyer repped by Hakimian Properties. And John and
Thomas Gammino
repped LHG Group and Palladium Management in their $13M cash sale of the development site at
16-18 E 30th St
between Madison and Fifth. The buyer plans a high-end,
boutique hotel
.
***
The remaining
189 residential condos
, four retail condos, and a 225-unit parking lot in Union City, NJ's
Lenox
(500 Central Ave) sold for $15.3M. Eastern Consolidated's
Deborah Gutoff
and
George Moss
repped the seller, and colleagues
Lipa Lieberman
and
Gabriel Saffioti
procured the buyers, Sun Realty and Gibraltar Realty. They'll renovate the 47 vacant units and sell as condos.
***
Francmen 205 LLC, repped by Eastern Consolidated's
Deborah Gutoff
and
Paul Nigido
, sold two buildings (23 apartments and two stores across 22k SF) on the west side of
Eighth Ave
between 20th and 21st to 205 Eighth Ave. LLC for $15.9M. Their colleague
Gabriel Saffioti
brought in the buyer.
***
Alfa Development and Park-It Management acquired
117-119 W 21st St
for $12M. The vacant four-story warehouse with frontage on Sixth Avenue is a
redevelopment play
that can be replaced with 32k SF. Eastern Consolidated's
Alan Miller
,
David Schechtman
, and
Paul Nigido
repped the seller. Their colleague
Brian Ezratty
procured the buyer.
***
Cassidy Turley's
David Lebenstein
,
Stephen Bellwood
, and
Edward Kent
arranged the sale of an 17k SF
commercial condo
at 40 Broad St for $6.3M. Maya Consulting repped the buyer, COMM5 Setai LLC.
***
Mack-Cali Realty Corp sold the
63k SF
, two-story, single-tenant
51 Imclone Dr
in Branchburg, NJ, for $6.2M.
***
The 62-apartment (plus one store) 1084 New York Ave in
Flatbush
sold for $6M. GFI Realty Services'
Yosef Katz
repped the seller, a local investor, and GFI's
Josh Orlander
repped the buyer, Castellan Real Estate Partners.
FINANCING
Cassidy Turley's Noble Carpenter arranged an $84.5M first mortgage from HSBC forWafra Investment Advisory Group's 329-unit LockWorks at Yale & Towne apartments in Stamfords Harbor Point.

***
Hudson Realty Capital provided a
$16M
first mortgage to acquire and stabilize a 117k SF
office/medical condo
in Garden City.
***
Marcus & Millichap Capital Corp's
Christopher Marks
arranged a five-year,
$14M
loan for a 58-unit apartment property in Manhattan, and
Anita Pins
arranged $7M for
104 units
in Brooklyn.
***
Meridian Capital Group's
Carol Shelby
and
Dani Sabesan
arranged $13.2M for a 31-unit apartment building with 5,100 SF of retail on West Eighth Street.
Cary Pollack
placed $8.9M on 52 apartments in 52 units on Ludlow.
Scott Assouline
and
Jacob Nefoussi
arranged $8.3M for 11 apartments and 3,500 SF of retail on Ninth Avenue.
Morris Diamant
negotiated a $5M mortgage for a 68-unit building on Thayer Street. And
David Hayum
negotiated a $5.8M mortgage on two multifamily buildings (82 units) on East 94th Street and East 96th in Brooklyn.
***
GCP Capital Group's
Adam Brostovski
negotiated $5M for two five-story apartment buildings (60 units and 2,400 SF of retail) in the
Bronx
.
LEASING
In Q3, Allianz Real Estate of America will move from 1114 Ave of the Americas to 7,000 SF in W&H Properties One Grand Central Place. Studley's Greg Taubin and Jason Perl a repped the tenant, and Newmark Grubb Knight Frank's William Cohen and Ryan Kass repped the landlord.
HOTEL
InterContinental Hotels Group has signed on to open a second EVEN Hotels property in NYC. Frank Chan and Lance Steinberg own the property,321 W 35th St, where the 77k SF, 150-key hotel will rise. It'll open in the middle of 2015.
DEVELOPMENT
EEA Industries and SWH Residential Partners broke ground on the 57 Gateway luxury apartments and 9,100 SF of high-end retail at 9 W S Orange Ave next to the South Orange Village Center train station.