News
How To Attract Tech Tenants
Tech tenants aren't just for Midtown South anymore, according to panelists at our Bisnow Future of Office event yesterday. That means landlords from Midtown to FiDi to Brooklyn are asking: How do I get Google types into my building? (A gift card to the Apple Store never hurts.)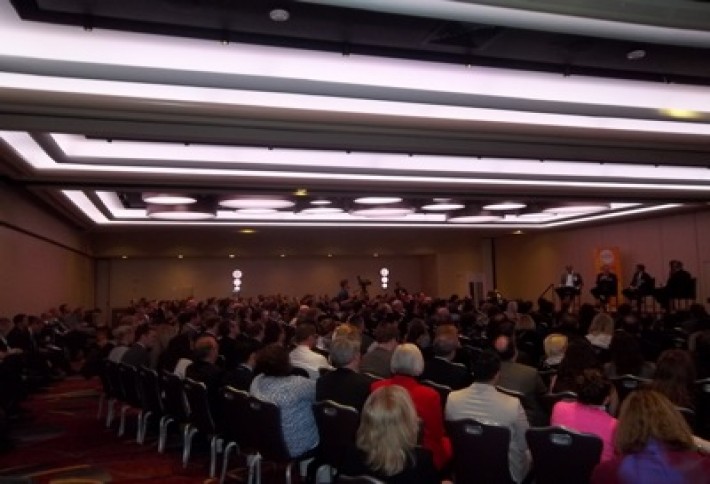 More than 400 joined us at the Marriott Marquis, where Colliers Tri-State prez Michael Cohen said the shifting NY office tenant base (from the FIRE industries to tech and media) is a once-in-a-generation change in the CRE industry.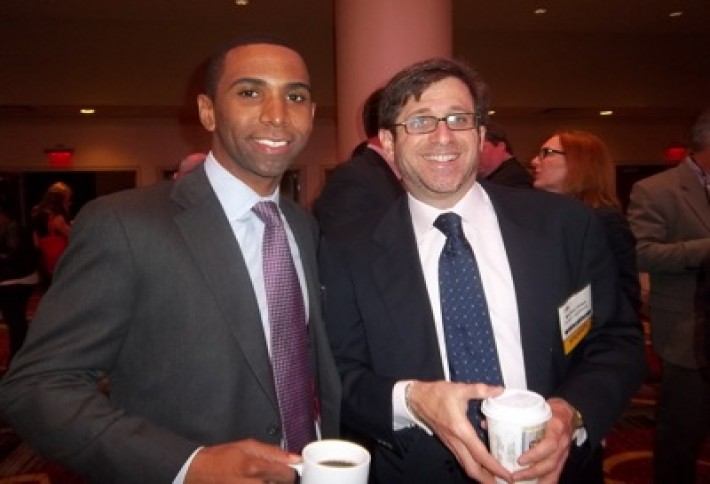 Michael (right, whom we snapped with KeyBank's John Gilmore IV) says some buildings in tech's favorite submarket, Midtown South, now lease for more than their Midtown counterparts. Soon, he says, "financial realities will outweigh the coolness of the area," and Downtown and its $30/SF older stock will be a beneficiary. Still tech tenants also consider more than price. What is it that they want?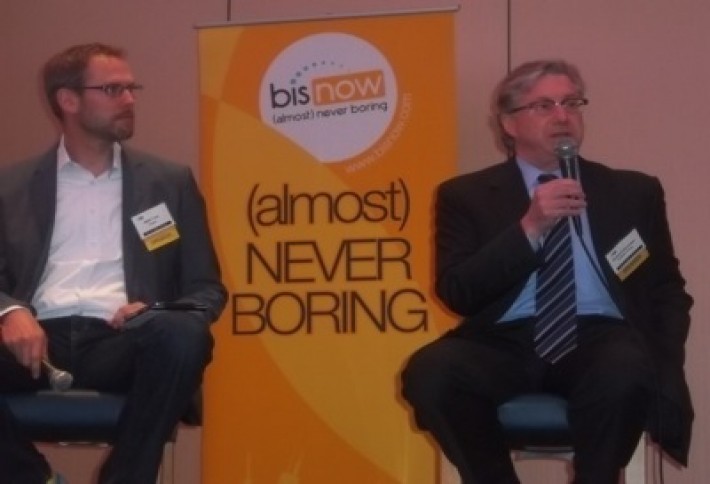 Google, the ultimate tech tenant, owns its Manhattan office at 111 8th Ave. Google real estate project exec Adam Lutz (left, with Cassidy Turley's Richard Bernstein) says his company designs space like a neighborhood. Think of a desk as an apartment, the coffee machine as the apartment dweller's local restaurant, and the conference room as the dry cleaner. All should be close and convenient. He adds that Google staffers also like to work in a place that's nicer than their apartments, considering how much time they spend at the office. (Our apartment is designed like an office, which explains why our cat always seems so disappointed in us. He must be our boss.)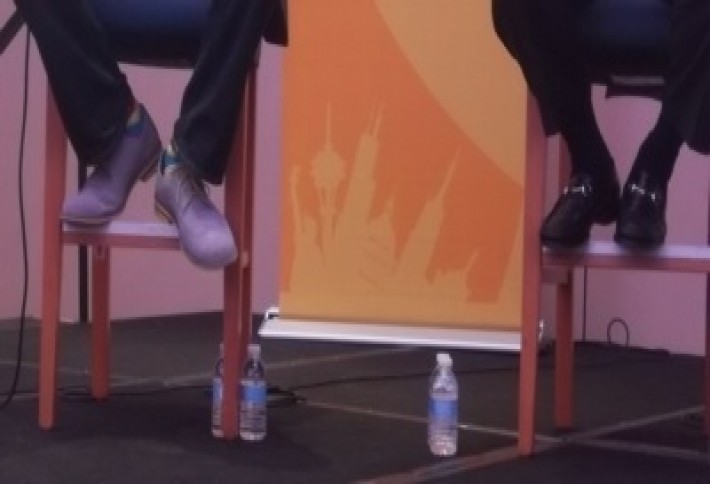 Above, Adam's Google-ish multi-color striped socks and blue shoes. Richard says it's easy to tell which one of them works in Chelsea and which works in Midtown. Richard also admires Chelsea Market (next to Google's office) for becoming a destination in an at-the-time challenging submarket, owing to its mix of retail. Midtown landlords should rethink what attracts a tenant, he says, creating better "destinations" in their lobby retail.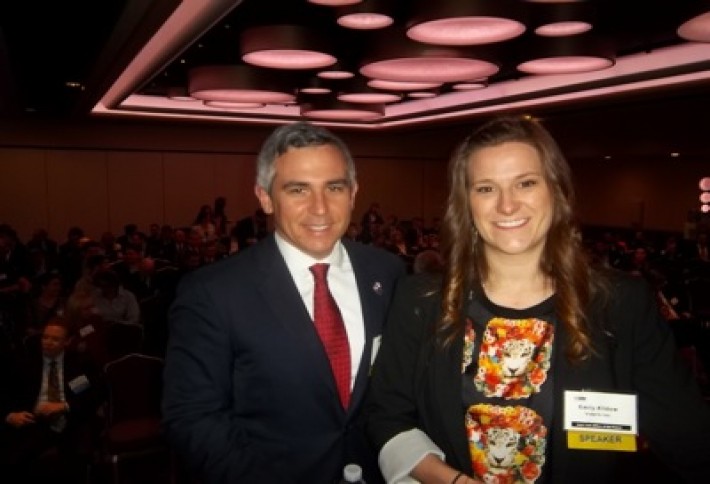 We also snapped our moderator, Greg Kraut--who heads Avison Young's NY office, which opened last year--and Vidaris' Emily Kildow. She says workplace modernization in the more traditional corporate environment is happening on a much smaller scale--ergonomics, computers on adjustable-height platforms--but the trend is in motion. Michael adds that companies with "bullpen" needs are taking after tech firms, even forgoing the free cubicle furniture sometimes on offer from previous tenants in favor of an open layout.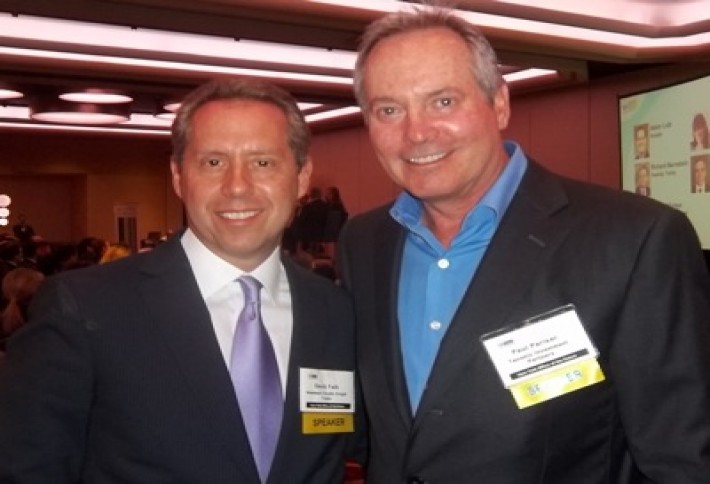 Newmark Grubb Knight Frank Tri-State president David Falk (with Taconic Investment Partners co-CEO Paul Pariser, whose firm sold 111 Eighth Ave to Google in late 2010) says tech/creative tenants are looking for buildings that define their companies and spaces that define their brands. That means high ceilings, exposed brick, open layouts, outdoor space, and buildings that are comfy during non-traditional hours. Paul sums up tech tenants' space preferences differently: big and cheap. Brooklyn has a lot of that, he notes.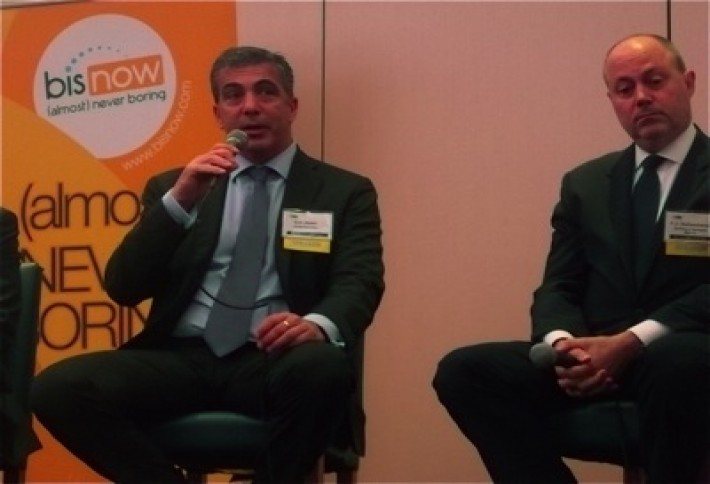 This new priority list, which also includes proximity to other techies, is opening up opportunities for investors like Allied Partners chairman Eric Hadar (snapped here with SOM's T.J. Gottesdiener) to consider buildings he wouldn't have taken a second glance at 15 years ago.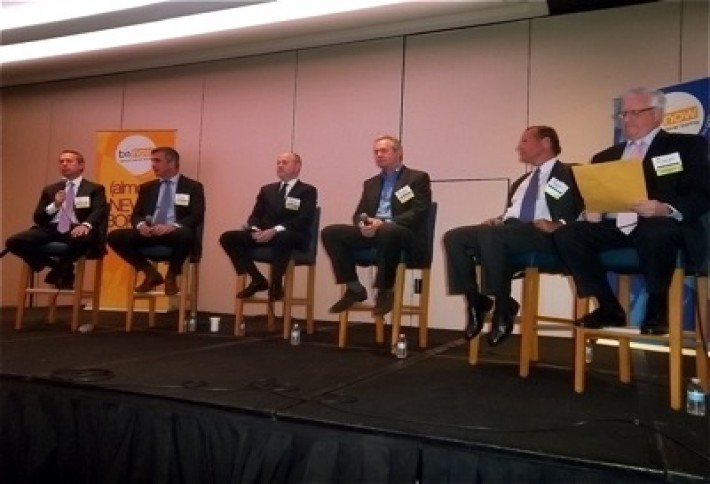 Once landlords sign on to the concept that many entrepreneurial firms can't commit because they don't know where they'll be in six months, Eric says, they'll have access to the small-tenant pool, which adds up to much more than the fewer large tech tenants. To do that, Taconic is weighing how to get into the WeWork-esque spaces that are so popular with startups, Paul says. He estimates NYC has 700k SF of such space, and he's heard there should be 3M SF.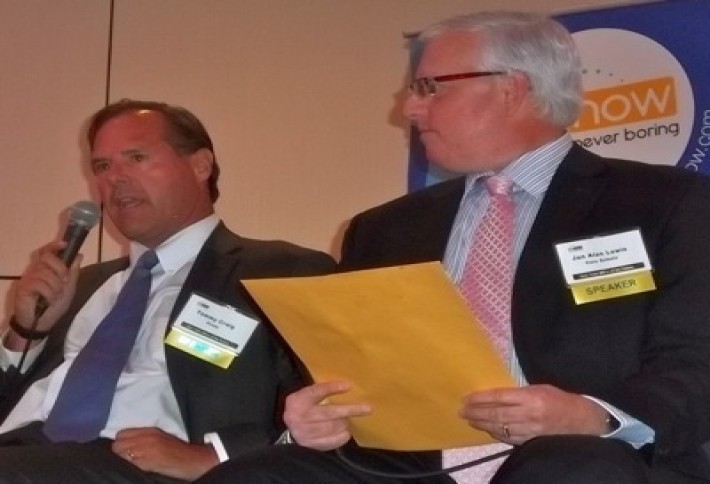 To each his own. Hines' Tommy Craig (with our moderator, Cole Schotz's Jan Lewis, who includes investors like Allied Partners on his client roster) will still go after credit tenants. Hines connects real estate transactions to the financials, he says, and capital markets benefits don't derive from short-term leases.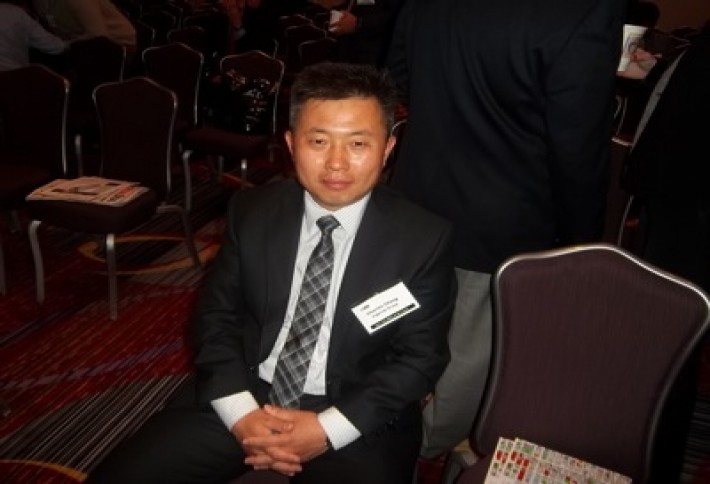 Highcap Group's Charles Chang has earned our attention: A veteran attendee of eight Bisnow events, he occupies a front row-center seat every time. To get that prime spot, he has to leave his Dix Hills house at 5:15am. For that, Charles, we salute you--and ponder whether that's enough to qualify for Bisnow health benefits.
Did we take your pic at the event? Look for it on our event page.
Only in New York do you beat the lunch crowd by eating at noon. What are your "only in New York" observations? Email amanda.metcalf@bisnow.com.