News
This Week: Live from ICSC!
This week, Bisnow was on the ground at ICSC's annual RECon in Las Vegas, joining over 33,000 retail movers and shakers, and staying up way past our bedtime.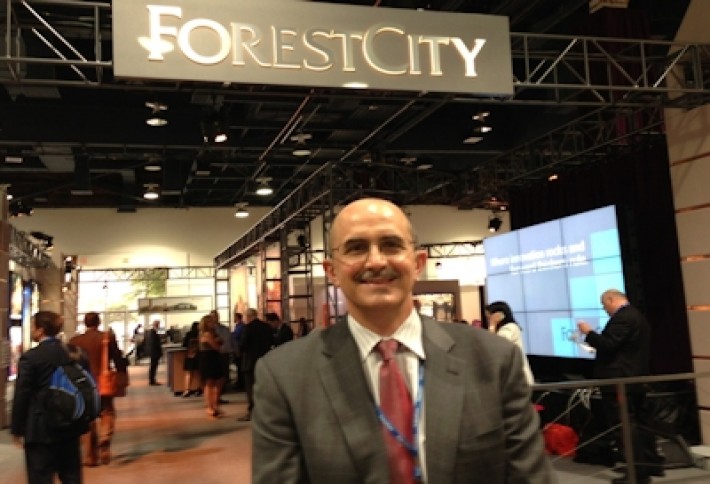 We snapped brand-new ICSC chairmanDavid LaRueon hisfirst full day; he'd been sworn in the evening before, but not in an official ceremony: "They tore off my'trustee'ribbon and replaced it with 'chairman,' and that was it," he laughed. Of course, David already had another occupation: He's beenCEO of Forest City Enterprisessince 2011. Now he has another60,000constituents in 90 countries through ICSC's massive reach. In his first speech, he urged more diversity among ICSC members to reflect changing demographics of American consumers. Personally, he lives that theme out and tells us he's excited about his family'scoming adoptionof a fifth child this June--a 14-year-old boy, joining three adopted siblings and one natural born. 5 kids and 2 CEO jobs? This guy must be organized.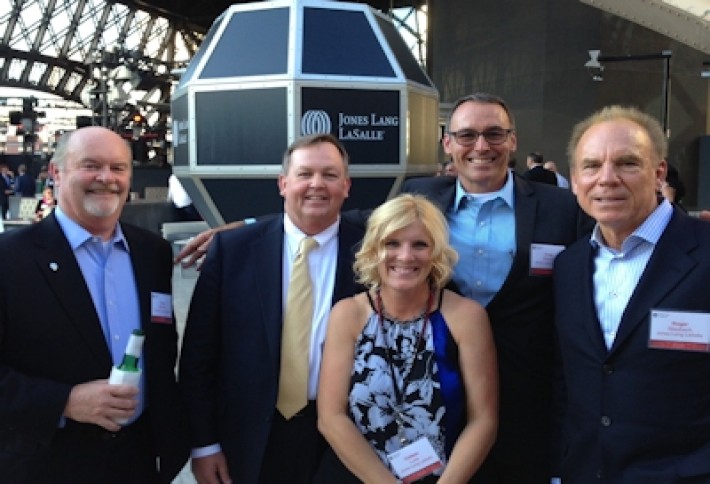 Long a fan favorite,Roger Staubach, right, was a star attraction at the Jones Lang party in the nightclub of the Paris Hotel's Eiffel Tower. We snapped the 1963 Heisman Trophy winner and Super Bowl VI MVP withJLL Americas retail group CEOGreg Maloney, RREEF'sJoe Saunders, and JLL team membersColleen LurieandCraig Killman. Roger, who started his own real estate company in 1977 and sold it to JLL in 2008, is at age 71 still quarterbacking as strong as ever asexecutive chairman for the Americas anda JLL board member.
Regency Centers national property operations SVPScott Priggetells us the REITs strategy is tosell propertiesthat no longer fit and reinvest innew development and acquisitions. Target demographics for its properties: neighborhoods with $100k in income with centers featuring grocers like Whole Foods, Publix, Trader Joes, and Kroger.It hasnew projectsin the works inCharlotte,Miami,Chicago,DC, andLA.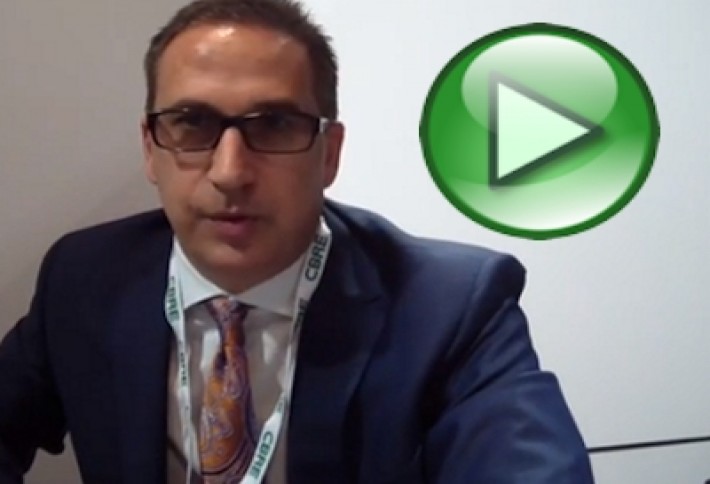 Despite Gen Y's love for the city,secondary markets still have clout as retail demand improves and vacancy levels drop. What does this mean for investment? Click thevideoabove to hear more fromAnthony Buono, who leads CBRE's retail practice.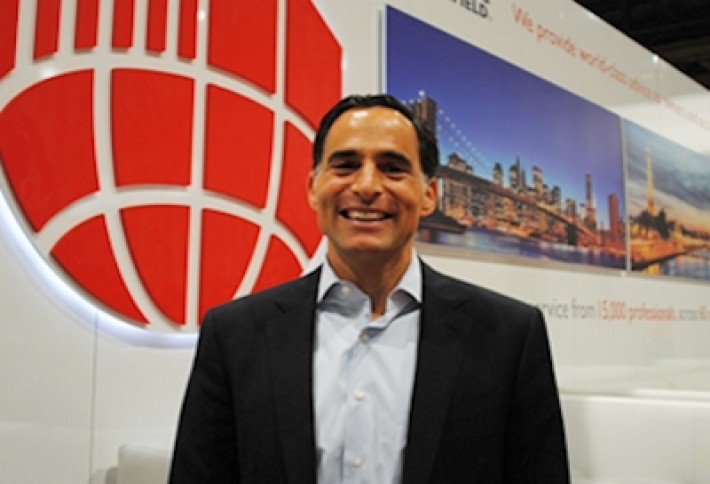 Millennium Partners partnerMario Palumbo Jrtells us Boston's vacantBurnham Building--the former Filenes store that the developer purchased--is a retailers dream with51,000 people walking by daily. In conjunction with the building's repositioning (14 delivery), a contemporarymixed-use,625-foot towerwill be built (15 delivery). Cushman & Wakefield'sGene Spiegelman,Kazuko Morgan, andEmily Ouwill lease the182k SFof retail in the$630M, 1.4M SFproject. Mario says the project is seeking specialty apparel, upscale grocers, and technology retailers.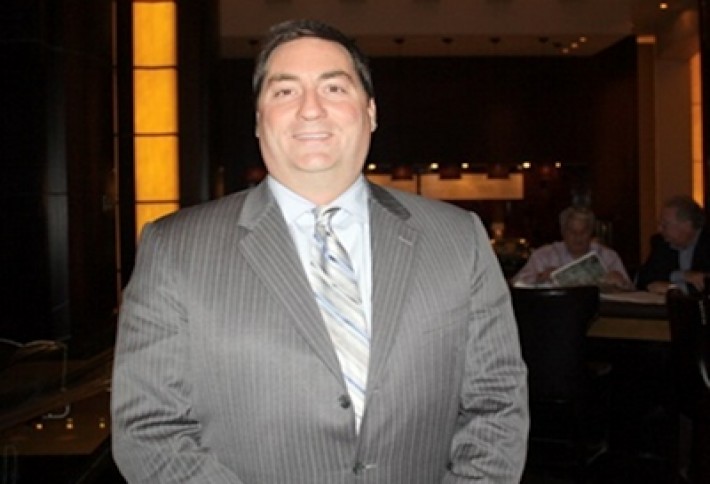 Avison Young CEOMark Rosetells us post-recession, retailers are not focusedsolely on store count growth. New stores are being tempered by both increasesin distribution centersanddata centersas retailers increasingly leverage e-commerce. Mark also made two boldpredictionsthat could shape retail in the coming decades: The desire of Gen Y to live within the city may be permanent with fuel and energy showing no signs of abatement; and interest rates will rise sooner rather than later, hurting retail investors.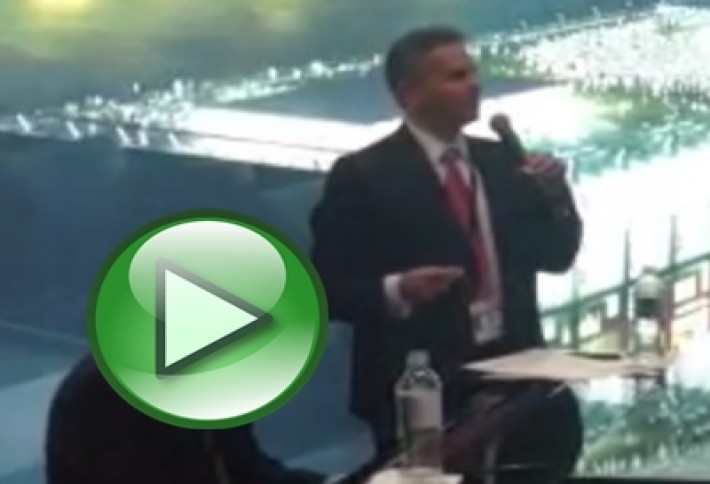 At Howard Hughes Corp's booth, CEO David Weinreb invites ICSC attendees--Sinatra style--to fly away with him (click the videoabove). Where, exactly? Perhaps to NYC's South Street Seaport. HHC will redevelop the Sandy-ravaged retail and entertainment hot spot, but first comes the summer activation series launching this weekend and including pop-up retail in old shipping containers, a return of the popular SmorgasBar, outdoor films, and music festivals. Or perhaps New Orleans, where HHC soon will start the $70M transformation of the 200k SF Riverwalk Marketplace into the 250k SF Outlet Collection at Riverwalk, the country's first Downtown outlet center.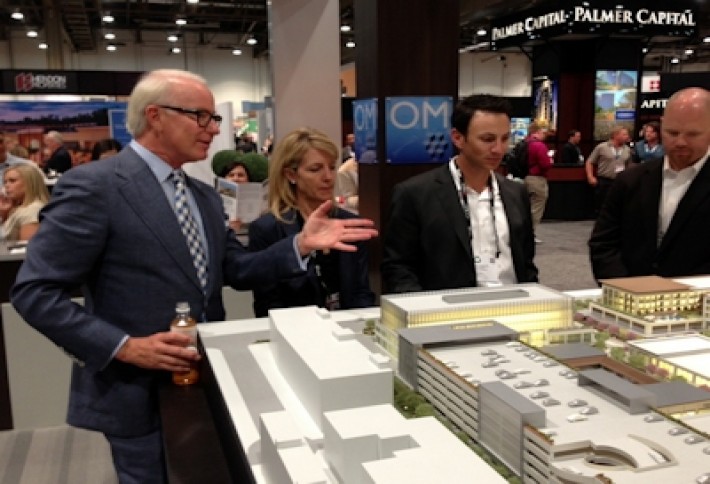 Few folks are as good as San Diego-based Oliver McMillan CEODene Oliverat showing propertyor developing it. The 35-year-old firm has designed, developed, or managed8M SFwith a project value of$3B.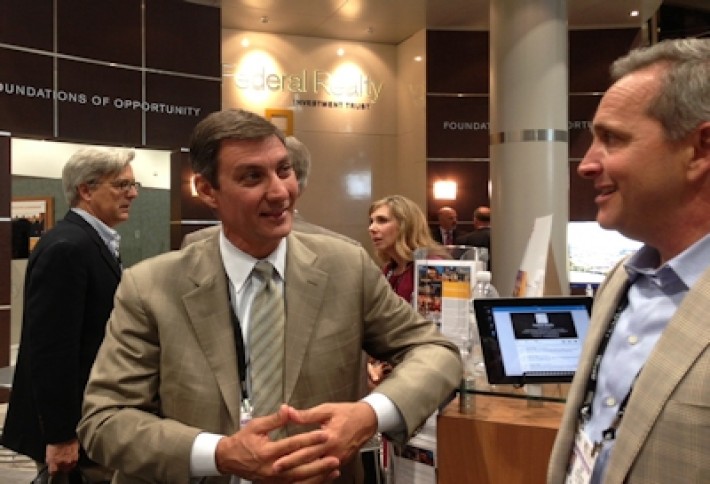 Is it our imagination, or does Federal Realty Investment Trust CEODon Wood, one of this country's retail titans, look like storied TV hostMonty Hallof Let's Make a Deal? And isn't that exactly what he appears to be doing with JBG Rosenfeld principalGrant Ehat?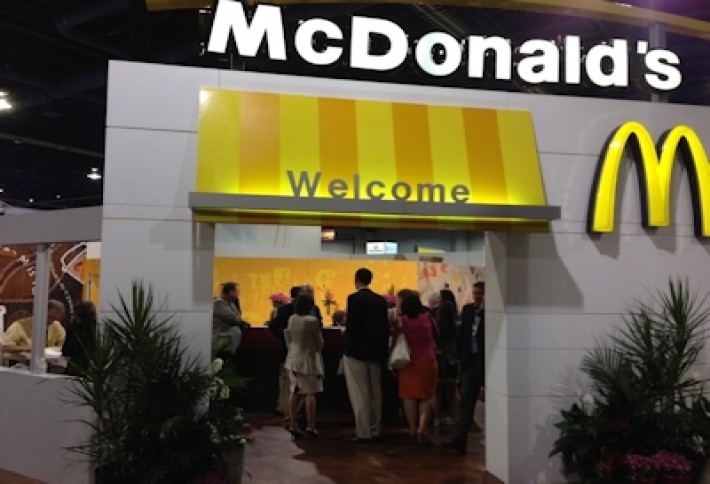 One of the frustrations ofretail exhibitionsis that participants use their famous storefronts--but instead of getting McDonald's hamburgers, Dunkin' Donuts, or Panda Express Chinese, you walk in and just get...peopletalking.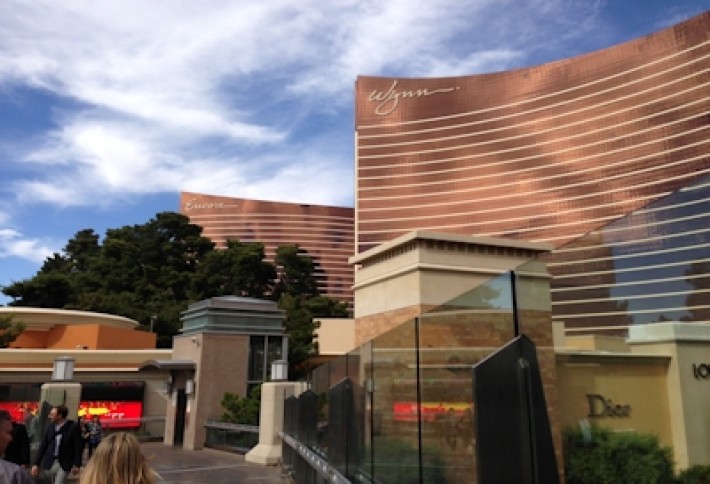 Steve Wynnis, of course, atowering figurein the Las Vegas hotel industry--the brilliant entrepreneur who built the Mirage, Treasure Island, Bellagio, and theWynnandEncore, which we snapped from the Strip.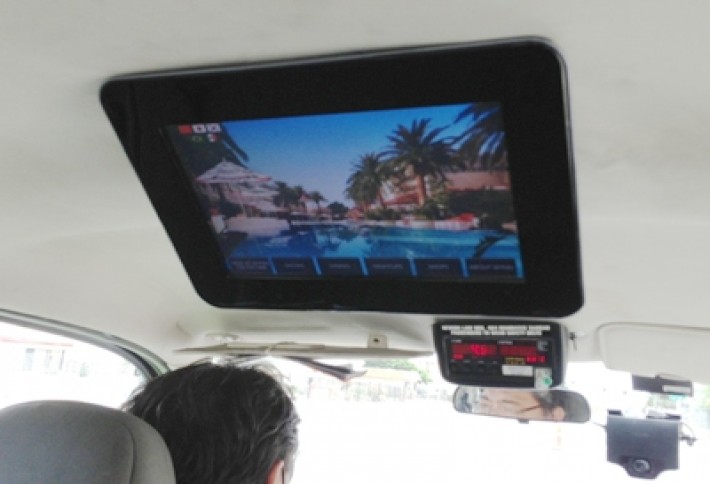 But incabsaround the city, it's a different story. When you get in, his voice automatically comes on telling you about the Wynn. He's an incredibly good speaker, and it's very charming. The first four or fivetimes you hear it. But pity thetaxi driverswho have been hearing it100 times a dayfor over a year. Remember theLarry Davidepisode about the maid who'd worked in "It's a Small World After All" at Disneyland--and went crazy? That's what we're sensing.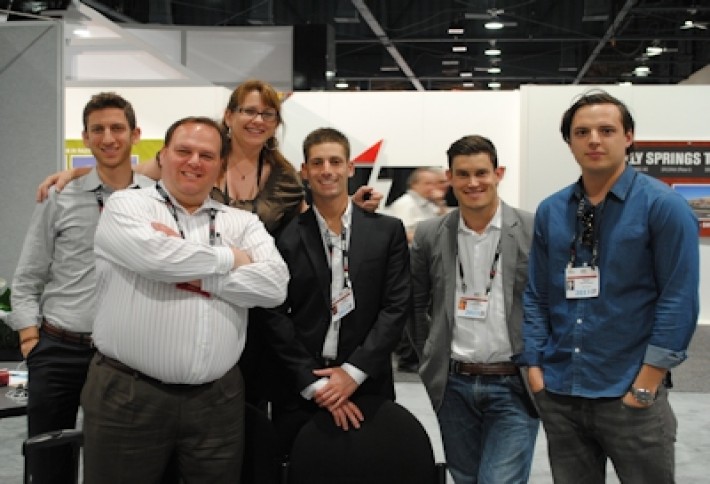 The team that made it possible to bring you all-week RECon coverage: Bisnow CEO Ryan Begelman, Atlanta reporter Jarred Schenke, Dallas-Fort Worth reporter Tonie Auer, VP of national sales Graham Cohen, SoCal business manager Frank Sanchez, and SVP Mike Farber. (Roving first banana emeritus Mark Bisnow must've gotten lost in the giant retail labyrinth.)
Have a happy and safe Memorial Day weekend. Anyone going to a parade? We'll see you all Tuesday morning, bright and early! sibley@bisnow.com