News
Multifamily's Still the Place to Be
Last week's BMAC West was the Big Mac of real estate conferences. (Though we didn't have special sauce... none of us know how to cook.) With five all-star panels, we got our fill of the latest multifamily trends and news.Here are some highlights. (To see who all participated, check out Bisnows National Multifamily issue.)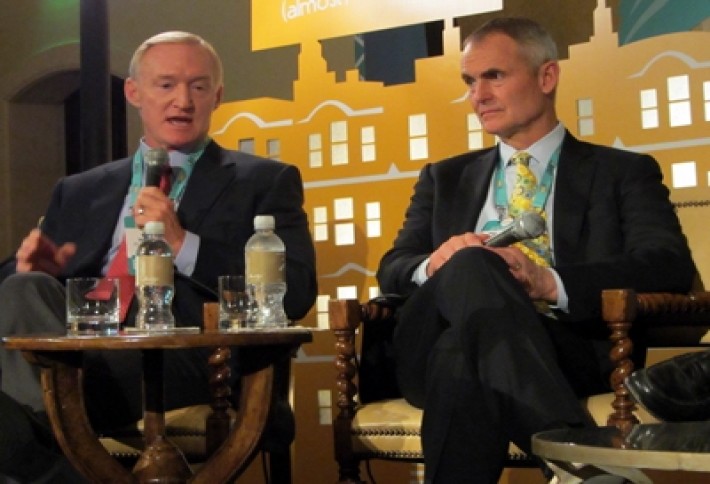 Our industry outlook speakers included R.W. Selby CFO Jeff Mazzarella, who said the firm rolled into development in the early 80s, but now focuses on value-add to take itself out of entitlement risk. (We all made some decisions in the '80s that we had to reverse.) The firm likely will bring in a JV development partner for a 500-unit project in Hollywood, and just launched a $20M renovation of a 175-unit deal in south Orange County. Clyde Holland, sitting next to Jeff, said Holland Partner Group shut down development in 2005. Fast forward to the present: The firm did a land fund in the beginning of 2010 and has 20 projects under way, but is looking to pull in its capacity by 25% this year due to rising exposure from construction costs.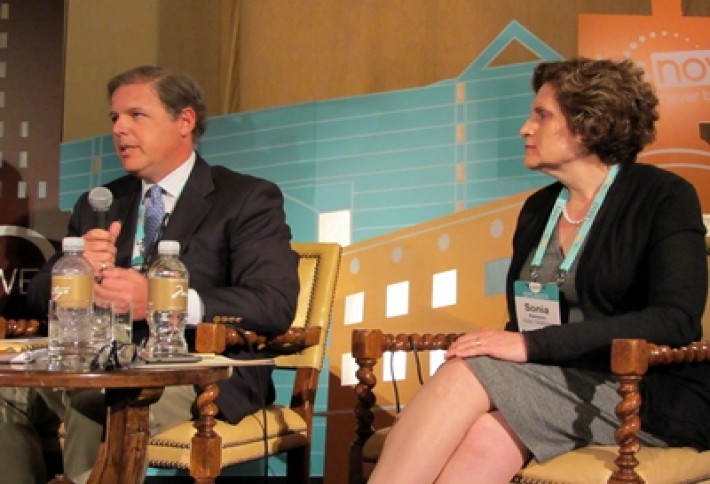 Allen Matkins partner Sonia Ransom moderated the panel, which also included RE3, a UDR Company managing director Don MacKenzie. He helps the Denver-based apartment REIT execute development in the Western US, which includes all the major cities up and down the coast except Portland.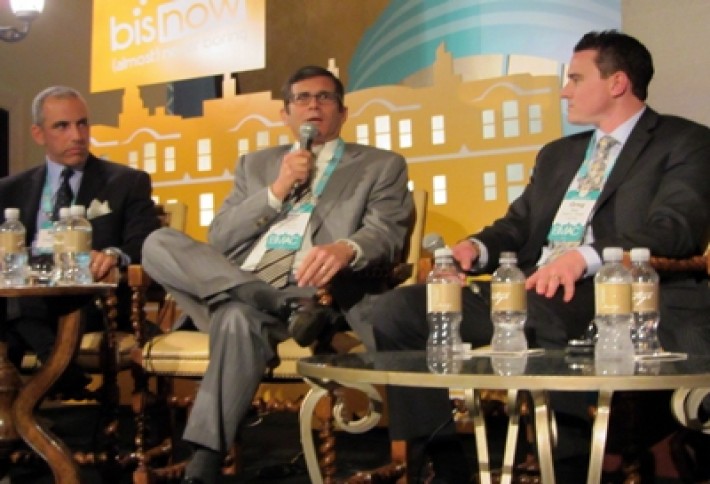 A debt markets panel included Eagle Group president Brian Good, who said the softer hard money lender makes non-recourse, 50% LTV loans ranging from $500k up to $10M. It's more expensive money, but a quick close based on the real estate is how it exists. Short-term lender Latitude Management Real Estate Investors president Glenn Sonnenberg said demographics and the renter nation concept makeapartments a great place to be. (Who wants to buy a house when you can play SimCity on your iPad?) Most of Latitude's loans are for new acquisitions and everybody's in escrow.with multiple offers--borrowers can't afford to pick a horse and not be able to close.Originations EVP Greg Reed said Beech Street Capital closed $4B last year, the majority of which was agency finance. This year he sees a structural change with the CMBS markets soaking up edgy deals the agencies may not want.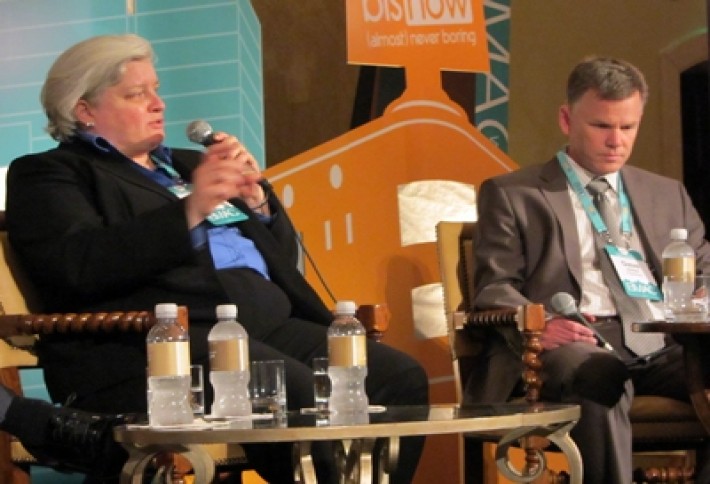 On our construction and development panel:CohnReznick national affordable housing director Beth Mullen with Pankow regional VP (and our moderator) Dave Eichten. Beth said the affordable housing industry is strong due to demand, but owners are looking for ways to close the gap between rents (which are restricted) and their project costs. To partially fill the void thatthe demise of the RDAs created, the affordable community is working on a permanent funding source that developers can tap into.
Also on the panel was MJW Investments president Mark Weinstein, who's converting older buildings next to university campuses into student housing. His biggest challenge? Finding product while competing against people who are chasing air. Mike Rovner Construction Orange County VP Sterling Lund said the rehab and adaptive reuse specialist is taking out 16 theater screens that were built below condos in a mixed-use building, and putting in 42 residential units. (There's never any good movies out anyway.) He sees manpower as a challenge, as does TricorpHearn CEO Tony Moayed. While Tony sees selective return of for-sale product, condos' wrap insurance policies remain an issue.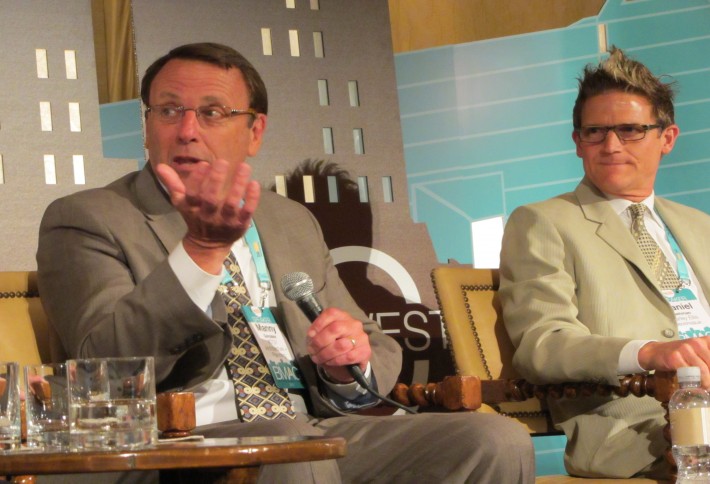 Our future of multifamily panel, lookingat the coolest trends in building design, included two architects: KTGY Group principal Manny Gonzalez and Harley Ellis Devereaux studio leader (and coolesthair) Daniel Gehman. According to Manny, a great value engineering tool is density. In addition,the best amenity isnt necessarily whats in the community but whats around it, citing an In-N-Out Burger next to a community in Tempe, and a San Francisco building that provides dedicated parking for gourmet food trucks. Daniel pointed to bike kitchens as a cool amenity, offeringa work bench,vise, tack wall--essentially a place to get grubby while you fix your bike. Another amenitythat doesn't require designing a single stick is hyper programming for Gen Y-ers coming out of universities where they're programmed 24/7.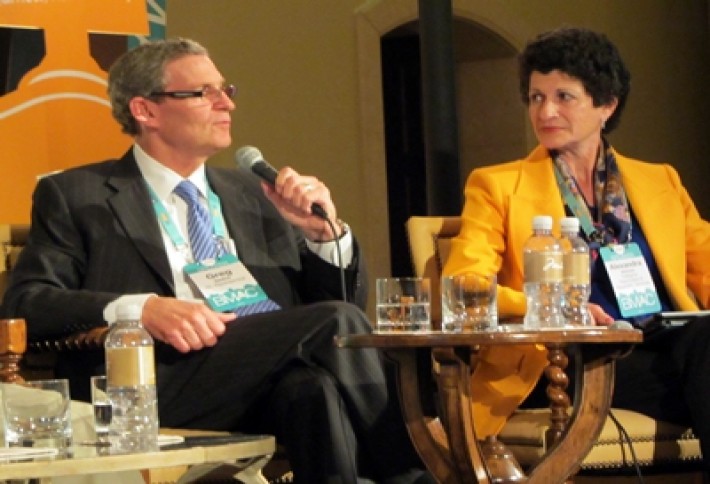 Alex Glickman, who leads Arthur J. Gallagher'sRE and hospitality practice on a worldwide basis, moderated the panel.The international insurance brokerage represents two million multifamily units around the globe. SL Residential VP Greg Sadick's roles for the Orange County-based builder include business development, strategic planning, operations oversight, and client relationships.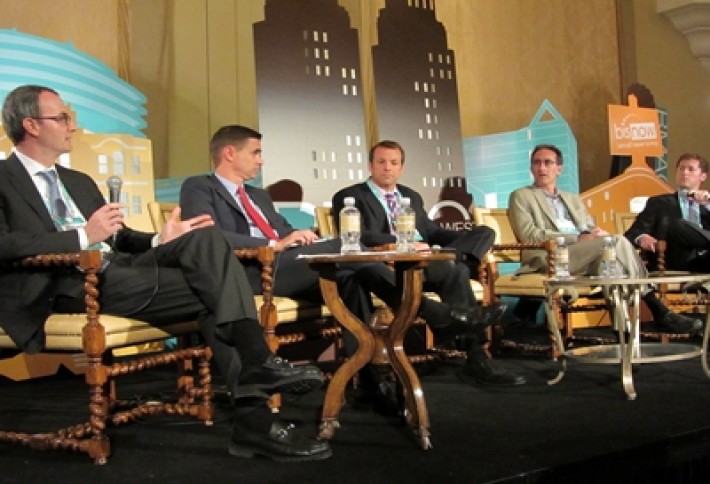 Equity outlook and state of fund raising panelists included Praedium Group managing director Bob Murray, CityView president Sean Burton, Bascom Group managing partner Jerry Fink, and Waterton Associates president Marc Swerdlow. Topics included lack of product, finding opportunities, and deals getting long in the tooth. Pre-2007 assets are being held much longer than anticipated, but there's pressure to flip deals bought in 10, 11, and 12 because people want to start showing a profit to their investors. All four panelists are raising funds right now (parenting can be hard); on the institutional side, Sean saidits crowded and slow with 440 funds out in the market targeting $150B worth of product.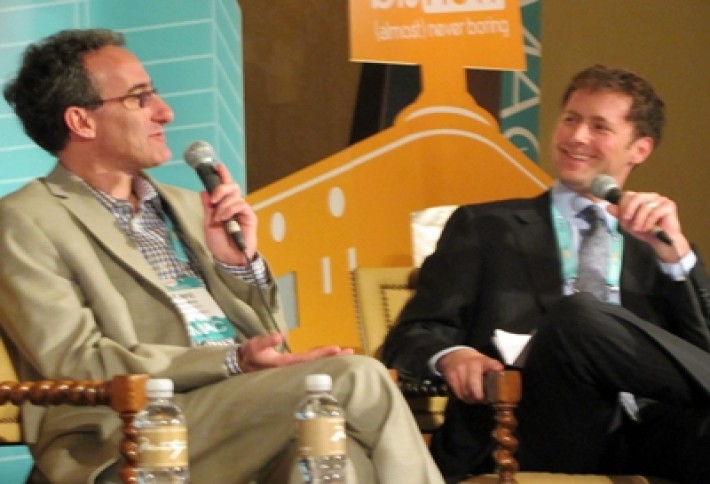 Marc has $100M left in his fund with another year or so to go, and expects to get it out the door because Waterton is raising its next fund. The firm is looking at a recently developed deal in a l ease-up situation, but learned its lesson about tertiary markets because when things go bad, thats where its going to go bad first. CBRE vice chairman Brian Eisendrath moderated the panel.
Whether your CRE news is multifamily or not, email it to julie@bisnow.com.