Carrolton-based Standridge Cos, led by principals Stacy Standridge and Tommy Crowell, purchased the 87k SF Windhaven Park neighborhood retail center at the northwest corner of Windhaven Parkway and the Dallas North Tollway for $16M. (Spray tans for everyone!)
Metropolitan Capital Advisors arranged the financing package, which included a senior mortgage, mezz loan, and JV equity partner. Currently 60% leased to various medical and retail tenants, the property was purchased in an off-market transaction by the Carrolton-based firm. Standridge has hired both Venture Commercial and Search Commercial to co-list the leasing of the center for both retail and medical tenants. MCA senior directors Sunny Sajnani, Todd McNeill, along with principal Scott Lynn arranged the senior mortgage through a local bank, a mezz loan through a private fund, and JV equity through a local family office.
NEW BUSINESS
Realty Capital Management selected United Commercial Realty to market more than 53k SF of Phase 1 space in the 150-acre mixed-use LakesideDFW in Flower Mound. The first phasefeatures six mixed-use buildings alongLakeside Parkway, just off FM 2499. UCR plans to target restaurants offering a dining experience with a warm and welcoming ambiance. UCRs Chris Young and Pete Podesta will handle the leasing.
KUDOS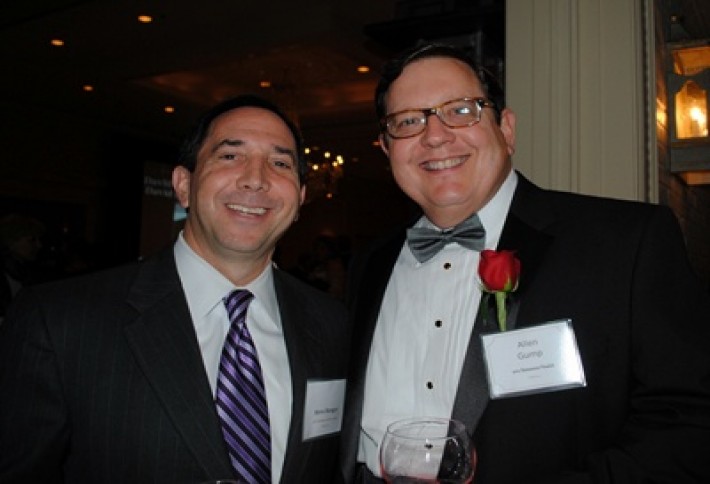 Colliers International EVP Allen Gump (right, with CBRE first VP Steve Berger, who was named NAIOP Industrial Broker of the Year this morning) was elected to a four-year term on SIOR's national executive committee as VP in 14, president-elect in 15, prez in 16, and immediate past prez in 17. Hes previously served as a member of the board of directors and the executive committee, speaker of the council of chapter presidents, and 2011 SIOR Foundation prez. The last national officer for SIOR from the North Texas area was in 94, when The Baldwin Co (later becoming Colliers International) founder Peter Baldwin served in that role.

***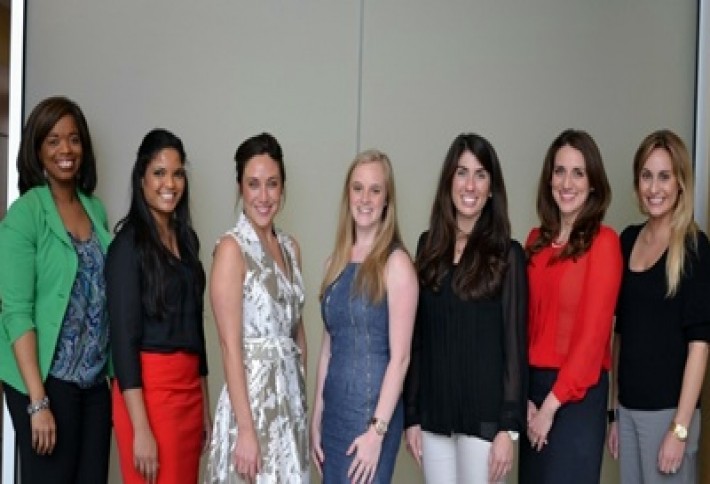 CREW Fort Worth
selected its
2013 future leaders
executive council members:
Niketa Dennis
, Frost Bank;
Priya Acharya
, Wier & Associates;
Cheryl McGlothlin
, Empire Roofing;
Sarah Ward
, Republic Title;
Sarah Everett
, Transwestern;
Natalie Moore
, CBRE; and
Natalie Funk
, Dunaway Associates.Not pictured:
Hunter Baird
, Southwest Bank. CFL members include
Anita Beard
,
Kami Bedford
,
Shonnah Black
,
Kimberly Cole
,
Lauren Cornelius
,
Adrianne Huff Holland
, and
Melissa Tucker
.
***
CREW Fort Worth also named its
Legacy of Leadership Committee
(former board members/past presidents who have committed their time and efforts to the mentoring of the CFL-EC members). They include co-chairs:
Cynthia Bailey
, WindStar Properties and
Barbara Fife
, Development Management Services. Committee members include
Marlene Beckman
, Kensington Properties;
Diann Brewer
, Community Bank;
Norma Crow
, Rattikin Title;
Ginger Johnson
, Legacy Texas Bank;
Joy Norton
, Southwest Bank; and
Allison J.H. Thompson
, EDC - City of Cedar Hill.
SALES
Hines purchased 77 acres in Irving, including almost 40 acres at Hwy 114 and Beltline Road and 30.7 acres at Hwy 114 and Cabell Road. JLL EVP Larry McCorkle and SVP Michael Swaldi repped the seller. In another deal, an undisclosed investor purchased two tracts, totaling about seven acres, at 1903 W Diplomat and 2001 W Diplomat Dr in Farmers Branch.The buyer was represented by JLL VP Michael Haggar.

***
Lyden Investments
purchased a
12k SF
industrial building at 3225/3233 Main St in Fort Worth. Transwesterns
Jeff Givens
and
Amy Baker
represented the buyer.
***
TheWilliam L Thunnell Family Trust
sold
12k SF
on three-quarters of an acre at 3811 Halifax St in Dallas to
KP Argon
for an undisclosed amount. Mercer Cos
Jeremy Mercer
and
Brent
Landfried
repped the seller. CBREs
Brian Gilchrist
and
John Brewer
repped the buyer.
***
Two private investors purchased the fully occupied
10k SF
industrial property at 701 Bear Cat in Aledo. Marcus & Millichap's
Philip
Levy
and
Chris Gainey
had the exclusive listing to market the property for the seller.The buyers were represented by
Kelly Smith
, from Marcus & Millichaps Austin office.
***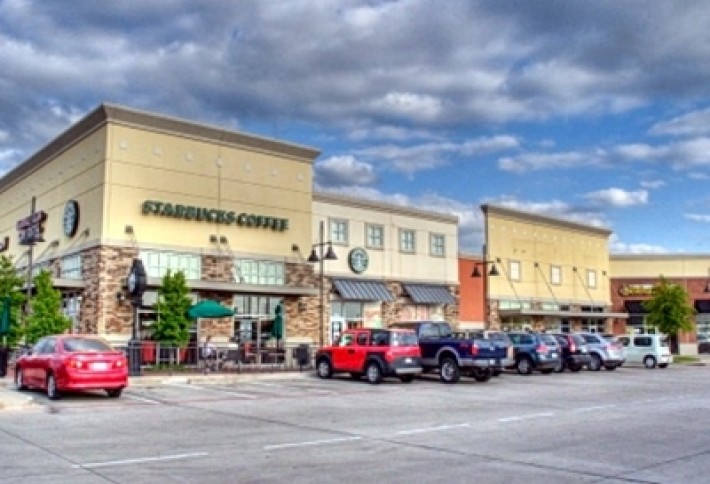 California-based investment group
Marque Enterprises
purchased
The Village at Eldorado
, a
60k SF
neighborhood center at 2831 W Eldorado Pkwy, on the border of Frisco and Little Elm. The Weitzman Groups
Greg McDonald
repped the purchaser in cooperation with
Joe Wojdowski
of Epsteen & Associates of San Diego. The transaction was negotiated through the Retail Brokers Network. The seller, CMC,was repped by Sperry Van NessIHancock managing director
James Hancock
.
***
M3 Equity
purchased the
50-unit Greenhill Apartments
at 403 Small Hill Dr in Grand Prairie from an out-of-state owner. The Cantrell Co & Partners
Sean Reynolds
repped both the buyer and seller. Sean says the asset garnered
13 offers
. M3 Equity is a local investment group, which owns several hundred units in the Metroplex. The seller will redistribute his capital closer to home, Sean says.
***
Cowart Properties
purchased
40k SF
at 1201 & 1225 Forum Way South in Fort Worth. NAI Robert Lynns
Michael Newsome
represented the buyer. Colliers Internationals
Noel Hutcheson
represented the seller.
EXECUTIVE MOVES
Rosemont Realty appointed Helen Rivero as regional principal for Texas and Oklahoma and added Jason Kuester as asset manager and Clay Young as operations manager. Jason comes to Rosemont from Crescent Real Estates asset management team. Clay was the chief operating engineer at Cassidy Turley.

***
Doug Hanna
joined
TIG Real Estate Services
corporate and brokerage services team as an associate.
***
Tony Chron
rejoined
Trademark Property Co
as chief development officer. Tony was previously with Trademark as development EVP from
1997-2009
. Tony joins from Weingarten Realty, where he was regional director of development.
***
Kyle Griffith
joined
Cassidy Turley
as senior project manager in project and development services. He will provide
development
and
project management
services for Cassidy Turleys occupier, investor, corporate, and industrial clients. He comes from JLL, where he led a
1M SF campus consolidation
and revitalization program for Bell Helicopter.
THIS & THAT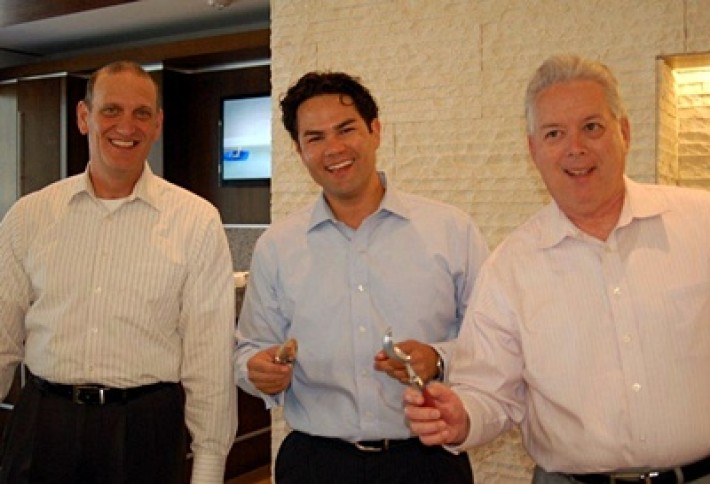 Better than Baskin Robbins 32 flavors: the management serving up free ice cream on the job. Thats what Colliers Internationals Steve Berlin, David Pinsel, and Ralph Valliere did recently at the firms annual staff appreciation week. The week of events ranged from the bosses dishing up delights at the ice cream social to a tour of the Perot Museum of Nature and Science. Dinosaur fossils and butter pecan are better than a service pin any day.

***
Dallas First Lady of Real Estate
Ebby Halliday
may have been celebrating her
102nd birthday
, but she
still goes to work
. Okpa Co principal
Edward Okpa
and his wife helped Ebby celebrate at a party hosted by the
Chester W Nimitiz Squadron of Texas Navy
(of which, both Ebby and Edward are admirals). Its a fairly small club; the Governor make the appointments for Texans who have performed a service to the state.
FINANCING
Velocis Fund successfully closed Fund I, which has equity commitments exceeding $135M. The fund is 40% invested and is sourcing new assets for purchase, targeting US real estate assets in demand driven/supply constrained markets in the $10M to $50M range. The focus: core-plus office, medical office, and retail. The fund is specifically sized to acquire a diversified portfolio of assets that may be too large for individual investors but too small for many large institutional investors. The funds most recent acquisitions were two shopping centers in Austin: West Woods Shopping Center and Springdale Shopping Center.
LEASES
Transwestern worked a pair of deals, including the 19k SF lease for Tempest Telecom Solutions in Valwood Park Centreport in Carrollton. John Fulton repped the landlord. Colleague Joe Whitmer repped the landlord in a 13k SF lease to Arch Metals at 10990 Petal St in Dallas.

***
CARCON Industries
and
STL Engineers
relocated their HQ to Spire Realty Groups Mockingbird Towers at 1341 W Mockingbird Ln last month. Spires
Andrew Schendle
and
Allison Johnston
repped the landlord. Henry S. Millers
John Bielamowicz
repped the tenant.
Centrus Auto Finance
also relocated to Mockingbird Towers this month. Andrew and Allison repped Spire and CNL Commercial Real Estates
Henry Campbell
repped the tenant.
***
CSL Plasma
inked a
23k SF
lease at 5015 Catron in Dallas from Eastpoint Business Center. UGL Equis
Stuart Smith
repped the tenant and CBREs
John Hendricks
repped the landlord in the new long-term lease.
***
Harris, Finley & Bogle
leased
23k SF
in Carter Burgess Plaza in Dallas. Transwesterns
Kyle Poulson
represented the tenant. Colleagues
Bill De La Chapelle
,
Jim Hazard
, and
Sharon Cramer
repped
Sunbelt Marketing Investment Corp
in a
50k SF
lease at 445 S Royal Ln in Coppell.
***
Gerdau Ameristeel US
leased
12k SF
in 114 Business Center at 6440 N Belt Line Rd in Irving from Summit Realty Ventures. Bradfords
Joe Santaularia
and
Brian Pafford
repped the landlord. JLLs
Conor McCarthy
and
Steve Holley
represented the tenant.
***
CBRE brokers inked a pair of leases:


Cox Smith Matthews renewed a 31k SF lease at 1201 Elm St in Dallas from Binyan Realty. CBREs Clay Gilbert, Dennis Barnes, and Shannon Brown repped the landlord.


Gemmy Industries Corp inked an 82k SF lease at 117 Wrangler Dr in Coppell from Buckhead-Coppell Industrial. NAI Robert Lynns Mark Miller repped the tenant. CBREs Adam Hammack and Steve Trese repped the landlord.


"You can observe a lot by watching." - Yogi Berra tonie@bisnow.com