News
Starbucks Joins Lineup At Sundance Square; The Deal Sheet
After nine years at 404 Houston St in downtown Fort Worth, Starbucks plans to move this fall into the northeast corner of the Westbrook building. (That means a zebra caf mocha will never be more than a few blocks away when were in Sundance Square.)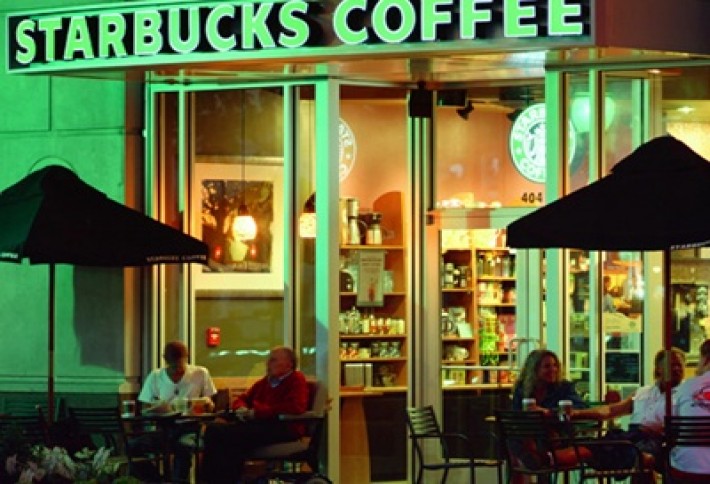 The existing Starbucks--a 1,665 SF location on Houston Street--will move into 1,739 SF(plusa 431 SF patio space) when the plaza opens in October or November, a Sundance spokesperson tells us. Sundance Square has now leased all the retail space facing the new plaza. Del Friscos Grille,Taco Diner, and Bird Caf by Shannon Wynne will also be in the plaza. Sundance Square prez/CEO Johnny Campbell says its focus will now shift to the remaining space in the Commerce and Westbrook buildings.

Fort Worth Omni Among $250M Hotel Portfolio Financing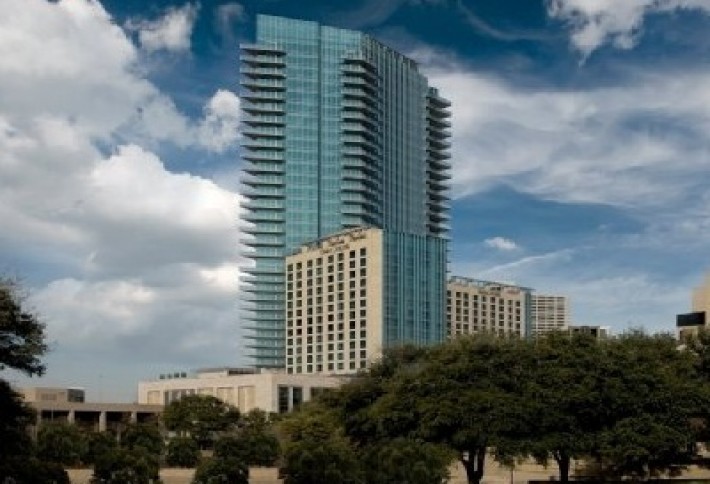 Three Omni hotels--in Fort Worth, Houston, and Chicago--were part of a $250M financing deal for Omni Hotels Corp. HFF repped the borrower to secure the 15-year, fixed-rate loan through Prudential Mortgage Capital Co for the 1,339 guest rooms. Among the properties: Omni Fort Worth at 1300 Houston St (614 rooms), Omni Houston at 4 Riverway (378 rooms), and Omni Chicago at 676 N Michigan Ave (347 rooms). The HFF team repping the borrower was led by senior managing director Whitaker Johnson, managing director John Bourret, and associate director Jim Curtin.
LEASES
Sola Salon Studios opened its fifth Texas location in a new 10k SF studio in the Marketplace at Highland Village on the northwest corner of JustinRoad/ FM407 and Village Parkway/FM2499. Venture Commercials Bryan Cornelius and Elizabeth Ellenwood repped the tenant. The Retail Connections Shelley Taylor repped the landlord.

***
Guitar Center Stores
leased
12k SF
at Town East Crossing (2021 N Town East Blvd) in Mesquite. Venture Commercials
Bryan Cornelius
,
Ken Reimer
,
Jim Dunn
, and
Katie Vance
worked with JLLs
Rob Franks
to rep the tenant. Center Point Commercial Properties
Mark Cohen
repped the landlord.
***
Centric Capital Partners
executed a
15-year ground lease
with
Taco Cabana
on the last available pad of a four-pad development at the northwest corner of PrestonwoodTown Center Boulevard and Montfort Drive in Dallas. Taco Cabana has started construction and intends to
open May 10
. Negotiations were handled by
The Retail Connection.
***
Bradford Commercial Real Estate Services worked multiple leases including:


AmplexCorp renewed 50k SF in Post & Paddock VI at 2700 112th St in Grand Prairie. SVP Michael Spain and VP Jim Ferris repped the landlord, MP Post &Paddock. Proterra Properties Chris Bly repped the tenant.


FiberSystems International renewed 50k SF in 75 Cornerstone Crossing at 1300 N Central Expwy in Allen. EVP Susan Singer repped the landlord, Cornerstone Crossing TIC Investors. CBREs Mike Kay repped the tenant.


PackagingSolutions renewed 49k SF in Marsh Business Park-West at 1125 Hayden Dr in Carrollton. SVP Brian Pafford repped the landlord, Acquiport DFWIP. Jackson & Cookseys Trace Elrod and Garrett Gibbons repped the tenant.


Skyline DFW Exhibits & Events subleased 48k SF at 3709 E Randol Mill Rd in Arlington from Western-BRW Paper Co. Jim repped the tenant. Transwesterns Jim Hazard, Brad Struck, and Bill de la Chapelle repped the sublessor.


Spectrum Management renewed its almost 16k SF lease in Trinity SquareTech Center at 2545 Tarpley Rd in Carrollton. Brian represented the landlord, Acquiport DFWIP, in the direct deal.


***
Crescent Real Estate Holdings inked a pair of big deals at 777 Main in Fort Worth, bringing the building to
94% leased
.


Jacobs Engineering Group signed a 10-year lease renewal for 76k SF. JLLs Whit Kelly repped the owner, MS Crescent One SPV. Cushman & Wakefield Los Angeles Eric Olofsen worked with Cushman & Wakefield Dallas Matt Heidelbaugh to rep Jacobs.


Willbros Group expanded for the second time in a year signing a seven-year lease for a full floor of 23k SF. Whit repped the owner in this deal. Transwesterns Kirk Kelly and Cushman & Wakefields David Guion and Joe Peddie repped the tenant.


***
Acosta
renewed
11k SF
at Jupiter Commerce Center. Holt Lunsford Commercials
Joshua Barnes
represented the landlord, Quincy Properties. Cresa Partners
Brian Whittington
represented the tenant.
***
JLL inked almost 2
00k SF of leases
including:


Investar Financial Services leased almost 23k SF at The Urban Towers at 222 W Las Colinas Blvd in Irving.VP Alan Wood and senior associate Rachel Brown repped the tenant. CBRE first VP John Fancher repped the landlord, Millennium Center.


Miller, Egan, Molter & Nelson leased more than 10k SF at Park Place at Turtle Creek at 2911 Turtle Creek Blv in Dallas.EVP James Esquivel and managing director Jeff Eckert repped the landlord, Dividend Capital.Cresa Partners principal Terry Quinn and SVP Susan Blair repped the tenant.


Consumer Club signed a 10k SF lease at One Graystone Centre at 3010 LBJ Freeway in Dallas.VP Blake Shipley and associate Steven Kimosh repped the landlord, Younan Properties.Cresa Partners SVP Pamela Robison Mullins and VP Bret Hefton repped the tenant.


Gerdau Ameristeel Corp leased 126k SF at 1915 John Connally Dr in Carrollton. VP Michael Haggar represented the tenant.Cargill Inc GM Mike Martin represented the landlord.


RIM Logistics leased 49kSF at PrologisNorthfield 6 at 920 Minters Chapel Rd in Grapevine. JLL VPs Forshey Hoobler and Michael Haggar represented the tenant. NAI Robert Lynn EVP Rick Medinis represented Prologis.


***
OrgSync
added
3,474 SF
to bring its lease to
nearly 11k SF
at 13140 Coit Rd in Dallas. Boxer Property leasing rep
Gloria Medlock
repped the owner. Swearingen Realty Groups
Kenneth Jaffe
repped the tenant.
SALES
Hartman Income REITs affiliate, Hartman Short Term Properties XX, purchased Parkway Plaza I & II from Merit Texas Properties. Acquisitions and finance EVP David Wheeler says the addition of another property along the Dallas North Tollway provides the REITs newest fund with substantial upside potential through renovation and increasing occupancy. Parkway Plaza I & II is a 136k SF two-building office property at the intersection of Spring Valley and Dallas North Tollway. Hartman plans to stabilize the property at submarket rates. Cushman & Wakefields Tom Strohbehn and Scot Farber repped the seller, Merit Texas Properties. Hartmans Julian Kwok, Matt Blasi, and Daverepped the buyer.

***
KLOPRO-Merc
purchased
nine warehouse buildings
totaling
51k
SF
at 5127 and 5131 Mercantile Row in Dallas from Mercantile Don Mar. Hudson Peters Commercials
Michelle Hudson
repped the seller. Henry S. Miller Interests
Henry Miller III
repped the purchaser.
***
Victory 380 Investments
purchased
174k SF
of land at the northeastern quadrant of Hwy 380 and Lake Forest Drive inMcKinney. John T. Evans Cos
Taylor Roberts
repped the purchaser. The buyer is planning aco-tenancy encompassing QSR, bank, and a pharmacy.
***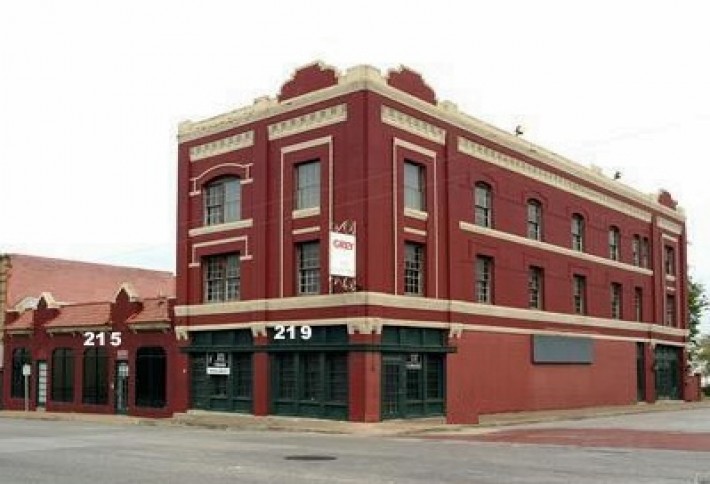 SkyWalker Property Partners
sold two restored historic buildings at
215 and 219 S Main St
in Fort Worth to
1915 South Main LLC
, an affiliate of JRH Partners. The properties were listed on the National Register of Historic Places after the
seller invested more than $350k
into their restoration. Until late last year, the adaptive reuse project, totaling
13k SF
, was a regional office for Greenlee Textron. SkyWalker Property bought the property in May 2005, retooling the abutting single-story building into an open-space studio/loft. The larger building was reconfigured with two storefronts on the first floor and topped off with private offices, an elevator, conference room, break room, and storage space. CBRE's
Blake Lloyd
repped the buyer.
***
Centennial Real Estate Co
sold the anchor building in Planos Preston Parker Crossing shopping center to
Walmart
, with plans to open a
neighborhood market store
in the
58k SF
building, which sits on six acres at 3312 Preston Rd on the northeast corner of Preston and Parker roads. Venture Commercials
John Zikos
,
Tonya
Hagood
, and
Chris Booras
repped the seller. The Stainback Organizations
Kent Stainback
and
Mark Parks
repped Walmart.
KUDOS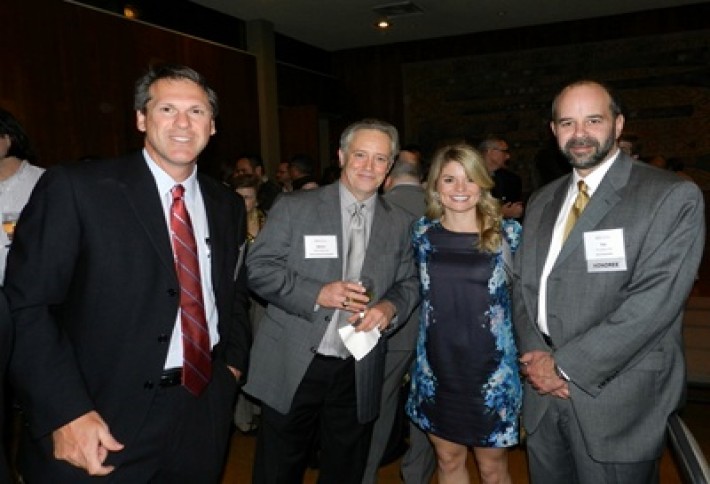 Congrats to AUI/Centerpoint, which was named Dallas AIA Contractor of the Year for 2012.Heres AUI's Mario Carbone, VAI's Barton Drake, and AUI's Ashley Carter and Tim Guedry at the awards presentation.
PEOPLE ON THE MOVE
Prescott Realty Group is expanding its strategic brand to include institutional investor relations and hired Richie Butler to serve as managing director. His role will be to grow the base of institutional investors while leading the firms fundraising strategy and capital markets relationships. He will also assist in sourcing off-market deals. Prior to Prescott, he served as SVP at CityView, where he led the firms national origination platform.

***
Bury+Partners
acquired
Zinser Grossman Structural
.
Richard Zinser
and
Charles Grossman
will work with
Shaun Kirk
and
Boon
Newsom
, structural engineers in Burys Austin office.
NEW BUSINESS
Plano Independent School District selected Cadence McShane Construction Co to complete the renovation and expansion projects at Brinker Elementary School at 3800 Clark Pkwy and J.M. Daffron Elementary School at 3900 Preston Meadow Dr in Plano. Brinker Elementary will encompass the renovation of 68k SF and the new construction of 21k SF. The construction assignment at J.M. Daffron Elementary includes the renovation of 68k SF and a 17k SF addition. Both assignments will break ground this month with completions in August 2014. PBK is providing architectural services for Brinker Elementary and Perkins + Will was selected to provide architectural services for J.M. Daffron Elementary.
Our get up and go mustve got up and left. tonie@bisnow.com