News
Just Give Him the Dang Deal!
If Keyshawn Johnson were from Texas, that'd be his book title.We did a double take when we saw the former NFL stand-out traipsing through the ICSC RECon booths with the other 32,999 folks on the ground here in Las Vegas.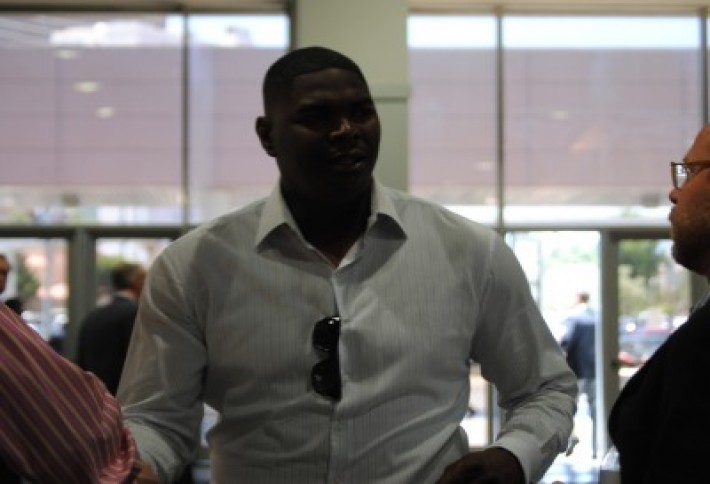 We didnt get a chance to ask the ESPN sports analyst what his ICSC goals were (or his Super Bowl prediction), but we know that his company, Keyshawn Capital Development, focuses on CRE and development projects, including inner-city revitalization efforts.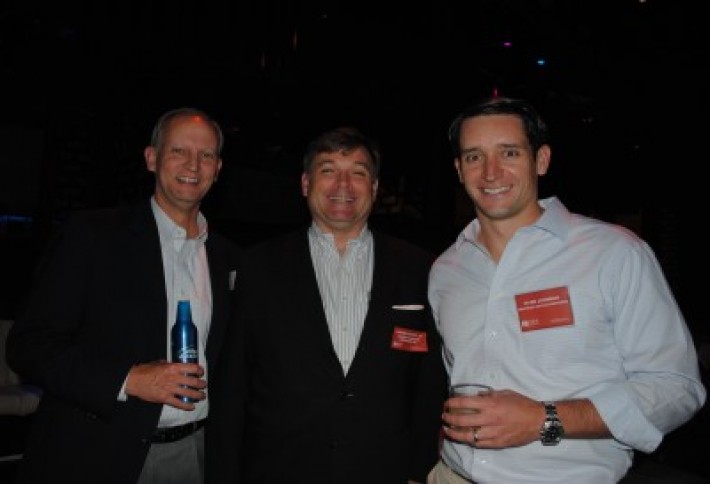 At the SRS Real Estate Group's party Monday night at the MGM Grand's Hakkasan, we snapped Haverty's Furniture's Steve Burdette and Rawson Haverty Jr with SRS DFW co-team leader Ryan Johnson. Ryan tells us he's had lots of great client meetings and is hoping to close some of the deals he's be working on during RECon.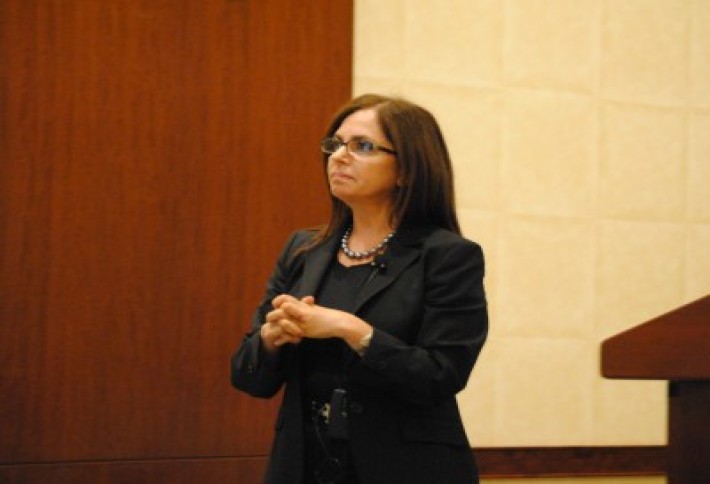 CBRE head of research for the Americas Asieh Mansour says the housing recovery is already a major growth engine for the retail sector. That's despite recent retail stats being weaker than expected because of the coldest March since 96 (hard to try on bikinis in 40 degree weather), as well as the sequester-related cuts.
CBREs Jennifer Pierson and Westwood Group Developments Gary Hazlewood. Gary tells us he's started a 50k SF retail/office project in downtown Grapevine. His Grapevine Station project is now fully leased and he's leasing up a medical/retail project, LaTerra Village, in Haslet.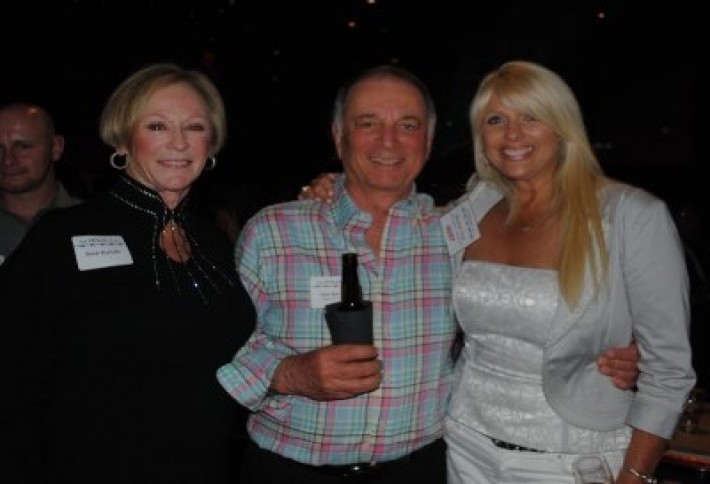 We found Henry S Miller prez Sam Kartalis, with wife Rosie and Old Republic Title's Elizabeth Trout in Mandalay Bay's The Mix at the TexasTeam party.Sam tells us he acted as Liz's dad when she married Greg Trout and considers her a surrogate daughter. (If she still needed it, he would drive her to soccer practice.) He's been going to RECon since '75, before it was a regular fixture in Las Vegas, and remembers when it occupied just one of the halls at the convention center. Ah, the good old days.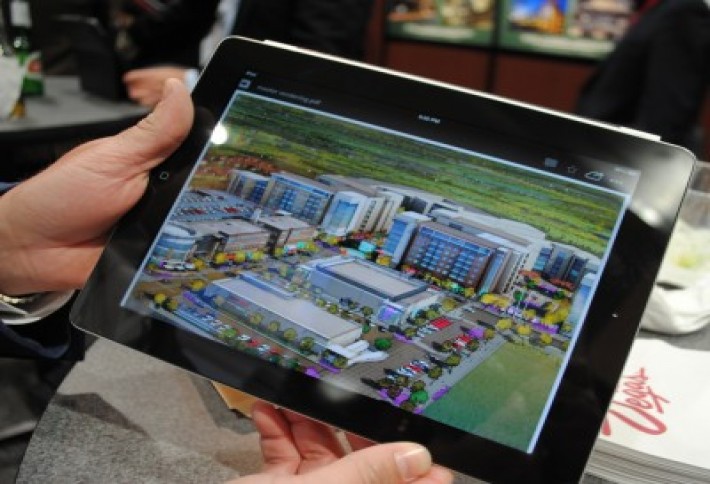 No, we weren't playing Sim City. Retail Street Advisors partner Aaron Stephenson shows us a first look at the latest Gensler renderings for the 42-acre Preston Hollow Village at the northeast corner of I-75 and Walnut Hill. Developed by Provident Realty Advisors and Kroenke Holdings, the first phase includes an almost 15k SF Trader Joe's (we told you about it yesterday) that breaks ground in a month, along with a retail portion that should deliver in Q1 or Q2 of '14.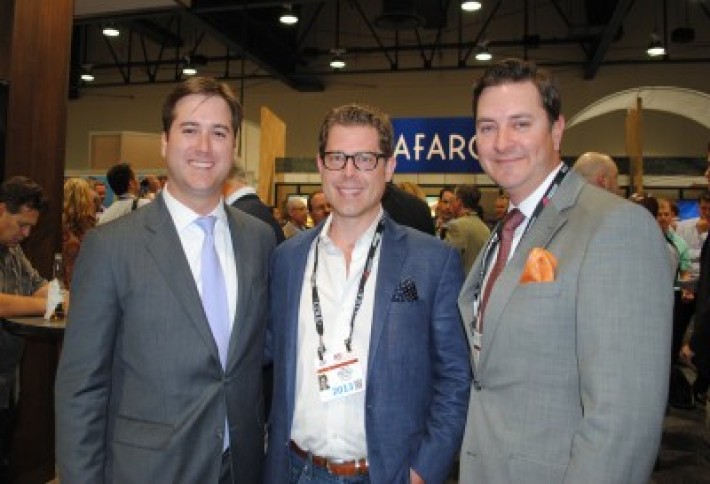 HFF's Cullen Aderhold, Aaron, and Retail Street Advisors partner Zachary Porter. Zachary tells us the second phase of Preston Hollow Village will include 1,000 multifamily units. The majority of RSA projects are mixed-use, he says. Retail is sensitive, and building that from the ground-up is critical to creating a successful mixed-use project, he tells us. RSA also leases the Shoppes @ Legacy and Mockingbird Station (among the 18 mixed-use projects it leases across Dallas and Austin).
At the Sundance Square booth, CEO Johnny Campbell--who for 12 years has run this fun and bustling 35-square block area of Fort Worth owned by the Bass Brothers--points to a new plaza area at its center that will open Nov 1. Though on the area's master plan for 30 years, it's been a parking lot until now, and will include three office and retail buildings, a dancing fountain, and 55k SF space with outdoor seating,six giant umbrellas, and a big stage. Johnny predicts thiscould become a premier venue for outdoor concerts and bring Fort Worth an Austin-like music scene. Urban planners have long studied Sundance as a model for the pedestrian experience. And Starbucks looks likely to feature beer and wine after 4PM as it's done experimentally elsewhere.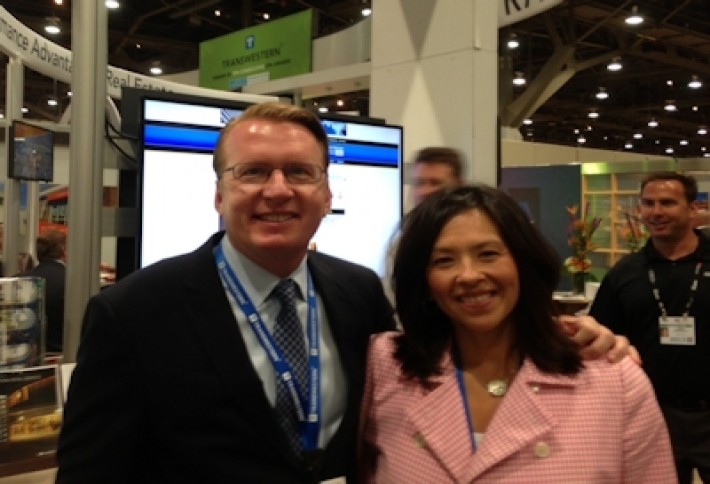 At the Transwestern booth, we snapped president for the Americas Chip Clarke and director of national marketing Kim Croley. Chip says based on the moods in San Diego last week at ULI and in Las Vegas this week, the real estate economy is on an "upward trajectory." Congrats to the Houston-based, 22-year Transwestern vet, who ascended to his new gig in January after running the Gulf Coast and Mountain region. Now he has seven regions and 33 separate markets to look after, plus pose for Bisnow ceremonial shots. What did he used to do with all his free time?
We're convinced RECon could only get better if we were allowed to wear our slippers to walk the halls. tonie@bisnow.com