When Bisnow hosted its first Dallas State of the Market event back in spring 10, Granite Properties prez/CEO Michael DardickpredictedCRE had reached its bottom. Was he right? Let's fast forward four years. (At this pace, Bieber Fever passed more like a Bieber Head Cold.)
Speaking (again) on ourfourthState of the Market event yesterday at the Fairmont, Michael told 400 attendees about his spec project in Houston, building projects in DFW, and the companys growth in California. Yes, times have changed.Younger Partners Moody Youngeralso served on that 2010 panelas the executive managing director for the now defunct Grubb & Ellis. Back then, he said liquidity was the biggest challenge facing CRE. That, too, has been rectified.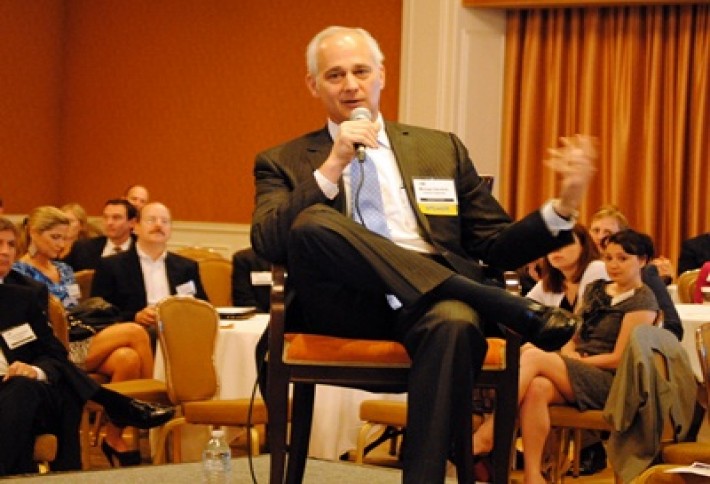 Michael says theres very few cities where development is occurring; it's a have/have not world in that respect. DC saw a lot early on, but thats pared down with the sequester and other issues. New York had some early on, but most is in Northern California and Texas.Locally, three markets continue to dominate: Uptown, Preston Center, and Legacy. But even with the projects in the works, he says it isn't too much.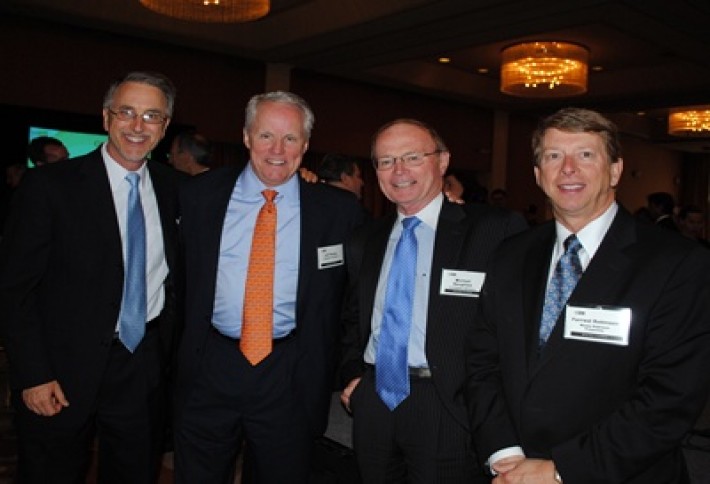 Champion Partners CEO Jeff Swope(orange tie, between DHR International EVP Sayres Dudley, US Realty Advisors SVP Michael Naughton, and Weeks Robinson CEO Forrest Robinson) is optimistic about the future. Hes not keen on developing, but feels good aboutacquisitions. He believes the demand is good for the supply that will be delivered. He's concerned about the way interest rates are being manipulated. Its a huge risk, he says, and its driving much of the economic activity.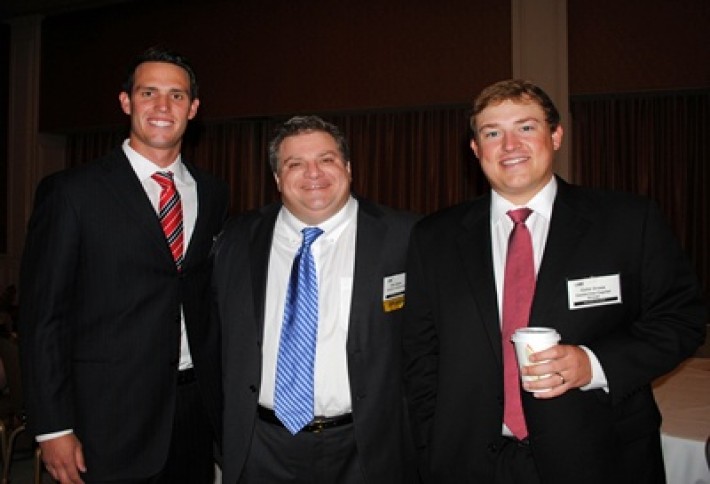 Give us a C! Give an E! Give us an N! Okay, we wont spell out all of Centerline Capital Group like that. But we found out the firms managing director Vic Clark (between colleagues Corbin Light and Colin Cross) was a cheerleaderat USChis senior year. Vic advises investors to put their money to work now. The GSEs have a cap on how much theyll put out this year and its 10% less than last year. Theyll stick to that cap, he says, and wont got $1 over the limit. In about three to four months, the industry will see them really tighten up and get aggressive on their requirements.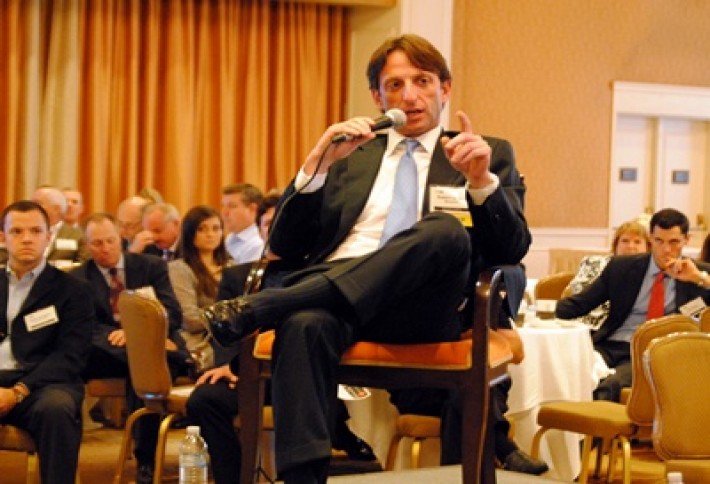 Milestone managing partner Robert Landin says change is coming with Fannie and Freddie, but hes not worried about interest rates being on an upward trajectory. The capital is out there for deals--its just harder to come by, he says. Leverage is the main factor; if youre not over-levered, you can ride through any cycle. A question to ask in acquisition deals: Do I want to pay above reproduction cost? If you pay a four cap today, youre paying a lot of money for a deal, he says. It doesn't mean you wont earn into it, but thats the choice and a fundamental component that we all need to be watching globally.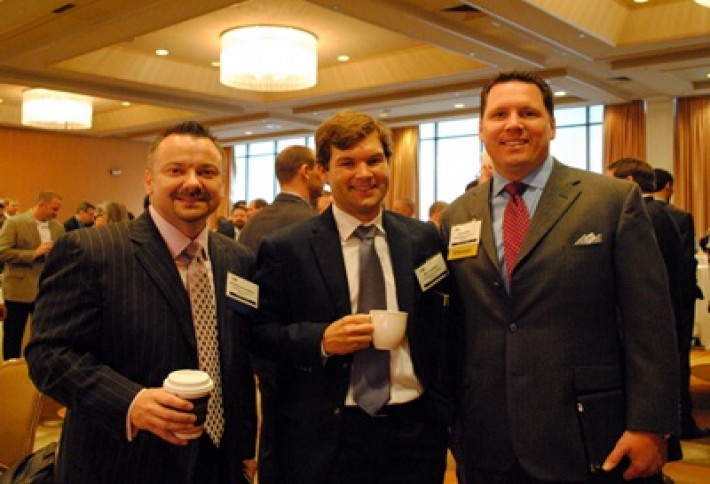 Institutional Property Advisors associate director Drew Kile (right, with IPAs Scott Lamontagne and Will Dodson) moderated the panel. IPA Texas--a Marcus & Millichap affiliated company--is a multifamily sales team specializing in large apartment dispositions for both private and institutional sellers. Over the course of Drew's almost 10 years with the firm, he has facilitated and overseen the closing of more than 125 transactions valued in excess of $450M. Hes also a TCU grad. Go Horned Frogs!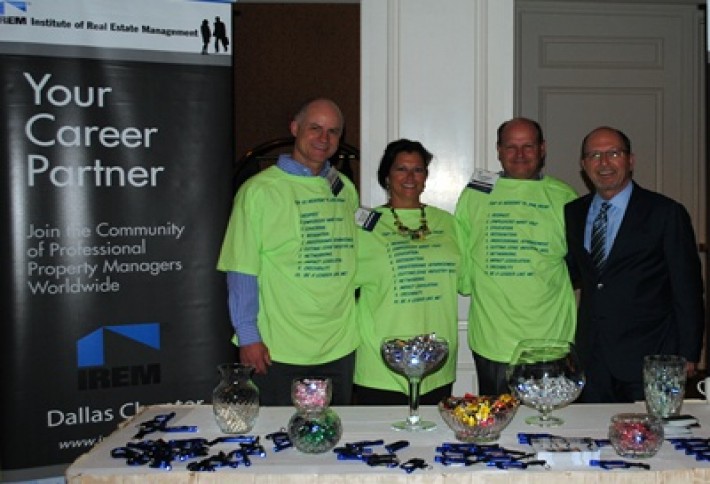 Heres the team members for event sponsor IREM doing their best Kriss Kross impersonations (RIP hip-hopperChris Kelly) as they promoted the top 10 reasons to join IREM. Lettermanwould be jealous of their list, including: education opportunities, respected designations, and leadership opportunities. IREMs team: Scott Stovall, Julie Lynch, Greg Wingate, andGreg Goree.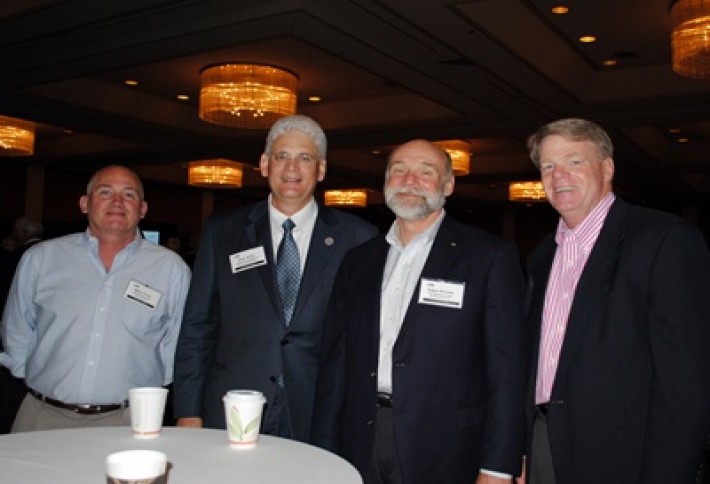 Town of Addison mayor-pro-tem Blake Clemens (right) schmoozing with D&G Construction Services Mark Jones, AISCs Rick Kuhn, andThe Whiting-Turner Construction CosEspen Brooks.Blake tells us Addison (a Bisnow sponsor) continues to be a draw for Millennials and empty nesters searching for an urban oasis with uber-cool amenities where they can live, work, and play. (If someone has film of these two groups playing together, please post it on YouTube.) In the last month, the community of 4.3 square miles added about 1,000 multifamily units to the market with the opening of UDRs chic Fiori Complex at Vitruvian Park, Embry Partners Lofts at Addison Place, and Behringer Harvards last phase of Allegro at Addison Circle.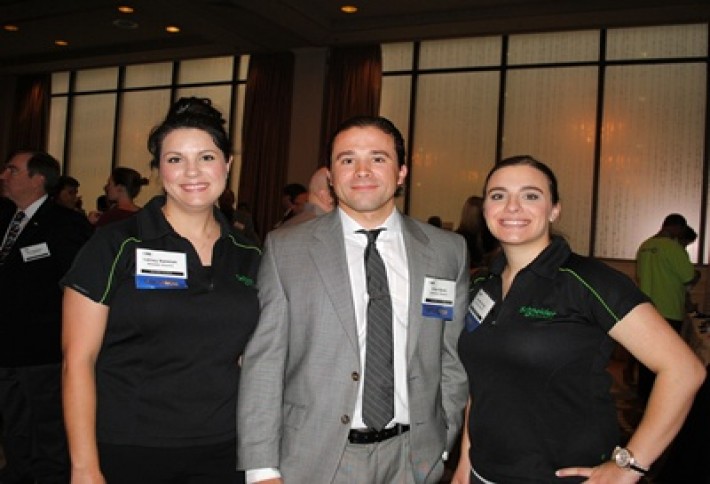 Event sponsor Schneider Electric made a buzz with Lainey Nahkleh, Drew Byrd, and Jessica Doty working the crowd. Drew tells us the firm is a global specialist in energy management with operations in more than 100 countries, offering integrated solutions and services across multiple market segments. SchneiderElectrichas experience with the latest measures for project financing, design, construction, building operations, and more, he tells us, with an approach designed for faster ROI.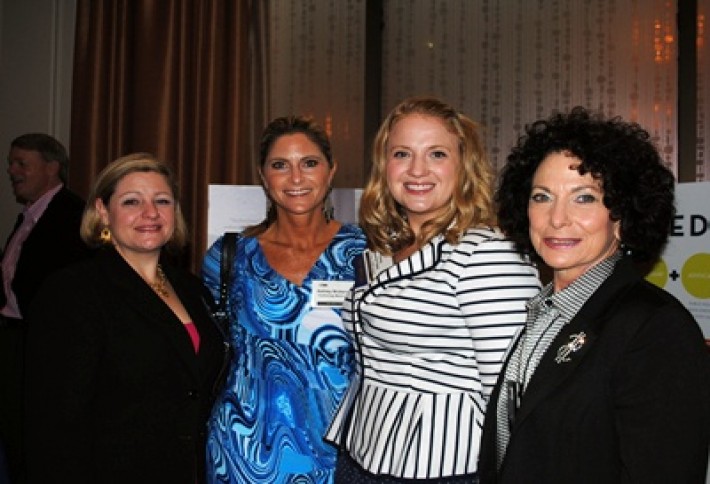 Event sponsor The Real Estate Council raised$1.4M at Fight Night this year. (Event panelist Jeff Swopes was the founder of the event 25 years ago.) Heres TRECs Kathryn Porter, Technology Media Corps Ashley Nickerson, TRECs Tessa Doiel Samarripas, and Vant Capital Partners Phyllis Kramer. Bisnowwas also honored to chip in $1,000 at the event to the TREC Foundation.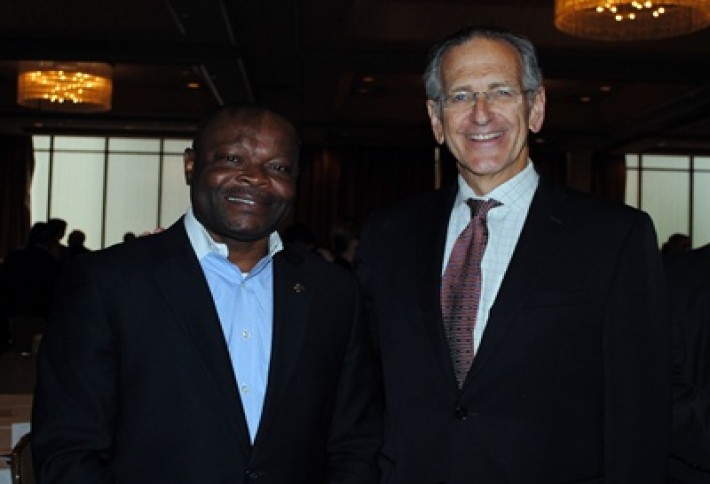 Our intrepid founder, namesake, and top banana emeritus Mark Bisnow (right) did some schmoozing with the Okpa Co's Edward Okpa. Edward tells us he was recently tapped by Gov. Rick Perry to serve on the Product Development Small Business Incubator board to help attract and work with new businesses coming to Texas. Watch Monday's DFW Bisnow issue for more event coverage.
Today was the last day of school for our DFW reporter's oldest son, Dylan. He'll be graduating from high school next week and making his way to Tarrant County College. And, yes, she used almost an entire box of Kleenex when she dropped him off this morning. tonie@bisnow.com