News
Trend Alert: Micro Living
We've heard a lot about micro apartments (as teeny as 250 SF/unit)on both coasts offering high amenities for price-conscious Millennials. Here's how Chicago is handling the trend of downsized living that appeals to a young professional's price point.
Cedar Street Cos partner Jay Michael says micro living is a natural extension of the company's interest in opportunistic investments. It has been accumulating inventory on the North Side (Uptown, Edgewater, Andersonville) in the form of dilapidated buildings/distressed assets and is rebuilding and rebranding under the name FLATS Chicago. Jay compares the micro living target market to people who would like to shop at Whole Foods, but it's out of their price range, so they shop at Trader Joe's. Young, postgrad renters want "the authenticity of prewar buildings but want amenities of new condos," he says.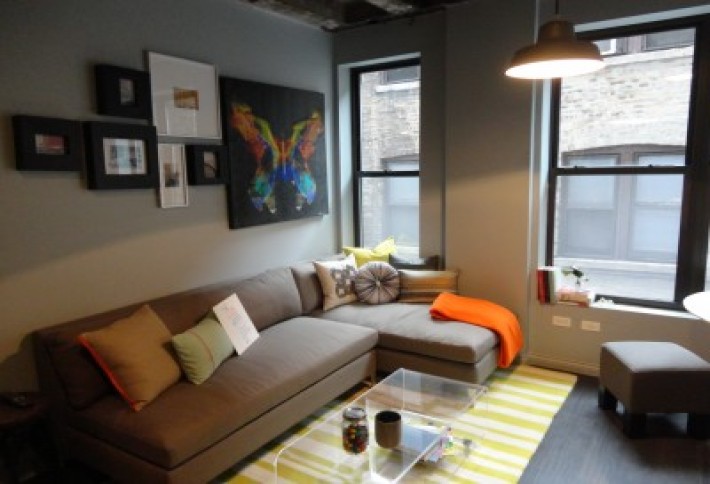 In today's booming multifamily market, Jay says their buildings will stand out with strong design and amenities uncommon in many neighborhood rental buildings: free wireless, in-unit laundry, fitness centers, etc. Cedar Street has 1,200 units across seven buildings currently under renovation; the majority are one bedrooms averaging 550 SF (the model room pictured above is 420 SF). Rents range from $800 to $1,200/month and all the product should come online by the end of the year. Planning his units to feel like a boutique hotel, Jay takes frequent "inspiration trips" to other micro-friendly cities (he was just perusing hotel lobbies in NYC).
[caption id="attachment_48133" align="alignnone" ]
Headshot: Kathryn Marchetti, UIC[/caption]
Jay could be on to something with the hotel analogy. UIC urban planning professor Charles Hoch studied hotels in Chicago as a model for socially organizing affordable housing communities. "A century ago there were thousands of hotels and lodging houses in Chicago and other big cities that offered a much wider range in affordable housing choice," he tells us. Charles says people stereotype micro living as high-rise or state socialist apartment flats, but areas like downtown Vancouver have shown a diverse mix of density and building types/units. Whether micro units at "approachable" (Jay's word) prices for Millennials or affordable prices for low-income people, this trend seems rooted in sound urban planning.