News
The Decade of Downtown
Our headline may sound like the title of a Huey Lewis and the News album, but that's whatSan Antonio mayorJulian Castrocalls our era. And he's set aggressive goals for the submarket in his SA2020 plan. Activity is swirling already, so we gathered the experts at Bisnow's recentFuture of Downtown event.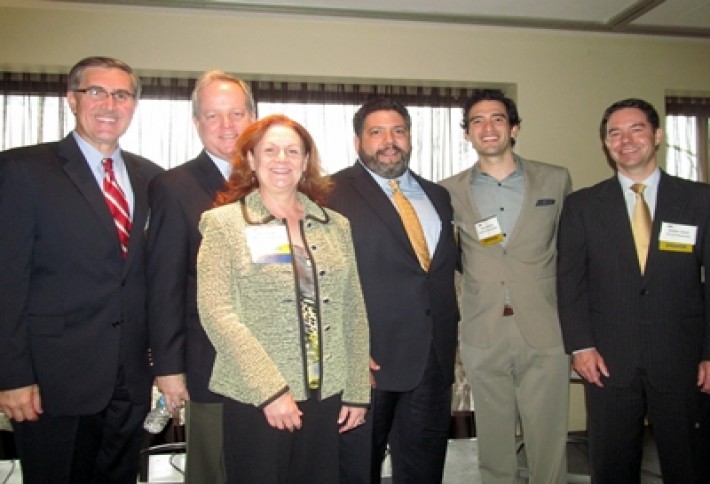 Our superstar panel: Centro Partnership CEO Pat DiGiovanni, San Antonio Commercial Advisors CEO Ed Cross, moderator and BKD partner Denise Green, Transwestern SVP Larry Mendez, Hemisfair Development director of operations Omar Gonzalez, and BC Lynd Hospitality CEO Brandon Raney. Pat says Downtown has an $11B economic impact and gives back $12M a year to the general fund. He believes there's an imbalance, though; it has great tourism but no neighborhood feel. Denise highlighted some mayoral initiatives: Adding 5,000 housing units (to the current 3,400) and increasing employees working Downtown by 25% (that's 14,000 people).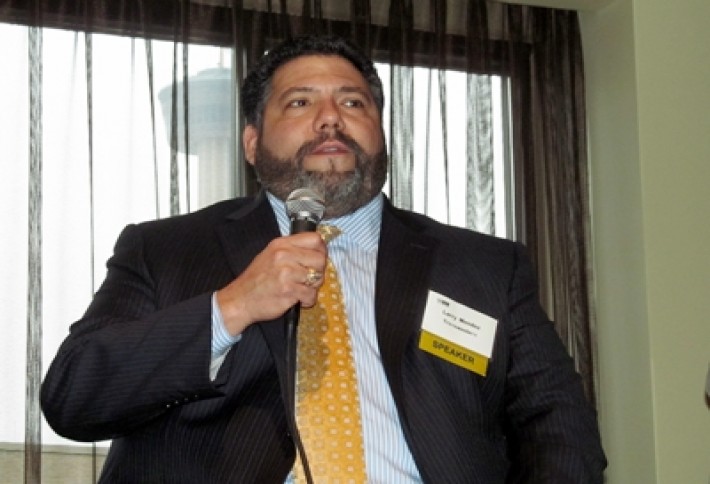 Larry told 225 attendeesat the Hilton Palacio Del Rio thatoffice users actively want to be Downtown for the first time. Class-A vacancy is 20%, but he expects that to drop this year. There was positive absorption for the second year in a row, which hasn't happened in a decade. Larry handles leasing at Bank of America Plaza, which has more proposals than space available, and IBC Centre, where pending leases will bring it above 90% occupancy. Officedevelopment is coming, he says--not soon, but new projects are being planned. The biggest issue limiting activity:parking. (Same reason it took us 12 years to pass a driving exam.)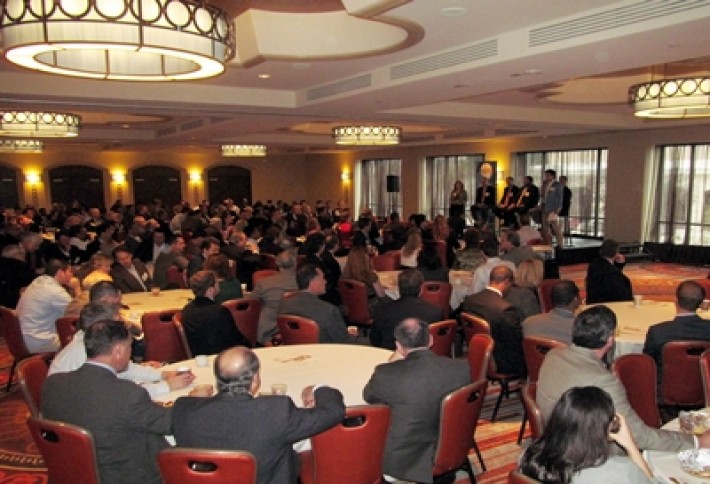 Most panelists felt other transportation was more of an issue. Ed found that residents in his Downtown properties use cars less than expected--he projected 1.45 cars/apartment, but it's only using 1.1, and 15 units have no car. He also has a Zipcar station that young residents use. He told the City he'd write a check to develop infrastructure for streetcars; he likes the certainty of a track in front of his property and feels it'd further cut down parking needs. His goal: Be like Portland, which needs .85 cars/unit(though we could probably do it without all the facial hair.) That project has been approved; look for streetcars in 2017.
Also limitingactivityis that many land owners refuse to sell, Omar says. Some are holding out in hopes a hotel will pay $200/SF, and surface parking owners often think their returns are good enough, not realizing they could get even more if they developed their lots. That's leading to a donut hole of activity, and he thinks it might be a good idea to tax surface parking to spur development. (But Brandon and Larry prefer to see the market correct itself.)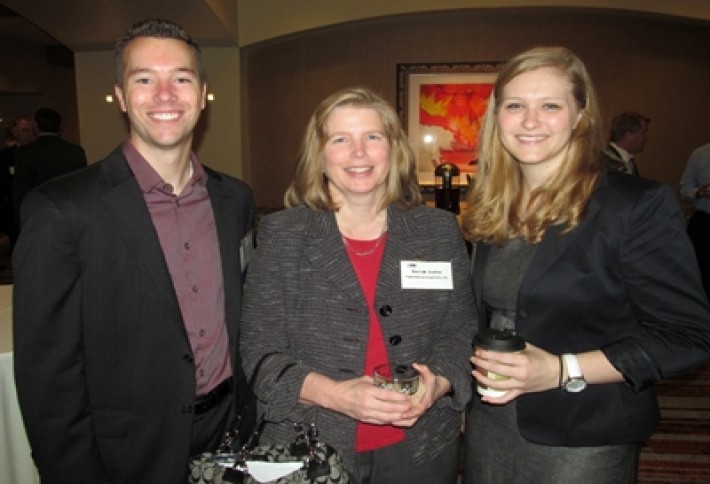 USAA's Chris Suttle and Hannah Palmer flank Pape-Dawson's Kerri Collins before the event. Kerry just finished a Downtown transportation study that ID'd four bond projects, including a roundabout at Soledad and Navarro near the library. 25 additional items remain unfunded. Construction is under way on The Residences at La Cantera, a 323-unit multifamily community (plus 4,000 SF of retail) that's Phase I of the Town Center at La Cantera. USAA is building it in partnership with Cambridge Development Group, and (what a coincidence!) Pape-Dawson is on the design team.
The time between slipping on a peel and smacking the pavement: bananosecond. Send your news to Catie Dixon (catie@bisnow.com) or Tonie Auer (tonie@bisnow.com).