News
Central Perimeter's Big Benefits
Ackerman & Cos Kris Miller says if youre in real estate, youll be making your money in Central Perimeter over the next decade. (As if the traffic wasn't bad enough already.)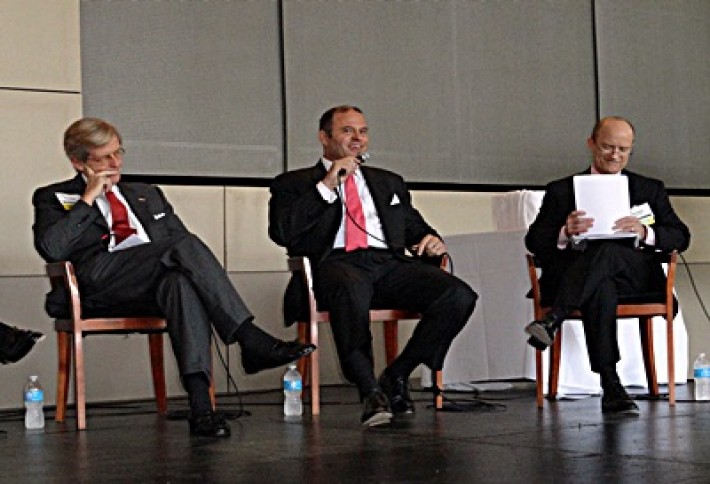 We held our third annual Future of Central Perimeter last week where Kris (center, flanked by Seven Oaks' Bob Voyles and Cresa Partners' Billy Hobbs) offered his strong prediction for the submarket: More money will be made in the Central Perimeter in the next 15 years than any other market in Atlanta, probably by a factor of two. (Assuming that no one finds gold or oil in North Fulton.) Kris gave four reasons for his prediction: Its the retail hub of the Southeast; the medical nexus of the Southeast; largest office market in Atlanta; and one of the most desirable neighborhoods for executives.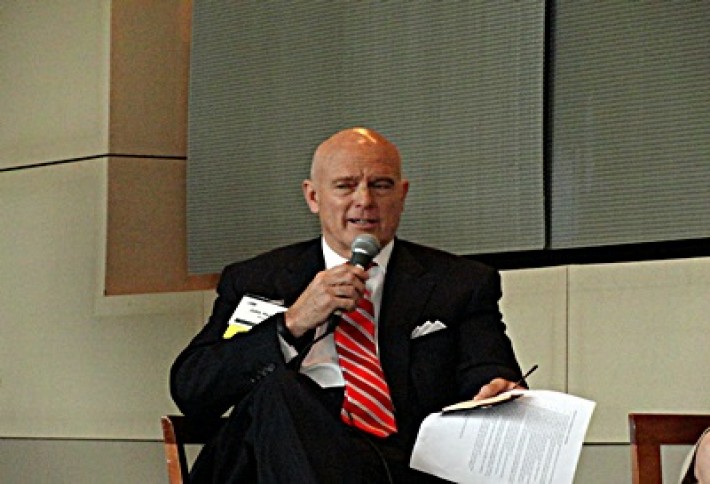 Add to the fact you have transit and you have the making of what Hines Interests John Heagy calls the emergence of a new urban core... When you look at the generational swings that were seeing in terms of where people want to work and people want to live, its in markets like this, he told an audience of 300 at The Retreat at Perimeter Summit. Its been a long time coming. And he says a demographic shift is at work: Boomers make up 26% of the workforce. By 2014, 36% of the workforce will be made up of the Millennials. By 2030, 75% of our workers will be Millennials. (And by 2060, 100% of seniors housing will be occupied by Millennials.)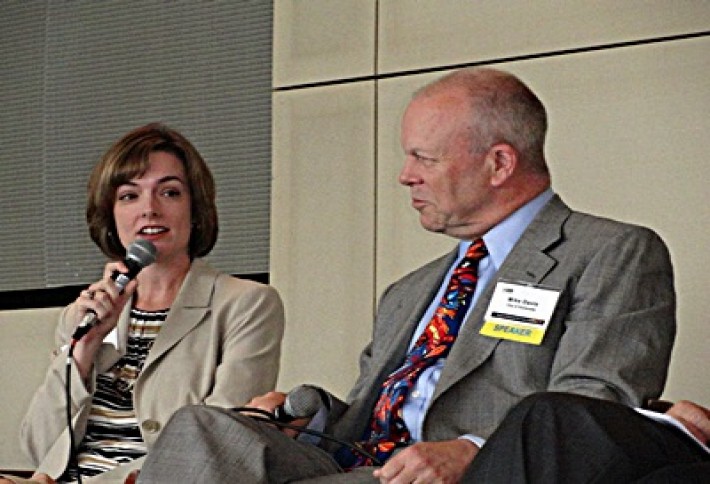 Dunwoody Mayor Mike Davis(with Sandy Springs' Andrea Hall) says the Millennials have a different ideal work and play environment--influenced by such shows as Friends and Seinfeld that glamorized urban life--where no one was married and no one owned a car (asMy Three Sons and Leave It To Beaver did for suburbia with the Boomers). You dont realize how that becomes ingrained in the brain, he says. We already have the amenities that I want, but how do you make the amenities that they want? How do we make it a little more edgy, a little more funky without getting dangerous?"
With 35,000 employees in Central Perimeter and 123,000 vehicles commuting there each day, traffic will always be a fact of life for the area, says Perimeter Community Improvement Districts Yvonne Williams (center).But with four MARTA stations, a huge corporate branded environment--with names like UPS, Newell Rubbermaid, Cox and Airwatch--a $3B medical industry, and a focus on creating greenspace walking environments, Yvonne says the area has all the characteristics companies look for when seeking cities that will attract a strong workforce.