News
What's Up with the CFPB?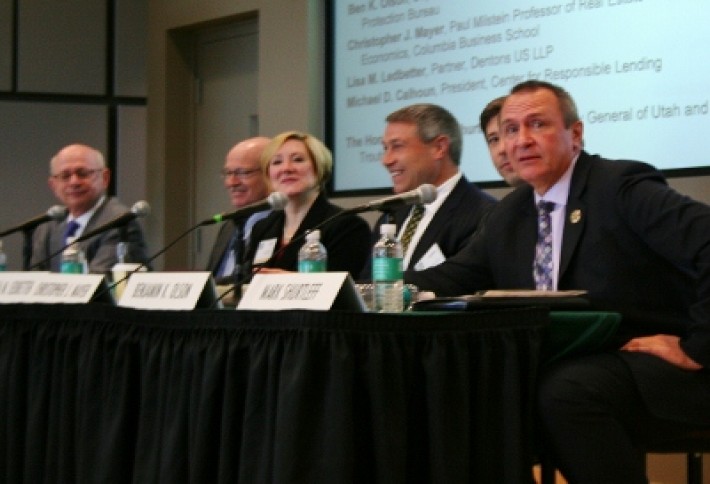 Mention CFPB to a non-lawyer, economist, or politico, and you might get a blank stare. Such is life as a new federal agency. But thanks to a full-day conference on the Consumer Financial Protection Bureau, we're no longer cross-eyed when we hear the name.Former Utah AG Mark Shurtleff, now at Troutman, right, moderated a panel with Wells Fargo deputy GC David Moskowitz, Center for Responsible Lending president Michael Calhoun, Dentons partner Lisa Ledbetter, Columbia Business School professor Christopher Mayer, and CFPB deputy assistant director Ben Olson. The talk revolved around the QM rule(Qualified Mortgage) and the loan originator rule.David says he was pretty hysterical about the latter at first, given that Wells Fargo has 275,000 employees and many seemed to qualify as loan originators. But after going back to talk to the CFPB, he is "very complimentary of the approach the CFPB is taking here," (and we presume that's not just because an employee was sitting on the panel).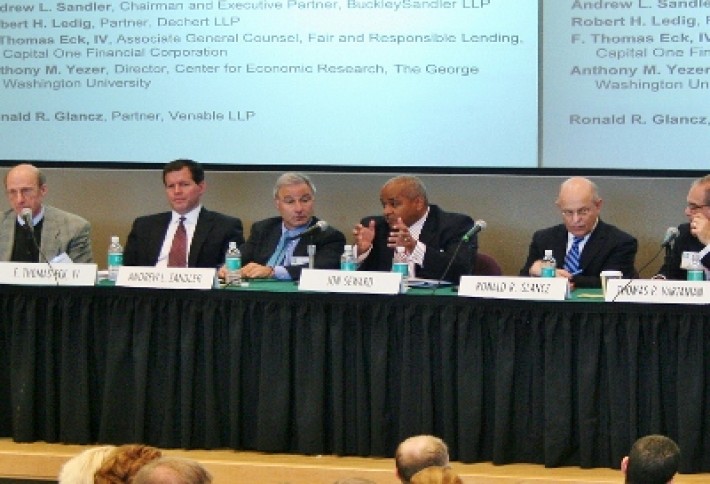 In response to an audience question about "buy-here, pay-here" car dealers, DOJ Housing and Civil Enforcement deputy Jon Seward says "stay tuned." It's not public yet, but Justice is focused on it and you may see news before the year is out. Jon'sflanked by GW professor Anthony Yezer, Capital One associate GC Thomas Eck, BuckleySandler chairman Andy Sandler, Venable financial sevices group chair Ron Glancz, and Dechert partner Thomas Vartanian. Over the last year, Jon says the DOJ's settled nine fair lending cases, when it's usually two or three. (Maybe that's one of the reasons Andy calls him the "Kevin Bacon of the fair lending community.")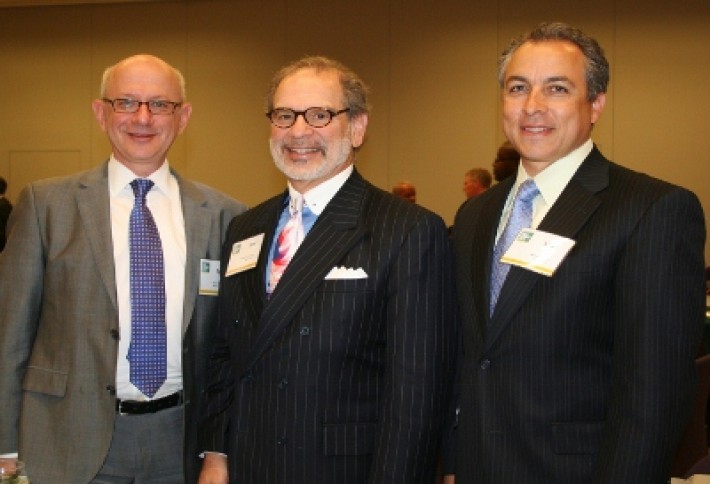 After the luncheon with a keynote from CFPB acting deputy director Steve Antonakes, we snapped Wells Fargo's David Moskowitz, Dechert's Thomas Vartanian, and Venable partner and former SIGTARP chief investigative counsel Mike Rivera. Steve says strong management is most important for the market and for consumers.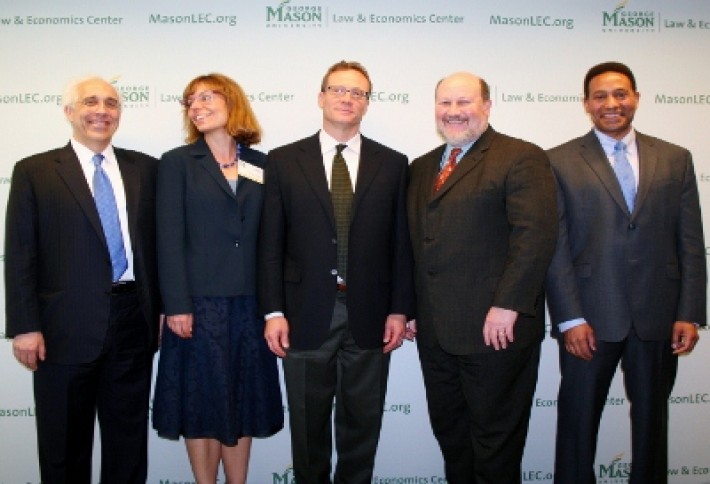 Taking on arbitration in a panel were:Mayer Brown partner Andrew Pincus,Vanderbilt Law associate dean Erin O'Hara O'Connor, UVA Law professor Jason Johnson,Center for Constitutional Litigation VP John Vail, andBoston U law professor Keith Hylton. John gave his take on mandatory arbitration in the form of a paper title--"Mandatory Arbitration: Threat or Menace?" He says it suppresses claims and in a commercial context isn't as much a "get out of jail free" card, as a "slip $500 to the parole board" card.