News
15 Things You Need to Know This Morning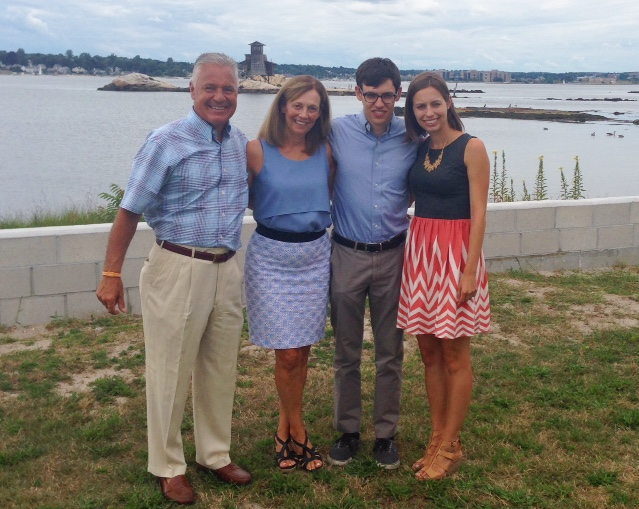 What You Didn't Know About Frank Longobardi
Title: CEO-elect, CohnReznick. Starts Oct 1 in NYC.
Photo: With wife Pat and kids Matt and Kristen in Connecticut.
Company: One of top accounting, tax, and advisory firms in US. Over 2700 employees in 30 cities.
Nature of job: Keep building four national industry practices: commercial real estate, renewable energy, private equity, and affordable housing. And expand tech and life sciences, construction, manufacturing and distribution, hospitality, not-for-profit, and consulting. Develop firm's younger folks into future leaders. Seek growth both organically and by merger—targets include Texas, Florida, and SF. 8 to 12 direct reports, work with Executive Board of 10.
Grew up: West Haven, near New Haven.
Childhood memories: Blue collar area, after school kids would congregate and make up games: checkers, baseball, bass fishing, wiffle ball, even "our own par 3 golf course."
Residence now: After college moved to Glastonbury, outside Hartford, where raised family and still living until move to NYC. House hunting in Upper West Side. Dream is to walk to work, 15 or 20 minutes. Need to get walking shoes and rollers for "very heavy briefcase—everything's in it."
Career trajectory: Older friend in college majored in accounting, so when a course was offered in high school, signed up for it though knew nothing. Then when asked major at college registration, put "accounting." Graduated from UConn in '77, worked for small firm in Hartford, but wanting more excitement moved to regional firm, which merged in '82 with Coopers & Lybrand. After 2 years wanted to be out on own, so started firm with friend which grew for 23 years to 100 employees then merged with J.H. Cohn in 2007. Merged with Reznick in 2012, ran New England region.
Daily habit: 30 curls and 30 bench presses every morning with two dumbbells—in the shower.
Job in next life: Centerfield for Yankees, or GM like Brian Cashman. "It would be a lot of pressure, but a lot of fun pulling trades off."
Favorite movie: Field of Dreams.
Restaurant: "Golden Lamb Buttery" in Brooklyn, Connecticut (not NY). Built on a farm, small but fresh menu each night. Take hayride with guitar player while food is being prepared. "We loved it so much, we'd negotiate with staff to take us out for another hayride after dinner."
Singer: Billy Joel. Have seen three or four times. Daughter has given him tickets to concert next month for 60th birthday.
Book: Winds of War (Herman Wouk) and Shogun (James Clavell). "I should read them again."
Vacation: Their place in Jupiter, Florida. Went to Palmas Del Mar outside San Juan 10 straight years with family. Golf course, casino, great restaurant—"all we needed."
Food: Pasta with chicken, pork, and/or veal. "Hey, I'm Italian."
Guilty pleasure: Occasional cigar, usually an Ashton's.
Family: Married 32 years to Pat, from Virginia; 27-year-old son Matt is attorney with New York based Goddard Riverside Law Project; 25-year-old daughter Kristen is CPA at Deloitte in Boston.
Pets: Cat for 16 years, was "more like a dog—would jump onto my chest when I got home and nestle into my sweater."
Hobbies: Golfing, fishing, playing hockey, watching UConn sports.
Bucket list: Play Augusta National; lunch with Paul McCartney; live in NYC. "That third one's about to get checked off."
15 OTHER THINGS YOU NEED TO KNOW THIS MORNING