News
15 Things You Need to Know This Morning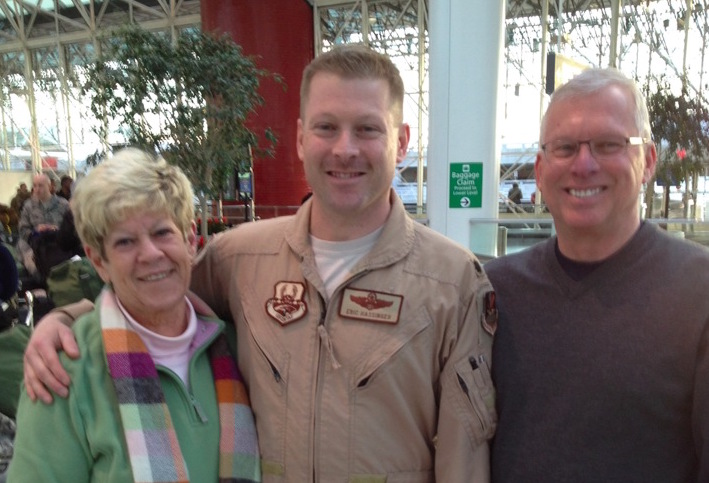 What You Don't Know About
Mark Hassinger
Title

:
President, WestDulles Properties, Inc.
Photo

:
With wife Louan seeing off son, Eric, an Air Force lt. colonel and F-15 pilot, returning earlier this year to the Mideast.
Company

:
Developer focused on land and industrial. Eric Wells founded company in early 80s as Landstar; Mark joined in early 2000s when it was renamed.
Job entails

:
Repositioning parcels that need zoning and entitlements; master planning; site and product design; finance.
Current project

:
84 acres in Manassas for 1.1M SF of industrial or data center, working "feverishly" to land clients for first two build-to-suits.
Other jobs

:
Chairman of Nova NAIOP, just finished first year. Teach 3 real estate courses at George Mason.
Why CRE

:
Dad was carpenter, helped him on home additions.
School

:
NJ Institute of Technology and Charleston Southern; grad degree in community planning from U of Rhode Island.
Best job ever

:
As freshman in college, worked in Post Office "facing up Christmas mail" so stamps could be cancelled--"good pay, great hours."
Interruption

:
Lottery #28, drafted and spent four years in Air Force, worked as accountant at Charleston AFB processing travel pay for pilots.
Why DC

:
Did job searching, sister-in-law lived here, arrived 1978.
Live

:
Oak Hill in western Fairfax
Daily habit

:
Same breakfast—non-fat yogurt with fresh blueberries and Bear Naked "fruit and nutty" granola.
Favorite movies

:
Chariots of Fire, Glory Road, anything sports.
Music

:
Eclectic, from 60's doo-wop to Maroon 5.
Food

:
With wife and friends try Washingtonian's top-ranked restaurants.
Vacation

:
Love exploring US cities, e.g., last July 4th went to Chicago for fun with friends.
Bucket list

:
States haven't been to yet, like Oregon.
Guilty pleasure

:
Moose Tracks, but any kind of ice cream will do.
Job in next lif

e:
Fitness instructor. (Ran five marathons between '94 and '07 until knee gave out.)
How he met wife

:
Knew each other as friends since third grade. In college was pledging fraternity and needed date for Halloween party on four hours notice. "Mom said, Why don't you invite Louan? Our friendship was over that night."
Family

:
Son went to AF Academy, in Qatar now, will be stationed at Langley AFB soon (one grandson). Daughter works in special ed admin in Fairfax (one granddaughter).
Startling fact

:
"How much time I spend as a wood butcher." Finishing daughter's basement and remodeling her kitchen.
15 OTHER THINGS YOU NEED TO KNOW THIS MORNING