News
15 Things You Need to Know This Morning
If you don't
see the cool
pictures, please click here!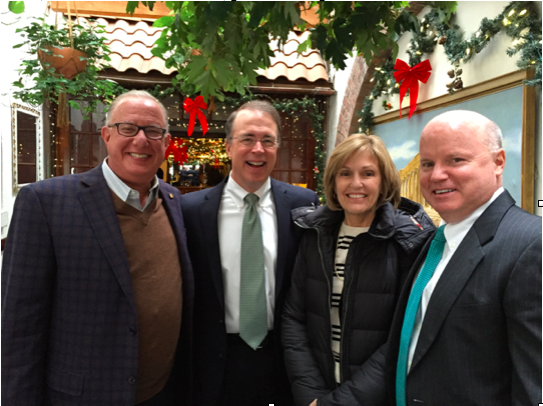 Holiday greetings from EagleBank, some of whose brass we snapped Wednesday at lunch in what seems to be their executive dining room—well, technically La Panetteria Italian restaurant on Cordell in Bethesda, just a couple blocks from the bank's HQ. Just like Jimmy Stewart, CEO Ron Paul, left, seemed to know everyone there—including more than a few of his employees, like cheerful paparazzi subjects Chris Brockett, Beth Ferrenz, and Chris Ewing (respectively, directors of operations and customer service, and deputy COO). Congrats to Ron, by the way, for becoming the first person ever to be named both the American Banking Association's Community Banker of the Year (2012) and, just days ago, the Independent Community Bankers of America's Banker of the Year - East Region. Ron started the bank in 1998 after a career buying commercial real estate (which continues to this day). The bank now has 450 employees, 10,000 clients, and $5 billion in assets. Now, go back to the garlic bread.
15 OTHER THINGS YOU NEED TO KNOW THIS MORNING
© 2014, Bisnow LLC, 1817 M St., NW, Washington, DC 20036. All rights reserved.
To UNSUBSCRIBE from future emails or to modify your email subscription preferences click here.