News
15 Things You Need to Know This Morning
If you don't
see the cool
pictures, please click here!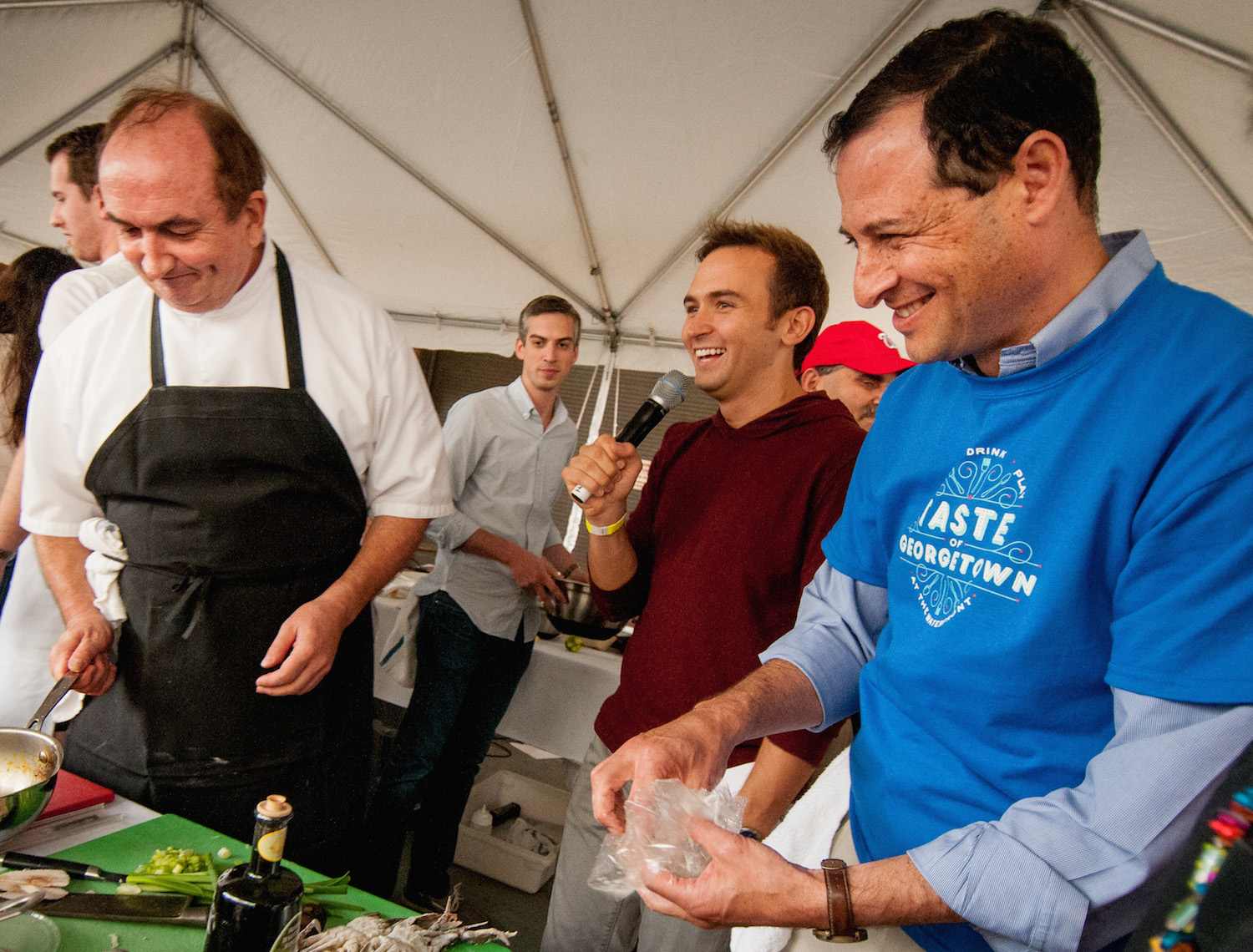 What You Don't Know About Joe Sternlieb
Title: CEO, Georgetown BID.
Photo: Right, working as "sous chef" for Malmaison's Gerard Pangaud in Taste of Georgetown's Chef Showdown.
Organization: Launched 15 years ago, staff of 22 works on over 50 projects in area that includes  3M SF of office and 2.8M SF of retail. $3.3M budget funds range of programs, from collecting 540 tons of trash annually to putting on annual Taste of Georgetown.
Current project: Working with National Park Service and community to revitalize C&O Canal through Georgetown Heritage, non-profit created to build support and fundraise for new boat and recreation facilities, improved tow paths, public spaces, and lighting. Also fundraising for cross-river gondola study.
Memorable project: Spent '97-'05 at Downtown BID organizing and branding DC Circulator – now 49 buses on five routes and 6M rides per year. 
Why CRE career: Found calling after serving on old ANC 2C in '90. Ditched career as an organizer, and went to MIT to study city planning. Came back to D.C. to focus on rebuilding.  
Grew up: Andover, Mass.
Current home: Chevy Chase DC.
Why DC: Recruited from NYC for 9-month job at Freeze Voter in '86.
Schools: Connecticut College and MIT. 
First job: Selling residential real estate in New London, Conn., in 1982 when FHA mortgages were 15%. 
Daily habit: Scan NYT for interesting articles.    
Favorite app: Pandora.
Favorite book: Collapse by Jared Diamond.
Favorite movie: Cinema Paradiso.
Favorite restaurant: Myanmar Kabab House on 1200 block of K St. (Get the buffet.)
Favorite musician: Sara Bareilles.
Favorite vacation spots: Paris, London, Rome.
Guilty pleasure: Ben & Jerry's Cherry Garcia ice cream.
Bucket list: Achieving D.C. representation in Congress.
Doing what in 10 years: More sailing - on bigger boat.
Family: Married to Linda Singer, two children in high school.  
Hobbies: Keep a small sailboat in Annapolis – leave home at noon, take quick sail around Bay, home for Sunday dinner.  
Startling fact: Co-founded D.C. Vote with friend in 1997 and served as its first president and board chair.
15 OTHER THINGS YOU NEED TO KNOW THIS MORNING
© 2014, Bisnow LLC, 1817 M St., NW, Washington, DC 20036. All rights reserved.
To UNSUBSCRIBE from future emails or to modify your email subscription preferences click here.