Just in case you think we bring you only good news, we feel duty-bound to report that this morning Boston Properties CEO Mort Zuckerman told the Economic Club of Washington he remains bearish on the economy, at least for now.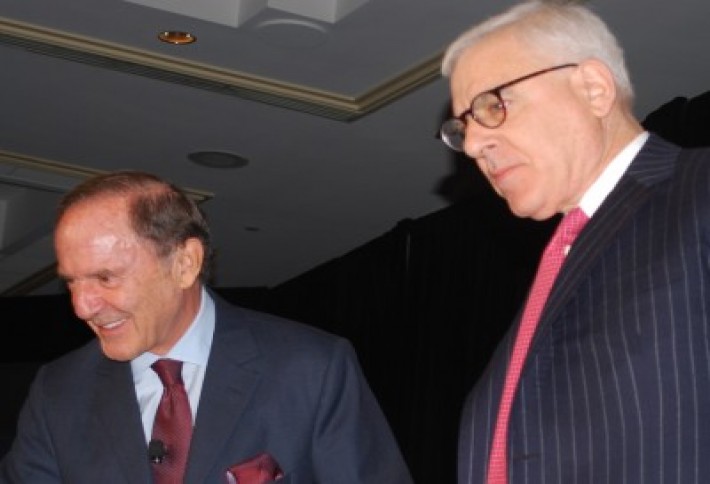 We snapped Club president and Carlyle co-founder David Rubenstein, right, with Zuckerman, who said a trillion dollar deficit is hard to grasp so he has started referring to it as $25 billion a week, which people understand. He said his firmsurvived the Great Recession by selling about $4.5 billion in assets while prices were still going up, then deployed funds later to make big buys like NY's GM Building, which has worked out well (in part he said because they negotiated a percentage of its Apple Store revenues). Together with a tough economy, he cited a new office culture of downsizing and commuting as a reason he'd recommend entrepreneurs go into resi instead. And does the President call this former Romney supporter anymore? Yes, he's on his call list, he said--in alphabetical order.
Georgetown adjunct prof Jonathan Morris(right, with PNC's Casey Brill)is in the second year of teaching a REIT class. (Coincidentally, we hear this is the second year G'town poets who thought it was pronounced "write" are in for a long semester.)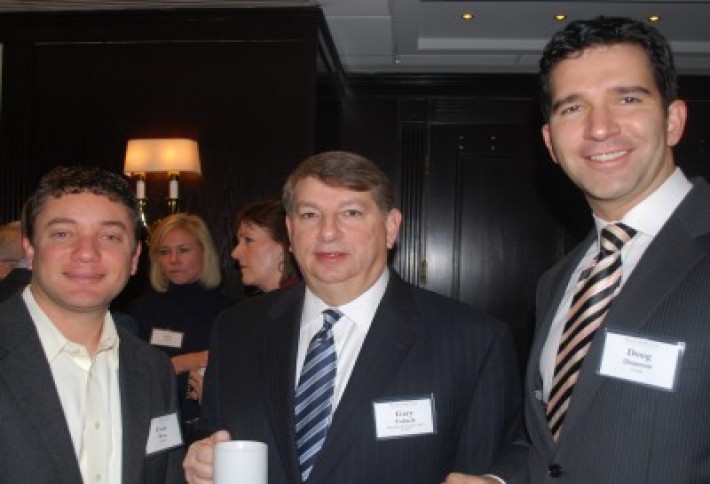 Cresa's Doug Damron (right, with Deloitte's Evan Shea and Gary Tabach) is repping social service org Family Matters of Greater Washington. He reminded us it just received a $28M donation from the estate of late under-the-radar DC railroad heir Richard Herman.