News
Healthcare Buildings Get Squeezed
The healthcare industry has to cut costs, yetalso grow and compete. (Maybe convert wall space used for medical degrees into another exam room.) 330 attendees atBisnows second annual Healthcare Expansion Summit at the downtown Marriott last week learned how they're going to do it.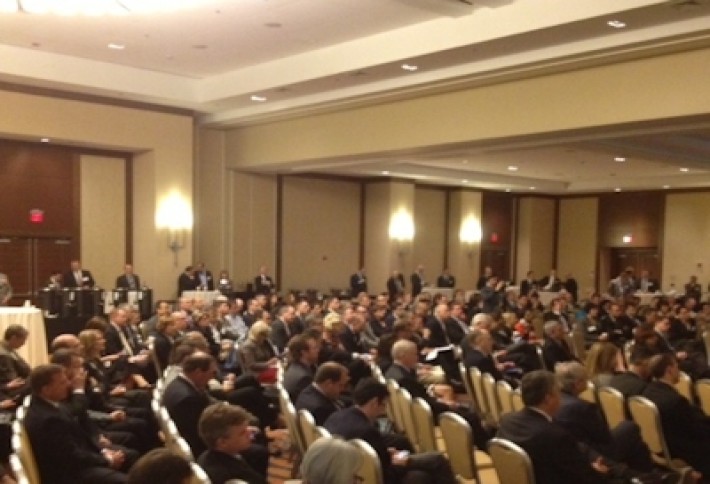 The heavy-hitters on our healthcare CEO panel say pressure on the industry to contain costs is tremendous--and will only get worse as entitlements are targeted for spending cuts. At the same time, the demand for high-quality medical care will intensify, partly because Baby Boomers aren'tquite like their parents as healthcare consumers. They ask more questions and demand more answers. (They've all seen House and know that every disease can be cured in an hour.) Healthcare systems who cant keep up with them risk being non-competitive.
Here's Health Realty Advisors president Michael Goldenberg, our moderator, who has 30 years' experience in healthcare and other nonprofit real estate, with Childrens Hospital of Philadelphia CEO Steven Altschuler.The panel says different systems are trying different strategies, but most stress the need to expand both geographically and in size. The Philadelphia market can sustain perhaps three major healthcare systems; currently theres a lot of fragmentation in the industry, making it ripe for consolidation. (Where's Otto von Bismarck when you need him?) Moreover, the number of hospital beds marketwide--a traditional metric thatisn'tgoing to be as important going forward--will drop.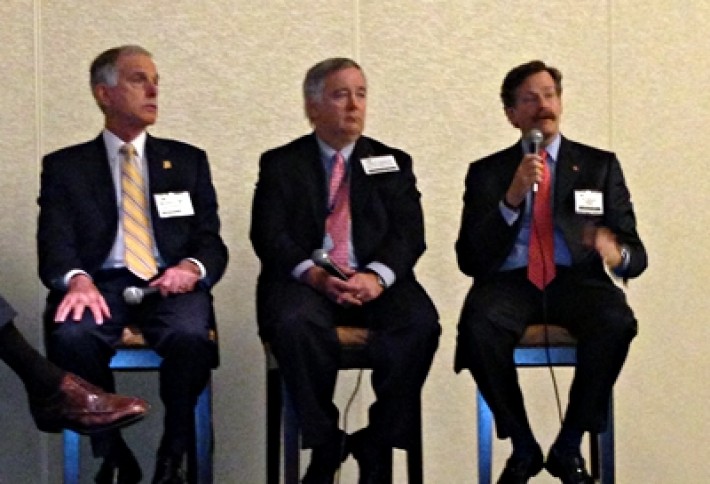 Virtua Health System CEO Richard Miller, Main Line Health System CEO John Lynch, and Temple University Health System CEO Larry Kaiser.Even as the number of standard hospital beds drops, the number of insured people is going to rise. Outpatient facilities, and even in-home care, will be in more demand. ("Rub some dirt on it" is no longer an acceptable treatment.) Those facilities will provide significant real estate opportunities for specialists who understand the market. There will be a drop in demand for more traditional MOB space, however, as two- and three-physician practices join larger healthcare systems and relocate to outpatient facilities.
We snapped Bohler Engineering principal Rob Irons-- anothermoderator,who just hit 20 years with his firm--Turner Construction executive Greg Ryan,and Anchor Health Properties CEO Paula Crowley. The healthcare design panel saysdesigners can now play a critical role in the development of customer-focused, flexible, and efficient facilities. Good design promotes patient satisfaction, improves hospital safety scores, and helps facilities stays competitive. The main arena in which healthcare competitiveness will play out is in smaller, local outpatient facilities.(All of this should be great news to the makers of cheap lollipops.)
Array Architects principal Noah Tolson and Health Care REIT VP Will Roberson.Large, universal floorplans are becoming more common because they provide flexibility in provider positioning and allow patients to go more easily between services. The prefab system components are also increasingly popular as a way to save time and expense in healthcare facilities, which are by nature exceedingly complex built environments. There was some disagreement about the future role of building information modeling; its potential is immense, but there are still questions about making the expense worth it.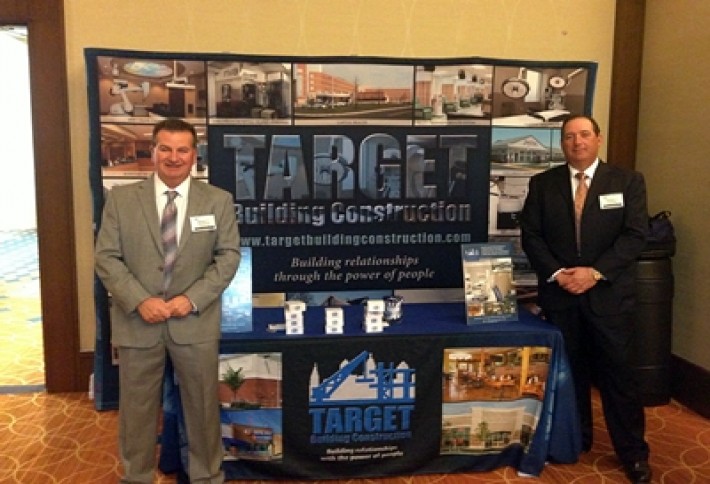 We caught up with Bill Stevenson and Rich Goodman of Target Building Construction, one of our event sponsors. The company recently completed a MOB for Capital Health in Hopewell, NJ, which included 18 months of intensive pre-construction planning and 2.5 years of work in the field. Totaling 360k SF, the facility includes operating rooms, CT and PET scanning, Linac, CyberKnife, and radiology, orthopedic, nuclear medicine, oncology, and neonatology departments.
Doctor's orders: Read two editions of Bisnow and call me in the morning. And send ideas and suggestions to dees.stribling@bisnow.com