News
Which Borough's Your Best Bet: Multifamily Monday
Barring I Am Legend becoming reality, tenant demand for apartments in Manhattan will remain as sure a thing as death and taxes. Cap rates are low, and the market has always been the first place rents rise, making long-term investment there the safest bet yet. But where should investors look for quicker returns?
1) The Bronx Massey Knakal chairman Bob Knakal (with colleague Benjamin Fox) tells us the Bronx offers NYC's highest cap rates (elevator buildings fell to 6.13% in 2012 and walk-ups stayed near 8.45%), thus the biggest opportunity to realize returns. Bob reminds us, though, that the borough also has the lowest rent-collection ratio.
2) Brooklyn Values are skyrocketing in the city's hippest borough, driven by a 30% appreciation in elevator buildings. Bob says some are trading for as much as $900/SF. His BK colleague Stephen Palmese says elevator building prices rose 34% in 2012 and walk-ups 16%, but the sales of all those condo buildings-turned-apartments may drive prices back down this year. And beware the booming development market.
3) Queens The biggest borough would be a better investor playground if any of the current owners would ever sell. Low turnover, low vacancy, solid rent-collection rates, and little development make for cap rates second only to Manhattan. Still, Massey Knakal's Evan Daniel says, price per square foot actually fell in 2012.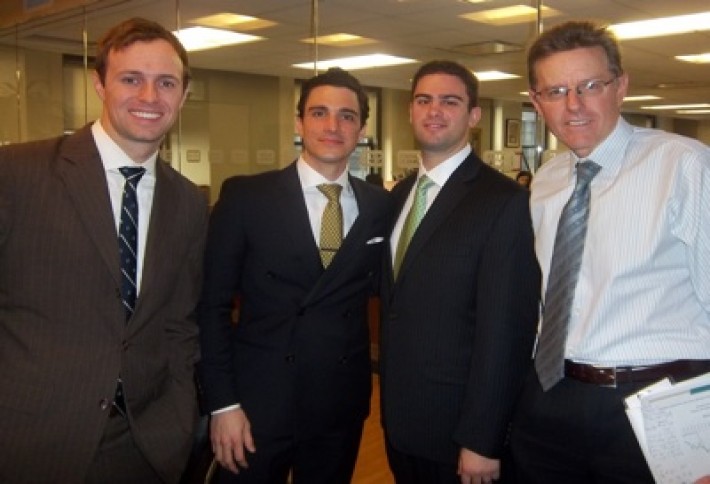 Massey Knakal's James Nelson says Manhattan investors are accepting lower returns (3% to 4%) to be in Manhattan. And to get into Northern Manhattan, says Rob Shapiro (whom we snapped with Stephen, Evan, and Garrett Thelander), they're willing to buy in bulk, as in UDR and MetLife's $630M purchase of Columbus Square.