News
The Baccarat Rises; The Deal Sheet
When Barry Sternlicht sets his mind to something, it tends to happen. That explains the eight stories already out of the ground in his plan to create NYC's finest condos and hotel.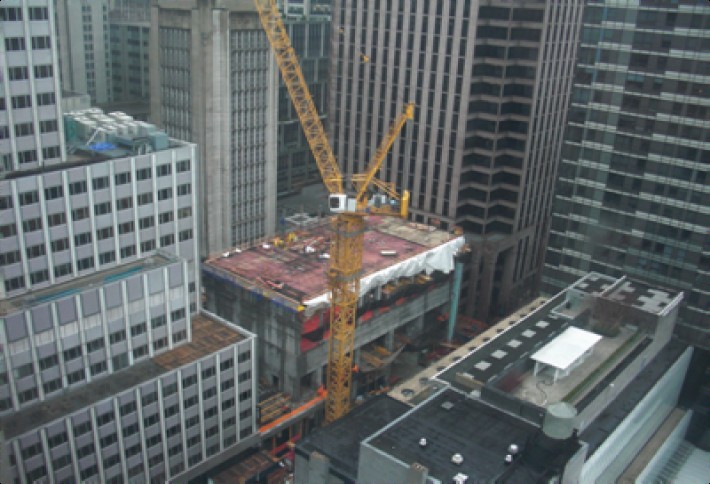 We snapped progress last week from an adjoining tower where a sales office recently opened. Baccarat Hotel & Residences is mid-block west of Fifth Avenue on 53rd (across from the MoMA), where it will rise to 50 floors with 114 hotel rooms on the first 17 and 61 residences from there up to the top. Prices will range from $3.5M for a one-bedroom to $60M for a 7,318 SF duplex penthouse with five bedrooms and 360-degree views. (That's only $200k per degree. A bargain!)The floors immediately below the penthouse will be four full-floor, four-bedroom residences, and all owners will have access to the luxury hotel's services and amenities.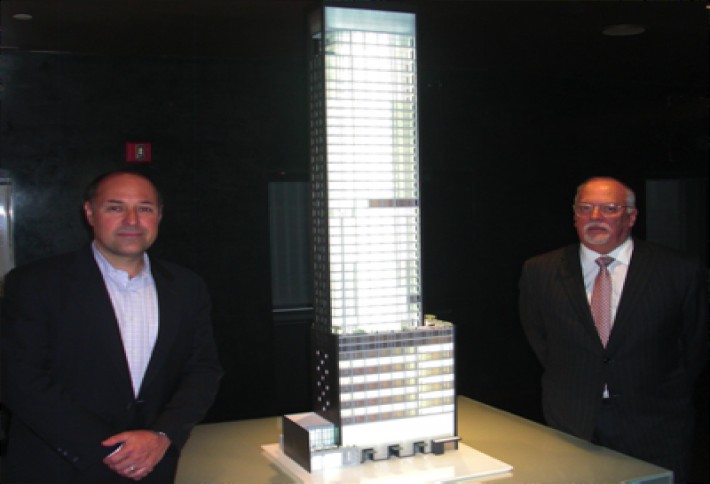 Tribeca Associates partner Mark Gordon and Corcoran Sunshine sales director Larry Kruysman showed us the model last week. Sternlicht acquired the Baccarat company in 2005 to access its skill, products, and reputation, in the making since it was founded in 1764 by order of King Louis XV. SOM was project architect, Tony Ingrao created the residential interiors, Gilles & Boissier designed the hotel, and Tishman Construction is building. Tribeca is developer and co-equity partner with Sternlicht's Starwood Capital. Window heights are 10 feet, and floor heights are 11 foot 8 inches slab to slab. Flagship restaurant is on the ground floor, and bar with striking outdoor terrace on the second. Of course, crystal is everywhere.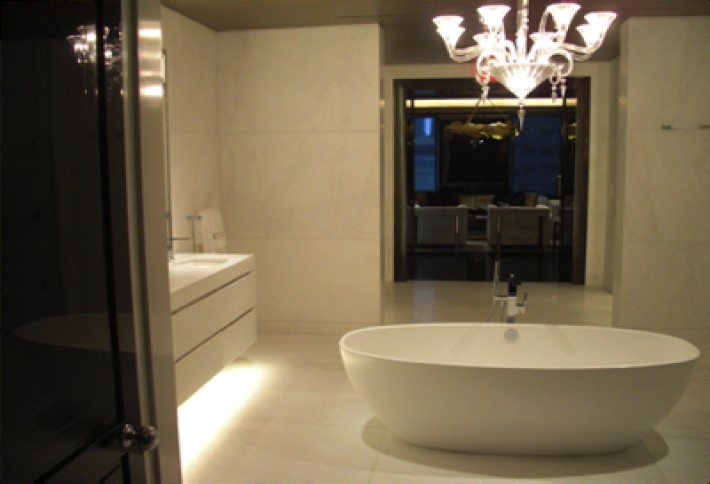 In a model unit: Lido white marble vanities,marble slab floors and walls, Kallista wash basins, Fantini polished chrome fixtures,radiant heated floors. Well, you get the idea. If these are the bathrooms, you can imagine the rest of the apartment.