News
Harlem's Last Real Estate Opportunity
Harlem's unofficial real estate commissioner, Eugene Giscombe, would love to see zoning change along 125th Street to encourage office development, which he calls the last real estate opportunity in Harlem.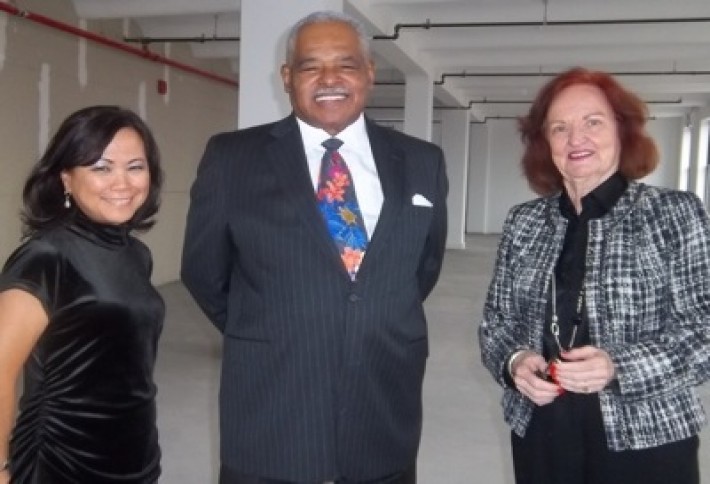 On a recent rainy day, we took the 20-minute subway ride from Grand Central to 125th Street to visit the Giscombe Realty Group president, CFO Alicia Pascual, and residential specialist Yvonne Maddox at their Park and 125th office. He says 125th Street suffers "bulk limitations," with zoning that passed in 2007 capping building heights at 330 feet. That removed any motivation for developers, so he'd like to see legislation that would incentivize acquisition and redevelopment. Eugene's vision: 10-story buildings lining 125th Street, with lower-level retail and thousands of square feet of office space--65% of it to feed an army of NYC companies hungry for 4,000 SF or less. He supports other uses, too, but contends that retail already is doing well, and there's plenty of room for housing on surrounding blocks.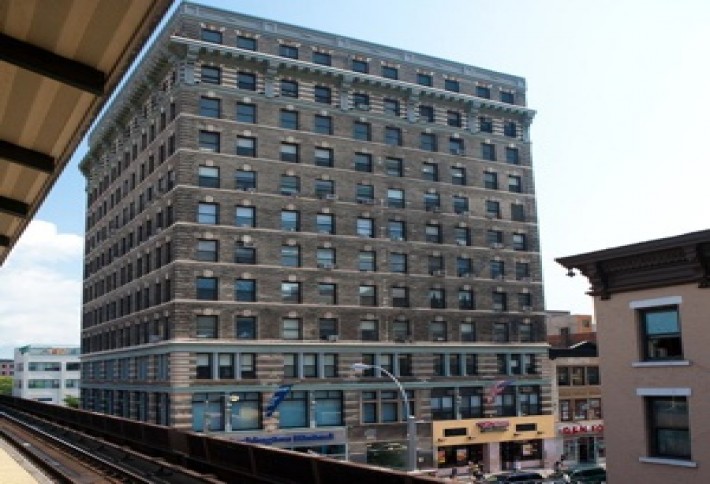 Eugene's own redevelopment efforts are a case study. He bought the historic, 12-story Lee Building in the '70s (when his hair was black, he says)--and he's been working on it ever since, most recently installing elevators, a big achievement for a rehab in a constantly occupied office building. He tells us it's now 82% leased to tenants like Stadiumred, a 5,000 SF recording studio whose client list runs from Eminem to Yo-Yo Ma and whose existence pays tribute to the building's former Harmolodic Studios, run by jazz musician Ornette Coleman. Law firms that don't see the need to pay Midtown prices are also partial to the place. Eugene says Harlem will benefit as Midtown prices out tenants and growing demand for larger blocks entices owners not to renew smaller leases. (Besides, we'd all benefit from more Eminem/Yo-Yo Ma collaborations.)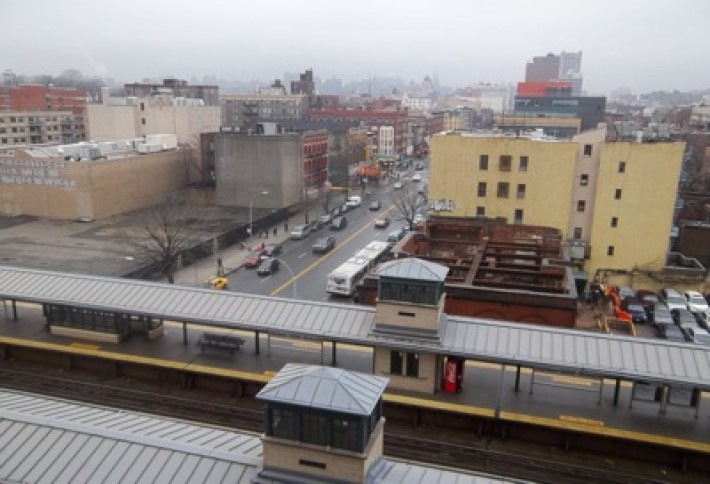 Eugene's Lee Building office looks down upon the Metro-North Railroad and west along 125th. The vacant lot on the left belongs to Vornado, and Artimus is redeveloping the former Corn Exchange Building (the two-story, roofless structure on the north side of 125th) into seven stories of office and retail.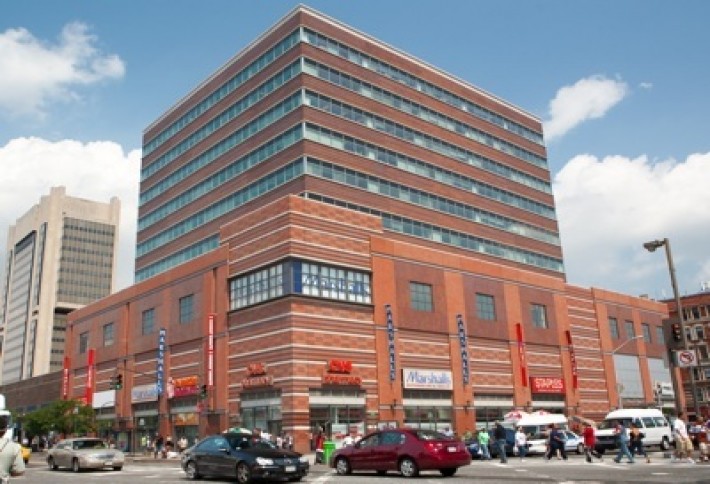 When Eugene bought the Lee Building, not a single store was open from Third to Fifth (where there's now an Applebee's). Now, national chains run up and down the road, including at Lenox, where Forest City Ratner hosts Marshall's, Staples, Dunkin Donuts, CVS, and others.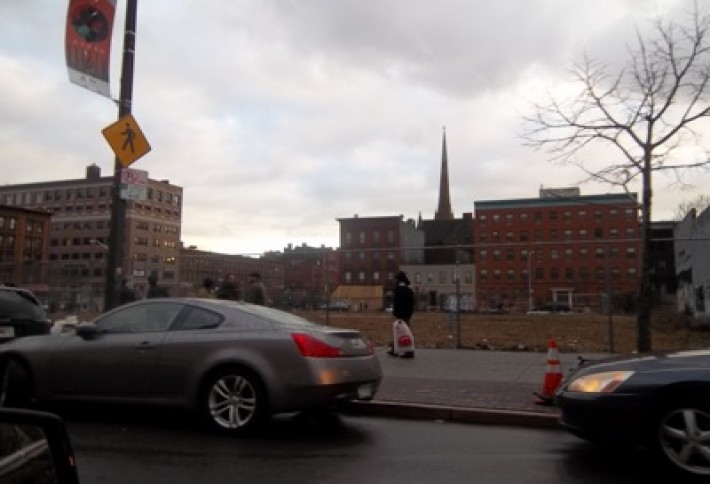 Across the street, Wharton Properties will build a 39k SF Whole Foods (a symbol of "it" neighborhoods nationwide) and a 75k SF Burlington Coat Factory to open in 2015.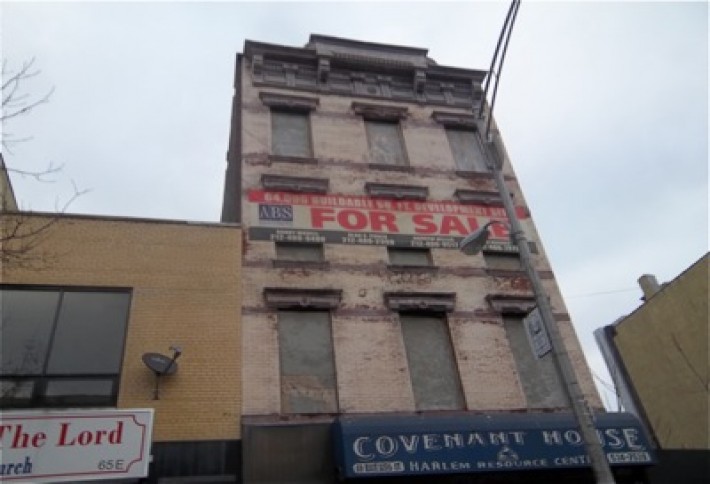 Eugene tells us Bed Bath & Beyond has been on the market for 40k SF, Macy's for 50k SF, and the YMCA for 40k SF, but blocks that big would require assembling adjacent lots now occupied by three- and four-story buildings like the one we snapped above. A lot of the owners of the 125th Street Corridor aren't investors and don't want to operate apartments, he tells us. Rather, they're one-off retailers interested in occupying the ground floors. Hence boarded-up and vacant upper floors. Thus redevelopment of these buildings wouldn't displace many residents, he says, but would bring in tax revenue.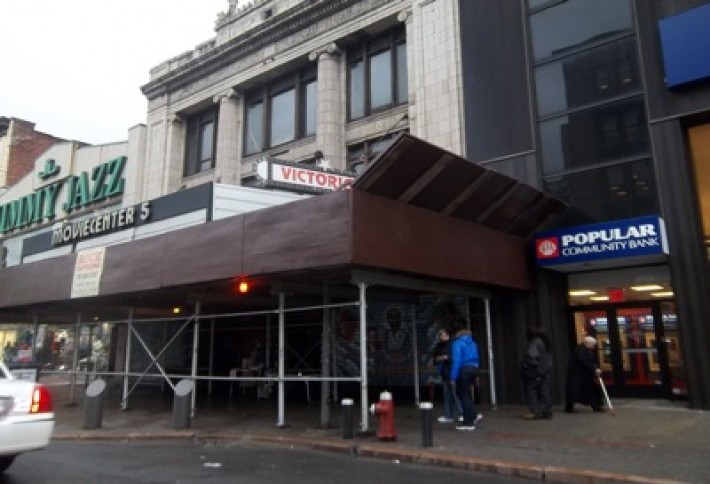 There are exceptions to the zoning height restrictions. The Empire State Development Corp last year approved redevelopment of the three-story Victoria Theater. The facade will remain, but Exact Capital and Danforth Development Partners' final product will be 300k SF and 26 stories with 230 apartments and a 210-key hotel.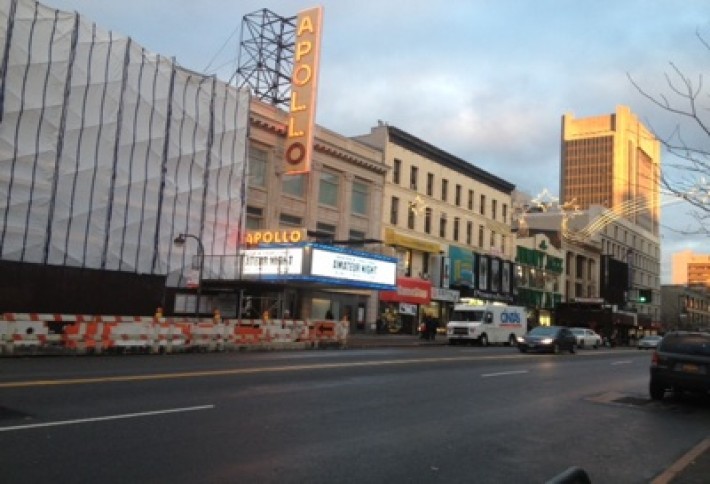 A few doors west of the Victoria is the famed Apollo, next to which a Red Lobster is going into Harlem Commonwealth Council's property. On the far right is the State Building at Adam Clayton Powell Jr. Boulevard (Seventh Avenue), which broke ground in '67, delivered in '74, and at 19 stories is still Harlem's tallest building.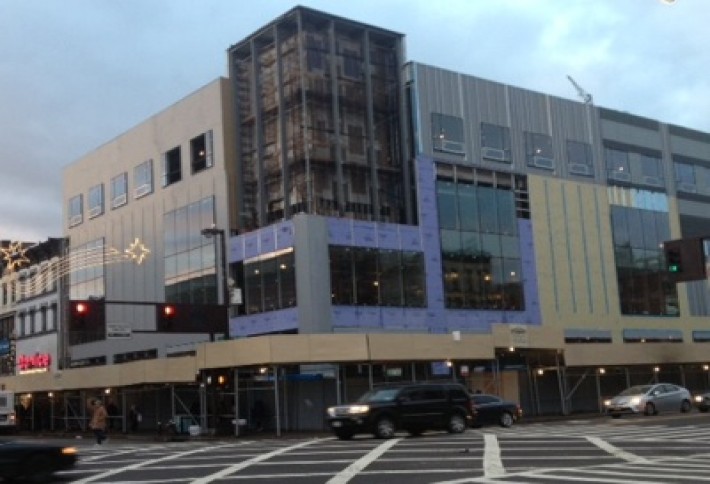 At Frederick Douglass Boulevard (Eighth Avenue) is Eugene's "pride and joy." He launched development of this 100k SF retail building and sold it to Steven Feldman two years ago for $50M. DSW and Blink Fitness have signed on, and NYC's first Joe's Crab Shack will open in June.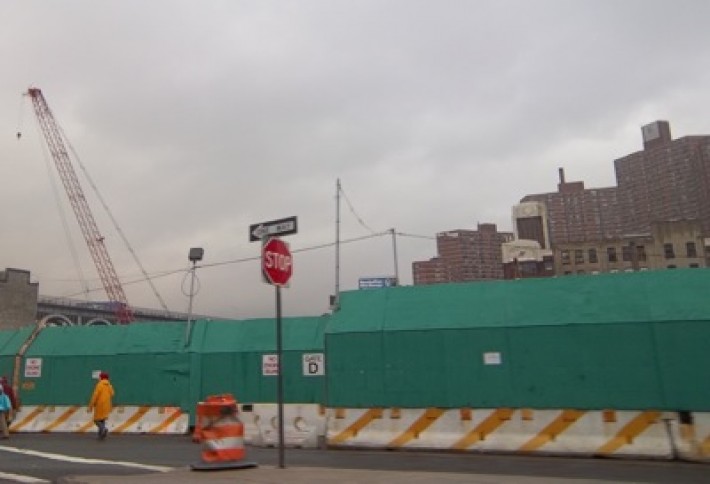 And closer to the Hudson River, larger projects are going up like Columbia University's 6.8M SF Manhattanville campus and the 140k SF redevelopment of the Taystee Bakery site between Morningside and Amsterdam avenues, where we snapped the crane above.
What retailers would you most like to see more of in New York City? May we suggest a Costco at the Manhattan Mall? Email amanda.metcalf@bisnow.com.