News
Carpe Hotel: Time To Buy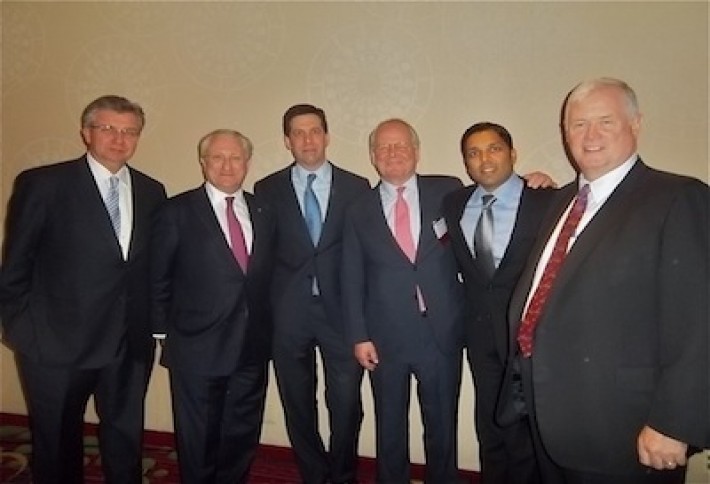 The gang's all here. Yesterday at the NYU hospitality conference at the Marriott Marquis, we snapped Hodges Ward Elliott's Mark Elliott, Geller Investment Co's Larry Geller, Blackstone Mortgage Trust CEO Stephen Plavin, Noble CEO Mit Shah, and Hotel Capital Advisers prez Chuck Henry. Mark cautions buyers not to miss the moment to buy, as "a marginal acquisition today is better than a tremendous acquisition next year." Stephen's company, meanwhile, closed a fund a week ago, but he says it's finding better opportunity in lending than equity placement.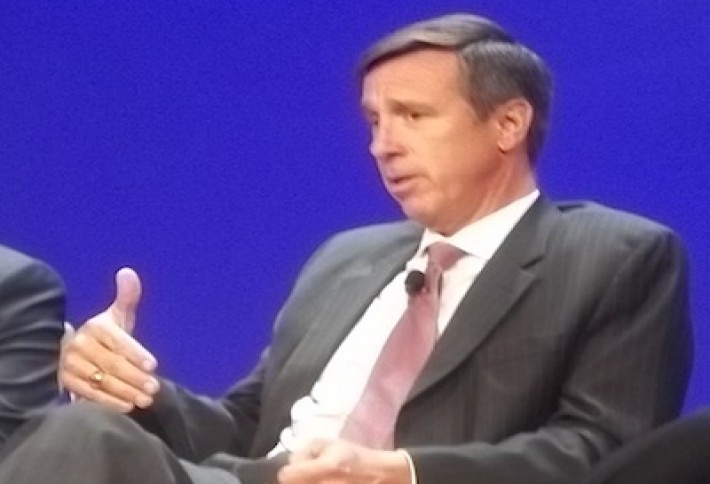 Marriott International CEO Arne Sorenson expects Hilton finally to step into the public realm this year or next while Mark thinks the long-expected move won't happen until at least next year. Stephen believes more IPOs are up the pike in general, while Chuck wishes for fewer hotel REITs, both of which could prompt M&A, they say.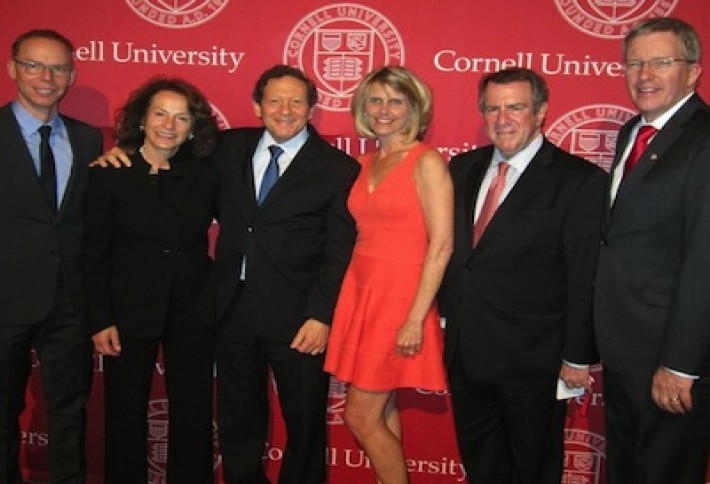 Also last night, we stopped by Cipriani 42 for Cornell's hospitality awards and snapped Chipotle CEO Steve Ells, WomenOnCall.org founder Margot Pritzker, Hyatt Hotels chairman Tom Pritzker, Cornell's Jill Johnson, Loews Corp co-chair Andrew Tisch, and Cornell School of Hotel Administration dean Michael Johnson. Cornell named Tom its Icon of Industry and gave Steve its Hospitality Innovator award.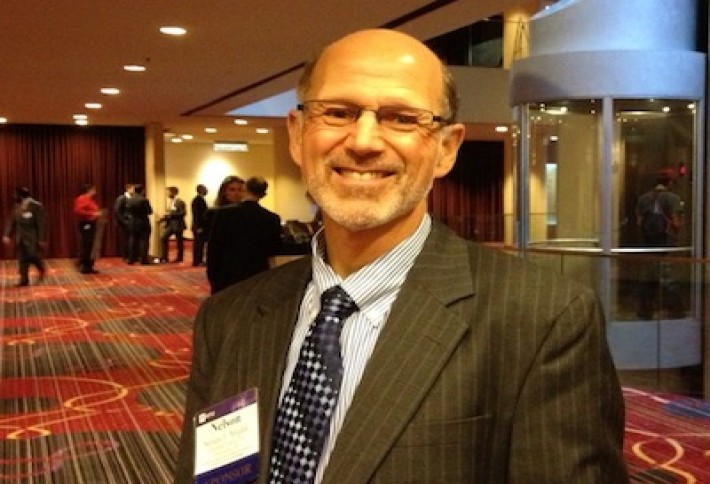 Greenberg Traurig's Nelson Migdal says demand justifies hotel construction nationwide. A resurgence of values, meanwhile, means owners are finally pulling in bids high enough to enable them to pay off their debt--and even sometimes get the returns they'd underwritten before the downturn. Meanwhile, boutique lifestyle concepts are finding stable footing outside NYC, he says. Another trend beyond Manhattan: Some small secondary and tertiary market properties are instituting "F&B on steroids" to pull people in off the street.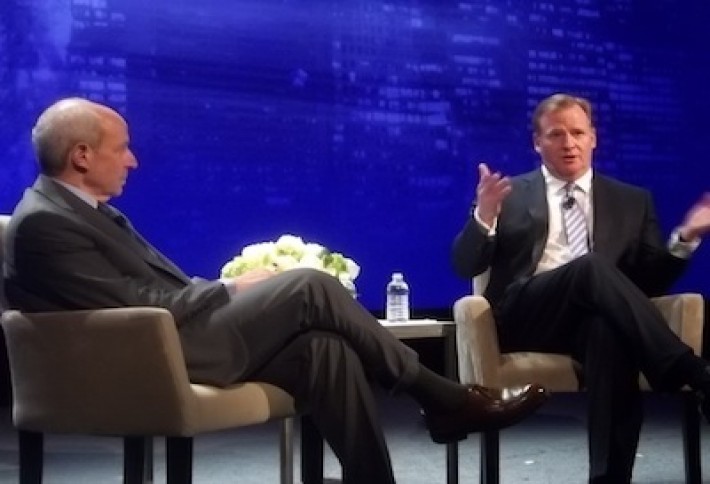 Once upon a time, the NFL Draft was held in the Marriott Marquis' sixth-floor ballroom, where yesterday we snapped NFL commissioner Roger Goodell and conference chair Jonathan Tisch (left, also Loews Hotel chairman). The next Super Bowl--in NJ's MetLife Stadium--will be the first northern-city Super Bowl without a dome and the first hosted by two teams (Jonathan is co-chair of the host committee). The NFL Experience will turn Times Square into the Super Bowl Boulevard festival (complete with the world's largest toboggan run). Roger also says the NFL is warming more and more to the idea of a London franchise, and the draft could move from its tight quarters at Radio City (Rahm Emanuel phoned in interest for Chicago to host).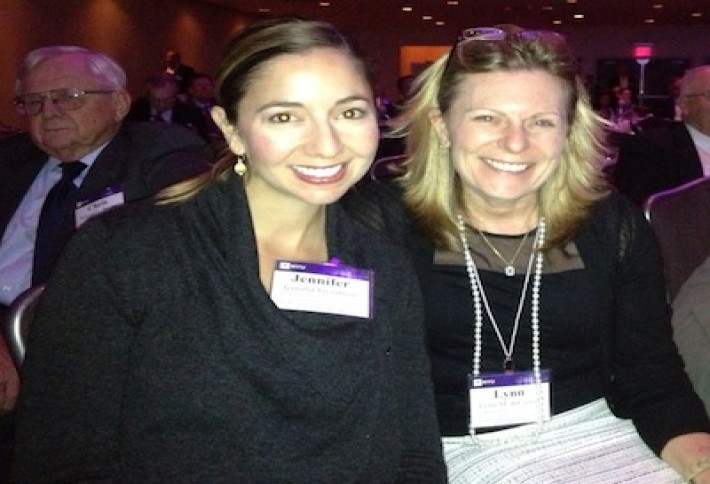 We also snapped Prudential Real Estate Investors' Lynn deCastro and Jennifer Freedman, who are keeping their ears to the ground for hotel opps. DeCastro is a principal for PREI's value-added commingled open-end fund and Freedman, a director, manages assets for PREI's core open-end fund.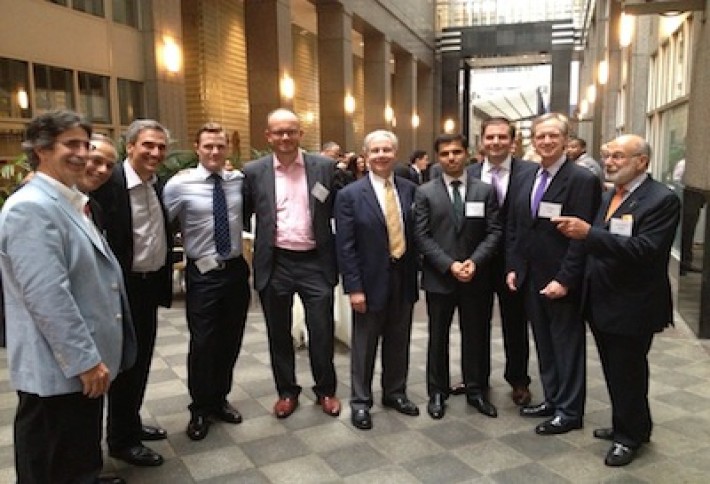 Savills hospitality honchos traveled from all over the world to appear before Bisnow's camera Monday night at Savills' party at Remi: Flanked by Rockwood Capital's Arne Arnesen and Interstate Hotels & Resorts' Larry Shupnick are Savills chairman Jeffery Cooper, US head Marc Magazine, Asia head Ray Clement, Europe head Robert Seabrook, DC's Dave Durbin, NY's Vikram Shah and Justin Magazine, and DC's Tom Baker. Justin tells us hoteliers can't find product for sale in gateway cities, yet those same companies don't want to sell what they have (we think we see the problem). Secondary and tertiary markets, though, still offer capex opps. And Ray tells us there's so much liquidity in Asia that debt isn't needed, though LTVs go as high as 90% if an investor wanted to go that route.