EXECUTIVE MOVES
Bob Dudick joined Innovative Student Housing as EVP of development and member of the firms investment committee.He led acquisition and development efforts on more than 5M SF of multifamily, student housing, hotel, retail, office, and parking properties.He comes from Joseph Freed and Associates, where he led mixed-use developments and structured a national affiliation with an industry leader to develop urban infill student housing.
ACQUISITIONS
Kayne Anderson Real Estate Advisors (the private equity real estate arm of Kayne Anderson Capital Advisors) bought four assets, a 655-bed, 406-unit group of properties made up of three adjacent apartment buildings and a 746-space parking garage in St. Louis.Directly across the street from the main gate of St. Louis University and within short walking distance of academic buildings, dorms and the Busch Student Center, the properties include The Coronado (originally a hotel), Moolah Place (originally a Masonic temple), Lindell Towers, and a parking structure known as Moolah Garage.
***
A JV between Innovative Student Housing and Harrison Street Real Estate Capital purchased College Station at Valdosta, a Class-A student housing property less than one mile from Valdosta State University in Valdosta, Ga.The acquisition provides an option to develop an additional 500-bed phase, which could be delivered as early as 2015.Innovativetook over management of the property in March.
NEW BUSINESS
[caption id="attachment_80868" align="alignnone" ]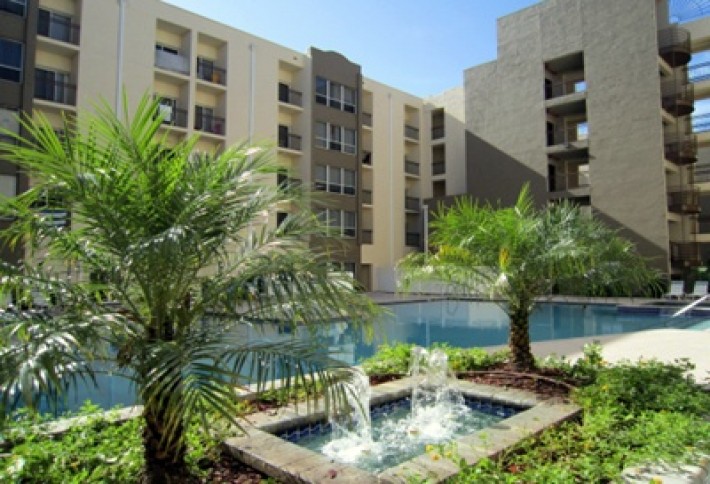 Business Wire[/caption]
Two of American Campus Communities owned properties in Tampa entered into housing affiliation agreements with the University of South Florida Department of Housing and Residential Education. Under the agreements, the USF housing office will refer eligible upper-division, transfer and graduate students to the The Province and Avalon Heights(above) as alternative housing options, should the demand for on-campus housing exceed the universitys present capacity. The affiliation arrangement advances the universitys strategic priority to be classified as primarily residential, according to a university statement. USF currently provides on-campus housing for more than 5,400 students.
Send story ideas to tonie@bisnow.com.