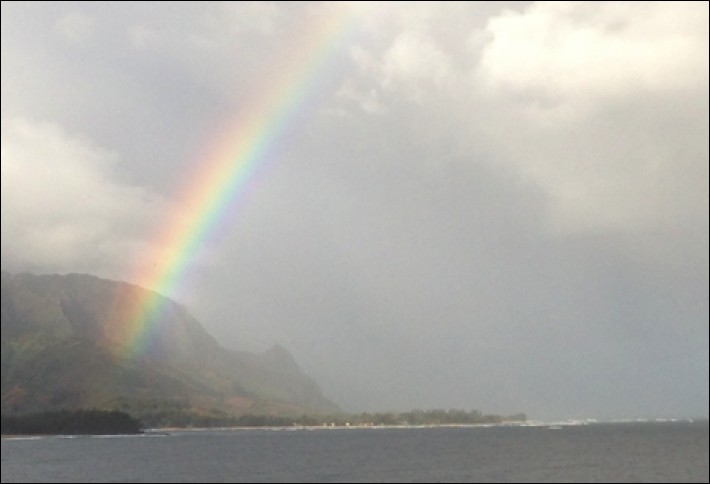 We told you about the sunny south shore of Kauai a couple weeks ago. The north shore (aka Princeville) is wetter, but the bonus: Its greener and full of huge rainbows across the sky many times a day, like this one we snapped from the St. Regis looking across Hanalei Bay. Built in 1985 by ITT, the resort was given a $130M facelift in '09, has 252 keys, and is owned by Cornerstone. It's fully managed by Starwood as its top resort in Hawaii, located in an area developed by Colorado Oil and Gas in the late 70s as the states first resort community.
At the risk of showing you too much sun and water, we wish to point out that even when there are no rainbows in Hawaii, the views are still dramatic. The hotel likes to say it combines an exotic location with all the creature comforts. But perhaps its greatest distinction these days is that Kauai is the island where The Descendants character played by George Clooney has family land, and the hotels 2,000 SF presidential suite was the setting for a key scene. George is not there any more, but Bette Midler and Pierce Brosnan live nearby. More info.
Two muffins are in an oven. The first muffin says, "It's getting hot in here." The second muffin says, "What the heck! A talking muffin!" Talk to: sibley@bisnow.com.