News
We're Off the Bottom!
Great news,Ventura County and Conejo Valley: After a gruesome few years, there's a "better feel" to the market. Here's what experts have to say about the 60th-largest office and 52nd-largest industrial market.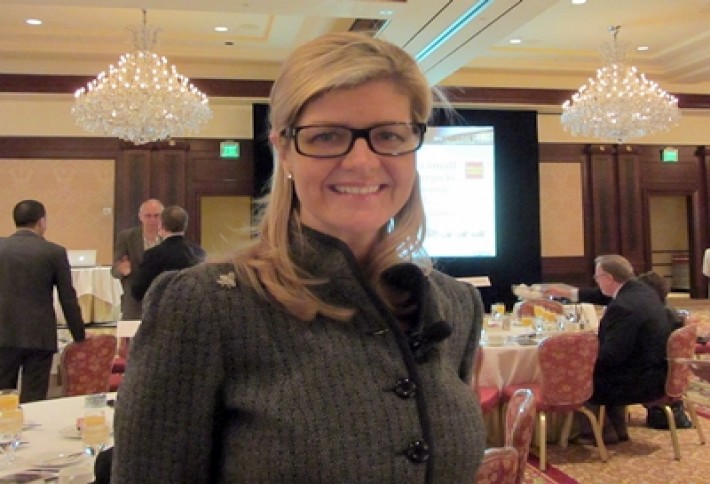 The ball's bouncing a little higher each time and thenfalls (maybe our market could sign Joe Flacco), proving things still shift quickly, says CBREVentura County/LA North senior managing directorNatalie Bazarevitsch.The leasing marketfor office, industrial, and retail is still relatively soft, but the capital markets have reemerged, evidenced by the number of investors. She was speaking ather firm's17th annual CRE symposium and 2013 economic forecast.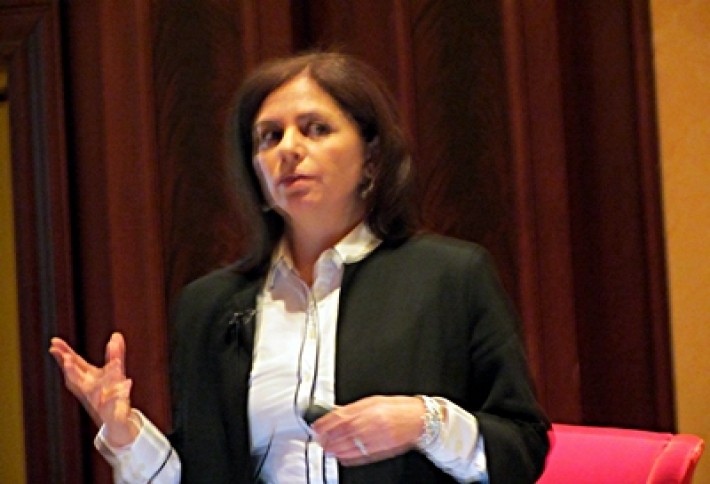 CBRE head of Americas research Asieh Mansour says 2014 will be the year that we gain traction on a global level. For the US, Asieh sees stronger economic growth acrossthe board duringthe second half of the year.The link between the US economy and the CRE sector is jobs, and the pace of job growth won't be as strong as hoped.The fundamentals in Ventura County have been slower than the rest of the nation, she adds.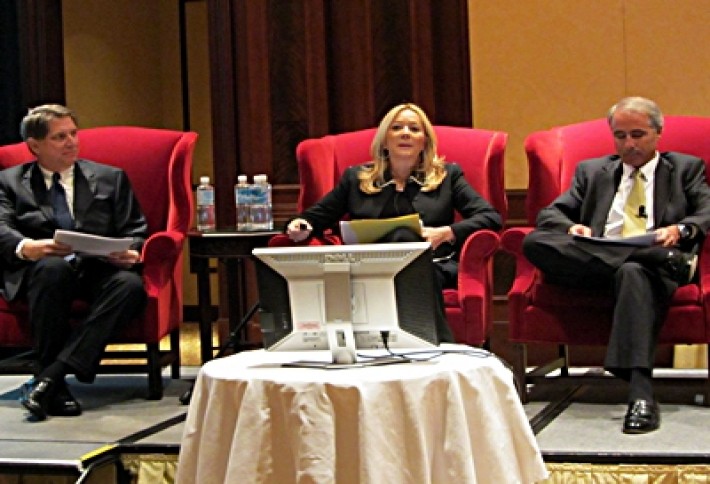 For capital markets,Sam Alison points to a large market rebound: Ventura County recorded 13 retail investment sales over $1M last year, versus one or two in recent years. And a couple deals that fell out at year-end were put back under contract within weeks at higher prices--the classic sign of an up market. The best way to describe the debt markets: tremendous liquidity, very attractive interest rates, and a wide array of lenders, Valerie Achtemeier says.One risk: LIBOR's so low and can move very rapidly. Mark Perry notes the Ventura/Conejo market has been stagnant for years, but a few significant deals showthings are changing. The most important deal: the recap of the EOPportfolio, which stabilizes the entire market.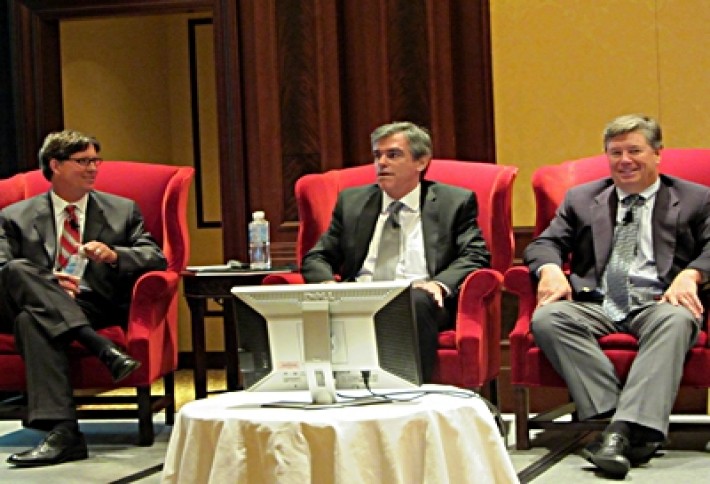 With 159k SF of office absorption last year in an 11.4M SF market, Tom Dwyer cites the Wizard of Oz factor: Landlords behind a screen talking into a microphone about being large and powerful. They need to roll up their sleeves and get the deal done. He forecasts slight decrease in availability and an increase in Class-A rents. Ventura Countydid 2.2M SF of investment sales last year, says Paul Farry--double the amount of user sales, and more than thepast five years combined. He expects to see another wave of in-migration.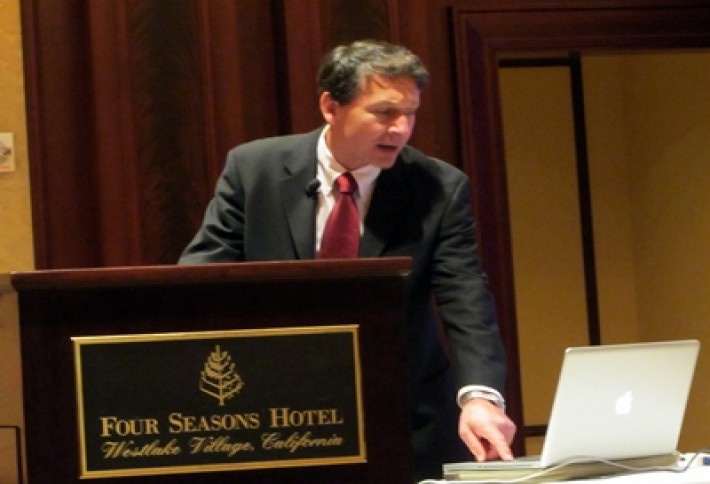 California Economic Forecast Project director Mark Schniepp, who keynoted, says the US will start slow and end strong this year. But things could surprise us on the upside--for example, if job creation accelerates beyond expectations. California will add about the same number of jobs this year as in 2012 and more in 2014. Ventura County's office-using employment is starting to rise, which should help reduce the area's 24% office vacancy.
The panelistsgave a shout-out to Rexford Industrial's Patrick Schlehuber, right, with CBRE SVP Nicholas Gregg. The LA-based company's purchase last year of the 1.2M SF Mission Oaks Corporate Center from Sandstone Properties was one of the largest investment salesin Ventura County history. Patrick says Rexford likes a lot of things about Ventura County, most importantly, the lack of supply.