You've heard talk of office tenants being priced out of Santa Monica? Here's another example:Kinetic Content, currently in two buildings in downtown Santa Monica, has subleased more than 18k SF in the Wilshire Landmark building in Brentwood.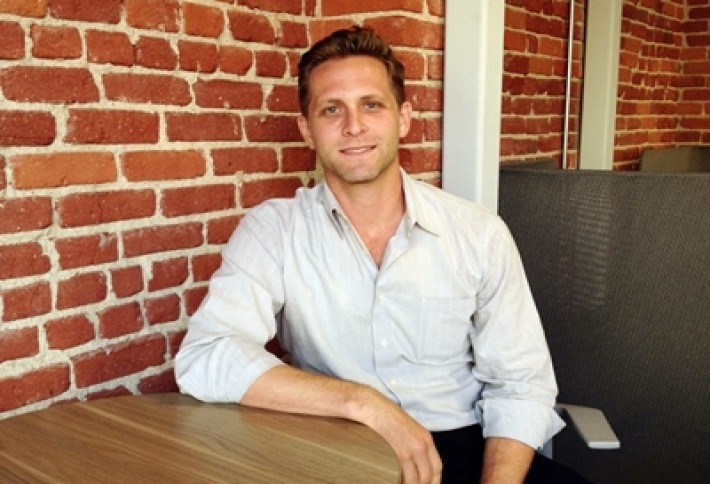 Yesterday, we chatted with tenant rep Kevin Simpson of rsf LA, who tells us the TV production company (Betty White's Off Their Rockers; The Taste with Anthony Bourdain) will occupy the entire 20th floor starting in July. It was facing a lease expiration and a big rent hike. The company would have liked to stay in the beach city, Kevin says, "but it doesn't make sense for them financially." The company toured options in Playa Vista, Culver City, and West LA before choosing the Wilshire Landmark deal, which nearly doubles its space at the same cost. Kevin notes a number of tenants signed leases in downtown Santa Monica during the downturn. "Now that their leases are expiring and they face significant rent increases with asking and strike rates approaching historic highs, we are seeing a trend of these tenants relocating out of Santa Monica." The sublessor was represented by LesMark's Mark Berman.
SALES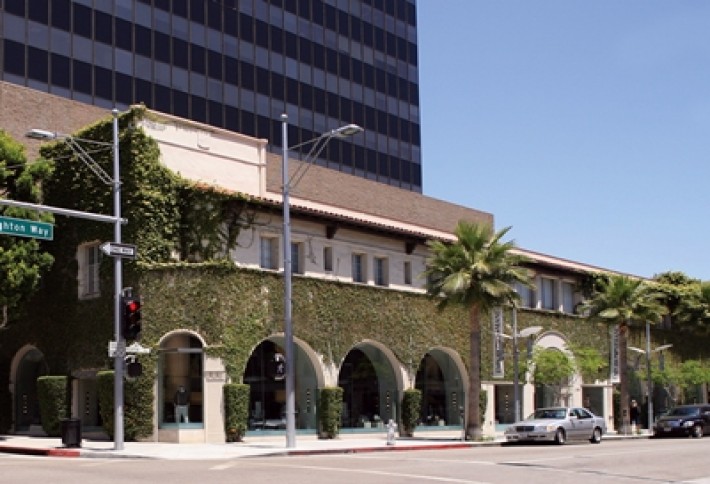 Jenel Management, a New York-based private RE investment and management company, bought the Giorgio Armani building (9533 Brighton Way) in Beverly Hills' Golden Triangle from GLL Real Estate Partners. The 18k SF retail and office building is fully leased to the Italian fashion house. According to managing director Michael Zietsman of Jones Lang LaSalle's capital markets team (which is always impeccably dressed), who represented the seller with VP Patrick Inglis, the property offers upside potential by increasing rents to market level, and is well-suited to return to multi-tenant use should Armani decide not to renew.

***
Some
35 million cans of tuna
is more than just thenet worth of an extremely wealthy cat. It's the monthly processing output of the Bumble Bee Seafoods facility in Santa Fe Springs. Colliers International's
Clyde Stauff
just sold the building (13100 Arctic Circle) on behalf of seller
Harbor 91 Ltd
for $10.7M.
Voit
repped the buyer, a private family trust.
***
Hendricks-Berkadia's
Brent Sprenkle
negotiated the sale of Richardson Apartments, a Streamline Moderne landmark on LA's
historic-cultural
monument list. Malibu-based
L33T LLC
bought the 13-unit property, 3919 W Eighth St and 748 S Gramercy in Koreatown, from another LLC in Beverly Hills for $2.5M or $194k/unit. The Richardson features subterranean parking--
rare
for a building constructed in pre-war 1940.
***
Kennedy Wilson
made its second
Salt Lake City
multifamily acquisition in the last six months: the 450-unit Foothill Place, for just under $62M. Chairman
William McMorrow
notes SLC is one of the few metros where
employment
now exceeds pre-recession levels, and rents have risen 4%.
***
Rexford Industrial
bought a 473k-plus SF industrial complex in Glendale, consisting of seven single- and multi-tenant buildings on 21 acres for $56.2M. The project (3332-3424 N San Fernando Rd and 3550 Tyburn St) is
100%
leased to 27 tenants, including Staples, Nordstrom, and Pep Boys. Eastdil Secured's
Steve Silk
,
Jay Borzi
, and
Adam Pastor
repped Rexford as well as the institutional seller.
***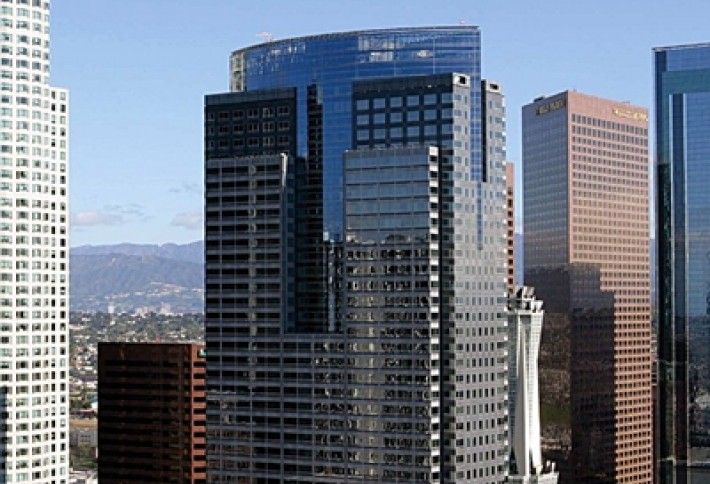 Brookfield Office Properties entered into a definitive merger agreement with MPG Office Trust, under which the latter will be acquired by a newly formed, Brookfield-controlled fund. Called DTLA Holdings, the fund will own both Brookfield's existing Downtown LA office assets and all of MPG's assets. The merger's expected to close in Q3, subject to approval by MPG's common stockholders and certain consents from its lenders. The fund's portfolio will include seven Class-A office properties totaling 8.3M SF, including Brookfield's 601 S Figueroa building and MPG's Wells Fargo Tower and Gas Company Tower (above).
***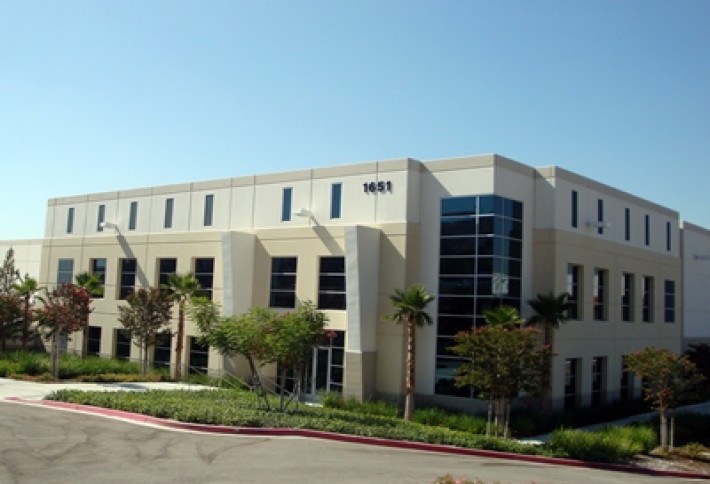 A partnership between
Behringer Harvard
and
CT Realty Investors
sold Interchange Business Center, a three-building complex totaling
667k SF
on 34 acres in San Bernardino, to a privately held real estate adviser. The property, which includes a fourth building that was sold in October, was acquired in
November 2010
in Behringer and CT's third JV.
***
Hebron Management bought a 9,437 SF industrial building, 3201 Union Pacific Ave in LA, from the Bitman-Berchenko Family Trust for $1M. Heger Industrial's William Joseph represented the seller, and Major Properties' Ron Kim repped the buyer.
***
Hendricks-Berkadia's Steffan Braunlich and Mike McKinney generated 25 offers for Tiffany Apartments in Playa del Rey (8040 W 83d St). Built in 1963, the 18-unit property ultimately sold for $4.3M or $125k over asking price.
***
American International Industries
, a beauty products manufacturer and distributor, bought a 45k SF industrial building in Commerce (5858 Smithway St) from
Tansavatdi Family Trust
for $5.6M. Lee & Associates repped both sides:
Jack Cline
and
Jeff Bethel
for the buyer, and
Tom O'Loughlin
and
Jeff Huberman
for the seller. The building is adjacent to the buyer's HQ on Gaspar Ave.
***
Vose Regency Apartment LLC bought a 25-unit apartment property, 15329 Vose St in Van Nuys, from Vose LLC and CF Saticoy for $4.1M. NAI Capital's Ziv Kozaski and Michael Dixon represented both sides.
***
A private investor bought a 19k SF office building, consisting of 29 small suites at 11712 Moorpark St in Studio City, for just under $4M. Lee & Associates-LA North/Ventura's Darren Casamassima, who repped the seller along with Commercial Asset Group's David Aschkenasy, spent several years stabilizing the property to an occupancy level close to 90% before selling it in the off-market transaction. The buyer represented itself.
***
Lee & Associates ISG's Han Widjaja Chen sold 601 Meridian Ave, a 21-unit apartment building in South Pasadena, for just under $4.5M, and 3702-3708 Merced Ave, an 18-unit building in Baldwin Park, for under $3.6M.
LEASES
The architectural preservation firm Architectural Resources Group has relocated and expanded its Pasadena offices to the 8 Mills Place Building in Old Pasadena. The Grazioli Co's Al Grazioli repped ARG in the five-year, 3,371 SF lease on the top floor overlooking Colorado Boulevard. The building is historic, so landlord Barbara Nyberg, who was represented by Sauve Riegel's Norman Sauve, may get a two-fer: a tenant that pays rent in the building and, if it starts to wear out, knows how to preserve it, too.

***
Ameripak Industries, a retail packaging manufacturer, leased a 72k SF building in Norwalk (15500-15510 BlackBurn Ave) from Majestic Realty for a relocation from Pico Rivera. CBRE's Philip Christian, David Ellis, Josh Bonwell, and Rick McGeagh repped the tenant.
***
Ross Dress for Less
signed a 10-year lease on a 26k SF retail building, 2021 W Pico Blvd at Alvarado in LA. The urban infill property in a densely populated area was pursued by several national and regional chains, according to Wilson Commercial president
Scott Burns
, who repped landlord
Bequer Investments
along with SVP
Shauna Mattis
. Epsteen & Associates'
Tom Breen
represented the tenant.
***
PCA Aerospace
leased more than 129k SF of manufacturing space at 18620 S Broadway in Carson in a five-year deal valued at $3.6M.
The Saywitz Co
represented the tenant, while Prologis'
Rob Antrobius
negotiated on behalf of the owner.
***
Opportunities for Learning inked a 5,057 SF lease at Woodlands Plaza, 660 E Los Angeles Ave in Simi Valley. Todd Nathanson, Danny Raffle, and Kyle Fishburn of illi Commercial repped both sides.
***
Vibe Group
leased a 10k SF Van Nuys retail building, 6939 Van Nuys Blvd, with plans to redevelop the structure for
banquet halls
. Lee & Associates LA North/Ventura's
Darren Casamassima
repped both sides.
FINANCINGS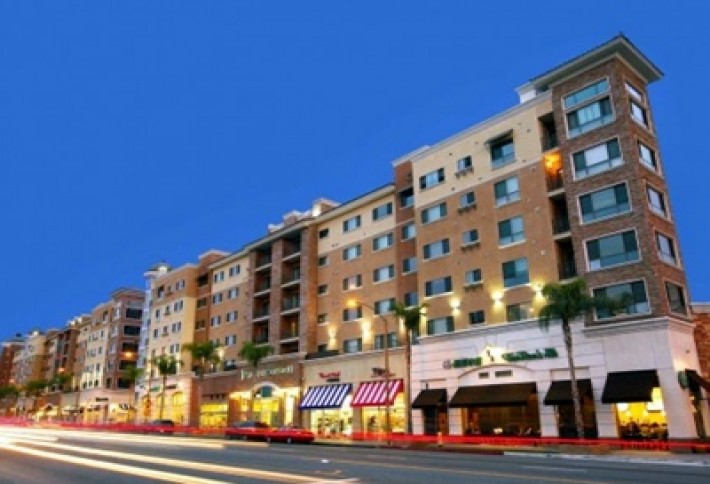 Continental Funding Group president Mitch Paskover arranged a $74M refi of the construction loan for Atlantic Times Square, a mixed-use property in Monterey Park. The newly completed six-story project consists of three residential towers containing 210 condos, half of which are being leased as apartments, on top of nearly 214k SF of retail space that's 94% leased. Retail tenants include a 14-screen AMC Theatre and a 24 Hour Fitness.

***
Cambridge Realty Capital closed on a $19.8M HUD Lean loan to refinance Horizon Health and Subacute Center, a 180-bed skilled nursing home in Fresno. National originations manager Hymie Barber, managing director of Cambridge's West Coast affiliate, Catalyst Cambridge Health Care Finance, coordinated the transaction.
***
Venture West Funding's
Matt Douglas
arranged more than
$20M in refi loans
on five apartment buildings totaling 116 units in West LA, including 706 S Barrington. The borrowers are five single-asset entities whose managing members are Brentwood investor
Chris Liebes
and Partners Trust's
Hugh Evans
. The loans were funded through Chase Bank, Sterling Savings Bank, and Capital Source Bank.
BUSINESS
Thomas Properties Group's common stock, which is currently listed on NASDAQ, will begin trading on the NYSE on May 8.
EXECUTIVE NEWS
Peter Morgan joined Lowe Enterprises Real Estate Group as SVP to lead the firm's expanding commercial property acquisitions in the Western US. The former LaeRoc Funds EVP is targeting institutional-quality assets from $20M to $100M in value.

***
Alan Hearty
, a trial attorney in
Allen Matkins
' Century City office, was elected to the firm
partnership
, effective July 1. Recently, he co-chaired a jury trial that obtained a multimillion-dollar verdict for a publicly traded REIT in an industrial lease case. Alan, who was born and educated in
Ireland
, has also been a recipient of the Irish Legal 100 award, putting him in the company of legal luminaries like US Chief Justice
John Roberts
and Associate Justice
Anthony Kennedy
.
What's the last fad you actually participated in? Tell us at julie@bisnow.com.