Zurich Insurance has purchased 10780 Santa Monica Blvd, a 94k SF office building in West LA, for a reported $27M in an off-market deal. The price represents a 7% cap rate on the building's existing net income.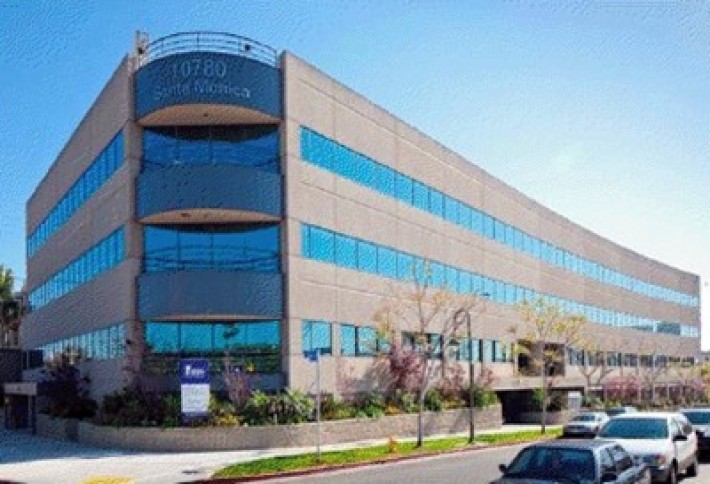 The building, surrounded primarily by retail and residential properties with little land available for new offices, was 95% occupied at close of escrow. Madison Partners' Bob Safai and Matt Case repped the seller, a JV between Angelo Gordon and Cambra Realty.Since the New Year started, there's a "definite spotlight on LA" as an office and investment market, Bob told us yesterday. With improving fundamentals, he foresees an uptick in this undervalued market. Bob has sold about 90% of the major office buildings (50k SF and above) between the 405 Freeway east to Century City--140% if you consider he's sold a number of them multiple times. He last sold 10780 Santa Monica in 2007. Madison's Joe King and Steven Salas will continue to do the leasing on behalf of the new owner.
SALES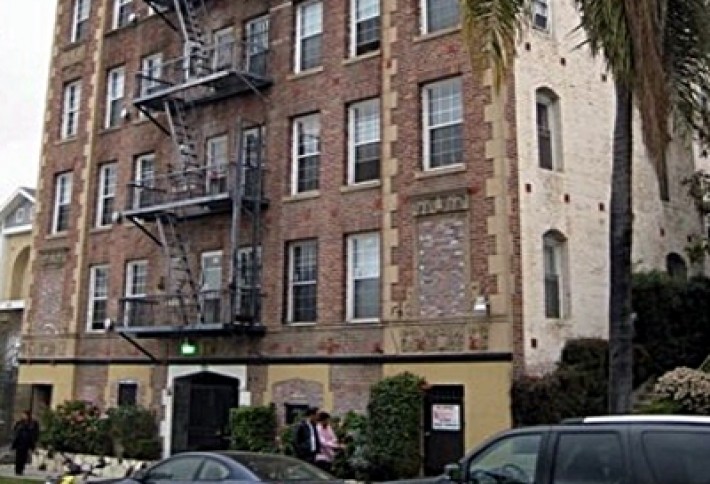 Oxford Grand LLC bought a two-property apartment portfolio totaling 111 units from Gramercy Artiste Ltd and Oxford Artiste Ltd of LA for just under $9M. The properties, which include a 38-unit building at 974 S Gramercy Place (above) and a 73-unit all-studioproperty at 960 S Oxford Ave, were built in the 1920s. Hendricks-Berkadia's Brent Sprenkle negotiated the deal.

***
James Investment Partners
bought Del Mar Place, a 31-unit apartment building in Pasadena (306 S El Molino Ave) from
Lion Real Estate Group
for just over $4M. Hendricks-Berkadia's
Brent Sprenkle
and
Kevin Lutz
negotiated the transaction.
***
Custom wheels manufacturer Forgiato Inc bought a 52k SF manufacturing and warehouse facility in Sun Valley (11915 Wicks St) from a private trust for a relocation. Lee & Associates' Brett Warner repped the buyer, while Colliers International's Jeff Abraham and John DeGrinis represented the seller.
***
BV Empire bought a six-building industrial complex containing more than 22k SF in Burbank (2405 Empire Ave through 2000 Buena Vista St) from PDM Financial for $3M. The buyer plans to renovate the building for sale or lease to creative users. Lee & Associates' Brett Warner represented the buyer, while CBRE's Greg Geraci and Dave Harding repped the seller.
***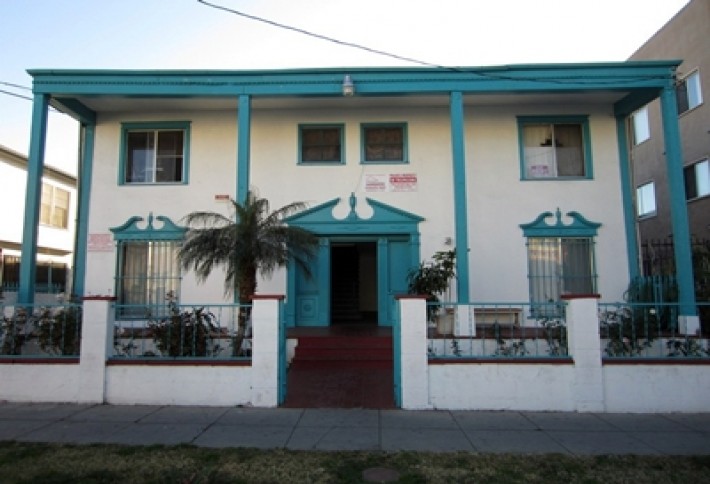 Monem Corp bought two apartment buildings totaling 44 units for $5M, bringing the private investment firm to 60 multifamily properties throughout LA County. Hendricks-Berkadia's Brent Sprenkle represented both sides in the sale of 1210 N Berendo St. Marcus & Millichap's Ron Harris represented the seller of 939 N Ogden Dr in West Hollywood. Both properties were 100% occupied at the close of escrow.

***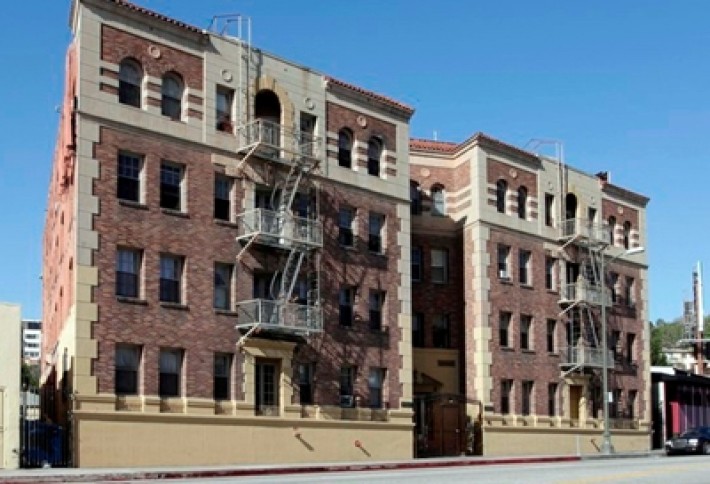 Avondale Hollywood LLC bought the 58-unit Avondale Apartments, a 1920s vintage property at 1825 N Cahuenga, for $6M. Madison Partners' Darin Beebower was the listing broker and also represented the seller, another LLC--his fifth transaction between the same buyer and seller over the past three years.

***
TS TRUST, a 1031 exchange buyer,bought a 34k SF NNN-leased retail building in Inglewood occupied by Ralphs Grocery (950 La Brea) from Tampa Saticoy LLC for just over $5M cash. Faris Lee Investments represented both sides: Jeff Conover for the seller, Dennis Vaccaro for the buyer.
***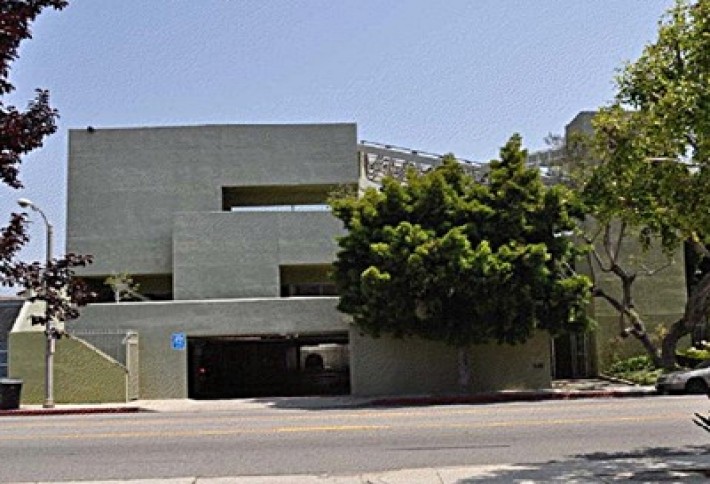 A 15k SF vacant, boutique office building in Santa Monica (1545 26th St) was sold for more than $7M or nearly $500/SF. Madison Partners' Bob Safai, Matt Case, and Joe King repped the seller, 26th Street Associates. Lincoln Property's Robert Hooks represented the seller,an LLC.

***
32 Enterprises LLC
bought a 20-unit apartment complex in LA(11833-11837 S Figueroa St) from
D & K Investment Properties
for nearly $1.7M. Marcus & Millichap represented both sides:
Rick Raymundo
for the buyer,
Joshua Cohen
and
Walter De La Torre
for the seller. The property was built in 1955 and sits on two separate parcels.
***
John B. Rusconi
bought737-745 S Central Ave and 746 Merchant Stin LA, which includes an 18k SF building, from
R&M Alvarez Partnership
for $1.7M. Heger Industrial's
William Morrison
represented both parties.
LEASES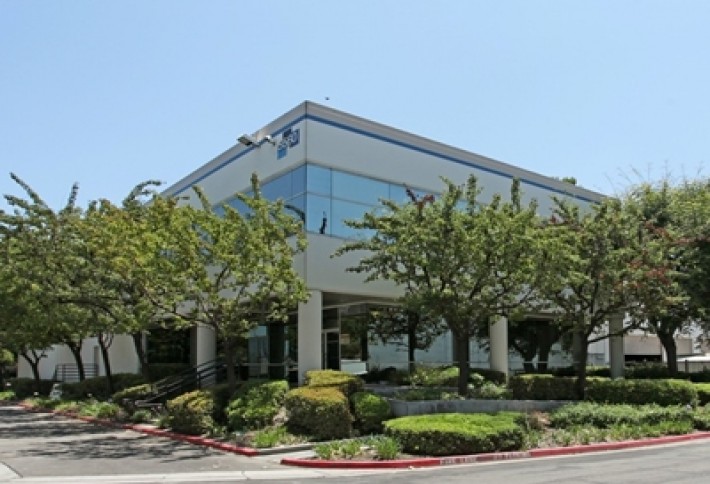 There's nothing nutty about New Century Snacks' long-term lease at 5560-5580E Slauson Ave in Commerce. The 10-year deal valued at $12M calls for the nut and snack products distributor to relocate its corporate offices and manufacturingto 120k SF, with expansion to 250k SF over the lease term. The Saywitz Co's Scot Kelly and Barry Saywitz repped New Century. Cushman & Wakefield's Dave Hess represented landlord Prologis. Saywitz also represented Priority One Warehousing in a 183k SF renewal and expansion at 2101 Flotilla St in Montebello. Transwestern's Christopher Cussen repped RREEF.

***
99 Cents Only
leaseda 14k SF former grocery spaceat Santa Fe Springs Promenade. Coreland Cos'
Matt Hammond
and
Ben Terry
repped the tenant as well as the landlord,
Milan Capital Management
.The store--the discounter's
ninth SoCal location
so far this year--is slated to open by July.
***
American Condenser & Coil
leased three buildings totaling more than 46k SF in Gardena (1628 W 139th St) for an expansion and consolidation of its SoCal ops. The Saywitz Co's
Jeff Saywitz
and
Barry Saywitz
repped the tenant, while landlord
ROMLA
represented itself.
FINANCING
LA-based Mesa West Capital originated the first loan from its Mesa West Real Estate Income Fund III, providing $55M in first mortgage debt to an Emmes Asset Management affiliatefor the recapitalization of 4000 MacArthur Blvd, a 376k SF office complex in Newport Beach. Eastdil Secured's Jonathan Firestone and J.P. Leveque arranged the financing.

BUSINESS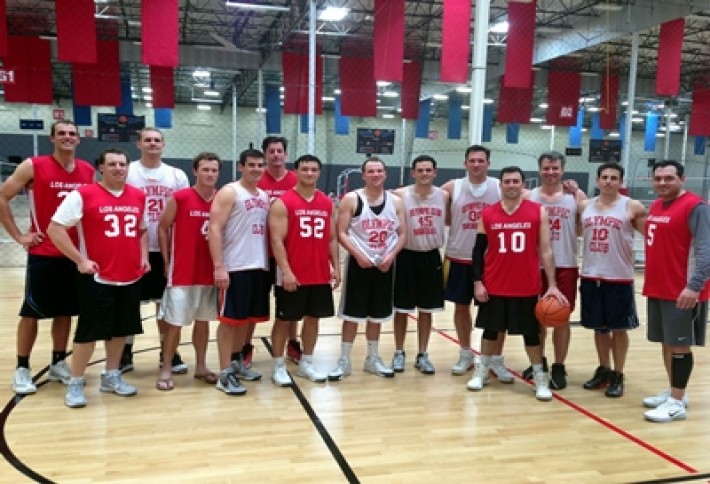 White men can jump. Real estate professionals from CBRE's LA office (in red) recently joined their colleagues from San Francisco (in lightshirts), Orange County, and San Diego for the company's second annual California State Basketball Tourney in Anaheim. The event started as a freeway competition between CBRE's SoCal offices in 2010 and has grown into a statewide contest, complete with refs and someone keeping official stats (since brokers love data points). Jeff Moore, senior managing director in Newport Beach, says organizers hope to expand further by including CBRE offices from different states and perhaps go national.

***
Commercial Brokers International
launched a hospitality division headed by VP
Dan Fagan
. The new group will provide assistance in the acquisition and disposition of restaurants and nightclubs as well as hotels and motels.
AWARDS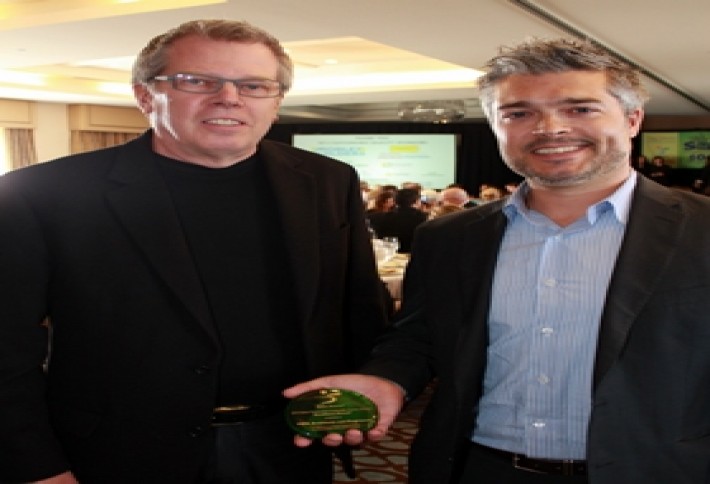 James Matson and Sean Collins picked up HGA Architects' two awards in Santa Monica's2013 Sustainable Quality Awards. The firm won for Excellence in Social Responsibility and Excellence in Stewardship of the Natural Environment.The latterhonors HGA's zero-plus principle--a sustainable design approach with performance targets in energy, carbon, water, waste, and materials--on projects like the LA Harbor College Science Complex slated for completion this Spring.
EXECUTIVE NEWS
Darren Shibuya joined the West LA office DTZ as SVP of transaction advisory. Shibuya (no relation to DTZ Group president Robert Shibuya)spent the past 20 years as a principal in Cresa's LA office, representing corporate tenants in more than 100 cities across the US including Kaplan, Red Bull, Arts Institute, and JD Edwards.

***
Scott Meredith
joined
Johnson Capital
as an SVP in the firm's Century City office. Before this, he was managing member of Granite Commercial Capital, which he founded in 2009, and previously a director with George Elkins Mortgage Banking.
***
Transwestern
has added
Michael Soto
as SoCal research manager, based in the LA office. Formerly with Colliers, he'll oversee research operations for the region as well as perform research and analyses on behalf of Transwestern's clients.
***
Karinna Cassidy
and
Ashley Arthur
joined
Cassidy Turley
as SVP and VP, respectively, responsible for leading the Metro LA property management team. Regional managing principal
Jonathan Larsen
, who worked with both women in his Trammell Crow days, says establishing an outstanding property management operations is the "next step" in the firm's growth here.
***
Ola Johansson
joined
Thornton Tomasetti
as an VP, responsible for helping the LA office strengthen its foothold in major CRE projects in the West and increasing relationships with US architects involved in projects in the Pacific Rim.
Don't make us jump through hoops; send your CRE news to julie@bisnow.com.