We love touring some of your best-looking offices. The workspaces in this issue focus onjuxtaposition: One ishistoric and modern, another isprivate and open. (If these architects ever renovated a big and tall store, it'd probably be little and short, not great for retail.)

ccrd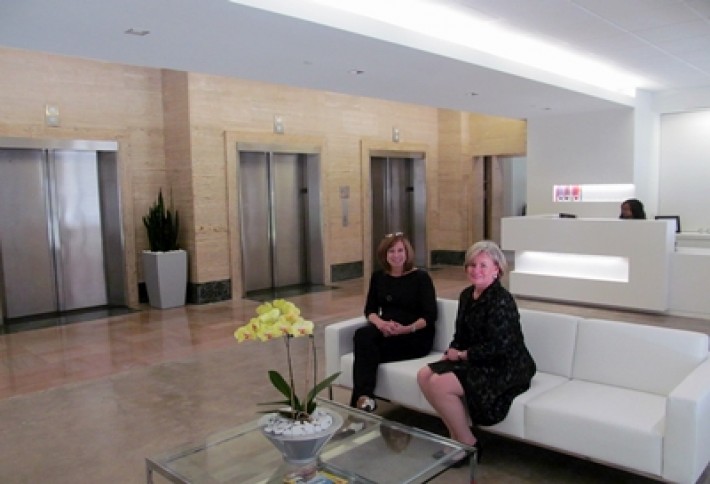 When ccrd decided to refresh its 14k SF office in the Esperson Buildings, it envisioned a modern space in the historic icon. That required undoing generations of alterations. Genslers Lynn Langston and Marilyn Archer (whom we snapped in ccrds lobby) stripped the space to its bones, finding some treasures worth keeping. Above, you can see some features of the original building--Texas pink granite floors and marble elevator bankalongside sleek contemporary white furniture. Marilyn says the team intentionally left blemishes (i.e. broken plaster in the ceiling) because theyre part of the fabric of the building.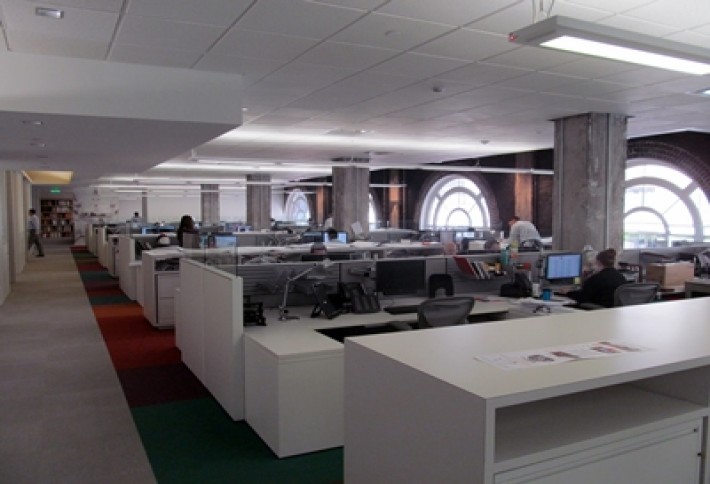 Organization was important to ccrd; over the years, rooms had been added to the office willy nilly and it had become labyrinthine. Gensler opened up the space, which also took better advantage of the buildings huge arched windows. (And theres room left over for expansion) ccrd took open to a whole new levelthere are no doors in the workstation part of the office. (The conference room portion across the hall has them.) One of Lynns favorite design details is the carpet, which is ccrds logo in mega-scale.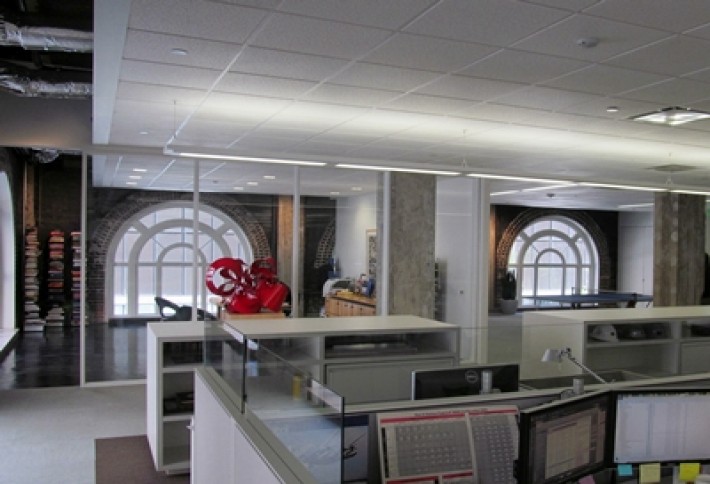 The renovation finished in December,after a year of design and construction. (The process was phased because ccrd operated there the whole time.) Lynn says all employees were part of the planning/design process, and they just love the new space. Marilyn and Lynn tell us this was also done on a tight budget.

JLL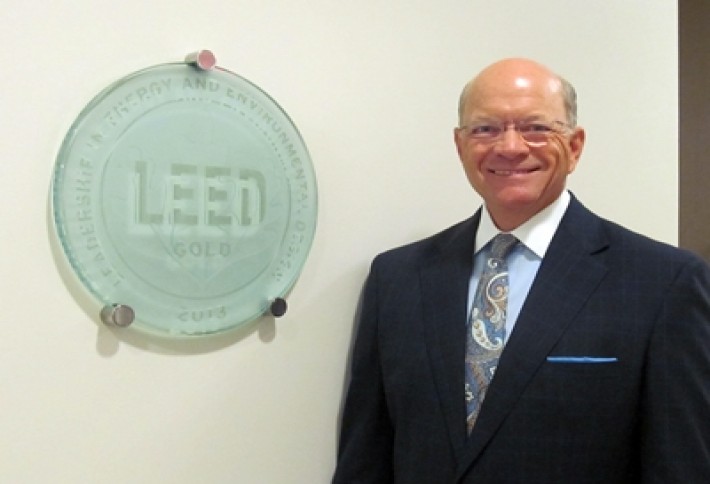 JLLconsolidated two locations into its30k SFoffice in1400 Post Oakabout a year ago, and JLL Houston prezDan Bellowcouldnt be happier. Besides getting everyone under one roof, the Class-A building has theconveniencehe craves; he says he only hastimeto sell each day, so he wanted an office that minimized time walking to the car, transferring elevators, and commuting. And it doesnt hurt that the firm got its name on the building, the image it wanted, andLEED Goldinteriors.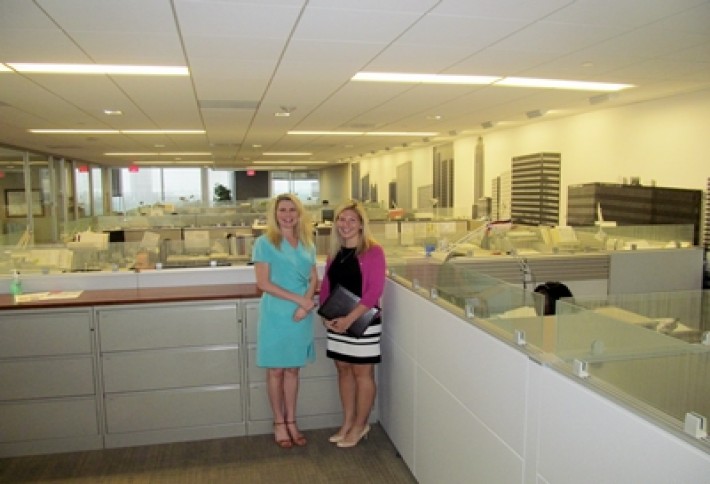 We snapped JLLsLaura HuffordandLauren Searsshowing off thebullpens; each seats four people and has a conference desk in the middle. Lauren says the open,glass-intensivelayout means everyone has a window view andnatural light. (If it looks a little dark in this picture, it's only because it was pouring outside.) It was important to JLL to combine private space with collaborative space--Dan loves theDIRTT wall systemfor this reason.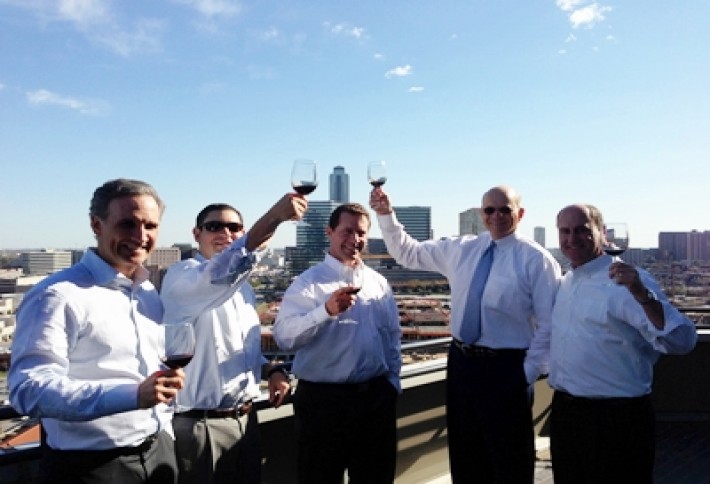 And theres nothing moreopenthan JLLs12th-floor balcony, which wraps around the entire building. Dan tells us they use it about once a month, hosting occasional Friday gatherings with beer and cigars. Its particularly great forcelebrations, like the one aboveJLL celebrated brokering thesale of Williams Towerwith a vintage French wine toast. (Wasnt it nice of Williams Tower to show up?)

Blinds.Com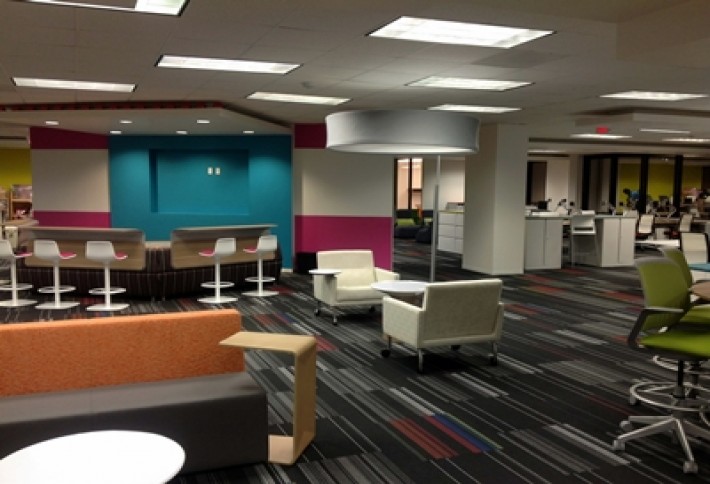 And last but not least, heres a shoutout toBlinds.com, which just relocated to28k SFin10255 Richmond. United EquitiesAnthony Clay(who brokered the lease) shared this pic of the companysfunkynew office. (Which surprisingly doesnt have any blinds in sight.)
A computer once beat me at chess. It was no match for me in kickboxing -Emo Phillips. Email catie@bisnow.com