News
Breaking News: CORE's Big Energy Corridor Deal
CORE Real Estate just closed on 32 acres along I-10 in the Energy Corridor and is gearing up a large mixed-use project. Will the submarket get some of the retail and hotel uses it's craving?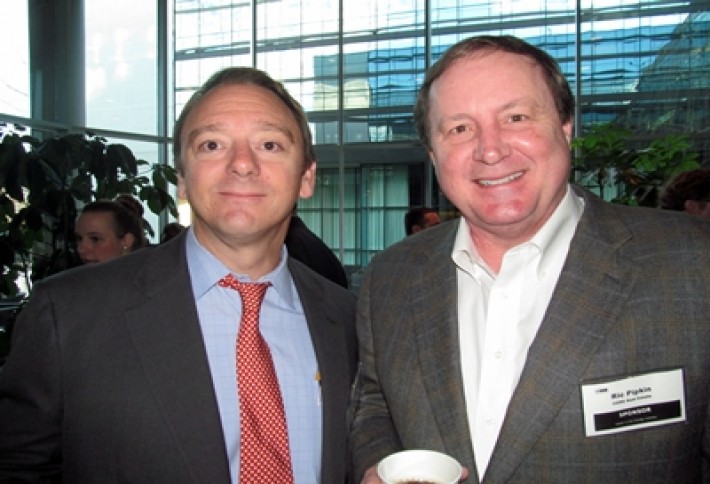 We heard the news from CORE's Ric Pipkin at Bisnow's Future of the Energy Corridor event Friday. (Above, we found him in the crowd with Harvey Builder's David Brown.) Ric tells us the site adjoins Wolff's Central Park. CORE hired Transwestern's Eric Anderson and David Baker Thursday morning to market to office and hotel users. Look for kickoff after the Park Row expansion is complete in Q3 and for delivery in 2014.
Wolff Cos EVP David Hightower kicked off our event in his role as Energy Corridor District's president. We snapped him with Brookfield SVP Paul Frazier, Giammalva Properties prez Vincent Giammalva, and Lincoln Property Co SVP Charlie Giammalva. David says there are 78,000 employees in the Energy Corridor, and it's projected that'll top 92,000 by 2030. (Most of the energy production will simply come from trying to remember everyone's name.) Energy isn't everything: Five of the top 12 employers there aren't industry related. There is 22M SF of office space in the Corridor (70% of which is Class-A). David says 2.9M SF is under construction (about half delivering this year) and 3.8M SF is close to groundbreaking.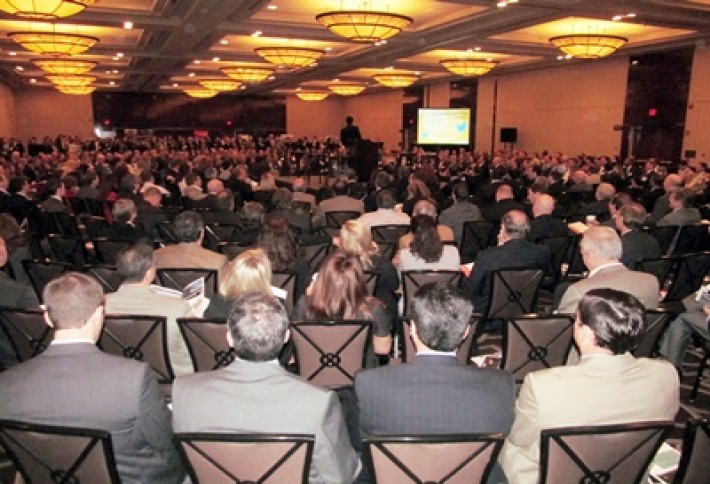 Perhaps all that construction is why over 800 attendees poured into the Omni Westside. (Only about 50 of them wandered in thinking it was a U2 concert.)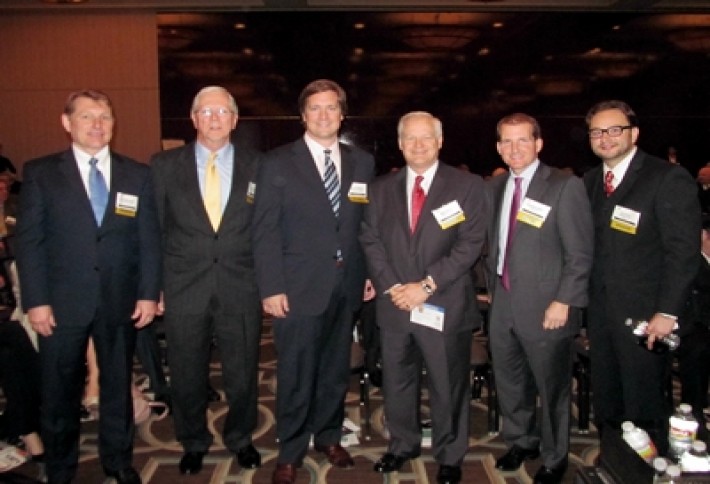 Our first panel boasted the Energy Corridor District's general manager Clark Martinson, EE Reed VP Mike Jones, Trammell Crow managing director Aaron Theilhorn, CORE managing director Mike Wyatt, Transwestern managing director Carleton Riser, and moderator Regus regional director of real estate Giovanni Palavicini. Clark says the Corridor tripled in less than a decade--in '03, there was $600M worth of property. Now there's $2B. He's focusing on transit-oriented development and walkability/bike-ability (he's a big cyclist and reminded us the MS-150 kicks off in the Corridor). Clark is working with METRO to expand the bus lines, and he's starting a car share program at office complexes. (Eldridge Place is the first to give it a try.)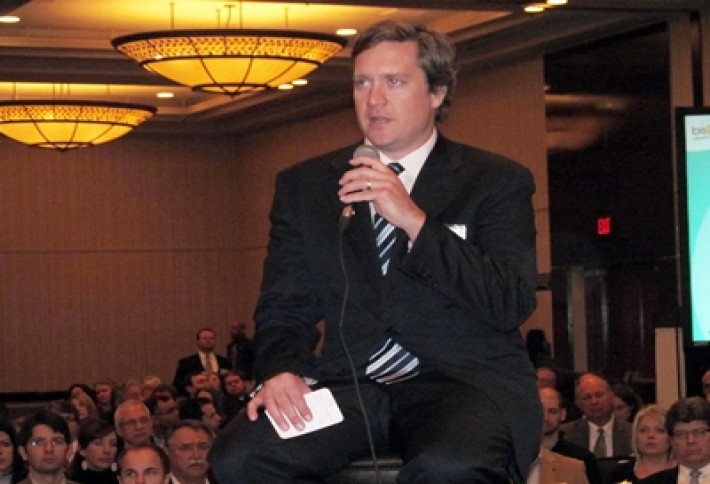 It may not seem like there's much holding the market back. But Aaron says only well-capitalized developers are able to get projects in the ground, thanks to stringent lending. Getting a loan for spec office is rough, and land loans are almost unheard of. (Old timers talk about them as if they only existed in the time of Wyatt Earp.) He says developers need to be able to go all-equity to take down a big land site. (TCC did this for Energy Center III's site, and CORE did for its land near Central Park.) He says it used to be fairly easy to get big loans syndicated. But now you have to club banks yourself, and higher recourse requirements are choking the market.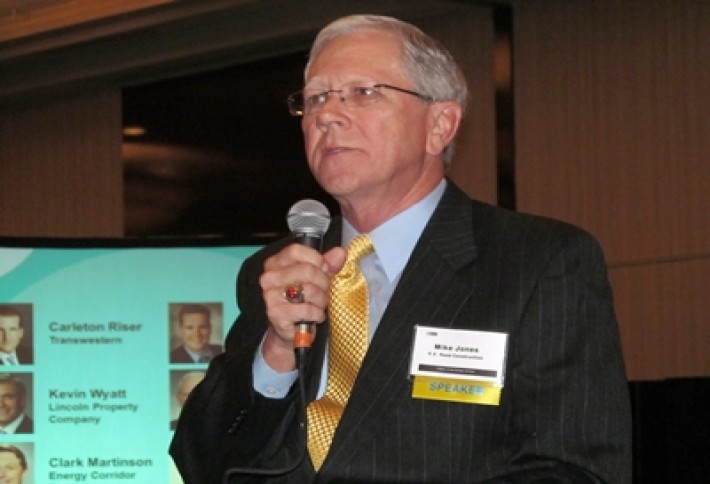 Of our 10 speakers, six were developers with projects under construction. And Mike Jones and EE Reed (a gracious sponsor of ours) is responsible for building three: Mac Haik's Energy Tower III, Myers Crow & Saviers' Mason Creek, and Transwestern's Westgate.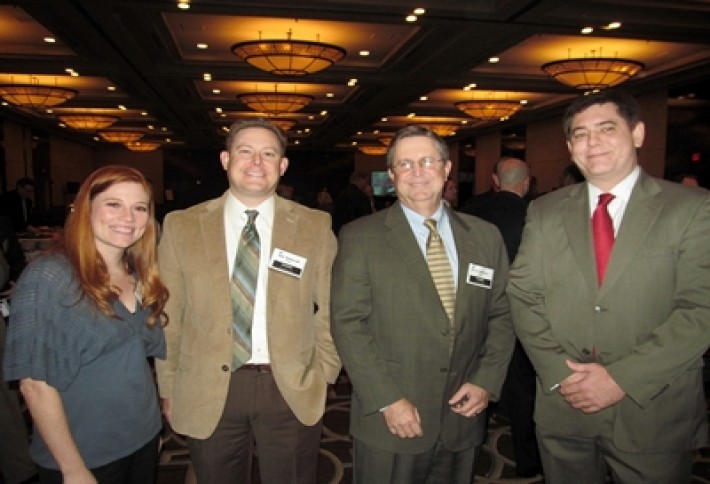 Our sponsor Kirksey (represented by Stephanie Wilkinson, Paul Newsoroff, Scott Wilkinson, and Brian Richard) unveiled its annual construction costs update at the event. The price for high-rise office buildings rose from $93-$130/SF in '12 to $98-$135/SF now. One-story flex office buildings rose about $5 to $65-$70/SF, low-rise office increased $3 to $77-$84/SF, and mid-rise office is up $2 to $87-$97/SF. Kirksey designed Transwestern and Trammell Crow's Corridor buildings and Scott, whose daughter got married Saturday, tells us several confidential projects are under way.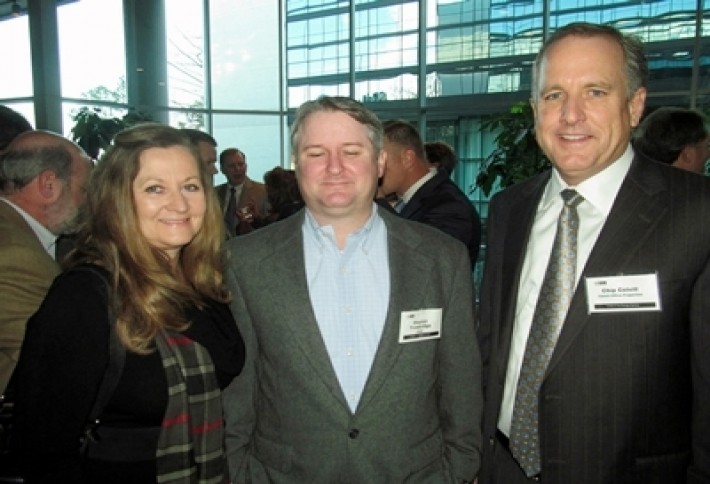 In the audience, we found Colvill Office Properties' Paula Bruns and Chip Colvill bookending Hines' Stephen Trowbridge. Friday was Paula's first day at Colvill; she moved over from Hines as part of Colvill's assignment to lease its office portfolio. (Stephen may have closed his eyes while thinking of fond co-worker memories.) Chip tells us he's kicking off pre-leasing of Office Realty Trust's latest project, a 300k SF tower at Piedmont called Enclave Place. And Stephen says Hines just took over property management of Energy Tower I and Office at Park Ten.
It seemed like companies didn't even try to have exciting Super Bowl commercials this year! We have tons more coverage of our event, so tune in over the next two days for more. Email Catie Dixon, catie@bisnow.com.