Goodbye notes are never easy, so when The Sign at Golden Triangle Mall left us a farewell letter, we had to share it.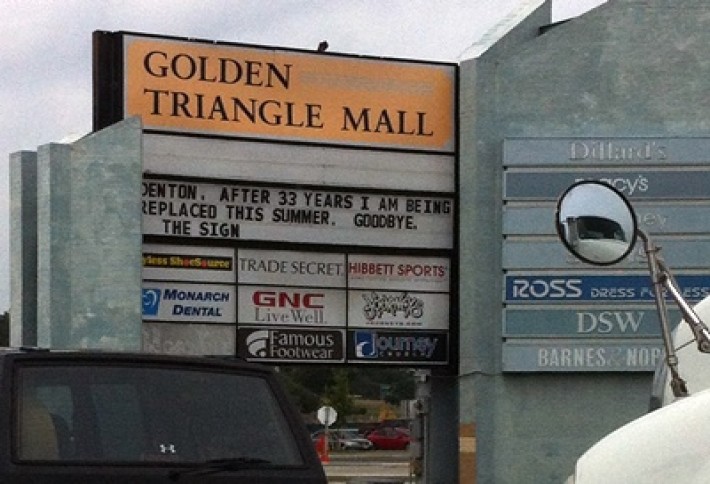 The Sign, age 33, is packing up and moving on as renovations continue at the Golden Triangle Mall in Denton. (It's going to sign heaven with all the old "Borders" letters and the fallen Bob's Big Boys.) The improvements are scheduled to be done this summer. The mall was purchased as a JV between The MGHerring Group and Cencor Realty Services. Phase I renovations are already complete , including new interior lighting, skylight enhancements, and a new center court area with trees and a multi-performance area. Phase II and III renovations under way include: new food court and restaurants; retail space renovations; new restrooms; and exterior renovations. The Weitzman Group's Blake Shipp and Webcor's Paul Burridge are the exclusive leasing agents for the mall.
SALES
Centric Capital Partners made two acquisitions for long-term holds: the Electrique Boutique Building at 4830 Greenville Ave from Greenville Store 1 and the Goody Goody Liquor store building at 2937 Greenville Ave from John Dragna Jr. Trust,both in Dallas. Electrique Boutique will vacate the 4,200 SF building in October. Centric Capital also owns the Bakers Ribs building next door. Negotiations were handled by Centric Capitals Robert Williams. The one-story 4,800 SF Goody Goody building sits on almost 15k SF of land and is at the southwest corner of Vanderbilt and Greenville avenues. Negotiations were handled by brokers Joe Jackson and Michael Cotten.

***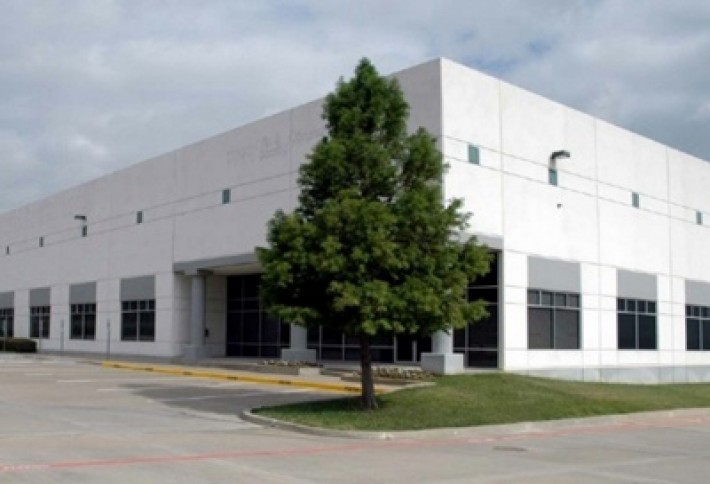 JADA Enterprises
purchased an
84k SF
industrial facility at 1725 Lakepointe Dr in Lewisville. Henry S. Miller Brokerage EVP
Dan
Spika
represented the buyer. Located within the Lewisville Tech Center on 5.6 acres, the facility has
24k SF of office
,
36k SF of production
, and
26k SF of warehouse spac
e. The building was formerly home to the contents of the George Bush Library. JADA purchased the building and land from LPC GSA. The seller, LPC GSA, was represented by Lincoln Property Cos
Michael Peinado
.
***
GKP Investments
purchased almost
two acres
(the last remaining tract in thePremier Centeroffice park) at 3229 Premier DrinIrving, south of Hwy 114offBeltline Road. Plans are to
build a 15k to 20k
SF
office building. Realty Capital Management commercial sales and leasing director
Mark Boone
repped the seller. Scottco Realty Groups
Brandon Scott
repped the buyer.
FINANCING
Metropolitan Capital Advisors arranged a $13.5M construction loan for a build-to-suit industrial building fully occupied by Shurtech along with a $15.38M renovation loan to convert a former hotel property into a Class-A office building. Both projects are located in Oklahoma City. The Shurtech project consists of a 280k SF warehouse and office;Shurtech will fully occupy the new building project on a long-term lease. The sponsor purchased the hotel property out of foreclosure in 2011 from a bank. Under an adaptive use classification, the sponsor intends to redevelop the non-operating hotel into a 296k SF Class-A office building to be developed in two phases, with the first phase entirely leased by the Oklahoma Health Care Authority. MCA senior directors Todd McNeill and Sunny Sajnani arranged the financing with two separate FDIC Banks.
LEASING
Star X-Ray Consultants leased almost 24k SF at 4000 Lubbock from a JV between Conti Warehouses and Tailwind Real Estate Equities. Transwesterns Amy Baker represented the tenant. Conti Warehouses VP Ryan Wood represented 4000 Lubbock in-house. In another Conti deal, Perkins Aircraft Services leased 32k SF at the former Target at 2600 S Cherry Ln from landlord, Conti Ridgmar.
THIS AND THAT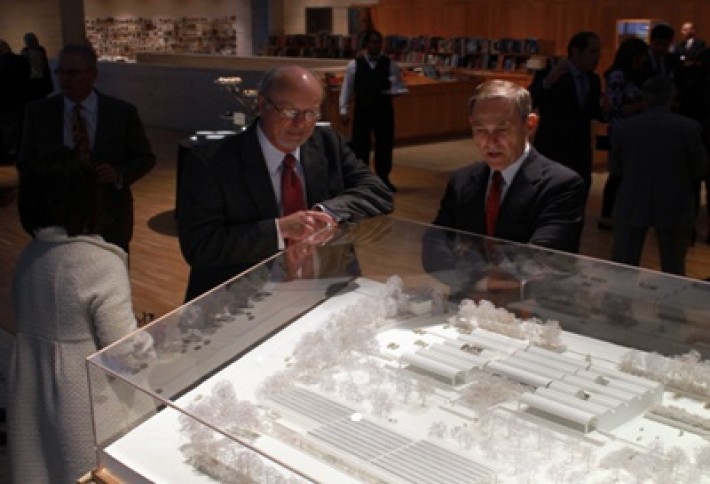 Mark your calendar for Nov 27. Thats when the Kimbell Art Museum will open its $135M expansion designed by the Renzo Piano Building Workshop and Kendall/Heaton Associates, built by The Beck Group. Thats Beck managing director Mike Webster at a recent networking event at the museum looking at a model of the 300-foot-long, 22-foot-high building, which is similar in scale to the Kahn building, composed of two parallel wings stretching from north to south, connected by two glass passageways.The west wing will have a green sod roof and concrete retaining walls on the sides. The expansion includes an underground parking garage, a renovation of the Kahn building, and a landscaping program.

***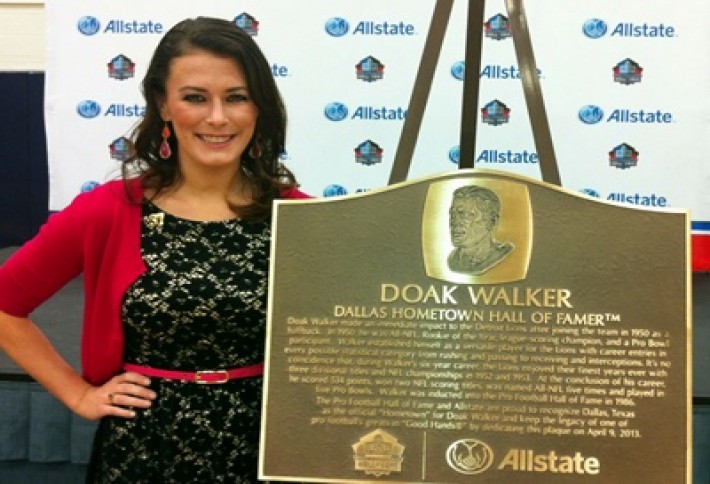 Prescott Realty Groups Lindsay Wolcott went back to Highland Park High School toaccept a Hometown Hall of Famers recognition and plaque on behalf of her grandfather, Doak Walker, from the Pro Football Hall of Fame.The Pro Football HoF designed this program to spread its reach from Canton, Ohio, to all the hometowns where their honorees came from.Her grandfather won the Heisman in 1948 with SMU, won two NFL championships with the Detroit Lions in 52 and 53, and was inducted into the Hall of Fame in 1986. Lindsay attended the same high school as her grandfather. Doak Walker has two other DFW family members in CRE: Scott Walker at Transwestern and Ryan Wolcott at Stream.
EXECUTIVE MOVES
Boxer Property promoted Jillian Brody to senior leasing representative in the Dallas regional corporate office. Jillian recently completed a 9,100 SF office HQ deal at 2727 LBJ in Dallas for a furniture retail company. Boxer Property also added four CRE professionals to the Dallas market.Ashley Ziem and Michelle Lee are property managers, while Allison Fannin is coming on board as a senior leasing representative and Lindsay Stovall as a leasing representative.

***
Grant English
joined
Transwesterns
tenant advisory service. Grant specializes in strategic real estate solutions for
local and national
clients. Prior to joining Transwestern, he repped local and national clients in the
brokerage services
division at CBRE.
***
The Beck Group
promoted
Jeff Forbes
to regional director of the Dallas office. J
ohn Paul DeFrank
was promoted to managing principal of Becks Dallas architecture group. Jeff will manage
all construction operation
s in Dallas. John will oversee the day-to-day operations of the Dallas architecture group and is responsible for the Dallas office architecture projects.
***
J.J. Leonard
joined
Cushman & Wakefield of Texas
as a senior director--leasing in the firms investor services group. He will be responsible for leasing C&Ws newest trophy asset,
The Colonnade in Addison
. Previously, he was an SVP at CBRE.
***
Peery Wood
joined
CBRE
as an
SVP
in the
office tenant representation
group. Previously, he was an SVP with Lincoln Property Co in Dallas where he established the tenant representation group in 2003.
***
Stream Realty Partners
promoted
Sarah Erickson
,
Blake
Kendrick
, and
Cannon Green
to partners in the Dallas office. In 2011, Blake and Cannon were promoted to managing directors of Streams industrial division in Dallas. Sarah will be responsible for working with the Dallas marketing team to set the creative direction for the office as well as Streams national portfolio.
***
Gensler
named
Cindy Simpson
as managing director of the Dallas office. She has been a principal and studio director in the office for more than a decade. She will assume the day-to-day administration of the office, in addition to her studio leadership role.
Judy Pesek
, the former managing director, will continue to office in Dallas and together with
David Calkins
will oversee the firms South Central Regional offices in Dallas, Houston, and Austin.
That which we call a rose, by any other name would smell as sweet. Yes, we watched Romeo & Juliet this weekend. What did you do? tonie@bisnow.com