How did you celebrate Earth Day? Be it granola rager or tree hugging, we hope you were safe. AtJLL, they wrote a white paper with the top reasons tenants should have a green lease.
1) Reduce utility consumption and save money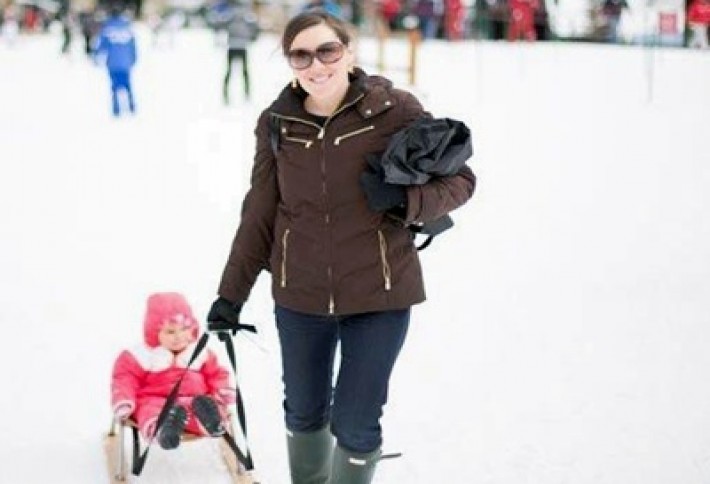 JLL SVP Brooke Armstrong (with daughter Holland, in Beaver Creek a few weeks ago) says some green measures generate immediate savings, but most should more than recoup their investment over time. JLL clients have identified short-term utility spend savings of 3% to 13% from easy-to-implement, sustainable measures simply built into their leases like installing energy efficient LED lights.
2) Enhance your corporate image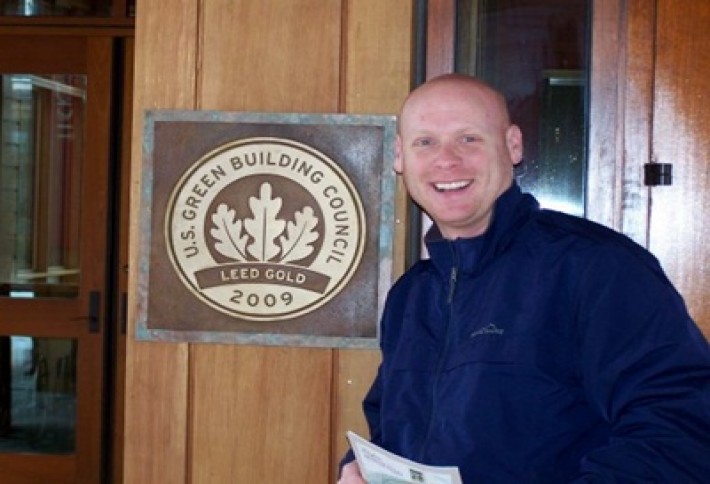 Most companies today realize how important it is to be seen as environmentally friendly, Brooke says. That can be from putting it on websites, product packaging, and signage in buildings.Going green isnt just the smart thing to do; its the right thing, she adds. Buildings account for 30% of all greenhouse gas emissions, according to the US EPA. (Look, even tourist sites like Monticello are LEED certified for good PR.)
3) Keep employees happy and healthy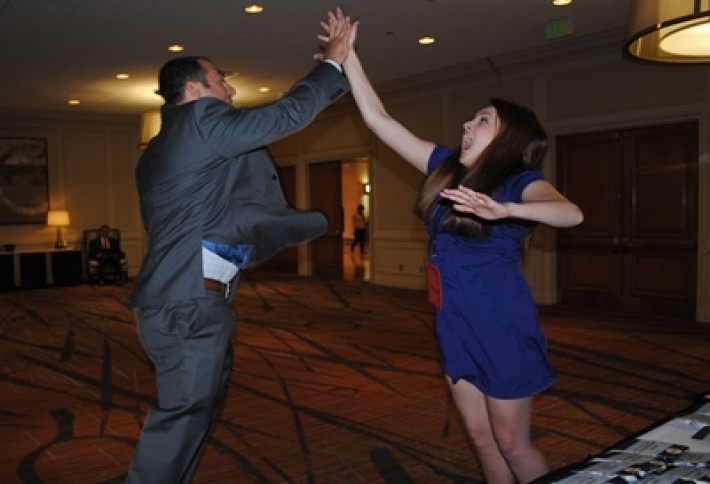 Employee gains from green leases are sometimes considered a soft benefit, but they can translate to hard dollar savings. According to a 2009 CoStar study highlighted in the green lease report, workers in environmentally friendly buildings are, on average , 5% more productive and take 3% fewer sick days. Thus, more skiing time with your daughter. Or jumping for joy like these Bisnow staffers.
EXECUTIVE MOVES
Brad McJunkin joined the CF Jordan Construction business development team. He was formerly the CEO of the DalMac Cos.
***
Eric Gilbert joined Scott + Reid General Contractors as VP.
***
Colliers International North Texas added Lizzy Blake to the capital markets group focusing on industrial and Bill Buntyn to the industrial team. This follows the recent hire announcement of Jack Minter, who joined the capital markets group.
LEASES
CBRE inked multiple leases including:



Century Warehouse inked an almost 88k SF lease at 225 SW14th St in Grand Prairie. Transwesterns Brad Struck repped the tenant. CBREs John Brewer repped the landlord, Heller XVII Partnership & Heller XVIII Partnership.


Venture Metals signed an almost 99k SF lease at 1970 Crown Dr in Farmers Branch. Lee & Associates Ken Wesson repped the tenant. CBREs Adam Hammack and Steve Trese repped the landlord, Cobalt Industrial.


Triumph Aerostructures Vought aircraft division inked a 107k SF at 310 SW 14th St in Grand Prairie. CBREs John Brewer repped the landlord, Heller XVII Partnership & Heller XVIII Partnership.


***
CNL Commercial Real Estates Campbell Henry inked several deals including:



MarkOne Holdings signed an 18k SF at MockingbirdTowers


Cedar Oil Solutions for 16k SF at DakotaBusinessPark


Adolfson & Peterson leased a 16k SF at Central Park Office Center. Brian Brooks partnered with Campbell on the deal.


***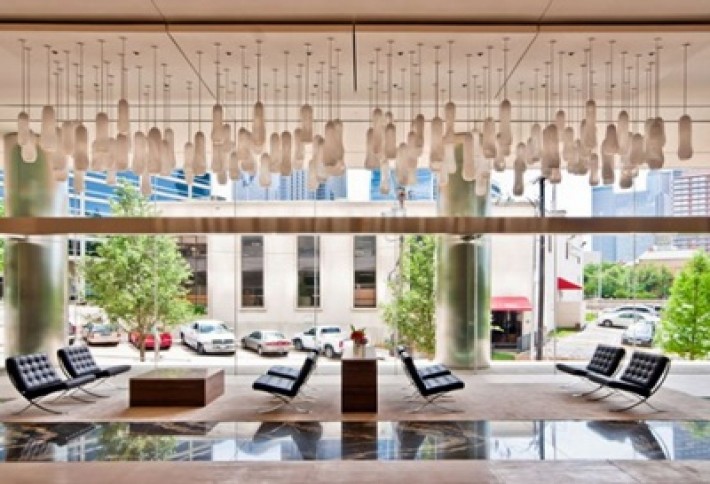 Regions Bank
signed an
80k SF
lease for itsTexas HQ in 17Seventeen McKinney from Granite Properties. CBRE Dallas
Jerry
Cobb Jr
and
Christine Mickey
, along with CBRE Birminghams
Scott
Willenbrock
, repped the tenant. Regions Bank will move in January. Granites
Robert Jimenez
and
Jim Kirchhoff
represented the landlord.
***
Transwestern inked a pair of deals:



NexBank subleased 15k SF at Granite Park Three in Plano. Transwesterns Nora Hogan, Robert Deptula, and Natalie Snyder represented the sublessor.




Pegasus Link Constructors leased 32k SF at ContinentalPark. Transwesterns Jim Hazard, Robert, Nora, and Natalie represented the tenant.


***
Stream Realty worked several leases including:


LEIO Corp signed an almost 20k SF lease at 1075 S Belt Line Rd in Coppell from Majestic Realty. Jeremy Kelly and Blake Kendrick repped the tenant,


First Industrial signed a 54k SF lease with Archer Western Contractors at 1505 Luna in Carrollton.Seth Koschak repped the tenant. The landlord, Archer Western, was repped by Transwesterns Randy Garret and Jo Thompson.


Xerox Corp signed a 53k SF lease at 4490 Alpha Road in Dallas from Crow Holdings. Blake repped the landlord.


SALES
Shay-Mae II purchased 16k SF at 2724 & 2736 Prestige Rd in Fort Worth. Transwesterns Jerry Alexander and Sarah Everett represented the buyer.
***
A Texas investment partnership purchased the almost 18k SF Cross Creek Shopping Center at 2001 SE Green Oaks Blvd in Arlington. Marcus & Millichap senior associate Blake Burnett had the listing for an LLC. The buyer was repped by an outside broker. The shopping center was 93% occupied with medical and retail tenants.
***
AmREIT completed a JV with Goldman Sachs to acquire AmREIT's MacArthur Park and Pads Shopping Centers in Dallas along with the neighboring MacArthur Park Phase 1 shopping center from a third party. The 70-30 JV has Goldman Sachs contributing equity for its 70% ownership of the venture, and AmREIT contributed equity for its 30% ownership. The deal generated $35.3M in net proceeds to AmREIT, which has been used to pay down its credit facility.
***
Gramercy Capital Corp closed on two property acquisitions: a fully leased 342k SF industrial building in Garland for almost $11M in an all-cash transaction and a fully leased 101-dock door truck terminal on a 16-acre site in NJ for almost $12M in an all-cash deal.
THIS & THAT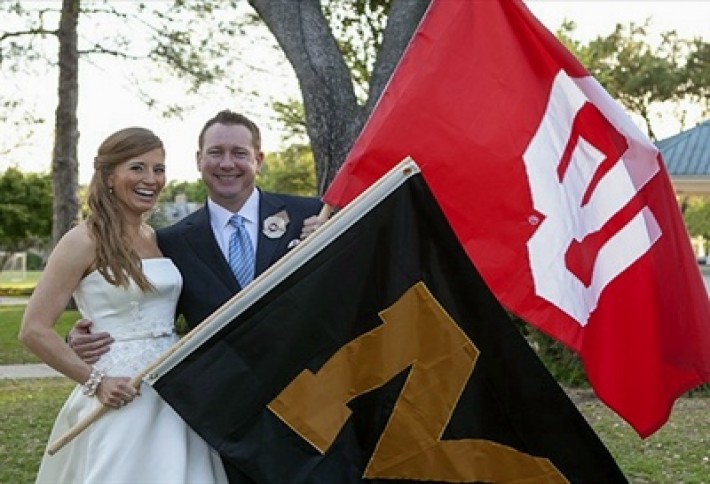 Congrats to Younger Partners Trae Anderson on recent nuptials to the lovely Rachel Neumann (now Anderson). They're not Baylor grads, but you can't go wrong with Big 12 (or former Big 12) schools.
KUDOS
The International Interior Design Association named Gensler managing principal Judy Pesek to the College of Fellows. She was one of three inductees.
***
Crescent Real Estate earned the 2012 National Commercial Real Estate Customer Service Award for Excellence. Crescent has earned top honors from CEL every year it has participated in the survey of its customers, winning six consecutive awards for excellence from 2001 through 2006, and garnered top honors again in 2010, 2011 and now 2012.