News
ICSC Day 3: Making Deals
Bisnow ison the ground in Vegas for ICSC RECon and witnessed wheeling and dealing firsthand Tuesday at the Convention Center. We have the pics (and a few blisters) to prove it. First off: The Retail Connection, whose top dog tells us he expects to conduct more than $1B in deals this year (reinforced by ICSC activity.)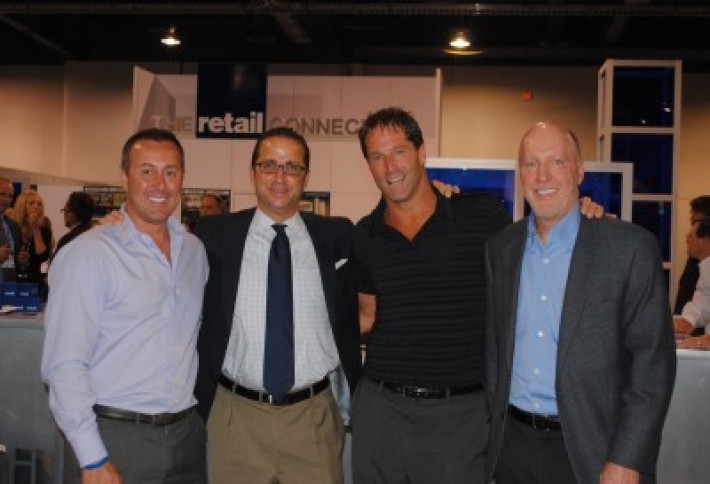 Bed, Bath & Beyond real estate regional director Peter Russell joined The Retail Connection prez AlanShor,CEO Steve Lieberman, and connected development prez David Wilson.Steve tellsus that collaboration is the name of the game. (They teach you to share in kindergarten for a reason.) Working closely with Peter, the two firms discovered the need for a retail development in Tyler. The result: The Village at Cumberland Park, where BB&B will be an anchor tenant (the company has 1,400 stores and is still growing internationally in Canada and Mexico, Peter says). TRC should close on the land and start construction this summer on the 700k SF project; already, up to 350k SF of leases have been signed or are out for contract. Opening should be fall '14.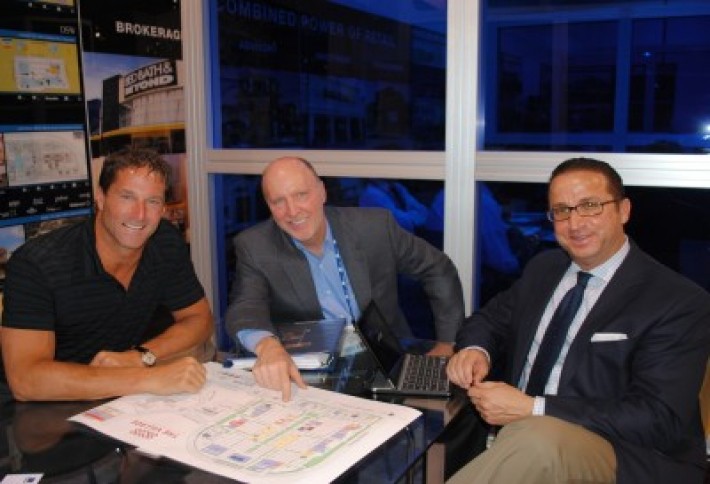 Steve says TRCdid about $1B in transactions in'12 and expects to exceed that figure this year.The firm has grown about 40% since '08 (both in business and in employees.) In the last 18 months, TRC has acquired about 1.5M SF in projects following Peter's advice: Don't let a good recession go to waste.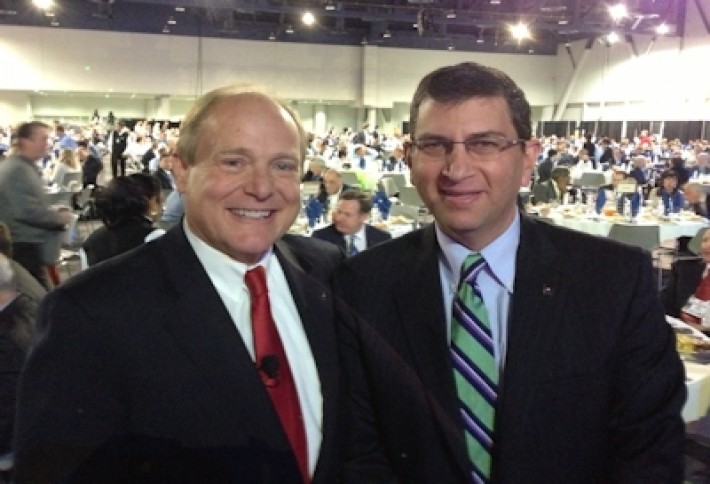 With 1,500 atyesterday'sseated luncheon as the backdrop, we snapped ICSC presidentMichael Kerchevaland outgoing chairmanBrad Hutensky(CEO of Hutensky Capital Partners of Hartford, Conn., a fund that invests in underperforming retail through loans, purchases, and JVs). Check out this Friday's National issue for our chat with new ICSC chairmanDavid LaRue,CEO of Forest City Enterprises.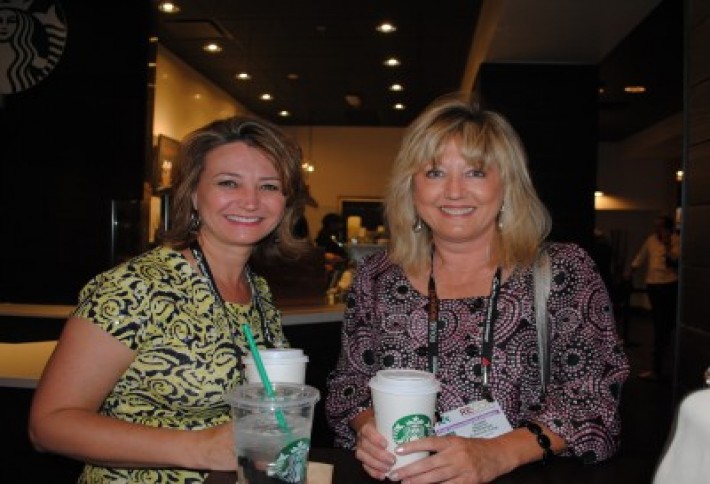 On a gigantic Starbucks line at the convention center, we found Goodwin Commercialtop banana Pam Goodwin and Westwood Financial Corp regional leasing director Sue Hageman getting a coffee fix. Pam went to the Billboard Music Awards at the MGM Grand Sunday night, where she saw Justin Bieber get booed. Sue says her excitement was coming from back-to-back meetings with brokers and retailers to fill centers. The duo met the mayor from Cleburne on their taxi ride to the CC.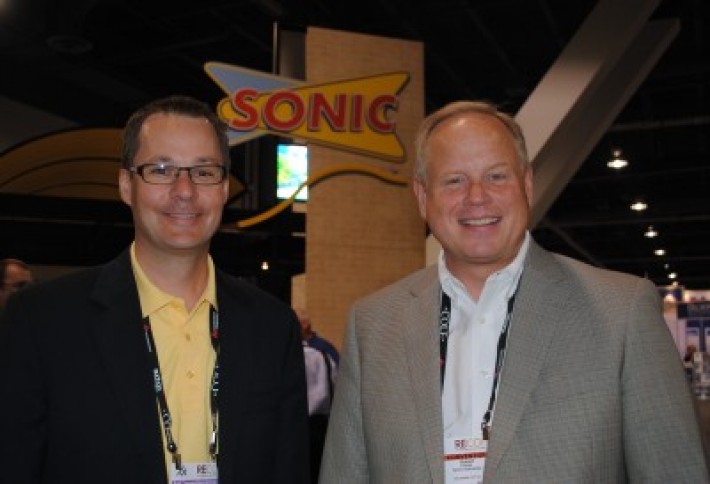 Sonic VP Mike Gallagher and SVP Bob Franke tell us the Oklahoma City-based chain has 3,500 restaurants with plans to grow about 100-plus stores per year. The company owns about 500 stores in the core market around Texas and Oklahoma. Biggest opportunities will come in the Northeast, Bob says, from existing franchisees. Bob's favorite Sonic meal: a diet cherry limeade, super Sonic burger, and tots. Mike's: a Chicago dog, tots, and unsweet tea with triple limes. Our favorite: a Route 44 Diet Coke with easy diet cherry and extra ice.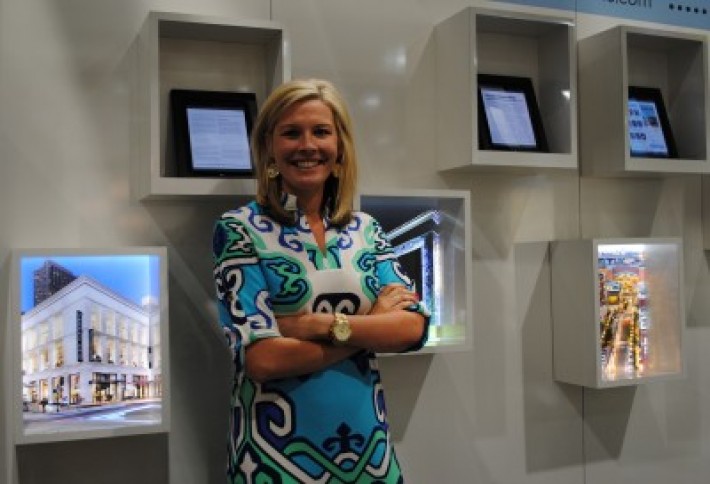 Madison Marquette SVP Whitney Livingston tells us Mockingbird Station is about to undergo the second phase of capital improvements. The first phase updated the look with wood facades on key locations; the next move is to panel more exteriors. In the last year, 90k SF of leases have been inked at the 177k SF TOD. Recent deals: the Pouf salon; a new apparel retailer, Lavo; and Cafe Herrerra restaurant with an indoor and outdoor patio.
We ran into Centennial Real Estate Co's Scott Woodruff and Perren Gasc. The duo was hunting prospects for retailers and restaurants for the Whole Foods redevelopment in Colleyville. The 190k SF project still needs tenants, they tell us. Missing from the picture was Centennial's Carl Esser, recently hired as SVP of asset management. He'll oversee the new acquisition of the Pueblo Mall in Pueblo, Colo, as well as all the DFW-area assets.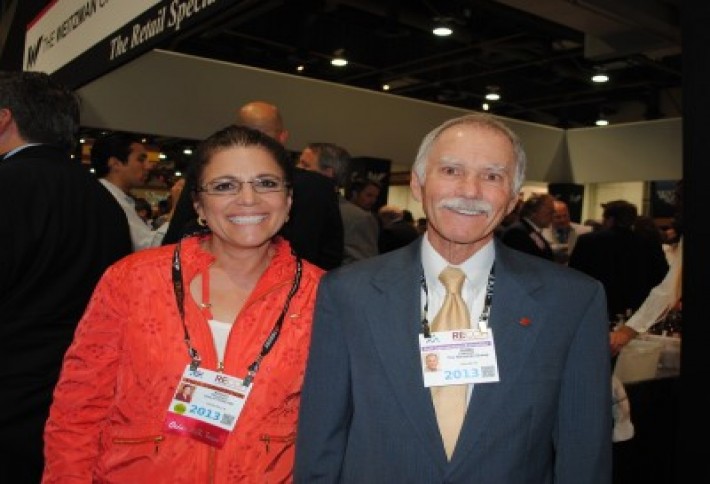 We ran into Cedar Hill economic development director Allison Thompson and The Weitzman Group SVP Eddie Liebman at TWG happy hour party. Eddie is working on a deal to sell 20 acres at the southwest corner of FM 1382 and Straus Road in Cedar Hill. The hard-corner property pad site is under contract but is working out some issues with trees (the city is named Cedar Hill, after all).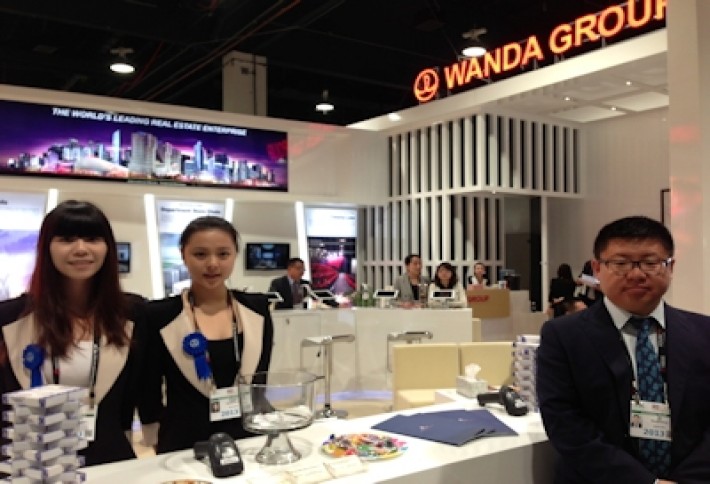 The Wanda Group is China's largest developer and owner of commercial real estate, established in 1988 and based in Beijing. It owns 55 five-star hotels and last year acquired the AMC movie theater chain. Small piece of trivia: our DFW reporter's first job was at the AMC Green Oaks 8 in South Arlington (now it's a Movie Tavern).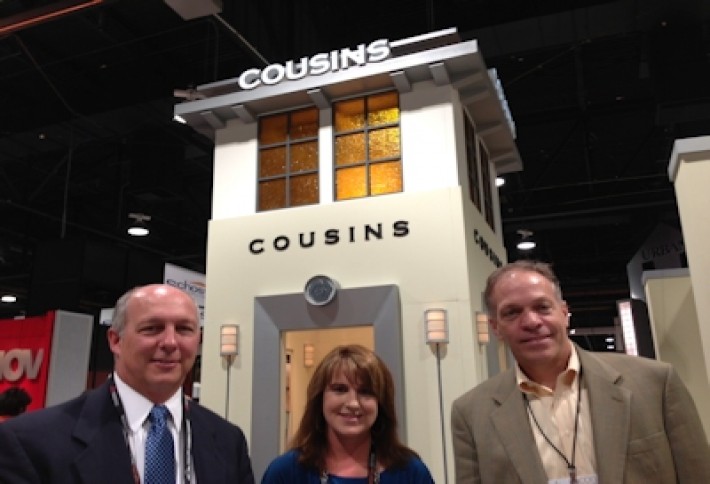 The Cousins Properties crew: Based in Atlanta, they've developed 20M SF of retail, including the "Avenue" lifestyle centers throughout the Southeast. They also lugged around cute little statuary to decorate their uber-cool booth.
A rolling stone may gather no moss, but it can sure as heck rock the house. tonie@bisnow.com