News
Day Two: Bisnow Dallas State of the Market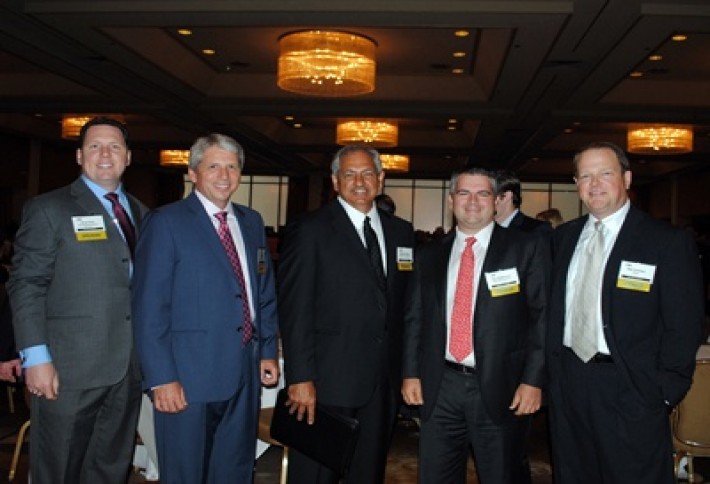 We bring you big news at our big events.Day two coverage ofBisnow's fourth annual Dallas State of the Market had announcements of Hines' new 300-acre project in Frisco and KBS Realty Advisors' acquisition of Preston Center properties. Here'sInstitutional Property Advisors associate director Drew Kile (who moderated a regional panel) along with Dallas-centric panelists Post Properties regional investment director David Ward, panel moderator Thompson & Knight partner Ray Khirallah, KBS SVP Ken Robertson, and Hines Dallas managing director Ran Holman.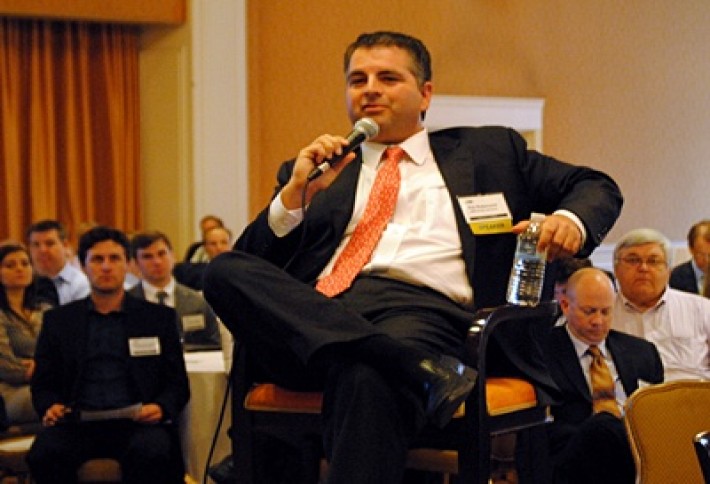 Ken says KBS will close on its acquisition of Sterling Plaza and Preston Commons by the middle of the month, adding to its DFW portfolio. Last October, KBS bought Tower 909 and is working to put its stamp on it with arebrand. He likes it because of the DART rail stop built right into the property and hopes to leverage off that infrastructure. The new buys will capitalize on the live/work/play focus KBS is working on in Dallas.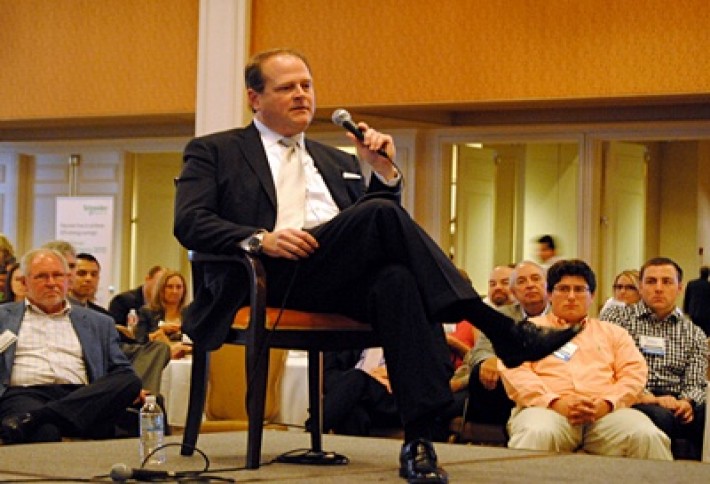 On the day of the event, news broke that Hines plans to build the largest new mixed-use project along the Tollway in Frisco--4.5M SF of office space along with retail, a hotel, restaurants, and multifamily. The 317-acre project, at the northwest corner of the Dallas North Tollway and Warren Parkway, will deliver its first office building in 15. Ran says the Frisco Station project will capitalize on the success of Craig Halls and Granites new projects along the Tollway, too, but will include an entertainment and residential component. The Retail Connection will be handling the, well, retail.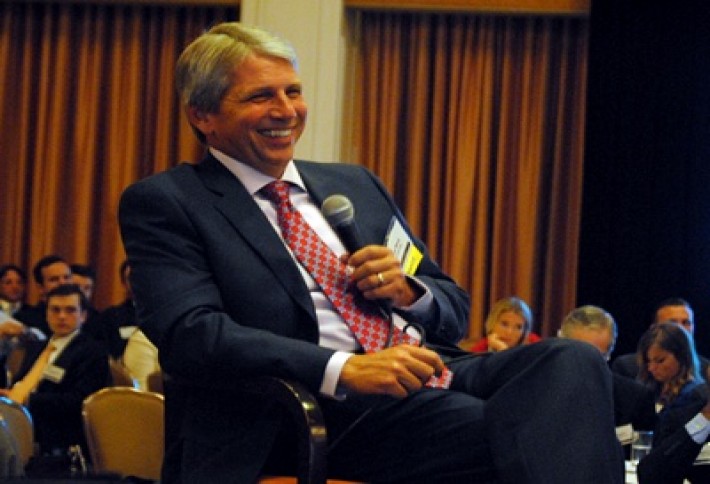 Multifamily has evolvedfrom having a community room for residents special events into more placemaking, David says. Lounges and cafes are part of the norm with spaces for seven or eight people to have a meeting or just hang out. The Gen Y'ers want convenience; theyre putting off marriage and creating families because they want to be mobile in their jobs and where they live. Being tied down is not in their vocabulary, he says.To that end, multifamily developers have moved from about 15 units per acre to 200 units per acre as tenants want to be in urban, dense spaces like downtown and Uptown.
Voted a Texas Super Lawyer by Thomson Reuters in 12, Ray has long been recognized as one of the best lawyers in Dallas for the past six years. He focuses on real estate development, acquisitions, sales, shopping center and office leasing, and finance (among many other talents, we hear). Thompson & Knight has been around since 1887 and the firms real estate and banking practice group is one of the oldest and largest in the state.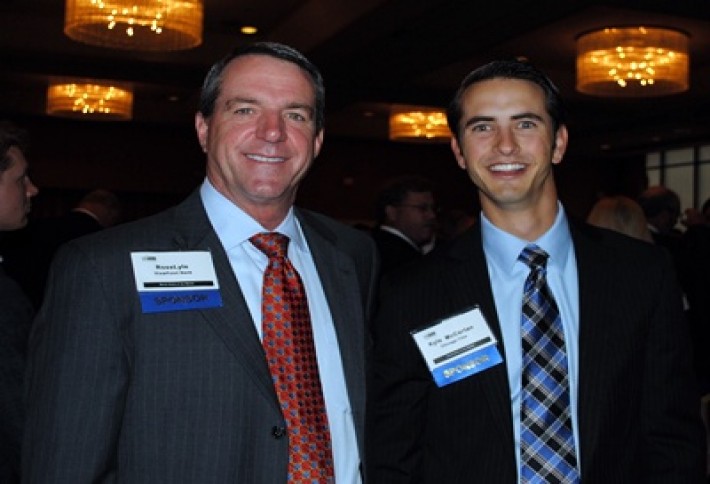 Two event sponsors, ViewPoint Bank SVP Ross Lyle and Chicago Titles Kyle McCartan. Ross tells us ViewPoint has been active, closing $330M of loan volume production in 12 and another $270M YTD in 13. Kyles colleague, Dennis Noebel, tells us Chicago Titles growth is parallel to the healthy CRE market in DFW. Sounds like good news all around in the financial world.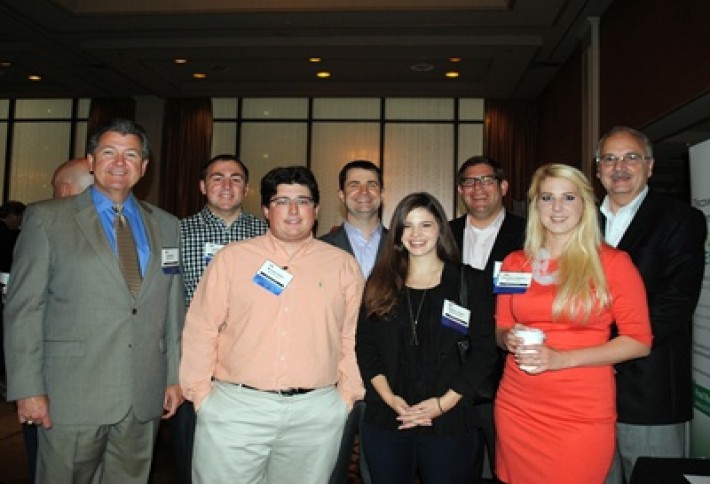 Its summer intern time at event sponsor Bury+Partners and the next generation is gearing up. Heres Burys Jay Marsh, Jeff Baran,Michael Klein, Joshua Millsap, Kelsey Jones, Deren Wilcox, Caroline Hayden, and Mac McWilliams. Like Where's Waldo, can you pick which ones are the interns?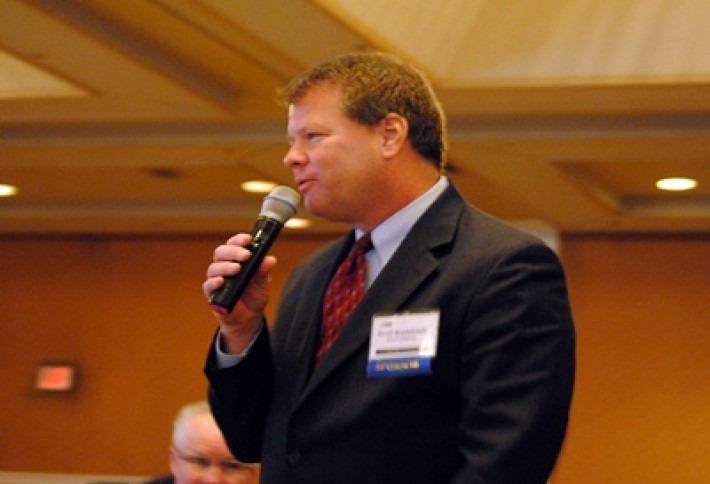 Event sponsor KPostCompany director of biz development Scott Bredehoeft took the mic totell us KPost has been a long-time service-provider to Granite Properties and was awarded the roofing subcontract for Granite's newest Class-A office development, Granite Park Four in Plano. In the meantime,KPostis on top of Four Forest Plaza in the Park Central area looking down on the High Five while finishing up a roof replacement project for Adler Realty Investments and Bradford Management Co.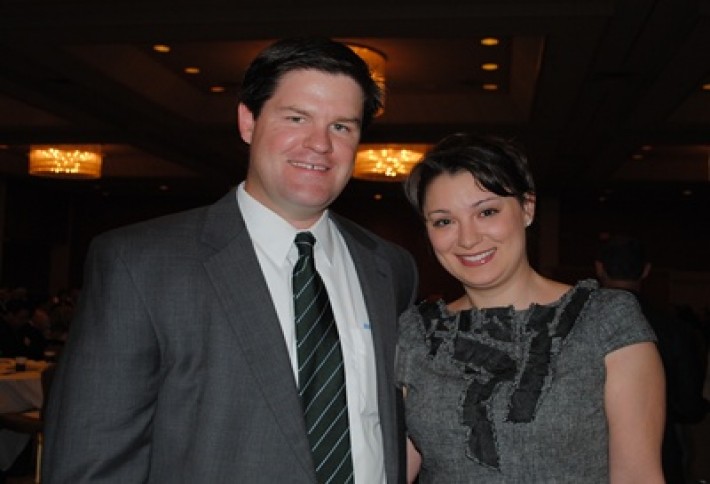 Event sponsor KDC Real Estate Development & Investments Colin Fitzgibbons (TRECs Young Guns chairman) and MyCon General Contractors Erin Wiltz (Young Guns vice chair and foundation liaison). The duo tells us the Young Guns group is working on the renovation of the Life Center at The Village Oaks apartment complex in South Dallas. The Young Guns have teamed up with The Behind Every Door to transform the existing facility into a space that the entire community can enjoy.
Mea Culpa: We think Champion Partners Jeff Swope is so awesome, that there should be two Swopes. However, we know he is one-of-a-kind, so we apologize for the typo extra "s" we used in spelling his name last week.
We may be hard on Ron Washington a lot, but Tom Trebelhorn may have summed up the job description best:Running a ball club is like raising kids who fall out of trees. tonie@bisnow.com