News
Big Off-Market Buy; The Deal Sheet
Whitestone REIT purchased the 89k SF Headquarters Village in Plano for $25.7M in an all-cash off-market transaction that took less than 20 days from contract to execution. (With their extra time, the brokers can do some shopping at... well, Headquarters Village.)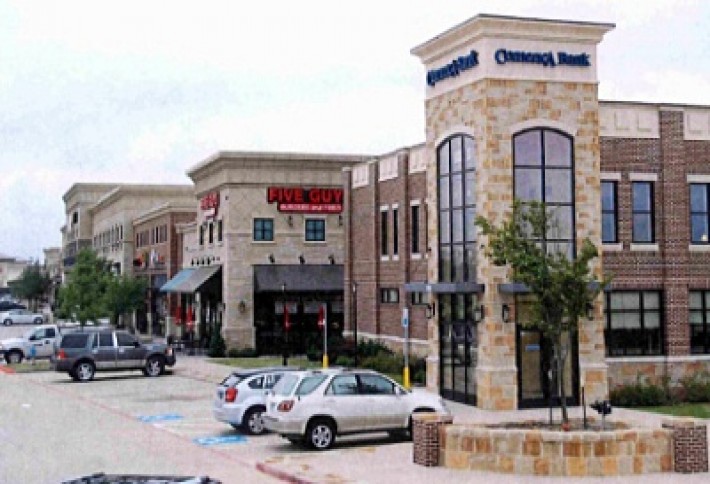 At the northeast corner of Preston Road and Headquarters Drive, the 9.6-acre center is 97% leased. The acquisition includes an adjacent parking expansion area and has in-place cash flow of approximately $2M. The purchase was funded through an unsecured revolving credit facility, which has a borrowing cost of about 2.5%. Whitestone reps tell us they anticipate adding value through rental rate appreciation to market levels, and by expanding the tenant base. Headquarters Village is close to Whitestones other Frisco-area community center, The Shops at Starwood, as well as the REITs Uptown Tower Center, allowing the REIT to benefit from economies of scale through its in-house property management team.
New Business
Fortis Property Group awarded Cushman & Wakefield of Texas the exclusive agency leasing assignment for The Colonnade, a 1M SF Class-A office building in Addison.The 87% leased property is the latest in more than 9M SF of leasing and/or management assignments in the DFW area during the past six months, says C&W head of investor services Mark Dickenson.

***
Encore Multi-Family
started
construction
of the four-story,
288-unit Encore 6162
on a 3.8-acre parcel in Dallas Medical District.The first units are scheduled for delivery in
February 2014
, with final project completion slated for June 2014. Construction financing is being provided by Whitney Bank, New Orleans.
Leases
Justin Brands renewed 32k SF in Northbrook Business Center Building 1 at 1001 NE Loop 820 in Fort Worth. Bradford Commercial Real Estate Services market director Nick Talley and EVP/managing director Karen Simon represented the tenant. Transwesterns Jerry Alexander represented the landlord, Fort Worth Northbrook.

***
Stream Realty inked a few deals including:


Ryan Evanich and Kendall Cramer inked a pair of deals at Fire Wheel Town Center at 245 Cedar Sage Dr in Garland including a 12k SF lease to Regus (repped by CBREs Mike Cleary).


Ryan, along with Jeff Schweitzer, represented the landlord in the renewal and extension of Kimley Horn and Associates for 12k SF at Stewart Creek Office Center II at 5750 Genesis Ct in Frisco.The tenant was represented by Newmark Grubb Knight Franks Kyle Jett and John Shaunfield.


Jeff and Tim Terrell represented RealPage in a 14k SF expansion at 4120 International Pkwy in International Business Park. Trevor Franke and Aarica Mims represented the owner.


***
Downs Stanford
law firm renewed its
17k SF
lease with Spire Realty Groups Bryan Tower. Spires
Andrew Schendle
and
Allison
Johnston
repped the landlord. Cresa Partners
Greg Langston
,
Susan Blair
, and
Bret Hefton
repped the tenant. Spire also signed another law firm,
Mastrogiovanni, Schorsch & Mersky
to a
5k SF
lease in Bryan Tower. Andrew and Allison worked that deal, too, with Cresas
Terry Quinn
and
Susan Blair
.
***
Transwestern worked several deals including:


Goodman Distribution leased 40k SF at Midway Business Park in Richard Hills. Brant Landry, Alan Harrington, and Steve McCoy repped the tenant.


Hudson Group Retail leased 14k SF at 400 Union Bower Ct in Dallas. Clint Riley, Andrew Marcus, and Tim Veler represented the tenant.


Fitness Evolution Centrum leased 31k SF at 3102 Oak Lawn Dr in Dallas. Duane Henley and Justin Miller represented the landlord.


I & A Distribution leased almost 49k SF at 5151 Mercantile Row in Dallas. Tim and Clint represented the tenant.


Taylor Exhibition Services leased 23k SF at 1461 Beltline Rd in Dallas. John Fulton and Brett Owens represented the landlord.


Kudos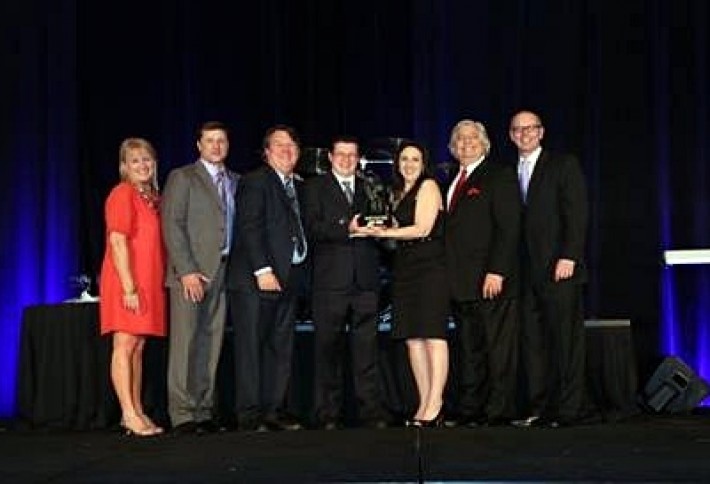 Homewood Suites by Hilton Dallas/Allen was awarded the Connie Award by Homewood Suites by Hilton. The Connie Award, named after Hilton Worldwides founder Conrad Hilton, is awarded to the top hotel of the year based on three key components: quality assurance audits measuring cleanliness, condition and brand standards; customer satisfaction; and the quality of the hotels physical accommodations. The Homewood Suites by Hilton Dallas/Allen is overseen by GM Vlad Gritsman and director of sales Rebecca Rohwer. Vlad was also named GM of the Year.Pictured: Homewoods Dawn Koenig, Christian Kuhn, Bill Duncan, Vlad, Rebecca, Frank Saitta, and Don Willingham.
Sales
John T. Evans Co worked a pair of deals:



Hiremath Family First purchased an almost 54k SF pad site for a future medical building at the northeastern quadrant of Hwy 377 and Keller Haslet Road inKeller. John T. Evans Cos Craig Johnson and Taylor Roberts represented the buyer.


Popeye's Chicken & Biscuits purchased 28k SF of land for a future restaurant site at the northwestern quadrant of Preston Road and Main Street inFrisco. Taylor and Tom Paredes repped the buyer.


People on the Move
Beck Beckham joined BMC Capital as VP debt/equity in theDallasHQ.Beck was most recently raising equity for CRE transactions with Hillside Equity Partners and Oswalt Holdings.

***
Transwestern
added three new brokers to the fold.
Nathan Durham
joined Transwesterns agency leasing group as
SVP
. His primary responsibilities are leasing office assets and selectively obtaining leasing and management assignments.
David Besserer
joins Transwestern as
principal
, tenant advisory services. He has over 30 years of experience in commercial real estate in DFW, with a background in landlord as well as tenant representation. His son,
Breck Besserer
, is also joining Transwestern as
senior associate
, tenant advisory services. He has been active in the industry since 2008, specializing in business development.
***
Marcus & Millichap Capital Corp
named
Chris Parker
as an associate in the firms Dallas office. Chris will
arrange debt financing
for all types of CRE assets, including multifamily, retail, office, and industrial properties. Prior to joining MMCC, he worked with BMC Capital as a loan officer.
Every April 2 is World Autism Awareness Day. Shine a light on autism by raising awareness. Our DFW reporters eldest son has Asperger syndrome, which is an autism spectrum disorder. Please join us atwww.lightitupblue.org