News
Transwestern's Calculated Growth
Only one Transwestern team member in the picture below is happy today (guess which one?). While the Wolverines have moved on to football season, Midwest president Mike Watts is focused on expansion in Chicago and the rest of the region.
Mike (left, with EVP Vineet Sahgal, SVP Fred Ishler, EVP Michael Lirtzman, and EVP Stacey Kruger Birndorf)came to Transwestern from JF McKinney in May 2012, overseeing main offices in Chicago, Minneapolis, St Louis, and Detroit. His goal is to "grow service lines if we can find the right people."The perks: a collegial culture (literally), community service, a strong summer internship program, and just a lot of "normal people" who like to work hard and have fun--and sing afternoon karaoke, Mike says. Transwestern manages and leases 20M SF in the Midwest (office, industrial, some retail).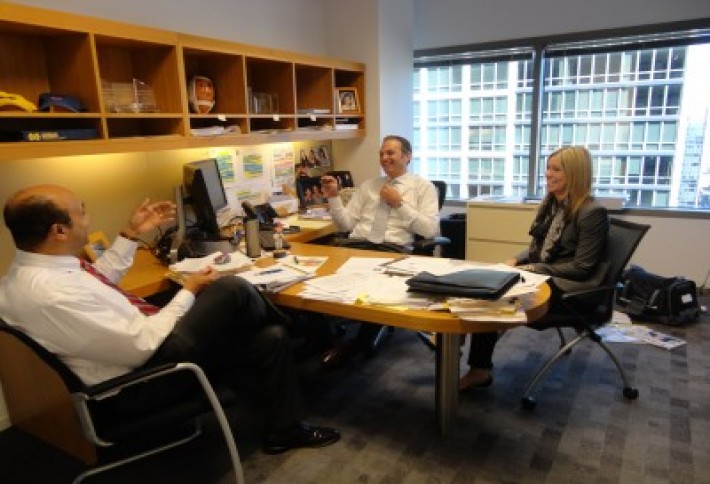 To grow Chicago, Mike--snapped chatting with Michael and new VP Katie Steele--is seeking acquisition and development opportunities, with a focus on office. (He can't just pull them out of a hat. Though he really did that with rabbits, paying his way through high school in Buffalo as a professional magician.) A high volume of investment activity continues to shake things up and add new owners to the mix, Mike observes. The firm recently brokered the $39.5M sale of the Oak Creek Center office portfolio in Lombard for KBS Realty Advisors.