News
Revitalizing the Chicago Riverwalk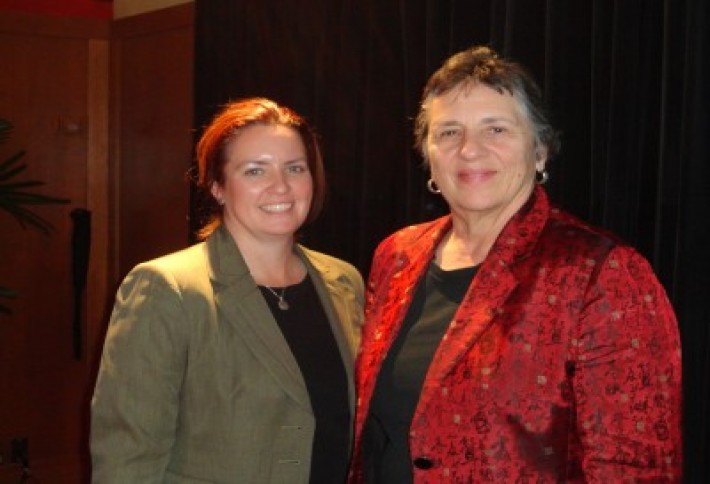 Sadly, the Chicago River is often overlooked, forgotten, and unseen, save for St. Paddy's Day (when its greenish hue attracts beer drinkers from near and far). Last week, we learned about the city's plans for a revamped Riverwalk at Lamda Alpha International (LAI) Ely chapter's luncheon. Speakers: CDOT planner/project manager Michelle Woods and LAI member and architect Carol Ross Barney of Ross Barney Architects. They outlined plans for a continuous, amenity-filled walkway along the Chicago River on the six blocks from State Street west to Lake Street, connecting the lakefront to the Loop.
A lot of work has already been completed, including a striking Vietnam War memorial in '05 and a $24M TIF project restoring the walk around Michigan and Wabash. As Mayor Emanuel's "Millennium Park," the Riverwalk will give an economic boost to tourism, area hotels, retail, service sector jobs, and short-term construction jobs, they tell us. Fiscal benefits could include rising property values and a larger tax base. And if the San Antonio Riverwalk and NYC High Line are any indication, Chicago's new water feature could attract an estimated 2.8 million visitors annually. (Don't let the rendering fool you... no one can guess what fashion trends will be hot when the project is finished.)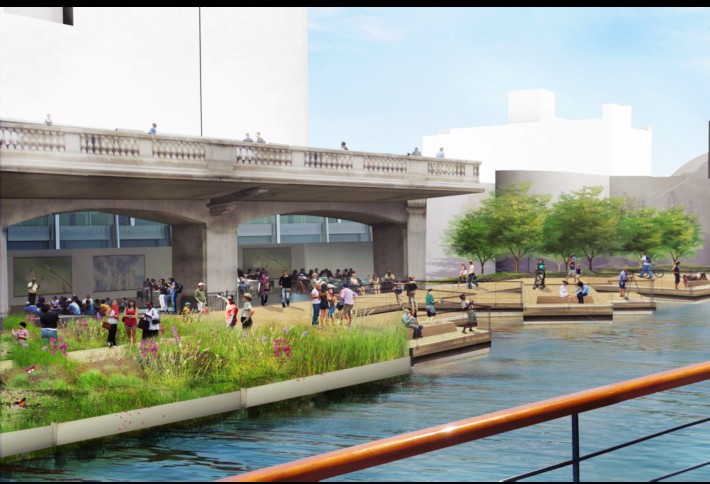 Here are a couple of our favorite blocks on the drawing board--each has its own nickname and personality based around the river. The Watering Hole Sundeck (LaSalle to Wells, two pictures up) is a place for families with young children to splash and play, including boat docks and an interactive fountain. The Jetty (Wells to Franklin, above) includes floating gardens and fishing piers, an ideal space to feature programming for children on the importance of the river and for corporate events.