The REIT Week circuit might be slightly less fashionable than the Hollywood awards circuit, but no less exciting. (The speeches are more interesting.) We were at the Hilton Chicago, soaking it in, and caught up with two newly public local REITs and a West Coast-based industrial powerhouse.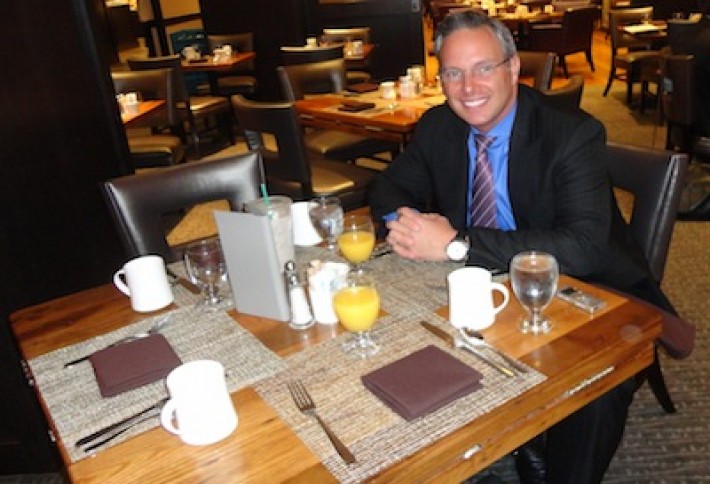 Oak Brook-based Retail Properties of America's president and CEO Steve Grimes joined us for some OJ Thursday morning. Since its April 2012 IPO (which raised $300M), RPAI has done some heavy lifting to deleverage, improve the quality of its assets (they've sold off $500M in non-core properties), and showcase its strong management team. This month they're hosting an investor day in Dallas, where they own 22 assets in a 30-mile ring, to unveil the long-term vision. The plan: consolidate from 80 markets (there's just one property in many) to 10 to 15 markets like Dallas, where RPAI can accumulate 3M SF to 5M SF (a market concentration large enough to drive the best value for the assets).
A big part of the plan is keeping it simple as an owner and operator of multi-tenant retail assets, Steve says. The company's greater than 10k-plus SF space is 97% leased, a strong number they're using to show smaller tenants that occupancy is coming online and there's significant upside on the horizon (think home goods and franchised quick-service restaurants). While the company will probably exit the Midwest at large, Steve says they'll stick with the hometown Chicago market, which has served them well (they own the Brickyard, above). When Steve's not in the office, you'll find him on the ice watching his 10-year-old son play hockey, a future Hawks goalie!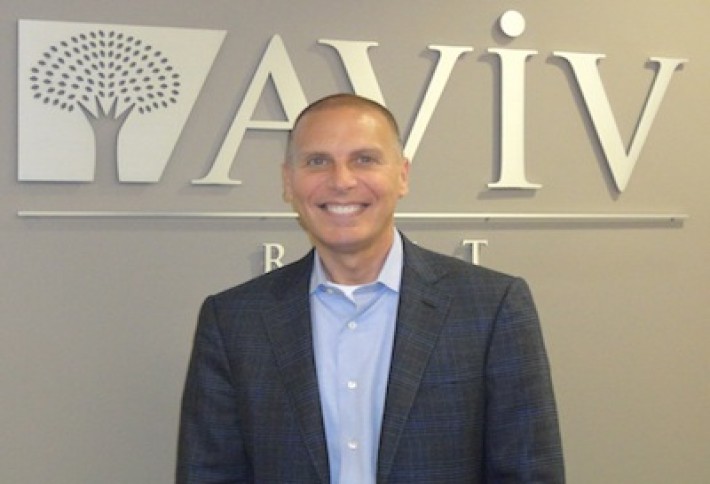 Chicago-based Aviv REIT has been public for almost 12 weeks (its stock is up just over 30% since the IPO), but the company's been investing in skilled nursing facilities for more than 30 years. Chairman and CEO Craig Bernfield jokes that REIT Week was a continuation of the IPO road show and all its "speed dating." (They've put together quite a little black book for themselves.) Current portfolio: 262 properties NNN leased to 36 different operators in 29 states (eight properties in Illinois right now). Despite today's gloom and doom headlines about the future of healthcare reform, Craig tells us it's actually a great time to be investing in the sector and the demographics are overwhelming (65-plus and 85-plus populations are growing at warp speed).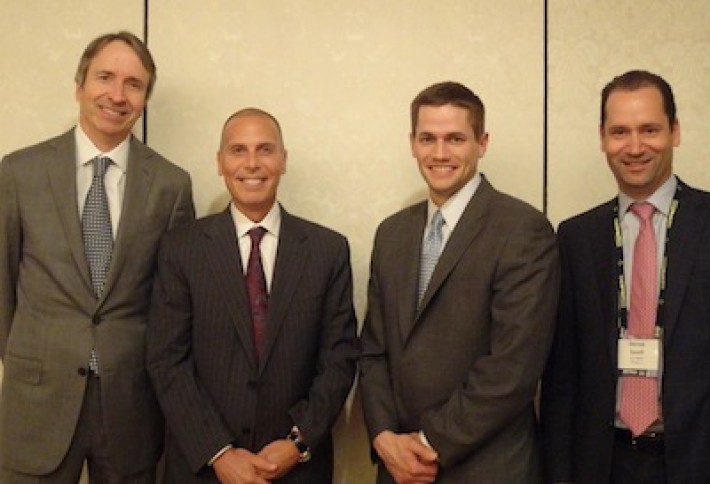 Craig (whom we snapped with CFO Jim Lyman, managing director David Smith, and president Steve Insoft) has noticed a disconnect between the capital markets' knowledge base around SNFs and what's happening on Main Street. (Ex. Medicare and Medicaid reimbursements are surprisingly stable, up by an annual compounded growth rate of 4% over the last 10 years, he says.) Plus SNFs are still the Wild West for public REITs. (Weren't we just saying that about self storage?) About 10% of the $100B market is publicly owned, meaning REITs wouldn't bump into each other while buying up the 14,000 remaining privately owned facilities. Aviv's acquired over $550M of property in the past five years and aims to grow through strong relationships with best-in-class operators, Craig says.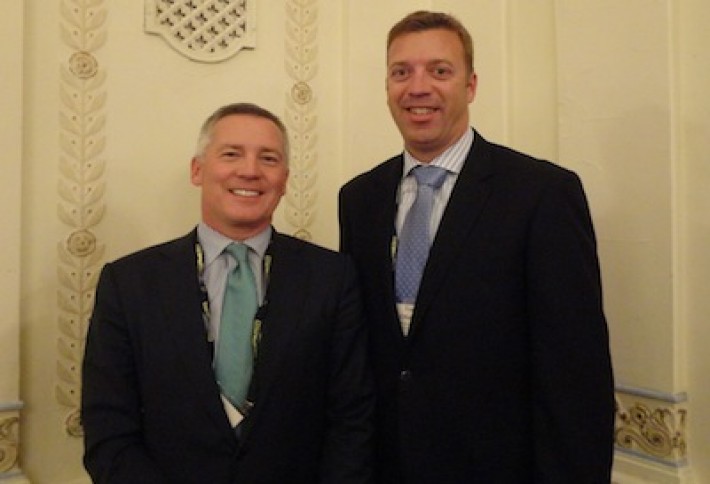 San Francisco-based industrial giant Prologis has a sizable footprint stamped in the Chicago area (38M SF to be exact). CEO, Europe and Asia Gary Anderson and CFO Tom Olinger (above) tell us they didn't make it to Gino's East during REIT Week, but they loved hearing Buddy Guy sing the blues. Now that Prologis has completed its 10-quarter plan of reshaping its balance sheet, it's focused on sustainable growth through rents and its $2B global land bank (significantly undervalued, they say). Their guidance projects $1.5B to $1.8B in starts/year, with near-term margins around 21% and longer-term margins at 14% to 15%.
VP and Chicago market officer (and assistant tee ball coach) Carter Andrus sees sunny stats on the home front with the overall market posting 9% vacancy in Q1 and 6M-plus SF of positive absorption (both around peak levels). He says 550 acres of the famed land bank lie in the Chicago area, some of which (in the I-80 corridor) may attract e-commerce companies, a user segment that's set to explode. (E-commerce accounted for 40% of national build-to-suit activity in 2012.) While web retailers have historically avoided Illinois, the national sales tax bill will level the playing field and bring in companies looking for population centers conducive to same-day delivery.