News
Live From ICSC RECon in Vegas, Day 2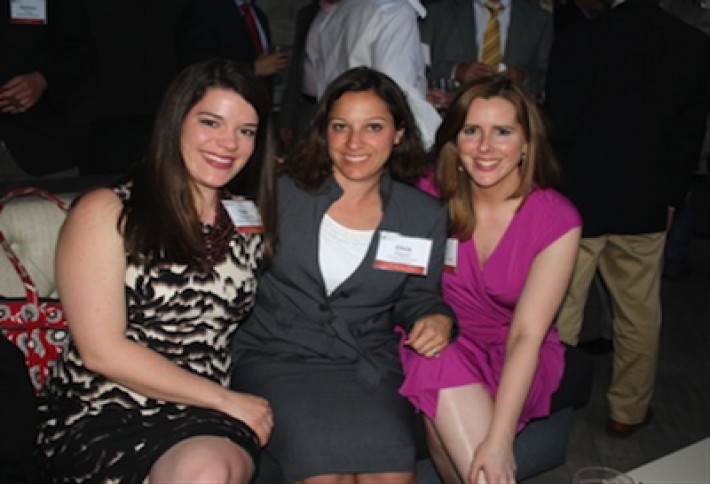 We have reporters in Las Vegas this week, covering ICSC RECon. They ran into some Chicago players during JLL's Chateau party last night. Chicago Southwest Development Corp's Cara Goldstein and Chris Raguso were talking Windy City from Sin City with JLL's Ashley Wagoner. Cara and Chris are making a huge push for retailers to lease up space at the firm's new Shoppes at Focal Point, a 1.3M SF project that already has St. Anthony Hospital and Carole Robertson daycare on its roster. Of the total project, retail space encompasses 250k SF.
At the Transwestern booth, we snapped president for the Americas Chip Clarke and director of national marketing Kim Croley. Chip says based on the moods in San Diego last week at ULI and in Las Vegas this week, the real estate economy is in an "upward trajectory." Congrats to the Houston-based, 22-year Transwestern vet, who ascended to his new gig in January after running the Gulf Coast and Mountain region. Now he has seven regions and 33 separate markets to look after, plus posing for Bisnow ceremonial shots. What did he used to do with all his free time?
"Just give me the damn deal!" Maybe that's not what he said, but we did a double take when we saw former NFL stand-out Keyshawn Johnson decked out in his ICSC RECon badge with the other 32,999 folks on the grounds. We didn't get a chance to ask the ESPN sports analyst what his ICSC goals were, but we know that his company, Keyshawn Capital Development, focuses on CRE and development projects, including inner-city revitalization efforts.
Kanye's new album is called "Yeezus." What would you name yours? marissa.oberlander@bisnow.com