News
DRESL Power Rankings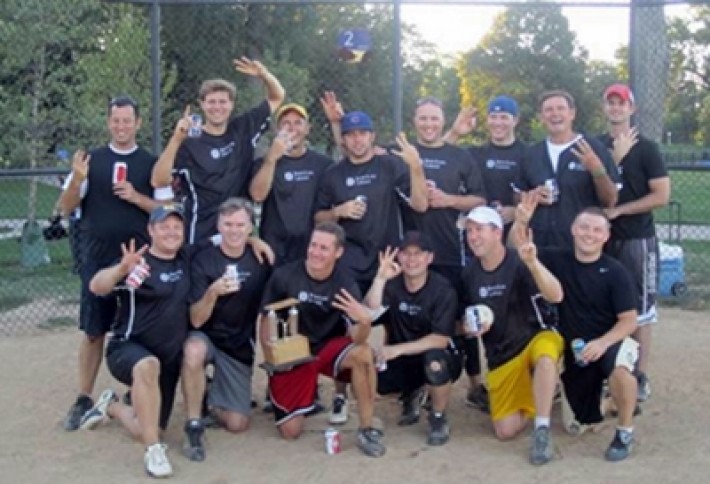 The 16-team Downtown Real Estate Softball League's 33rd season kicked off last week with the customary opening day party at Gamekeepers. Here's a look at the power rankings and you can check back each week for updates. If you can't find anyone from the major brokerages on Monday nights, they're probably here.
1. JLL: The reigning champs three years running (above) have cemented their position atop the leaderboard this year. With the retirement of stalwarts Wild Bill Rogers and Jeff Liljeberg and the resignations of a few other key players, it will be interesting to see if they can make it four in a row. However, their three young guns promoted from the farm team (JLL #2) proved there was no talent lost.
2. Colliers: Last year's runner up made a statement this past week against a usually strong DTZ squad with a 10-5 victory. They claimed two very strong players off the waiver wire this week including Tom Berarducci from Klein's and Andy Gooliak, who was traded from DTZ. Colliers definitely has a chance to make a deep run into the playoffs.
3. DTZ: General powerhouse DTZ couldn't bring home a win last week, perhaps smarting over the loss of Andy Gooliak. We wonder what kind of deals were traded in that transaction and if it will be worth the on-field loss.
4. Golub: The Goos were one piece away from making a deep playoff run. With more speed than anyone in the league and a lot of veteran leadership, they are poised for another strong season. A perennial playoff squad, do they have what it takes this year under Lee's leadership?
5. Tishman Speyer: The loss of Jon Cordell is a huge blow to last year's biggest surprise playoff team. However, behind the arm of Casey Wold, this could be a very dangerous team nearing elite status.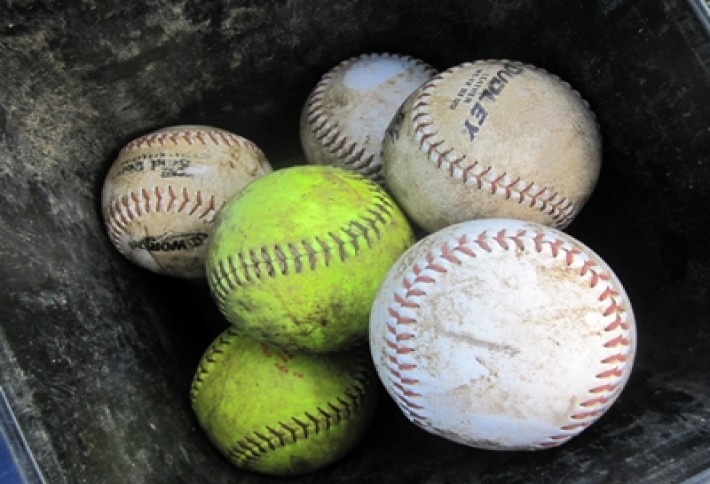 6. JF McKinney: With three of their top ringers out of Game 1, it's hard to tell whether or not this team has what it takes. If healthy and present, we know they're capable of putting up runs.
7. Klein's Corporate: Led by fearless Richie "Bowie" Klein, DRESL founder and commissioner since 1979, the squad trounced Mid-America with one run in extra innings. With a strong performance from Leopardo rookie ringer Mike Roggeman and Johnny "Cocktail" Gaines diving headfirst into home plate, it's clear these guys aren't afraid of physical play.
8. Mid-America: The retailers came to play last week but couldn't eke out a win. We still think they'll give CB a real challenge next week. We can't forget their beasts behind the bat: Peter Caruso and Andrew Becker. How many yayas will they knock out of the park this season?
9. CBRE #1: CB's talented roster filled with veteran savvy brought home a W in another extra inning thriller last week. Pete Delneky was the definitive MVP with clutch extra base hits in the 5th and 6th, but we wonder, do they have the fire in their bellies to go all the way?
10. Cushman & Wakefield: CW almost knocked out Klein's in the playoffs last year and Trevor Marticke is back for blood. With powerhouse hitters like Brett Abrams (three ribbies last week) and Dan Svachula, we shall see if they become more bite than bark!
11. MB Real Estate: DRESL will have to have an exhibition game with all these hitting stars. MB's A-Ron Meyers went 4/4 with a double, triple, and two runs scored. We know MB can start off with a bang, opening the game with five in the first inning, but they surrendered five in the bottom of the seventh and the sharks could be circling..
12. Inland America: A new look for Inland this year as Mike Janus takes over the reins as a captain/manager and previous manager Jason Volk puts on the co-captain/treasurer hat. We hear the scouts like Inland's aggressive style of play on the base paths.
13. Transwestern: The team has heart, but consistency is key. Bobby Wood had a three-run dinger and John Sisco showed up with a three-run triple, but TW couldn't close last week. In the battle of Higdons, Bradford Allen's Steve won this round over Jim.
14. Bradford Allen: We are happy to report BA equaled last season's win total with this opening night victory (there may have been tears of joy from Ben Azulay). DRESL's 2013 first female player, Kylie Hillesheim, hit a smooth shot over Transwestern's short stop last week and is one to watch.
15. and 16. CTK Partners and JLL #2: Nobody got a look at these teams last week. Check back in for some analysis of their playoff prospects. Could be a wildcard down here at the bottom!
We are devastated over Baba Wawa's retirement. Who should replace her? Can anyone? marissa.oberlander@bisnow.com