News
Breaking News: No More Viagra Triangle; The Deal Sheet
Bisnow received a hot tip this weekend that Chicago's popular Viagra Triangle will now be known as Cialis Circle. In the first deal of its kind, the neighborhood's naming rights changed hands for an undisclosed sum in a deal that was closed less than four hours after it was first discussed.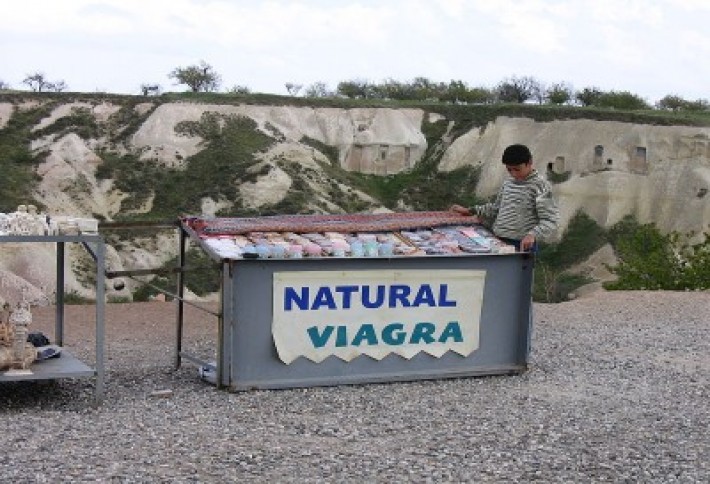 As we learned with Willis Tower and US Cellular Field, CRE naming rights can be sold in the blink of an eye. Ironically, a well-placed wink of an eye is what often leads to the need for Cialis. Cialis officials wouldn't comment on plans for the Gibsons and Hugo's loving patrons of Rush Street, but we expect its marketing plan to involve ads heavy on metaphor. Happy April Fools Day!
SALES
NAI Hiffman's Mark Moran and John Whitehead repped a private owner in the sale of an 80k SF multi-tenant industrial building (1701-1735 Armitage Ct in Addison) to SFP Group, a real estate investment company. The building was about 70% occupied at the time of sale and NAI HIffman will continue as leasing agent for new ownership.

***
Marcus & Millichap Real Estate Investment Services completed the $4.1M sale of a 65-unit affordable multifamily property located at 6920 S Crandon Ave in South Shore. SVP investments Scott Harris and VP Investments Ryan Engle in Marcus & Millichap's Chicago Oak Brook office repped the seller, an LLC, and the buyer, a developer.

***
The Boulder Group brokered the
$3.5M sale of a net-leased Walgreens
at 9290 Wicker Ave in
St John
, Ind. Walgreens has five years left on its 20-year lease of the
14k SF
space. Boulder's
Randy Blankstein
and
Jimmy Goodman
repped the seller, a Midwest-based developer, and the buyer was a self-represented, private net-leased investment fund.
***
Lee & Associates of Illinois principal
Chris Nelson
repped building ownership,
Prologis
, in the sale of a
30k SF warehouse
at 900 Pratt Ave in
Elk Grove Village
.
***
Cugino's Gourmet Foods
purchased a
26k SF warehouse
at 1100 Alexander Ct in
Cary
. Lee & Associates of Illinois principals
John Cassidy
and
Ken Franzese
repped the seller, a private trust, and CTK Chicago Partners'
Mark Deady
repped the buyer.
***
Podolsky|Circle CORFAC International completed the sale of a
10k SF crane building
at 358 Hollow HIll Rd in
Wauconda
. Principal
Adam Tarantur
repped the receiver in the transaction (
Randy Podolsky
was acting as court-appointed receiver). The buyer, a venture of
Euro Machine Tool
Co
, will use the property for machinery repair and sales.
LEASING
JLL was hired as exclusive leasing agent for the Illinois Center office complex, two buildings totaling 2.1M SF at 111 E Wacker Dr and 233 N Michigan Ave. The property is owned by CommonWealth REIT and managed by Reit Management and Research Real Estate Services. JLL's Brian Atkinson, Monica Moore, and Brad Despot will lead leasing efforts.

***
QLS renewed a
155k SF lease of warehouse space
at 2220 Greenleaf Ave in
Elk
Grove
. Lee & Associates of Illinois principals
John Cassidy
and
Ken Franzese
repped QLS. The building is owned by
Prologis
.
***
Venture One Real Estate completed 36k SF of leasing and acquired two condos totaling 16k SF at its 140-162 Pinnacle Dr property in Romeoville. Venture One purchased the remaining unsold industrial condos at the property (64k SF out of 81k SF) in March 2012 and has since bought an 8k SF leased unit and completed a 9k SF sale/leaseback with Drytac Corp. Venture One also dissolved the condo association and converted the property to fee simple ownership. Grant Glattly repped Concept Communications in an 18k SF lease; Cawley Chicago Commercial Real Estate Co's Terry Grapenthin and Josh Hearne repped Pharmacy Automation in a 10k SF lease. Podolsky Northstar's Adam Tarantur and John Homsher repped Venture One in both transactions.

***
Equip Solutions leased a
20k SF industrial building
at 4525 Turnberry Dr in
Hanover
Park
. Lee & Associates of Illinois principals
John Cassidy
and
Ken Franzese
repped ownership,
Northern
Builders
.
***
Child's Voice School
, a listening and spoken language program for children with hearing loss, leased 2k SF for its
second location
at 1846 W Belmont in
Roscoe
Village
. Jameson Commercial's
Chris Irwin
repped the landlord and
Mark Levy
repped Child's Voice.
***
Sunset Healthcare Solutions inked a
17k Sf lease of manufacturing space
at 990 Lunt Ave in
Elk Grove
Village
. Lee & Associates of Illinois principal
Chris Nelson
repped ownership,
Prologis
, and Cushman & Wakefield's
Al Caruana
repped Sunset.
***
Jameson Commercial's
Chris Irwin
and
Ari Topper
repped the landlord in a 4k SF lease at 2255 W Lawrence in
Lincoln Square
to
Ladybug & Friends Daycare and Preschool
.
***
Podolsky|Circle CORFAC International principal
Corey Chase
repped
Perl Mortgage
in leases in
Deerfield
and
Oak Brook
totaling more than 10k SF and cumulatively valued just under $1M. Colliers'
Chris Cummings
repped the landlord,
Arden GE
Capital
, in Perl's
5k SF
renewal at 500 Corporate Centre in Deerfield. JLL's
Ben Erskine
repped
Interactive Business
Systems
, the sublessor, in Perl's
5k SF
renewal at 2625 Butterfield Rd in Oak Brook.
***
Howard Ecker + Co secured a 15k SF lease for
UNITE HERE Local 1
hospitality labor union and an 8k SF lease for
UNITE HERE HEALTH
labor management trust fund at the
McClurg
Building
, 218 S Wabash. Howard Ecker VP
Kevin O'Reilly
repped both units and negotiated an agreement to get them out of a previous long-term lease at 55 W Van Buren.
***
Jameson Commercial's
Chris Irwin
leased 1k SF of retail space at 2722 Lincoln in
Lincoln Park
to
Kevin
Greco
, who will open a
State Farm Insurance
office.
***
Washington DC-based
Ebert & Baumann Consulting Engineers
opened its
second US location
at 36 S Wabash Ave. The experts for building energy efficiency will begin with two employees and a sublease, with plans for a staff of 12-15 and
3,500 to 4,000 SF of office space
in the next two to three years.
FINANCING
SomerCor 504 VP Bill Kornit completed SBA financing exceeding a combined $7M for two businesses: Metalmaster Sheet Metal refinanced its 120k SF HQ at 4800 Metalmaster Way in McHenry and Wildberry Pancakes & Cafe financed its acquisition of a 6k SF restaurant at 1783 N Milwaukee in Libertyville.
CONSTRUCTION & DEVELOPMENT
PREMIER Design + Build Group was selected to build a 124k SF warehouse distribution facility at 2475 Touhy Ave in Elk Grove Village on behalf of project developer Bridge Development Partners. Cornerstone Architects will provide architectural services, Spaceco is civil engineer, and the estimated project completion date is Q4 2013.

***
Ryan Cos US is finishing construction of
Thomas Place Orland Park
, a
$22M
, 80-unit
senior apartment community
in Orland Park (15415 S Harlem Ave). Move-ins to the affordable, age-restricted facility began in mid-March. Ryan's development partners include
Providence Life Services
and
Jim
Bergman
.
Ryan A+E
, a Ryan subsidiary, provided architectural services.
***
JC Anderson completed a
65k SF interior renovation
for the
Attorney's Liability Assurance Society
at 311 S Wacker Dr.
PGAI Design Partners
provided architectural services.
***
Summit Design + Build completed a 32 k SF corporate HQ, retail showroom, and distribution center for PCNation at 500 N Central Rd in Northfield (a relocation from Northbrook). Stuart Cohen & Julie Hacker Architects provided architectural services.

***
Morgan/Harbour Construction has been selected to build-out a
15k SF
space within Yorktown Mall (106 Yorktown Center, Lombard) for the
UP Academy of Hair Design
. The space will serve as the new
Paul Mitchell The
School
.
Bradford J Dudley
is providing architectural services and the school is slated for completion in
May
.
***
ARCO/Murray completed two projects at
Corporetum Campus
VI
, 650 Warrenville Rd in
Lisle
: a
7k SF
renovation for the
National Personal Training Institute
and a
3k SF
tenant improvement for
Rock-Ola
(classic jukebox manufacturer that relocated its HQ from the Hancock).
***
EXECUTIVE MOVES
Sperry Van Ness Chicago Commercial has added associate advisor Craig Franzen, who specializes in landlord and tenant representation as well as retail investment sales. In January 2000, Craig co-founded GTC Investments, an investment and development firm specializing in retail and residential mixed-use revitalization projects in suburban Chicago.

***
Tricia Van Horn joined Related Midwest as VP of marketing. She was VP of marketing with Magellan Development and affiliated property management company NNP Residential for six years after working in marketing management at Archstone-Smith. Tricia holds a degree in speech communications from U of I Urbana-Champaign.

***
Method Construction
, a provider of design-build services owned and operated by Cedar Street Co, tapped
Mark Heffron
as
managing
director
. Previously, Mark served as VP of
Summit
Design + Build
. He is LEED accredited and received a certificate of business and BS in
industrial engineering
from the University of Wisconsin in Madison.
Any good April Fools' pranks around your office? Share with marissa.oberlander@bisnow.com.