News
Hines Closes on Riverside; The Deal Sheet
Yesterday, Hines closed on its $200M purchase of Riverside Center in Newton from Blackstone. The rapid sale of the property-- its value was recently estimated at just $180M--illustrates the allure of the Boston metro office market.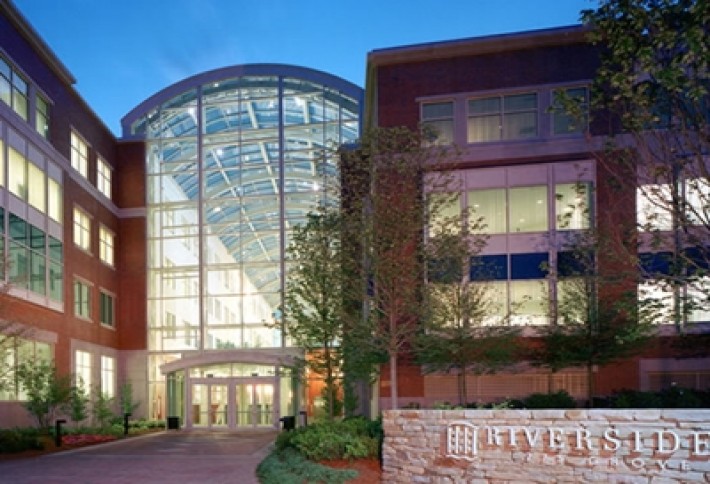 Built in 01, Blackstone acquired the 508k SF first-class office near the Riverside T-stop in 07 with the EOP portfolio. Houston-based Hines, owner of 222 Berkeley St and 500 Boylston St in Back Bay, declined to comment on the sale but a source familiar withthe deal confirmed that the Texans won a fast-paced bidding war.

***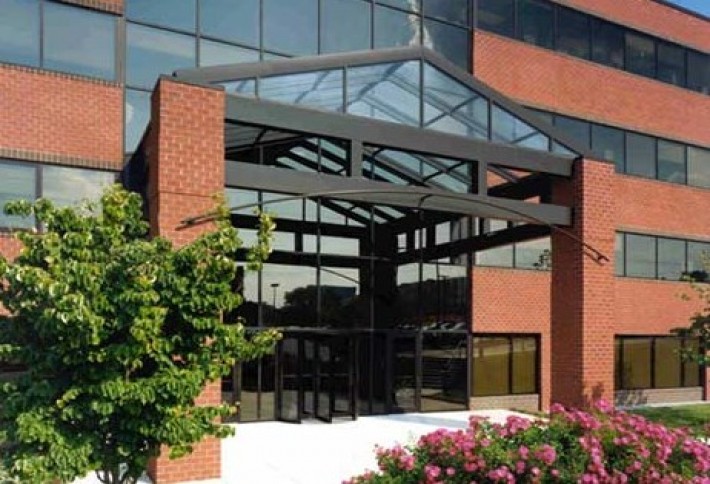 TA Associates,has agreed to acquire Totten Pond Office Park from Philadelphia-based BPG,a source familiar with the deal confirmed for Bisnow. The 300k SF, three-building complex includes 460 Totten Pond Rd, which is 143k SF and 76% occupied, as well as two smaller buildings that are about 90% occupied.

***
Berkshire Realty Ventures
has invested
$40M
in a JV with
LCB Senior Living
, a seniors housing owner/operator run by the former management team of Newton Senior Living. The capital infusion will go toward LCB
acquisitions
and the
development
of new seniors living facilities in the Northeast. Adviser to Berkshire was Cushman & Wakefield's Senior Housing Capital Markets Group:
Richard Swartz
,
Phil Anderson
,
Jay Wagner
,
Aaron Rosenzweig
and
Stuart Kim
.
Boston Capital is providing permanent mortgage financing for the construction of Revere Run at Park Place, an 80-unit development for low income families in Gloucester, N J. Boston Capital Financing (BCF) has approved a fixed-rate forward, 24-month commitment which closed into the Boston Capital Long Term Mortgage Fund.The loan will carry a 15-year term.The complex will feature 15 one-bedroom, 41 two-bedroom and 24 three-bedroom units in six three-story, townhouse-style buildings.
***
The Abbey Groups 45 Province had a rough start when it was completed in 09--the depth of the recession--but its on a roll now reporting that 80% of its 137 luxury condos near Downtown Crossing are sold. The $160M, 31-story tower includes an eight-level parking facility and a health club on two floors.

***
MassHousing
, the states affordable housing finance agency, won a
Aa3
rating for nearly
$170M
in bonds (a rating that affects $1.4B in parity debt). Moodys Ratings says that the rating reflects MassHousings
strong portfolio
, solid loan performance, sufficient asset to liability over-collateralization and
skilled program management
. Moodys outlook for the bonds is stable through all but the most severe CRE downturn.
Construction & Development
Kronos has occupied 60k SFin Chelmsford, manufacturing space that was converted into high-performance offices. The project team: J Calnan & Associates, Packard Design, North Star Project Management and AHA.

***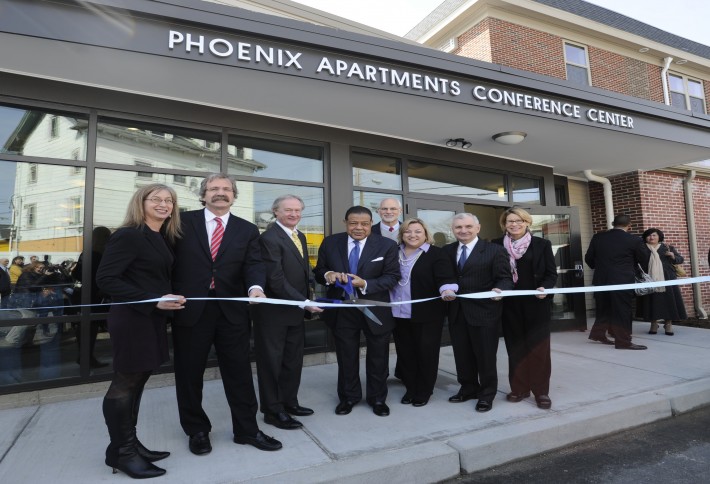 HUDs Barbara Fields, WinnDevelopment prez Larry Curtis, Rhode Island Governor Lincoln Chafee, Omni Development Corp prez Joseph Caffey, Rhode Island Housings Richard Godfrey, LISCs Jeanne Cola, US Senator Jack Reed and Rhode Island Housings Susan Bodington,yesterday cut the ribbon to celebrate the completion of the $21M redevelopment of Medina Village Apartments, now Phoenix Apartments, in Providences West End neighborhood. The developers--Winn and Omni--renovated existing apartments and built new units in the 83-unit scattered site complex.
Financing
The University of Massachusetts has sold $284M in construction bonds to fund several major projects. A combination of taxable and tax-exempt bonds were sold last week to individual and institutional investors at an average interest rate just under 3.9%.The low rates will save the university millions of dollars in future debt service payments, says UMass Building Authority executive director Katherine Craven. The borrowing will finance projects at each of the five campuses
Leasing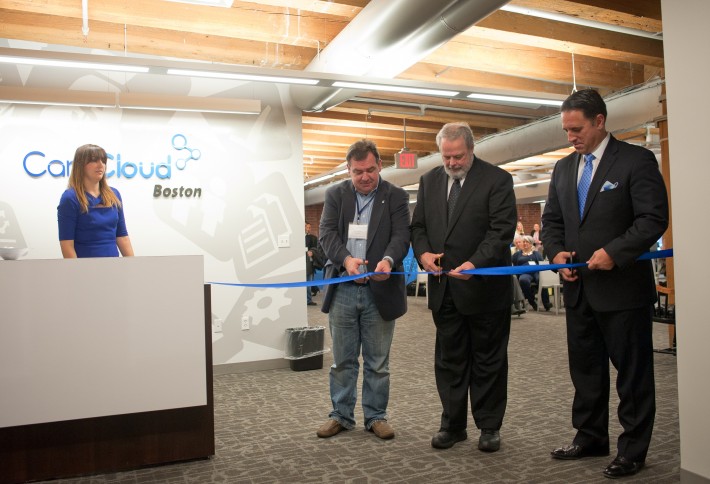 Yesterday, CareCloud received a special welcome into its new 7,000 SF office in Tower Point at A Street, which is at 43 Wormwood St from BRA director Peter Meade(center), who is flanked by CareCloud CTO John Walsh and CEO Albert Santalo.

***
Downtown Crossing is hip. At 10-24 School St,
Hungry Fish Media
has occupied 22k SF and
Beam Interactive
has leased 19k SF. Both are relos from hip-but-pricier Kendall Square in Cambridge.
***
Just in case you havent heard:
Commonwealth Ventures
was selected by the
Convention Center
board to build two mid-priced
hotels
across the street from the BCEC on land purchased from Intercontinental. The
$137M hotel development
slated to start construction by year-end is
Phase 1
of what is planned as a
$2B
expansion of the meeting facility.
Honors
The CBA recently honored Cushman & Wakefields capital markets group led by Rob Griffin with investment sale of the year for the $615M brokerage of 100 Federal St. Cassidy Turley FHO co-founder Joseph P. Fallon won for broker of the year with about 1.5M SF of leasing including: Ariad Pharmaceuticals 240k SF in Cambridge and SekisuiDiagnostics 100k SF in Framingham and Lexington.
Executive Moves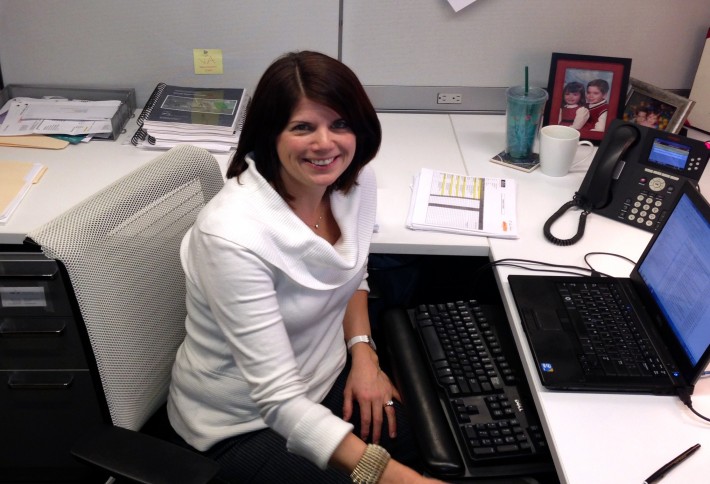 Stacey Yeragotelis-- and colleaguesPaul Kondrat and Sapir Ng-- are newly-appointed Associate Principals at TRO JB. Stacey is PM for an innovative 630k SF IPD project to build a replacement hospital for MaineGeneral Medical Center in Augusta, ME. Paul leads the firms mechanical engineering group, and Sapir is an architect and designer.
We're reading a book about anti-gravity and we just can't put it down! What are you reading these days? Tell all--especially news and story ideas--tosusan@bisnow.com.