News
Behind The Scenes: Filene's Construction
True, this weeks ceremonial groundbreaking for the $630M Millennium Tower/Burnham Building downtown was delayed by Mayor Meninos health issues, but construction actually started on the renovation of the former Filene's in late Apriland has already been a game changer for the Financial District. (If we can consider Real Housewives real,we can futz with groundbreaking details.)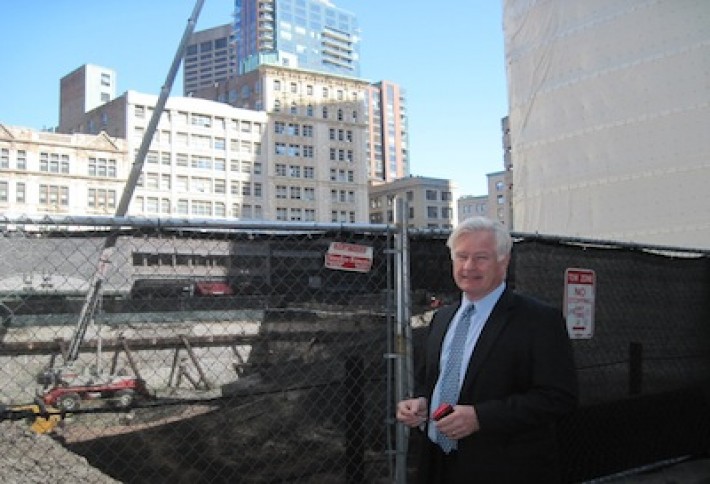 The construction start is so significant because the stalled project held backthe entire neighborhood, CBRE-NE partner David Fitzgerald (above yesterday) tells us. A prior Vornado-led development team planned a mega-project at the site; excavated, then abandoned the project in08, leaving a big hole. Itclashed with Mayor Menino, and the city eventually pulled the project permit. Last year, Millennium Partners--a NY-based developer with a successful track record here--took over the project. In April, Arnold Worldwide-Havas Media leased 125k SF to become the Phase One anchor, and the rehab construction started soon after. Now, the cranes and shovels have inspired other projects to advance and highlight the many already under way.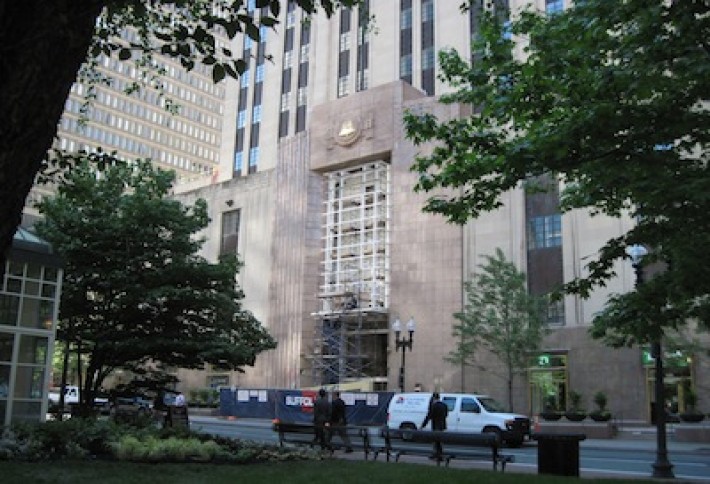 Projects redeveloping old stalwarts like the 700k SF New England Telephone/Verizon HQ facing Post Office Square (above) promise to revive the once flagging Financial District.Brown Brothers Harriman agreed to lease 400k SF in the former Verizon building and expects to move into one of Bostons few Art Deco gems by early 14. Investors big and small are diving in to capture properties in the submarket, which in the past few years has lagged in leasing and rents behind the Seaport and Back Bay. Recently, TIAA-CREEF scooped up 40 Broad St and RREEF bought 45 Milk St.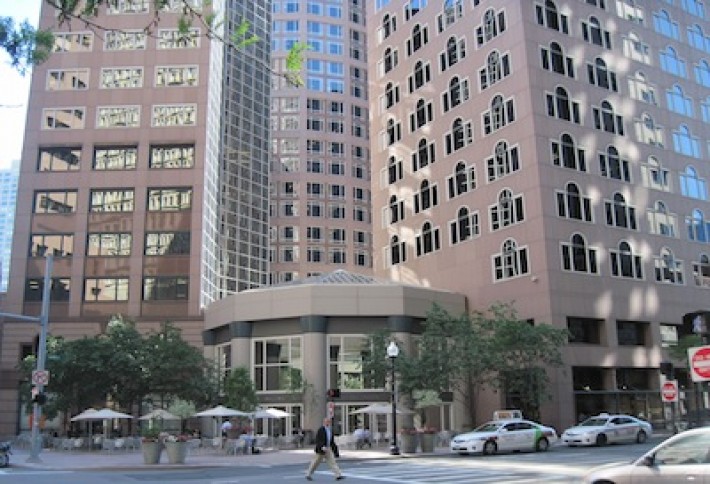 The value of Bostons historic downtown: its centrally located,within walking distance of myriad attractions and linked to the entire region by rapid transit, as well as new highways, tunnels, and bridges built during the Big Dig (which demolished the elevated highway that separated the Financial District from the harbor and the 30-plus acre greenway).The upgrades led to openings of new restaurants, clubs, cinemas, and theaters that are attracting a flood of tech companies. PayPal took 60k SF at International Place (above) with expansion options, and Brightcove signed for 80k SF at Atlantic Wharf. Businesses unable to find spacein the Seaport and East Cambridge are moving here to attract top talent, David says.